Live betting and cash out go hand-in-hand. At cash out betting sites, you can cash out winning bets, albeit for a reduced return. We'll educate you how to cash out in Betika, and OdiBets, and other top sports books.
On top of this, we will also explain how the cash out feature can be used within different sports markets. Cash out betting sites have only been around since online bookmakers thought of this internet-only feature, so it's still relatively new.
If you are into live betting in Kenya in a big way, then cashing out your winning cash out bet could see you return a profit where otherwise you'd only be looking at losses. Here for you is our guide of the best cash out betting sites available in Kenya.
All
Cash Out
PayPal
Enhanced Odds
Live Streaming
How We Rank Cash Out Betting Sites
It is actually more of a rarity in this day and age for an online bookmaker in Kenya to not offer cash out than to offer it. Live betting is common across all bookies, and with live betting comes the option to cash out.
This means that selecting the best 0nline bookmaker in Kenya that has cash out facilities can be a problem. It's a problem that we are here to help with though, as we have selected the best cash-out sites for you, and here are the atttibutes that we review before coming to our decision.
Not all markets are suitable for cash out (live betting is most suitable for cash out, remember) so the more markets a betting site with cash out in Kenya has, the more cash out options it will have too. We champion sites that have markets that rise into the tens of thousands.
Perhaps the most crucial aspect of cashing out at an online sports books is the odds given. In all cases, if you make a cash out bet early, you will receive reduced odds, and the earlier you make a cash out bet, the more these odds are reduced. Most sites use automated cash out tools to work out the reduced odds, but we like sites that still offer competitive odds even though you are cashing out no matter how is cash out calculated.
Early settlement works in tandem with other features a betting site with cash out in Kenya may offer, and in particular live streaming. All sites will keep you fully abreast of the latest action via data updates, but you can't beat watching the game or event live. The best sites are those with a decent number of features.
The biggest sites have a lot of customers, but that does not mean they should forget that every customer is an important person. Support should be available at all times, and decidated support via a live chat applet or by telephone. We don't appreciate sites that offer cash out which hand off their support functions to third parties whose operators are clearly clueless. Betway is an example of a site that has good support options.
If you can't live stream a match or event than you have a potential cash out bet on, then you're probably going to find some other way of watching it. When the times comes to cash out, you will want to cash out as quickly as humanly possible. You won't want to boot up your PC or fire up your laptop – the best and speediest way to cash out is via a mobile app. This is why we prefer sites that offer cash out in Kenya with good, responsive mobile apps, such as 22Bet
In addition to the factors listed above, the table below will make it easy for you to see the cashout options available at our list of recommended best cash out betting sites in Kenya.
*parital cash out is only available on specific bets at some sites that offer cashout, i.e. single bets only.
**average number of sports and markets available on a monthly basis for which cash out is available
What is Cash Out?
Cashout is a way of settling bets before the game or event you have a potential cash out bet upon has been completed. This is also known as early settlement. Cash out is a way of settling a bet as a winner before it has chance to become a loser. The only downside to the early settlement of a cash out bet is that you will receive reduced odds, and therefore reduced winnings. The flipside is that if your bet turns from a winning position to a losing one, you win nothing and you lose your stake. Here are a couple of examples:
Example 1:
You have created the following acca using four EPL matches, betting 500Ksh:
Chelsea to beat Manchester City at 17/10 (2.70)
Manchester United to beat Aston Villa at 2/5 (1.40)
Leeds to lose to West Ham United at 7/5 (2.40)
Arsenal to beat Tottenham at 13/10 (2.30)
The first three games are played on a Saturday and Chelsea, United and West Ham all triumph. You now have 4,536Ksh riding on the Arsenal/Spurs, with the potential of winning 10,4332.80Ksh, or winning nothing!
You are not confident that your bet will win, so you take up the 'cash out' offer. As the bookie has the potential of losing over 10,000Ksh if your bet is a winner, they offer you a generous payout of 4,000Ksh, which you accept. Come the Arsenal game and it's a drab, 0-0 affair, so it's a good job you cashed out!
Example 2:
You are betting on an Australian Open tennis match. In the quarter final You have backed the UK's Emma Raducanu to win in straight sets against Greece's Maria Sakkari – 1,000Ksh at 2/1 (3.00). Raducanu takes the first set easily 6-3, but is a break down in the second, trailing 0-3. You are not convinced that Raducanu will manage to break back and win, so you take the cash out option. The bookmaker offers you 1,500Ksh to cash out, even though you could potentially win 3,000Ksh. You decide to take it.
In the end, Raducanu does break back and wins the tie break too for a 7-6 win overall – oh well, you can't win them all!
Important Cash Out Terms to Know
We have mentioned a couple of cash-out terms already, but just in case you are not completely au fait with the cash out lingo, here is a brief explanation of some of the more important terms:
Full Cash Out
Full cash out is where you completely cash out your bet. It doesn't matter if your bet is a winning one or a losing one eventually – you only get the cashout value when it comes to your winnings.
Partial Cash Out
If you are in half a mind to cash out your bet, and half a mind to keep it going, you could use partial cash out. Say in our football example above you wanted to take partial cashout. You offer to take 2,000Ksh from your final stake as cashout, but leave the remaining 2,536KSh on the Arsenal/Spurs game.
The bookie offers you 1,750Ksh partial cash out to do this, which you accept. If Arsenal then fail to beat Spurs, your return would be 1,750Ksh. If they do, you would get 1,750Ksh from your cash out, plus 5,832.80 from the Arsenal match for a total of 7,582.80Ksh.
Auto Cash Out
If you don't have the time to follow an event on which you have placed a bet, you can opt to take auto cash out if offered by a bookie. Here you can set a criteria by which you automatically cash out your bet.
For example, if you had a single on the Arsenal/Spurs game (and again, Arsenal to win), you could set auto cash out if Arsenal go two goals up, or if Arsenal are winning with ten minutes to go, or if Arsenal are winning but have a player sent off. Your cash out rates will be different depending upon the event.
For system bets you can set a cash out if your bets reach a certain level of winnings. Again, you will not get the best odds, but you are protected if your system bet goes on to fall.
Some sites will automatically cash out bets at full odds if certain circumstance prevail, such as your backed soccer team going two goals up.
Stop Loss
Stop loss is a form of cash out only available at spread betting sites. With spread betting, you win more the more right you are and lose more the more wrong you are.
Say you back Kenya to beat Tunisia by two goals in the CAN. If Kenya win 6-1, then you will really be in the money! If Kenya lose 0-3 though, you will lose far more than your original stake.
You can set 'stop loss' to prevent yourself from suffering a heavy loss. Say you stop your losses should Tunisia win 1-0. That means you will lose no more than a 1-0 Tunisia win, even if Tunisia win 10-0. At the same time you are also stopping your winnings on a 5-0 Kenyan win, so if Kenya win 10-0 you won't win as much as you would have done otherwise!
Betting Sites with Cash Out in Kenya Sports Markets
Not all sports and markets are suitable for cash out, but the majority of them are. Soccer is particularly good for cash out, as there is so much that is measurable during a game. American sports are good too, mainly as they take so long so you don't have to be super-fast to get your cash out request in.
Here is a quick look at specific sports at which cash out is typically available, and what types of bets are covered. We are not going to cover system, accumulator or parlay bets as they can be made up of multiple sports. You should be able to cash out system bets at any time, as long as all events so far covered by the acca/parlay have been winners.
Sports That Usually Have Cash Out:
Football – Football is propbably the number one cash out sport. Most bets (winners, double chance, HT/FT, over/under, BTTS No, total goals) are only finalised when the game has finished, so any winning bets are available for cash out before the final whistle blows.
Cricket – Several aspects of cricket are measurable too, as cricket is a game full of statistics. Potential cash out bets include match winner, top batsmen (for either side), total runs scored (overall or by one side) and leading wicket taker.
Tennis – Tennis is another game of numbers, making it ideal for cash out bets. Available cash out wagers include match winner, total games (overall or by one competitor), first set winner and overall match score.
Golf – Another numbers sport but far fewer than the sports mentions so far. They will be cash out opportunities on some aspects of an events, including to win outright, top five finish, top ten finish and group betting.
Horse Racing – Horse races do not last long, so you will have to get your cash out requests in quickly! The only real cashout bets here will be your horse to win or place.
Snooker – Easily yet another sport of numbers – indeed snooker is purely a sport of numbers! Cash out opportunities include overall match winner, total frames played (collectively or individually), correct score, player/match centuries and highest break.
American Sports – As we said in our section introduction, US sports are ideal for cash out as they … drag on a bit and are very stop/start (except perhaps for ice hockey). You will have plenty of options to cash out with game lines, winning margin, double result and total points/runs
How to Cash Out
Cashing out a winning bet is not difficult. If you know how to place a bet then you will know how to cash out one. Just in case you are not sure about the process, we are going to walk you through the cash out process at two of our recommended online cash out betting sites for Kenya, Betika and Odibets.
How to cash out in Betika
A popular question sports bettors ask in Kenya is 'does Betika have cash out?' – and the answer is 'YES!' We are now going to show you how to cash out in Betika, which is very simple to do. First of all of course, you must place a bet in the usual way. Go through all the events at the site for a suitable bet or use the search function to find a particular bet that you want to place. Click on the price of the outcome that you want to wager on. Clicking on the odds will transfer the bet to your betting slip. You can adds more bets if you want to make an acca. Set your stake and then press the confirm button to place your bet.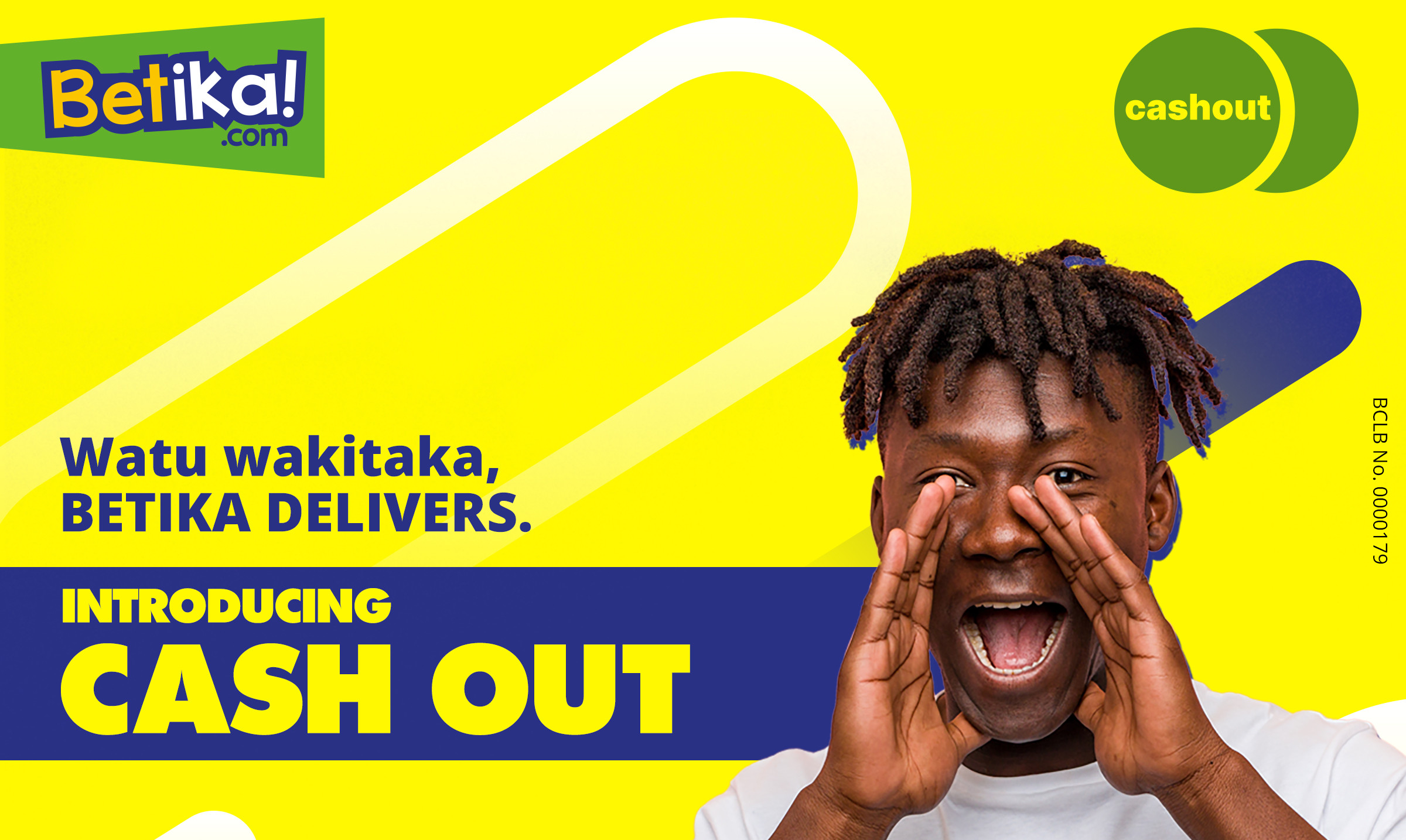 The process for cashing out is much the same. Head to your betting slip to see all your currently active bets. You will notice a 'cash out' filter that is available – click on this to see which of your bets are available for cash out. A yellow button will appear under any bet that is available to be cashed out.
If you click on the yellow 'cash out' button for the wager that you wish to cash out, a small window will appear telling you how much you will receive if you choose to cash out. Should you choose  to cash out, then click the confirmation button. However, if you have changed your mind, then click the cancel button. If you do cash out, then your cashed-out winnings will be transfered to your account within a few seconds.
How to cash out In Odibets
Cashing out at OdiBets is actually relatively new, being introduced at the site in July 2021. This site has a generous cash out offer that can applied to single bets, multiple bets, live bets and accas. No matter the size of your stake, you can cash out without problem. We particularly recommend using the OdiBets app to cash out as this is the most convenient way, and as it is one of the best betting apps with cash out in Kenya.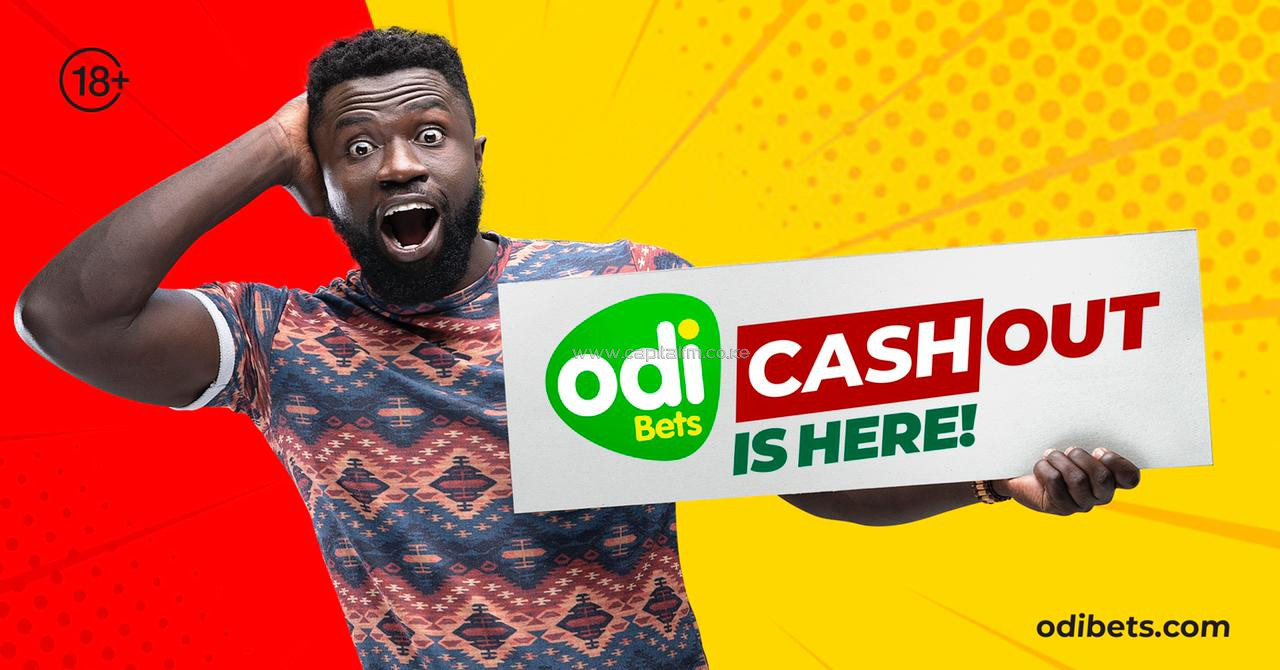 Here is how to cash out in OdiBets. First, you place bets at OdiBets in the normal way. OdiBets does not have a big range of markets per event, which means most wagers you place at the site are available for cashing out. Once bet has been placed, it will appear in the 'My Bets' section of your account.
You can check the 'My Bets' section any time during the event that you have wagered. The cash out option will be there and the amount you will win for your cash out will be displayed. If you wish to cash out, press the 'OdiBets cash out' button. You will then be asked to confirm that you wish to go ahead with your OdiBets cash out. Click on the confirmation button – your bet will be settled and your return will be placed into your account.
Betting Apps With Cash Out in Kenya
Mobile betting when it comes to cashing out. If you are monitoring a match on which you have a bet, you are probably watching it live. If this is the case, then the last thing you are going to want to do is leave the action and bounce over to your PC or laptop to cash out your bet.
With a mobile app you don't have to even get up off of your backside! Just pop open your app and cash out your bet with a couple of stabs of a finger – it really is that simple! Here are three of the best betting apps with cash out in Kenya.
Best Kenya App for Betting

100% up to 15 000 KSh
Variety of ongoing promotions
Attractive welcome bonus
Excellent bookie for live betting
9.7
Claim Bonus
Only one 100% first deposit bonus per customer. The minimum deposit required to get the bonus is 100 KES. If the bonus is credited to the bonus account for sports betting, the wagering requirement will be 5x the bonus amount in accumulator bets. Each accumulator bet must contain at least three selections.
100% up to 11,200 KSh
Generous welcome bonus
30+ sports available
Kenyan Shillings accepted
9.7
Claim Bonus
A customer is entitled to only one bonus. The minimum required deposit to activate the bonus is 129 KSH. Wager 5 times the bonus amount in accumulator bets. Each accumulator bet must contain 3 or more events. At least 3 of the events included in an accumulator must have odds of 1.40 or higher.
How to Succeed When Using Cash Out: Strategy & Tips
Cash out betting sites are one way for a commited sports betting enthusiast to increase their chances of making money when betting on sporting events.

We will of course remind you here that there is no betting strategy that automatically guarantees success – if there was then in this internet information-sharing age no bookies would still be in business! You can though, if dedicated enough, increase your chances of being successful with cash out sports betting with our exclusive cash out tips.
1. Use Available Information
With all betting strategies, information is power. You need to have the full facts at your disposal, and you need to react quickly. You also need to understand the risks inherent with cashing out, and the risks with not cashing out! Forearming yourself with information helps too. Perhaps there's an underperforming football team that usually scores the first goal in the game but has a bad habit of being pegged back? Maybe they are playing a better team that usually starts slowly but scores most of its goals in the second half. You may get excellent odds to back the former team to win, and then cash out as soon as they take the lead (or hold on as long as you dare). The same principle can be applied to any event.
2. Be Confident
Betting sites with cash out in Kenya actually want you to cash out. This may sound like a bizarre policy, but on average cashed out bets would have been winning bets if left on far more often than ones where they would have been losers. Betting sites are simply saving on the amount of money they would otherwise have to pay out. It is tempting to cash out every bet as soon it becomes a winning one, but many bets generate a higher return if they are left until the event is over. You need to stop second guessing yourself and have confidence that many of your bets will be winners if they are not cashed out. Having an understanding of how is cash out calculated helps too.
3. Always Be Positive
There is nothing more frustrating than cashing out a bet that turns out to be a winner. People tend to take more notice of cash out bets that would have generated more returns if not cashed out then cashed out bets that are actually winners. Always remember that any cashed out bet that generates a return is a winner, and is better than a losing bet. Just ignore 'what you would have won' and move on.
Bottom Line on Cash Out Betting Sites
Almost every sports betting site in Kenya that offers live betting offers cash out betting too. This works for both the betting site with cash out in Kenya in question, and the expert punter – the betting sites end up paying less for cashed out bets than they would have done otherwise, and the expert punter ends up winning bets that otherwise would have been losers.
Of course, not everyone is an expert punter, and nobody becomes an expert punter overnight. To become an expert in anything takes times and effort, so follow our cash out betting tips to become a cashing out pro. Even if you are only a casual sports bettor, understanding cash out and knowing when to cash out, and knowing when to 'let it go all the way, baby' will give you more chance of adding to your betting bankroll than subtracting from it.
Keep working out it at our recommended online betting sites with cash out in Kenya and soon you could become the king of cashing out!
Win $50 Free Bet
Impeccable customer support
Fast Crypto Transactions
Cash out available on many markets
9.9
Visit Site
Enjoy more FREE opportunities to win more than ever before, with more games events and more prizes on offer with our specially-themed European Championships Free To Play games. Play 4-3-Free EVERY GAME DAY and win! If you answer all four questions correctly, you will get a $50 Free Bet*. If you answer three questions correctly, you will get a $10 Free Bet*.
FAQs
How does cash out work?
In the simplest terms, cashing out allows you to take your winnings from a winning bet before the event you have placed a bet on has concluded. You will though, receive a reduced payout in relation to what you'd expect if the event finished and your bet was still a winning one.
Is cash out always available?
At most betting sites now, cashing out is available. The majority of sites now have live events betting, and with live betting comes cash out. It's unlikely that a site that have live betting markets will not allow you to cash out.
Can I cash out when markets are suspended?
Unfortunately not. As soon as a market is suspended, then all bets are off. You cannot place a cash out bet on a suspended market, nor can you cash out a current bet on any market that currently is under suspension
How is cash out calculated?
All cash out amounts are calculated automatically. At live sites, all current events will have live odds which are constantly updated. At the moment you hit cash out, you will receive the live odds for your wager as opposed to the odds you took when you originally placed your cash out bet.
Can free bets be cashed out?
That's unlikely. A free bet is usually unavailable as a cash out bet. You may be able to place your free bet on a live market, but if you want to go on and cash it out, the likelihood is you will not be able to.
Does Betika have cash out?
The answer to the question does Betika have cash out is a simple one - yes!