The most fundamental part of sports betting in Kenya is 1×2 betting. With betting 1×2, you are trying to predict which team will win a given game or if it will end in a draw. This guide will look at how you can get started with 1×2 betting. This includes showcasing the best sports betting sites that accept KSh deposits and providing some advice that can hopefully help you become a successful 1×2 bettor.
What is Betting 1×2?
Every sport that has two different players or teams battling against each other will have 1×2 betting markets. With 1×2 betting, the 1 refers to the home team winning the fixture, the x represents a draw, and the 2 refers to the away team winning.
For example, if the home team Gor Mahia is playing Vihiga United in the Kenyan Premier League, you would be betting on Gor Mahia if you select 1 and backing Vihiga United if you select 2. If you think there will be a draw, then you will be betting on x.
How to Calculate the Payout of a 1×2 Bet – Fixed Odds
If you are placing a bet on one of the leading fixed-odds sports betting sites in Kenya, then you will not be charged any commission. Therefore, the process of calculating the expected payout is pretty straightforward. You simply multiply the odds by the size of the bet that you are going to place.
If you think that the home team Kenya Commercial Bank SC is going to beat Sofapaka in a Kenya Premier League game, you will place a bet that Kenya Commercial Bank SC will win this fixture. If you are given odds of 1.344 and you are going to place a 100 KSh bet on this outcome, your potential payout is 134.40 KSh (100*1.344). This is 34.40 KSh in profit and your initial 100 KSh stake.

How to Calculate the Payout of a 1×2 Bet – Betting Exchange
If you are looking to place a bet on an exchange, you will need to account for potential commission. For this example, we will use the BetWinner Exchange that charges a 1% commission on market profit.

Using the previous game as an example, you will be charged a 1% commission on your profit. Therefore, your net profit for this bet will be 34.40 KSh x 0.99 = 34.06 KSh.
How to Calculate the Payout of a 1×2 Lay Bet
While a regular fixed odds bookie does not accept lay bets, this becomes a possibility if you are using a sports betting exchange. If you want to bet that a given team is not going to win, then you are laying it. This means that you effectively take on the role of the bookie on the exchange. Some exchanges will charge you a commission on your bets, so this also has to be accounted for if this is the case.
If you accept a bet of 100 KSh on Kenya Commercial Bank SC winning the game, then you will get to keep this stake minus commission if the team does not win. The BetWinner Exchange charges a 1% commission on profits, so you would make a profit of 100 KSh x 0.99 = 99 KSh from this successful lay bet.
Where to get the best 1×2 live betting odds
Live betting is another very popular way to place bets on sporting events. Many of the leading bookies in the Kenyan market have extensive live betting coverage, which sometimes even includes live streams.
The 1×2 market is a core part of any live betting offering whether you are using a betting app or a desktop site. You might be watching Kenya take on Ghana in the Africa Cup of Nations and want to place a wager on who you think is going to win. Here are three of the best betting sites for Kenyans when it comes to getting the best live betting odds for 1×2 wagers:
BetWinner – 100% First Deposit Bonus Up To 11,200 KSh
22Bet – 100% First Deposit Bonus Up To 15,000 KSh
mCHEZA – 50% Extra Winnings On Multiples
Ultimate Betting 1×2 Tips
There is no foolproof way to ensure that your bets are always going to win. However, there are often ways that you can help to tilt the odds more in your favor. Over the course of your betting, you will often learn what works and what needs to be avoided. If you are looking for some 1×2 betting tips, here are a few useful strategies to consider:
1. Remove Emotion
One of the big things that hold back bettors from being more successful is that they get too emotional when making betting decisions. If your favorite team or player is involved in a fixture, then you might have an unrealistic view of how the game is going to turn out. You might also be on a losing streak and start to make riskier decisions in an attempt to claw back some of your losses. It is important to only place bets when you are objective and have a clear head.
2. Do Your Homework
To be confident in your 1×2 bets, it is a good idea to carry out sufficient research. This allows you to make informed decisions. This means checking out the recent form, past head-to-head matchups between the two sides, and keeping an eye out for any recent injury reports. If you do plenty of research, you can often find useful info that is not already priced into the betting odds, allowing you to take advantage.
3. Avoid Large Accumulator Bets
The 1×2 betting market is a very popular way for people to add together a variety of these bets into a single bet. An accumulator can pay off significantly if all of the teams win, but this happening is often rare. You are normally better off limiting your multiples bets to a handful of selections. This gives you a better chance of winning. Accumulator insurance is also useful, as this gives you your money back if just one of the selections lets you down.
4. Consistent Staking Plan
Another aspect of being a successful 1×2 bettor is by having a consistent staking plan over the long run. This means that you will not be placing too much of your account balance on the outcome of a single win draw win bet. Instead, you should evenly spread out your funds so that you are not overly exposed to a single game or a single week's worth of games. This allows you to place more bets, giving you the opportunity to learn more about the best ways to approach betting 1×2.
Where to place Win Draw Win Bets
There are plenty of great sports betting sites that cater to Kenyan bettors. Some of these are licensed locally and are specifically tailored to the local audience. Other platforms will be major global brands that also accept players from Kenya. We have conducted extensive research and testing to come up with a few of the best betting sites for Kenyans who are looking to place 1×2 wagers:
1. BetWinner – Top-Tier Offering 
BetWinner ticks a lot of boxes for bettors. It is licensed in Kenya and offers you the chance to use Kenyan Shillings and to conduct transactions with local payment options. The collection of sports is almost unparalleled, with over 30 different distinct categories supported. The majority of these categories will have 1×2 betting as a key part of their offerings. For a Kenyan Premier League game, you can usually expect over 170 different betting markets. These games will also be offered through the live betting section.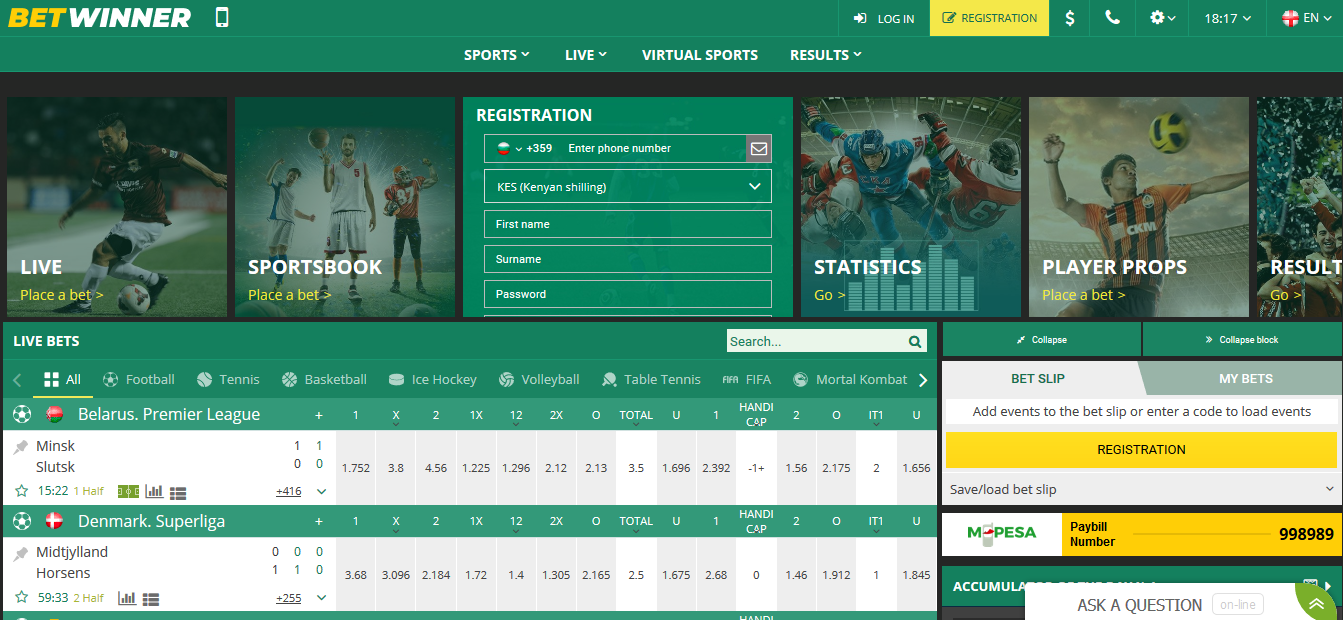 Another standout aspect of BetWinner is its range of useful betting features, such as cash out and bet builder. It also offers you access to some in-depth statistics to help you with your bet decision-making. It doesn't disappoint with its welcome offer either. You will have your first deposit matched 100% up to 15,000 KSh. There are also other regular offers, such as weekly deposit bonuses. In terms of usability, BetWinner is ideally suited to both mobile and desktop users. The site is not overly cluttered, so bettors will have an easy time finding markets and placing bets.
What we like:
Great welcome bonus
Large collection of betting markets
Localized to Kenyan bettors
What we don't:
2. 22Bet – An All-Round Quality Platform
22Bet is definitely high up on the list of the best betting sites for Kenyans. It has been in business since 2007 and it is licensed by many respected regulators across the world. You won't be disappointed by the selection of betting markets, including 1×2 options. There is a huge range of different sports covered, with wide coverage for all of the popular events. You also nearly always have 100+ different live events to place wagers on, also usually offering 1×2 betting.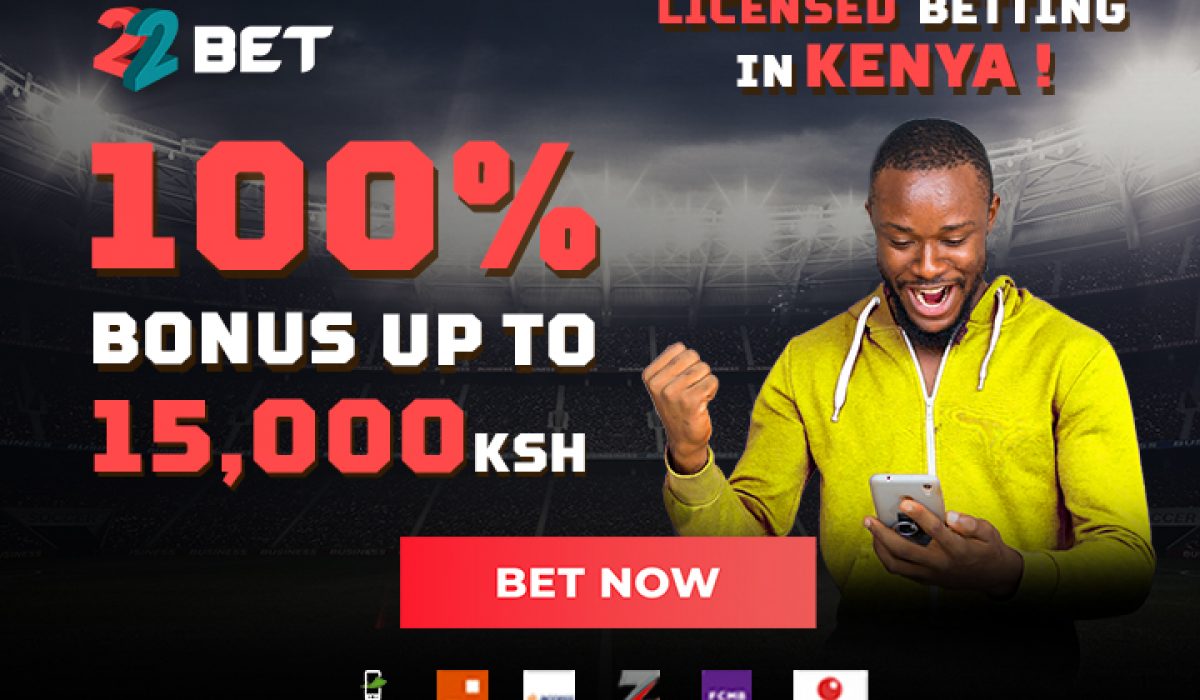 The offering has been tailored towards Kenyan players when you visit the localized site. This will be predominantly mobile-focused as a platform, being compatible with all leading operating systems. The navigation system couldn't be easier and all of the available betting markets are clearly displayed. Placing a bet is quick and easy, so you waste no time in making sure that your wagers are in place.
Conducting transactions is also very straightforward with this offering. When making your first deposit, don't forget to get your hands on the 100% first deposit bonus up to 15,000 KSh, This is the ideal way to start off your new account. As a Kenyan bettor, it is hard to go wrong with 22Bet. 
What we like:
Leading mobile betting offering
Attractive welcome offer
Localized payment options available
What we don't:
Sometimes the app can be slow to load
3. mCHEZA – Very Competitive Odds
mCHEZA is a bookie that has been created with Kenyans as its main focus, rather than catering to a worldwide audience. Therefore, you will get a more specialized experience. The owner of the platform is based in Nairobi and a lot of people like to support this local operator. It also has a presence across other major African countries.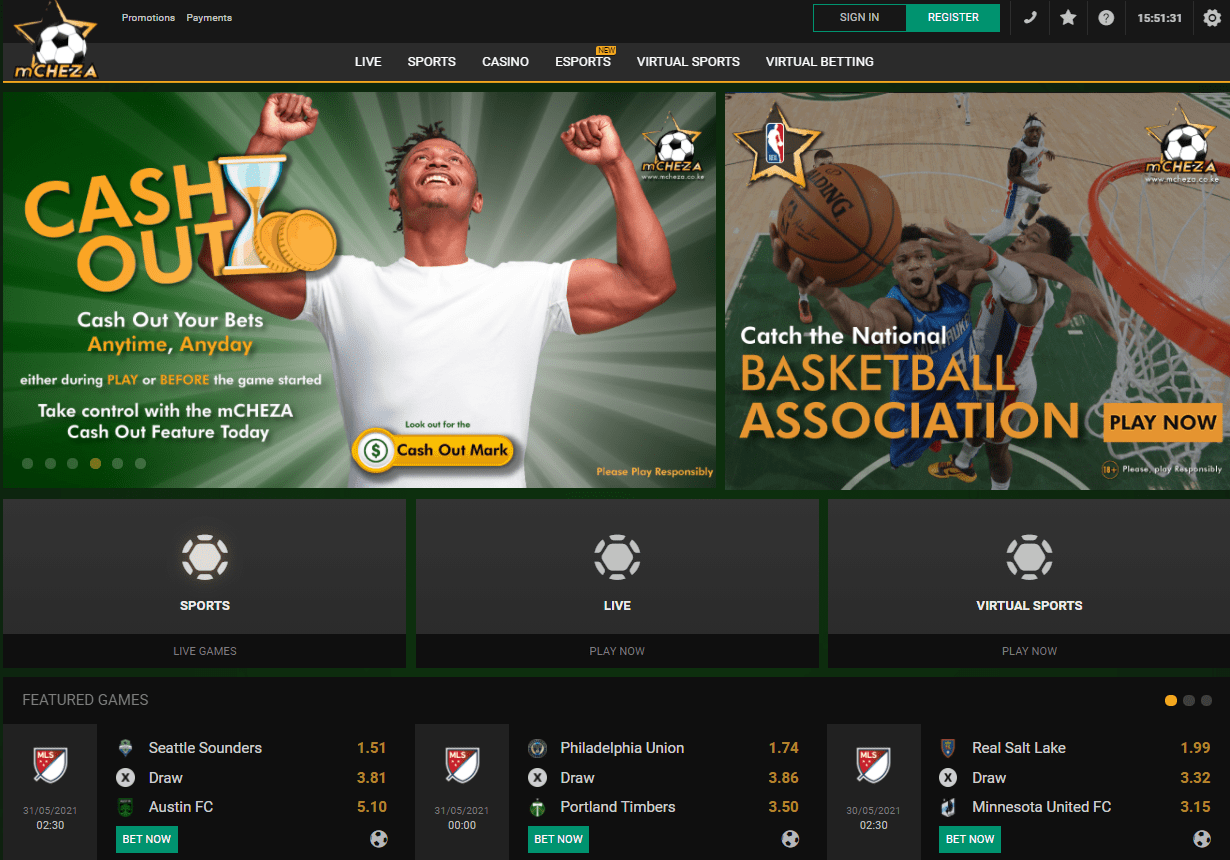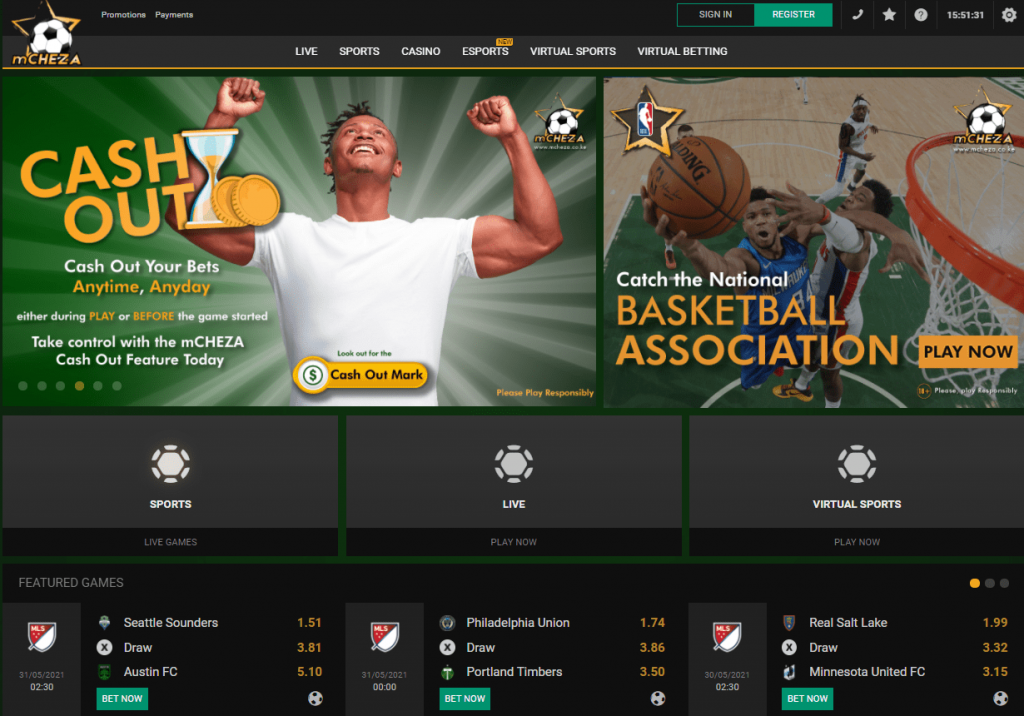 However, its main draw is not that it is a local operator, it actually has a very extensive offering of sports and betting markets. Most leading football games for example will have over 200 different betting markets available. This of occurs includes betting 1×2. The live betting section is also well done, with odds quickly updating as the game goes on. There is also a database of extensive statistics that can aid your decision-making.
The platform is very functional, focusing on allowing players to find exactly what they are looking for. mCHEZA also has an online casino, as well as offering esports betting and virtual sports. The only area that mCHEZA is lacking is in the bonuses department. The only offer available at the moment is that you get a 50% boost to the payouts for your multi-bets.
What we like:
A Kenya-based operator
Huge range of betting markets
The platform is focused on usability
What we don't:
Our take on 1×2 predictions
There are plenty of tipsters in Kenya and the rest of the world today that claim to have found the secret formula to winning 1×2 bets. This is always something you need to be wary about. A lot of these tipsters will particularly focus on horse racing and football betting. There is no system that can guarantee that your bets will be a winner. Some of these tipsters can go on hot streaks, followed by long losing runs. Therefore, you need to take any win draw win predictions with a pinch of salt.
Social media is full of people claiming that they have won huge sums through their 1×2 bets. However, they often only showcase their rare winning bets and not all of the wagers that they lose. Some tipsters who have built up a transparent track record of success over the years can be useful to give you some pointers. You might be able to learn about certain strategies and approaches you can take when placing 1×2 bets.
Ultimately, it is a lot more rewarding when you have done the research yourself and chosen which win draw win bets you think are going to be successful. When you win, it will be very satisfying and when you lose, at least you have nobody else to blame. You can learn from all of these experiences in order to become a more rounded bettor going forward.
Betting 1×2 Pros & Cons
Pros:
A market available for most sports
Provides you with great flexibility
An ideal market for live betting
Cons:
Not as detailed as other markets
Roundup
Now that you have learned exactly what to expect with this bet type and some useful 1×2 betting tips and tricks, you are likely ready to sign up for one of the leading Kenyan betting sites. You can register for an account in just a few minutes and get your hands on a welcome offer. Then you will be able to put what you have learned about 1×2 bets into practice.
100% Up To 11,200 KSh
Generous welcome bonus
30+ sports available
Kenyan Shillings accepted
9.7
Claim Bonus
A customer is entitled to only one bonus. The minimum required deposit to activate the bonus is 129 KSH. Wager 5 times the bonus amount in accumulator bets. Each accumulator bet must contain 3 or more events. At least 3 of the events included in an accumulator must have odds of 1.40 or higher.
FAQs
Is 1x2 the most popular type of bet?
Yes, most sports will allow you to place 1x2 bets. Once there are just two opponents, then this will normally be a possibility. This bet type does sometimes go by different names, such as the match winner market, win draw win, or a moneyline bet.
What are some other popular betting markets?
There is always a great selection of betting markets no matter what sport you are looking at. People often like trying to predict the exact score in a given event or the performances of particular players. Applying a handicap to 1x2 bets is also a popular type of market.
Can I use free bets on 1x2 wagers?
Most free bet offers that you can claim with the leading betting sites will allow you to use them for 1x2 bets. Every deal will have its own terms and conditions that have to be considered. You will normally have to place your bets on a selection that has a certain level of minimum odds.
Does every sports betting site offer 1x2 betting?
Yes, 1x2 markets are the most fundamental part of a bookie's offering. This goes for both pre-game and live betting. Therefore, you will always have access to this range of options.
Can I cash out 1x2 bets?
Many of the leading betting sites in Kenya offer you the chance to cash out of your bet before the given event has finished. This is a way that you can cash in some of your winnings early or to cut your losses. If the operator offers cash out, you will almost always then be able to cash out you 1x2 wagers.