Sports betting in Canada is a sector that has grown exponentially over the last few years. As gambling laws within the country start to ease, more betting companies are taking advantage of this and re-entering an incredibly exciting marketplace by launching Canada betting apps.
One of the key areas that the modern-day betting site needs to address is mobile betting and with it, a killer betting app is required to tailor to modern-player needs.
Throughout this article, we want to create a complete guide for the best betting apps Canada. We're going to show you everything you need to know about betting on your phone and what you need to target and avoid, to get the most from each app.
All
AstroPay
Bet Builder
Ecopayz
eSports
Free Bet
Live Betting
Live Chat
MasterCard
MuchBetter
Neteller
NFL
NHL
Skrill
Soccer
Visa
Cash Out
Skril
More Filter
What Betting Apps are Available in Canada
Betting apps are arguably the most exciting segment of the betting industry right now. Major brands are pushing the limits on what we can expect to find within an app, which for the punters, is a huge positive.
Below we've included what we think are the top betting apps in Canada. These are apps that are fully established, well presented and safe to use throughout the country.
What we will add at this point is that this section is based on a complete look at each app, taking in absolutely everything to come up with an overall score for the app. If you want to find the best apps to target individual sports, then we've included this section later in the article.
1) Bovada – Best Overall with Great Welcome Offer
A name that needs little introduction, Bovada has one of the best designs for any betting app that we've tested. It's fast, it looks great, and it ties in seamlessly with their online casino. Pipped to the top spot only by their pricing inconsistency, but in terms of game coverage, bet types (parlay and accumulator bundles in particular), mobile-specific banking options and the ability to use one account for multiple products, it's a stunning Canadian betting app and an easy inclusion on our list.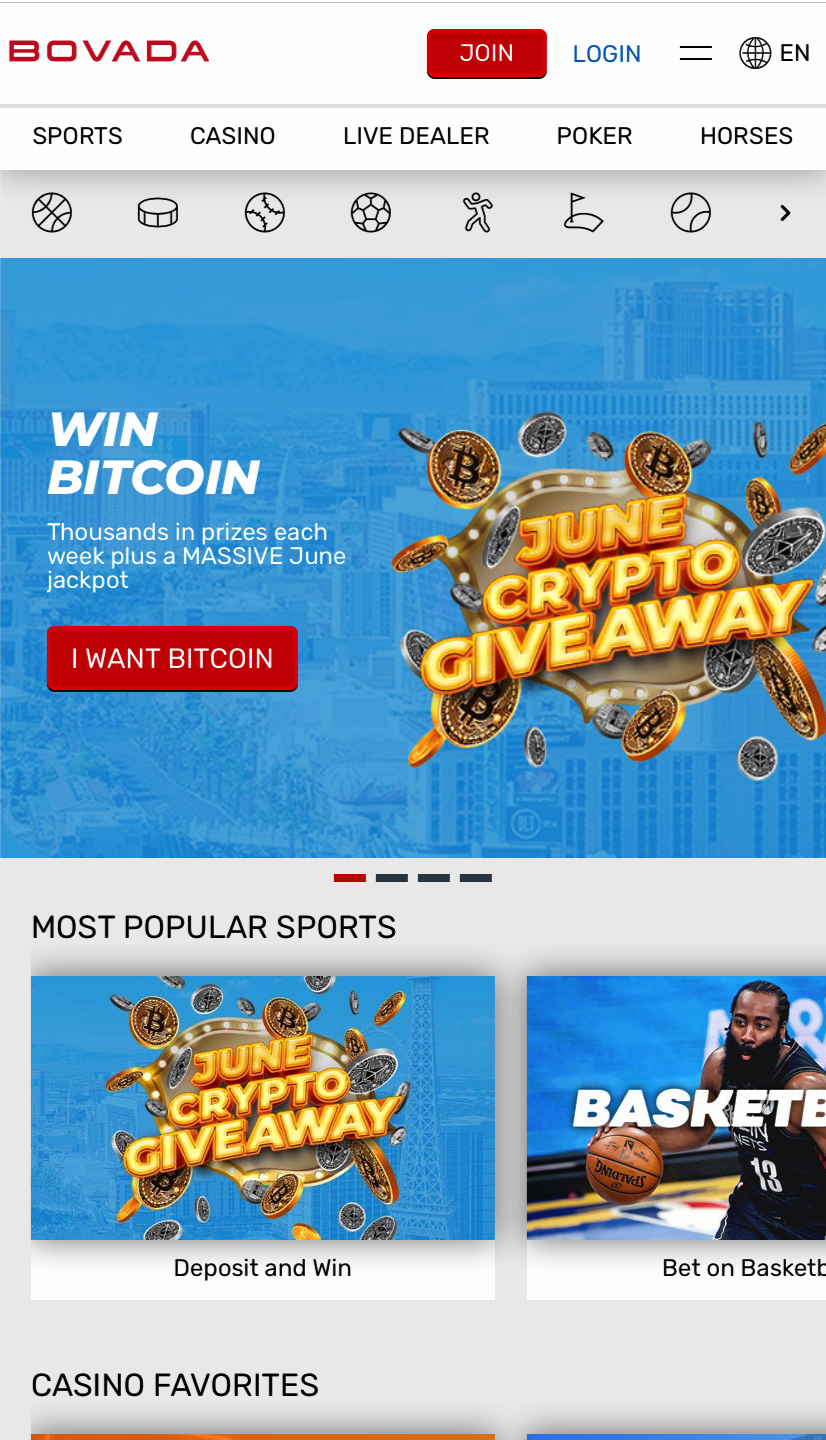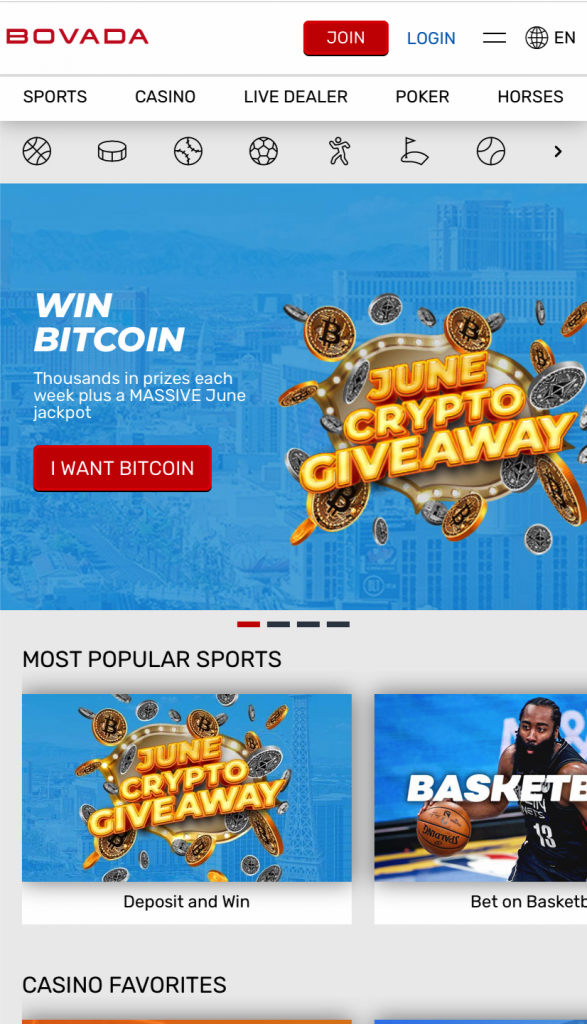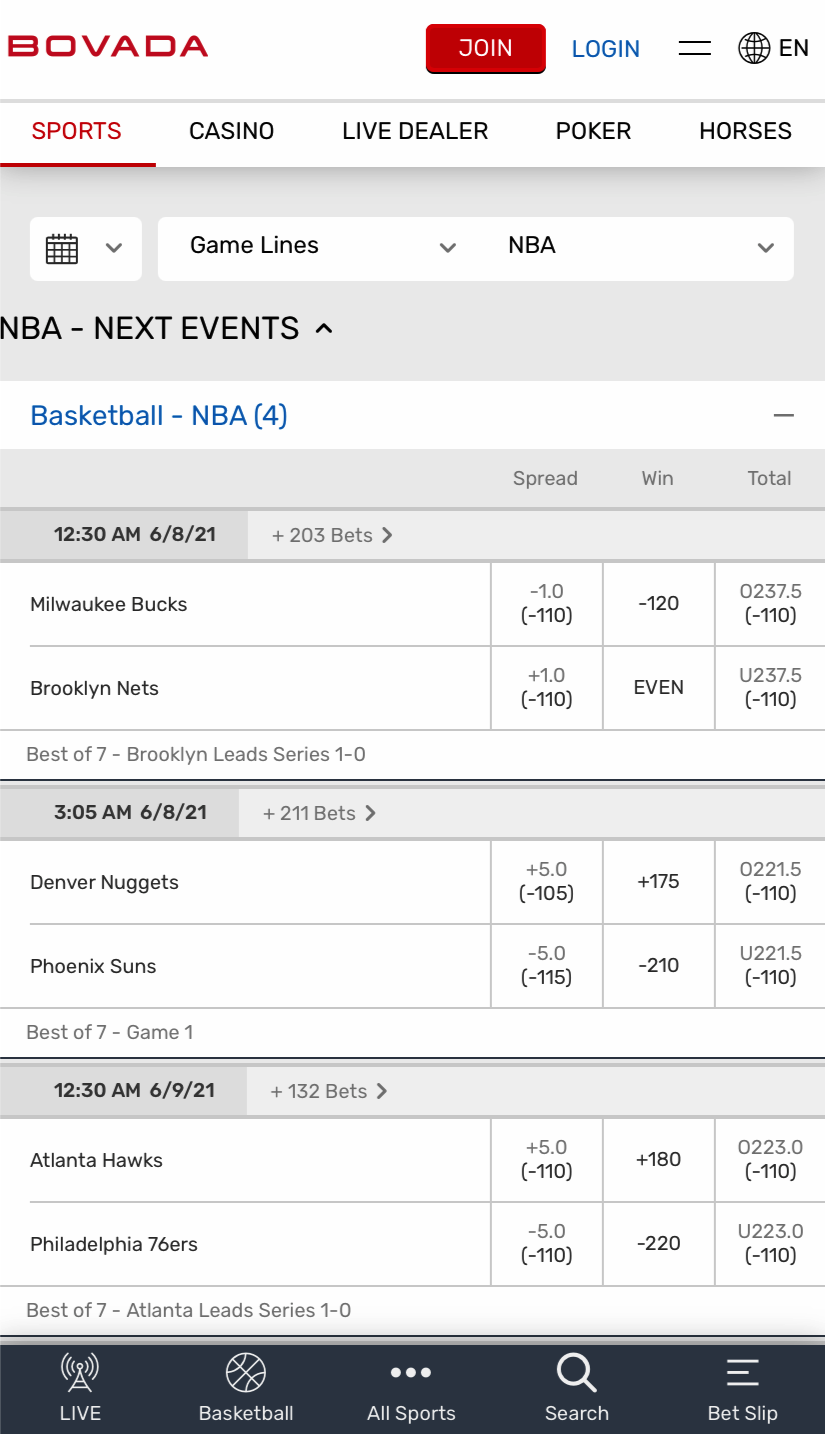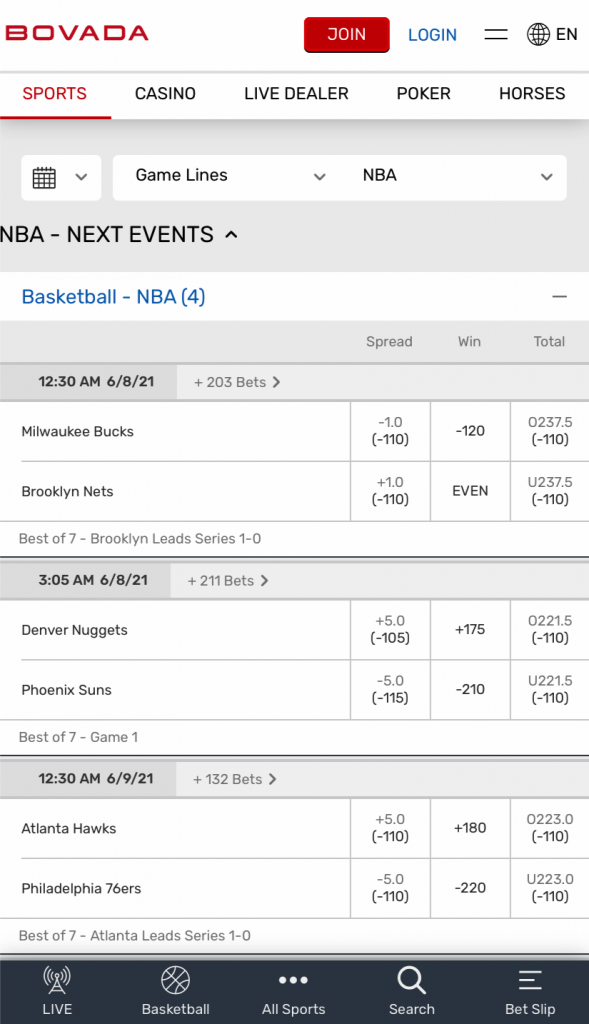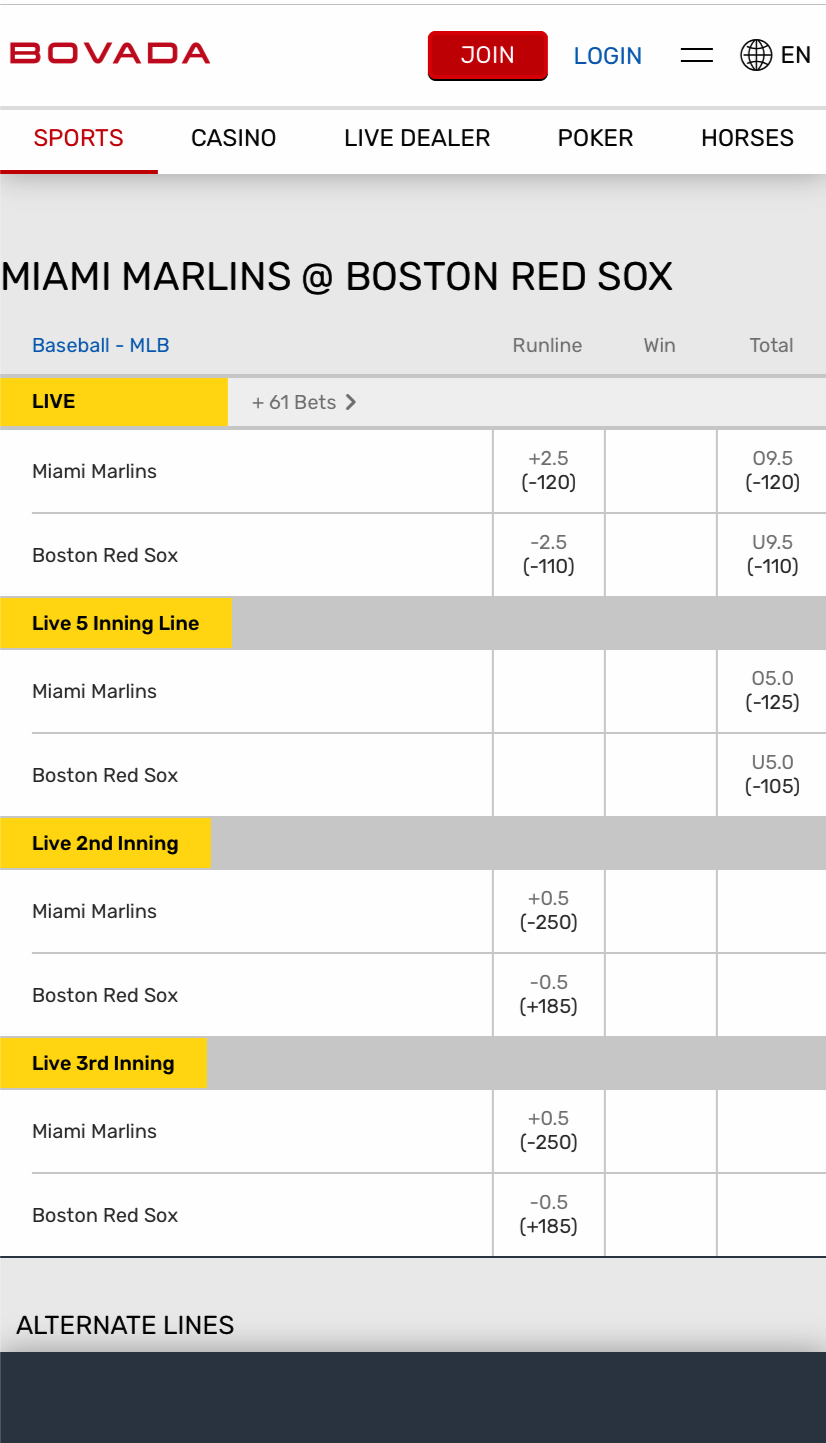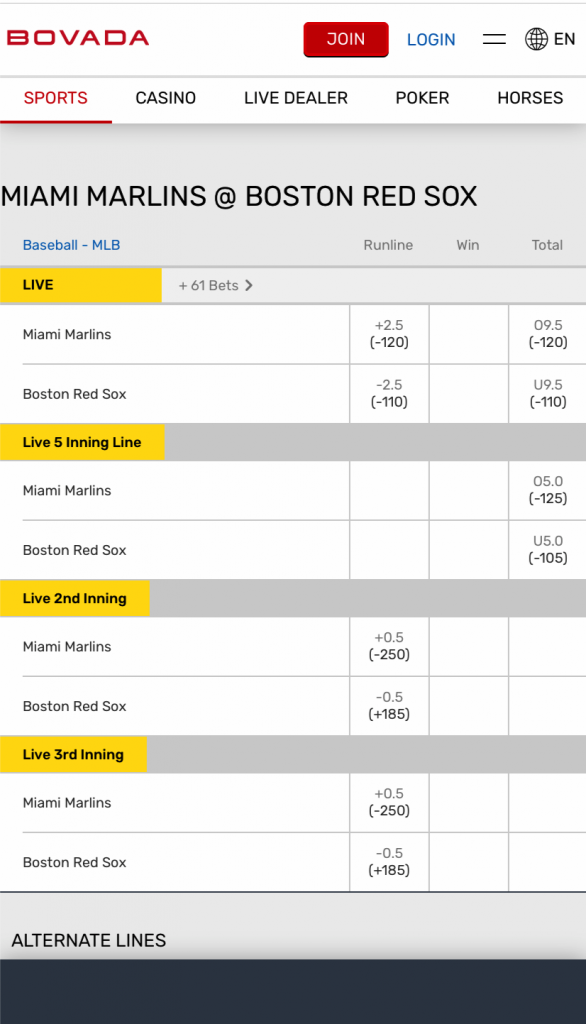 What we like:
Huge depth in terms of both sports and markets
Specialises in parlays for major North American leagues
Good range of banking options
What we don´t like:
Pricing can be a little erratic
Betting lines sometimes published later than we would like
2) Sports Interaction – Best Range of Candian Sports
A proper mobile sports betting site for Canadian punters, by Canadians. Sports Interaction has made it their goal to offer a massive coverage of Canadian sports all within their mobile site. It's game and market coverage that stands out here and with it, offers a fantastic user experience. Don't get side-tracked by the Canadian influence though, Sports Interaction covers markets all over the world in one of the biggest sports betting apps that we've tested. The lack of a dedicated download option is the only negative.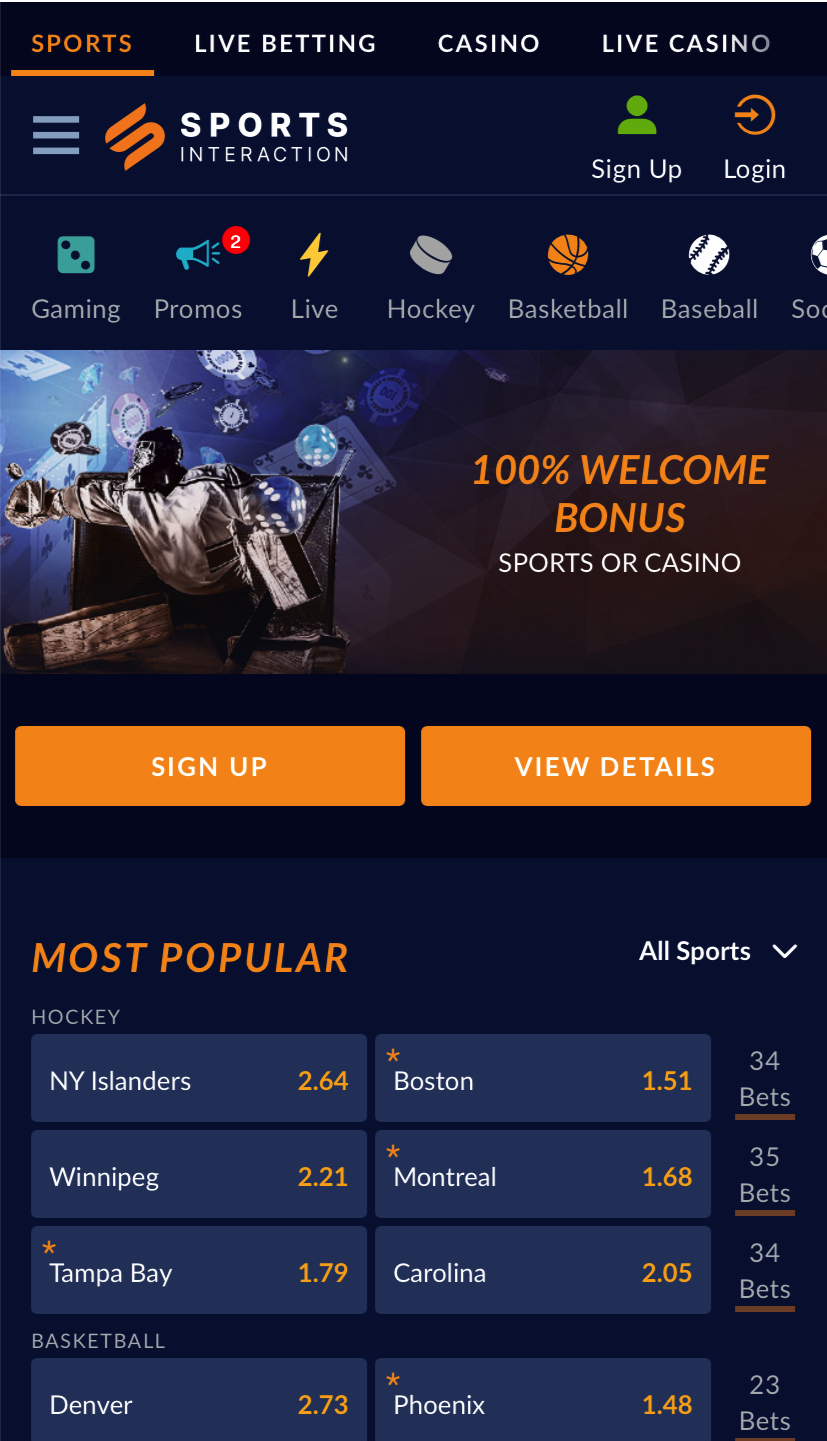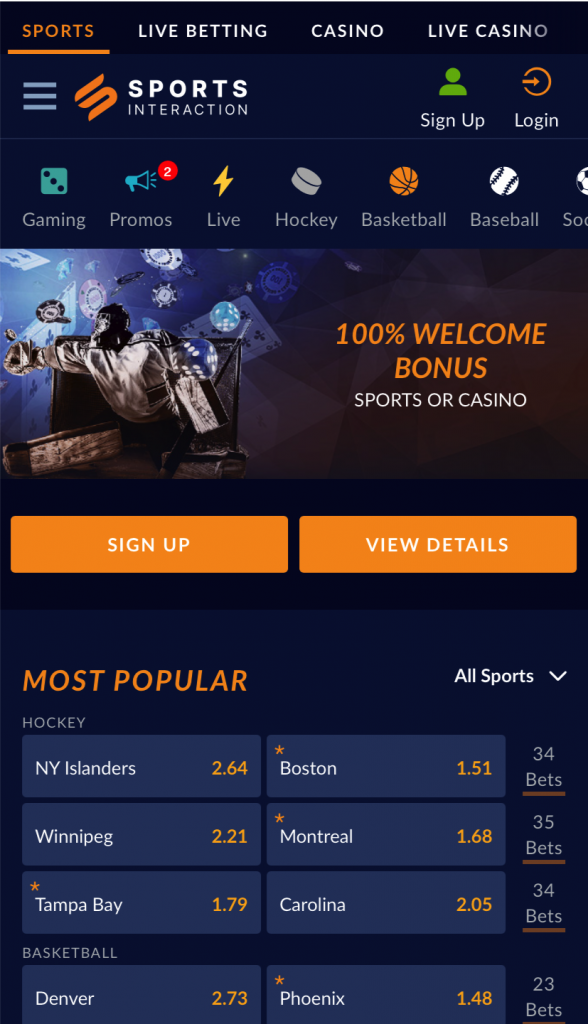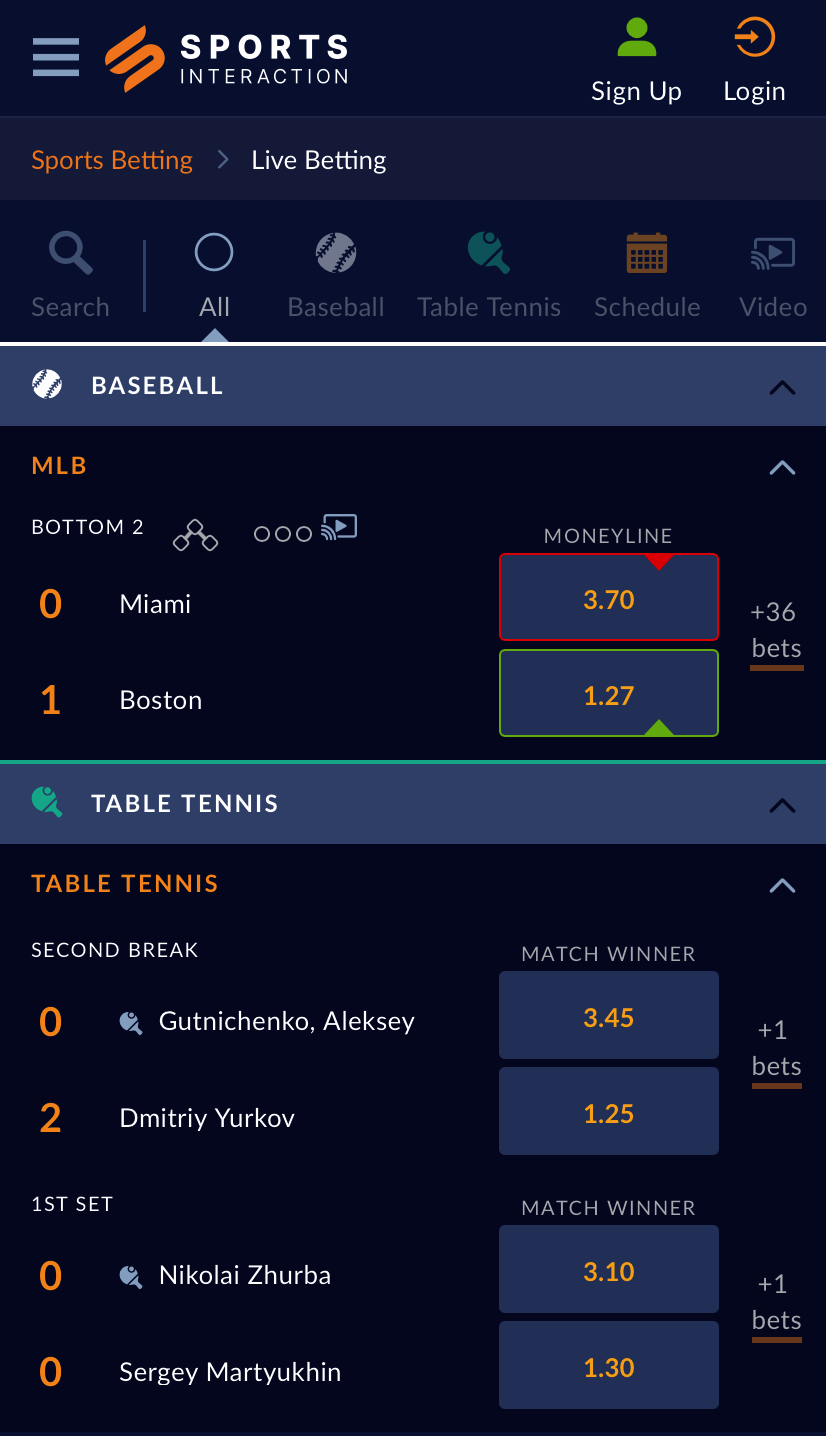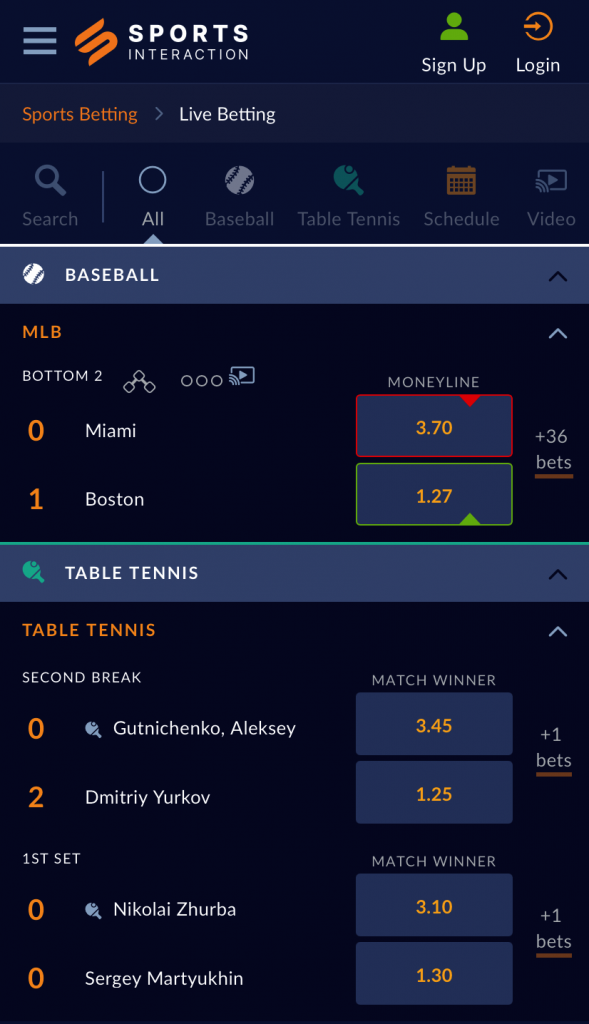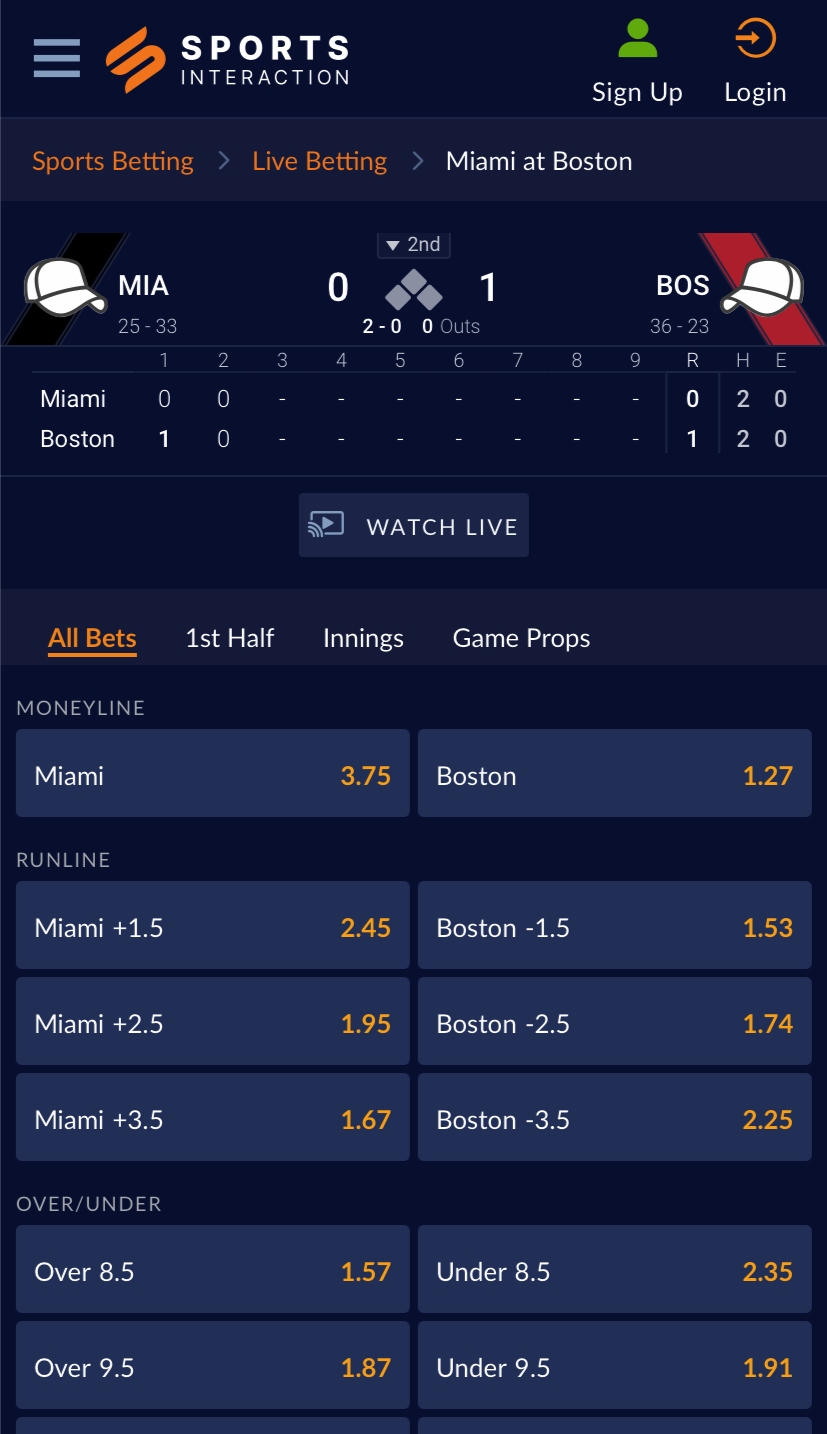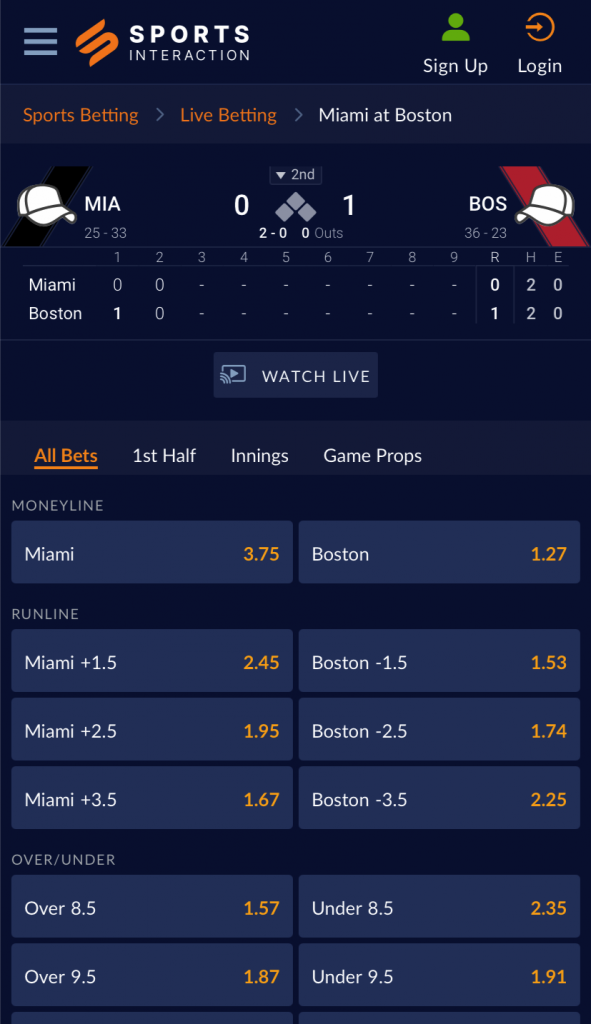 What we like:
A site desinged specifically for Canadian sports bettors
Usability is up there with the best
Coverage of Ice Hockey is the standout sport
Live streaming within the in-play betting markets
3) Bodog – The Best for Welcome and Existing Player Offers
If it's a welcome offer to end all welcome offers that you're after, Bodog is going to be worth a look. You can claim a massive $200 bonus when you register a new account and it's also a highly accessible bonus, meaning that T's and C's are transparent and reasonable. The app looks great, it's easy to move money in and out and you get a great range of sports to bet on. The only downside is that betting lines are posted later than most books, which makes it tough to carve out that pricing edge.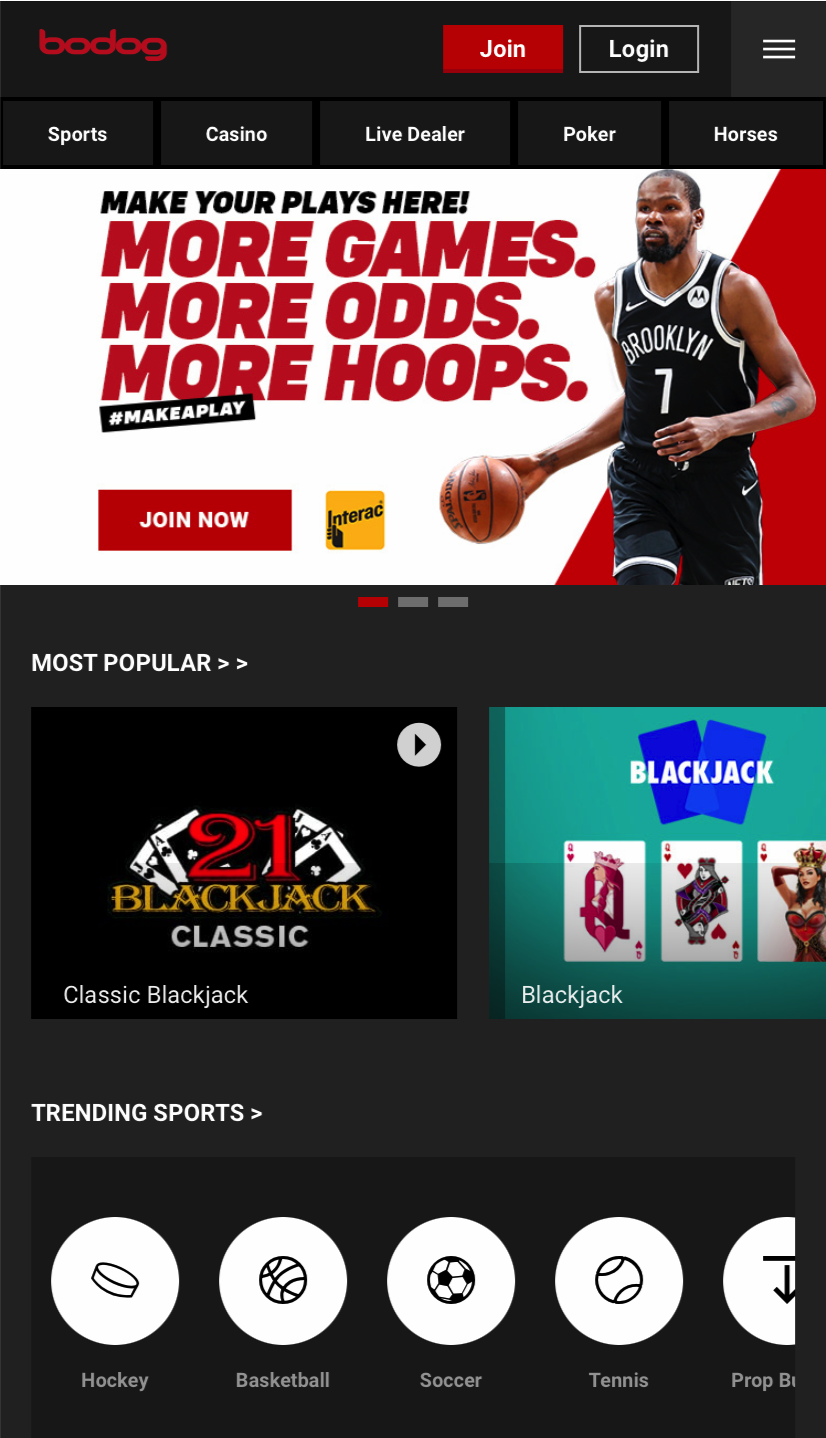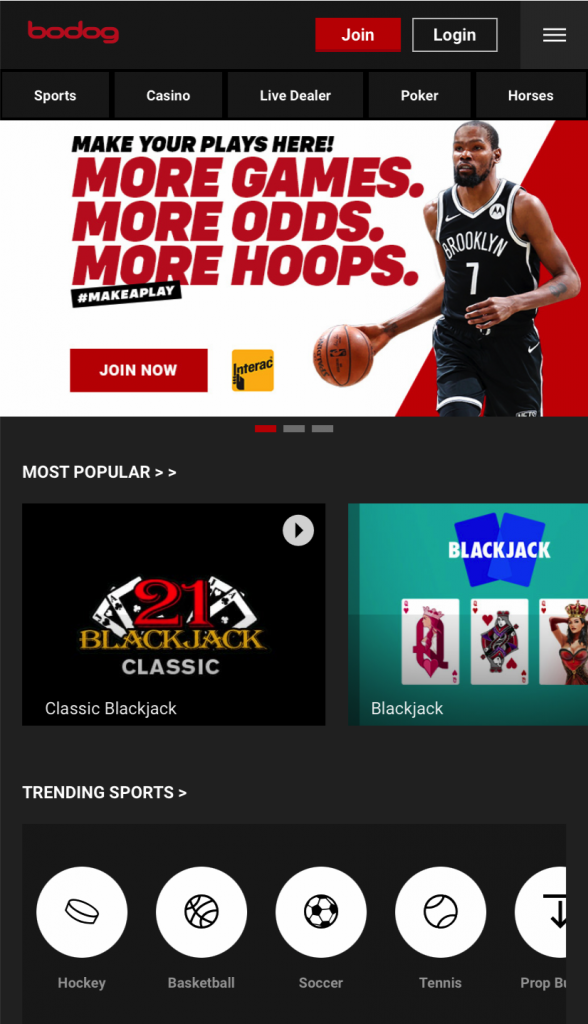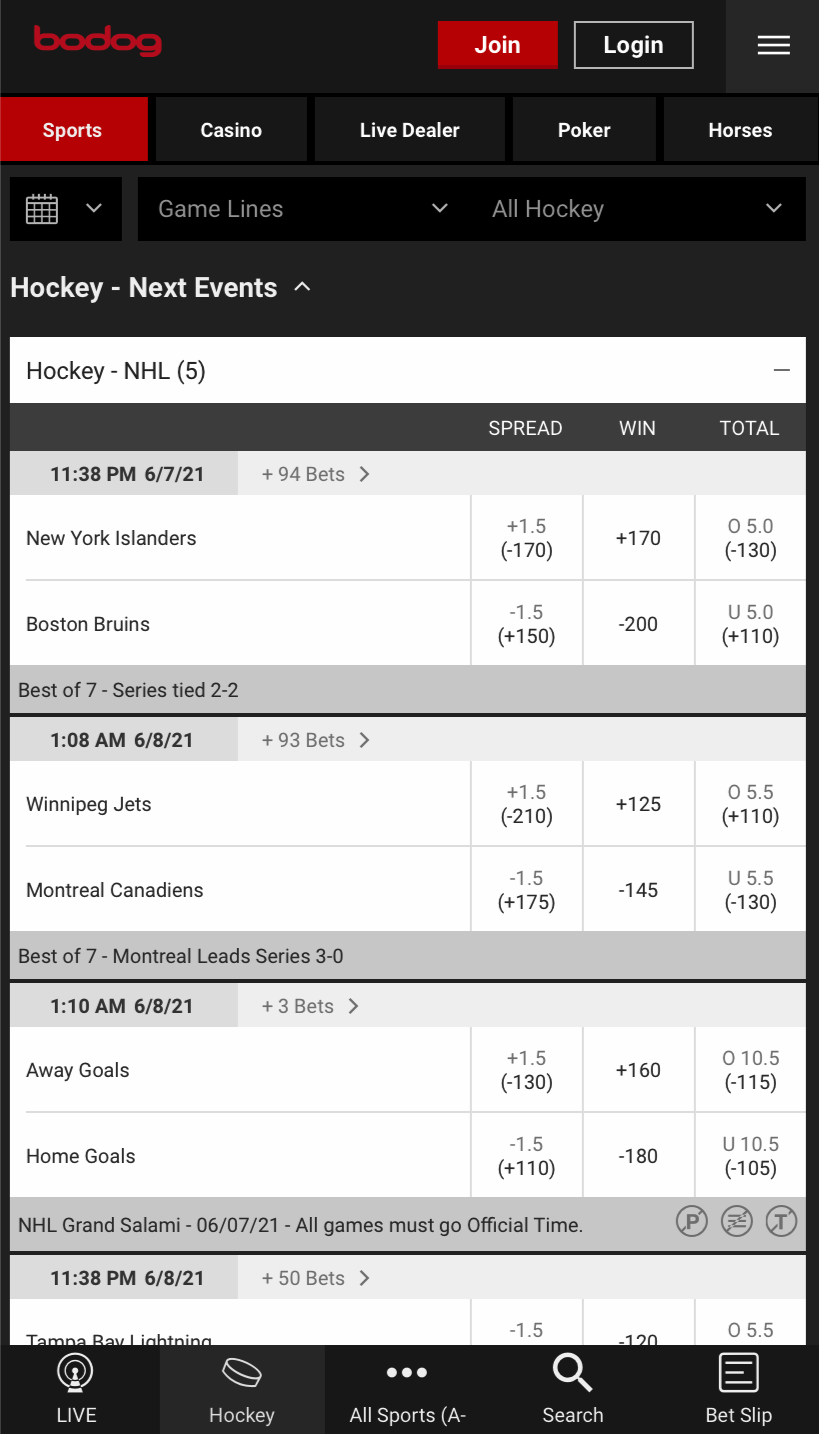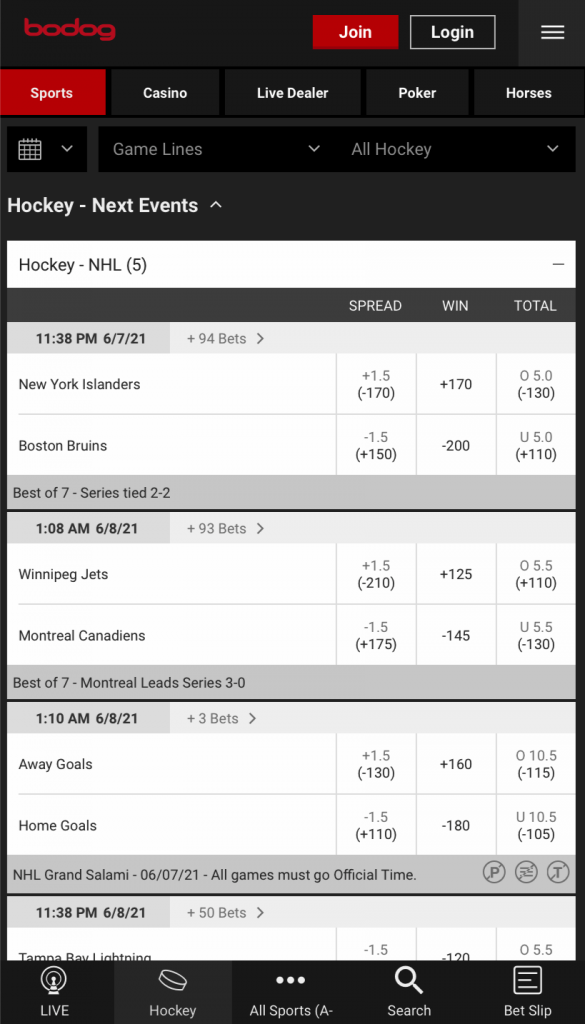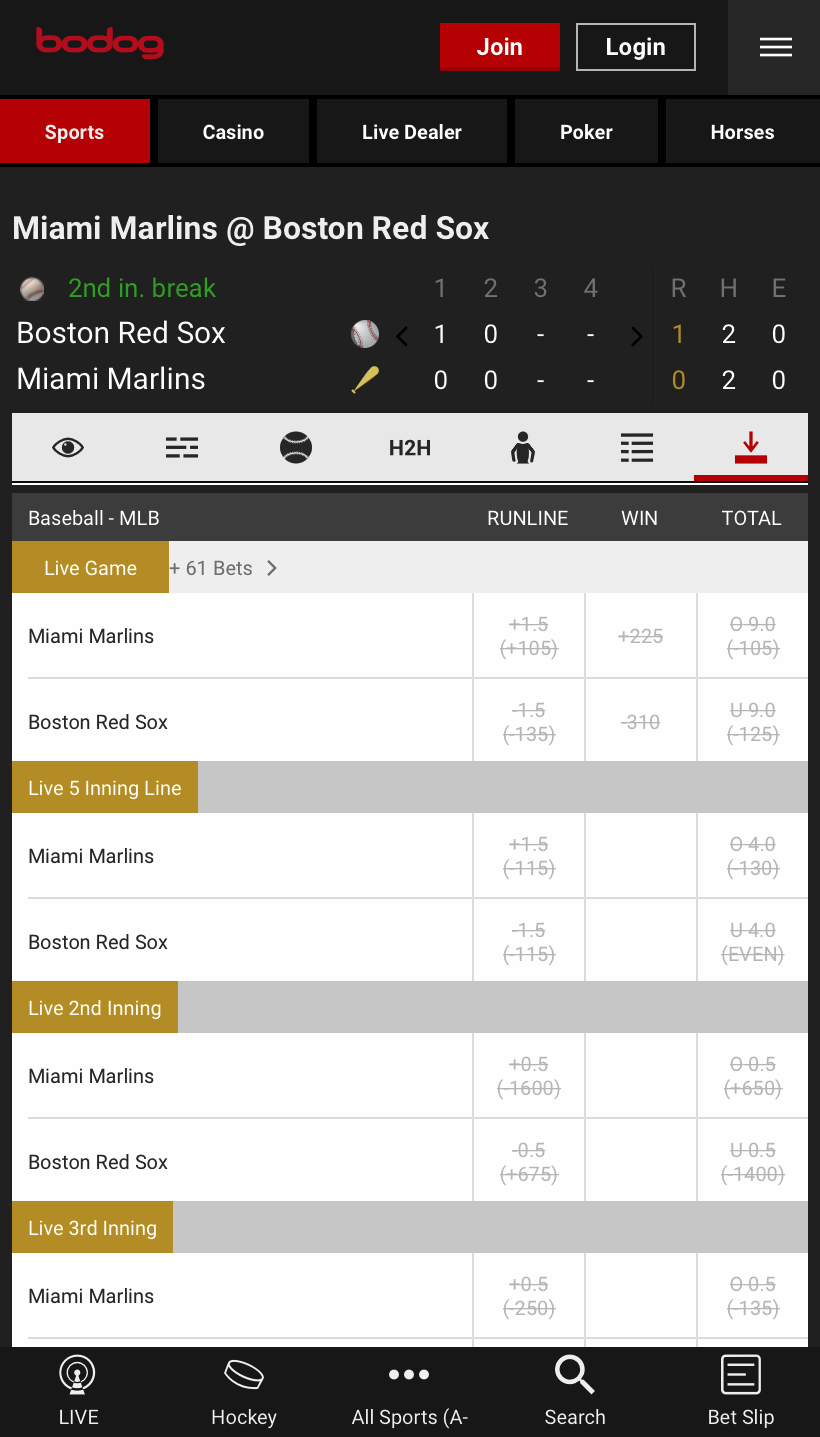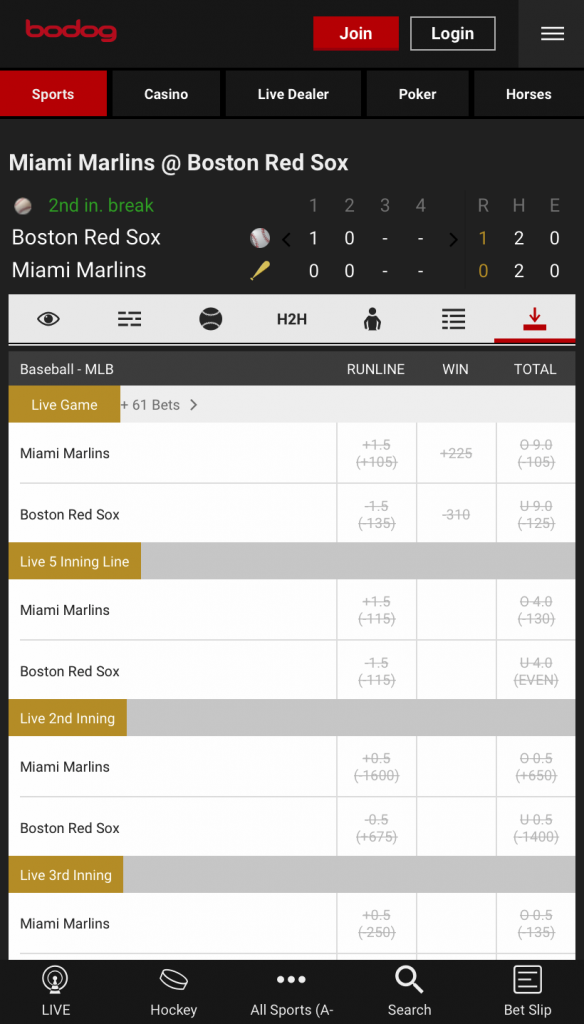 What we like:
Huge welcome and exisitng player promos
Very easy to move money in and out
Design of the app is simple and makes it highly usable
What we don´t like:
App looks a liitle dated
In-play betting does not always include match centre
4) 22bet – Worldwide Coverage up With The Best Betting Apps 
Another fantastic mobile experience is created by the team at 22bet. They are fairly new, launching in 2017, but pack a huge punch in terms of variety. Canadian and US sports coverage is excellent, but it's the rest of the world betting that catches our eye from 22bet. Couple that with a huge range of payment options and a dedicated 24/7 support team via their app, and it's a package that will prove hard to beat for many customers.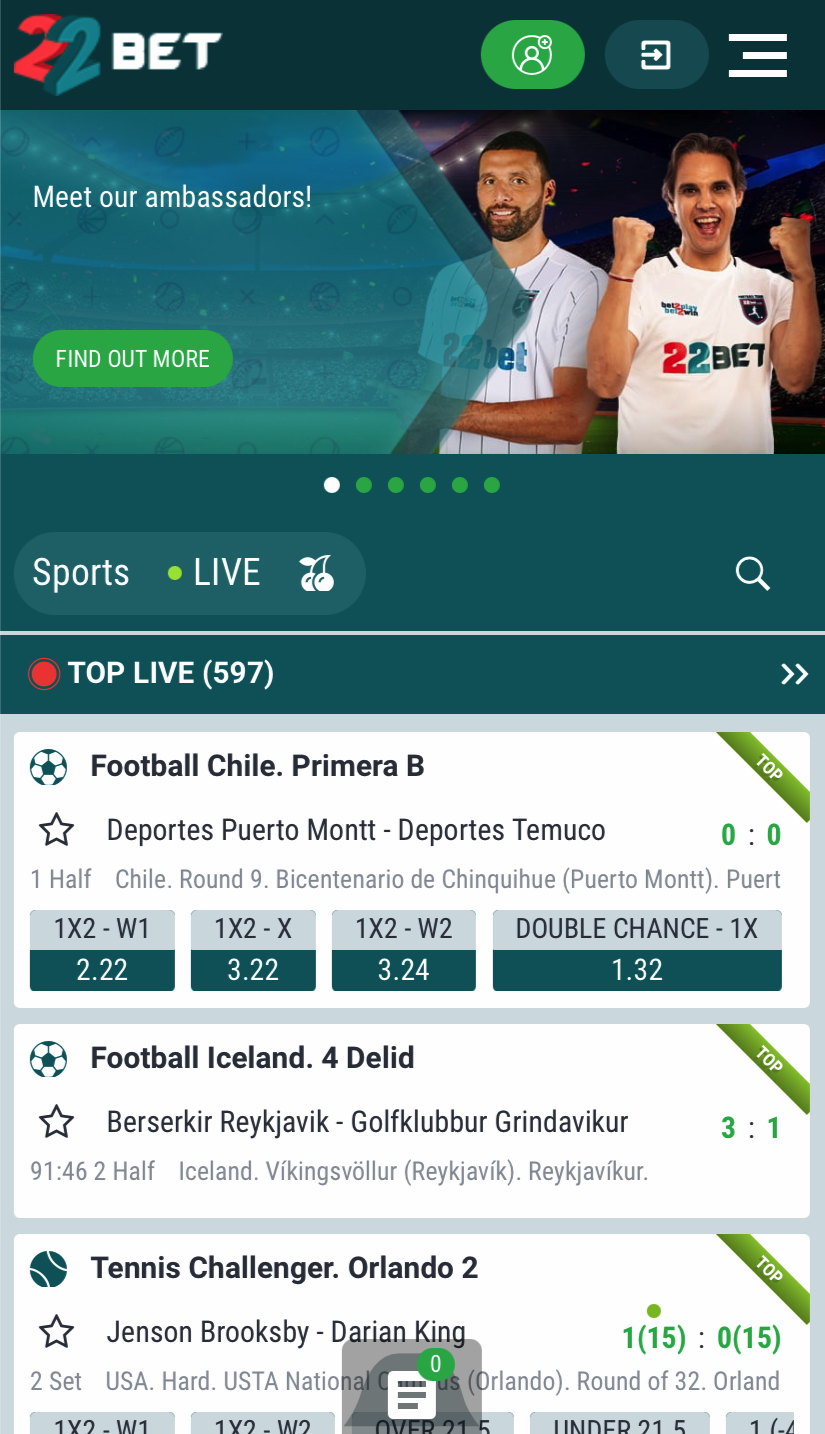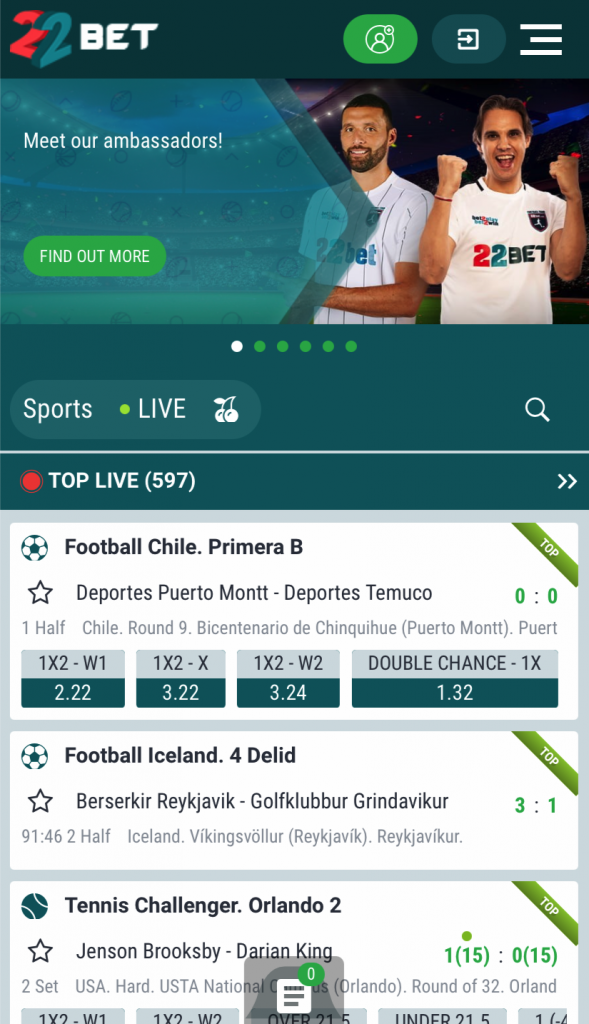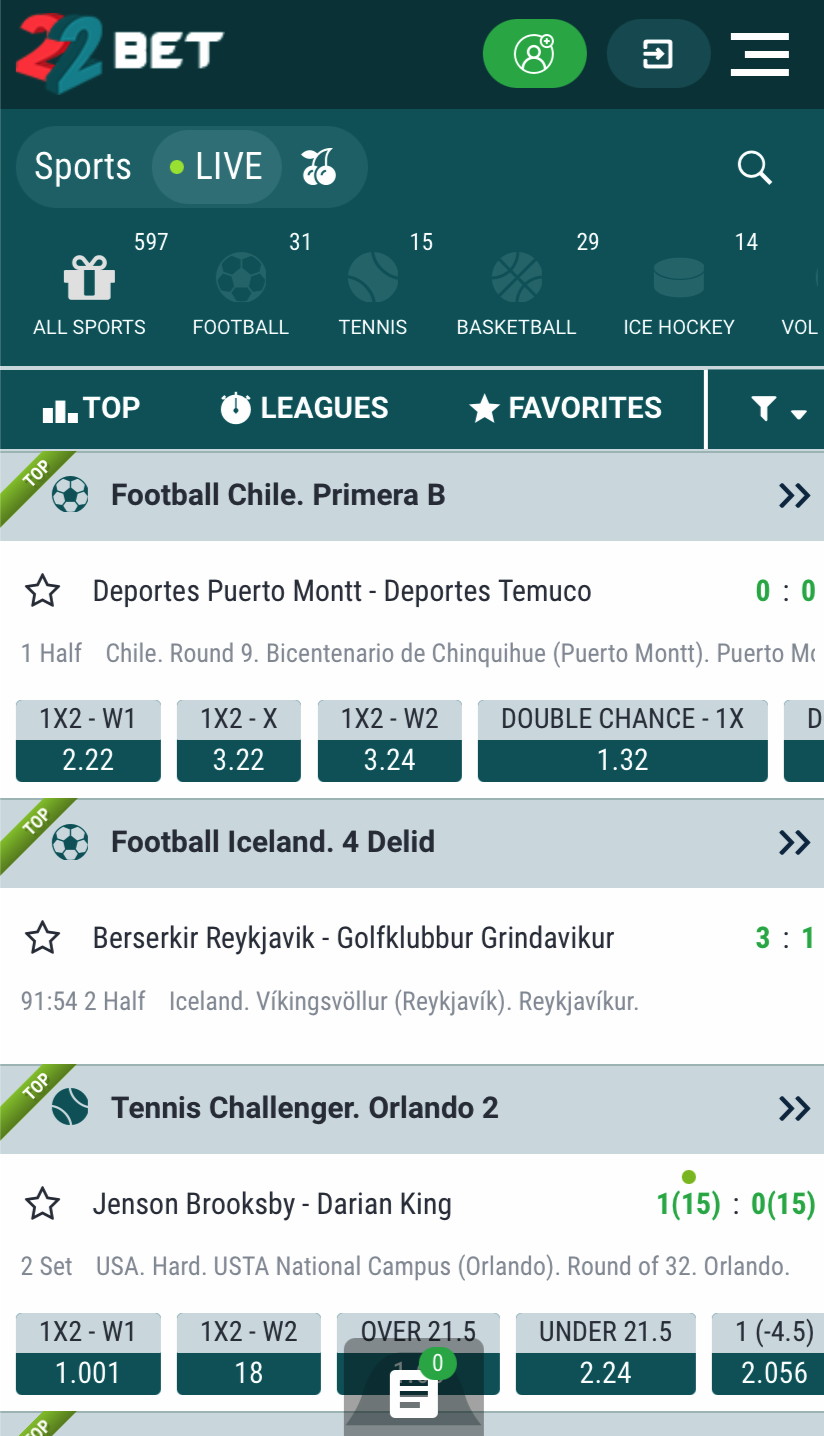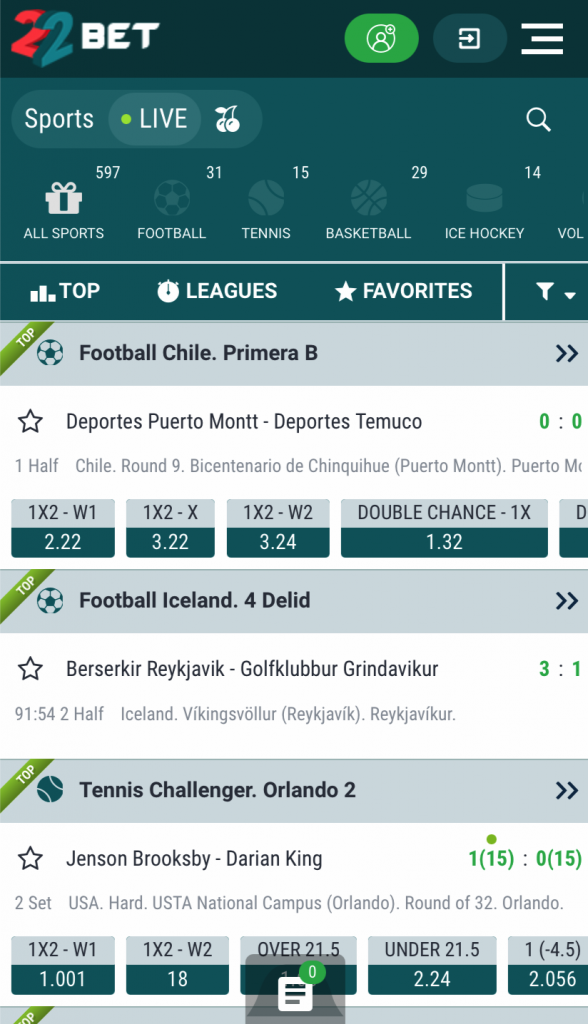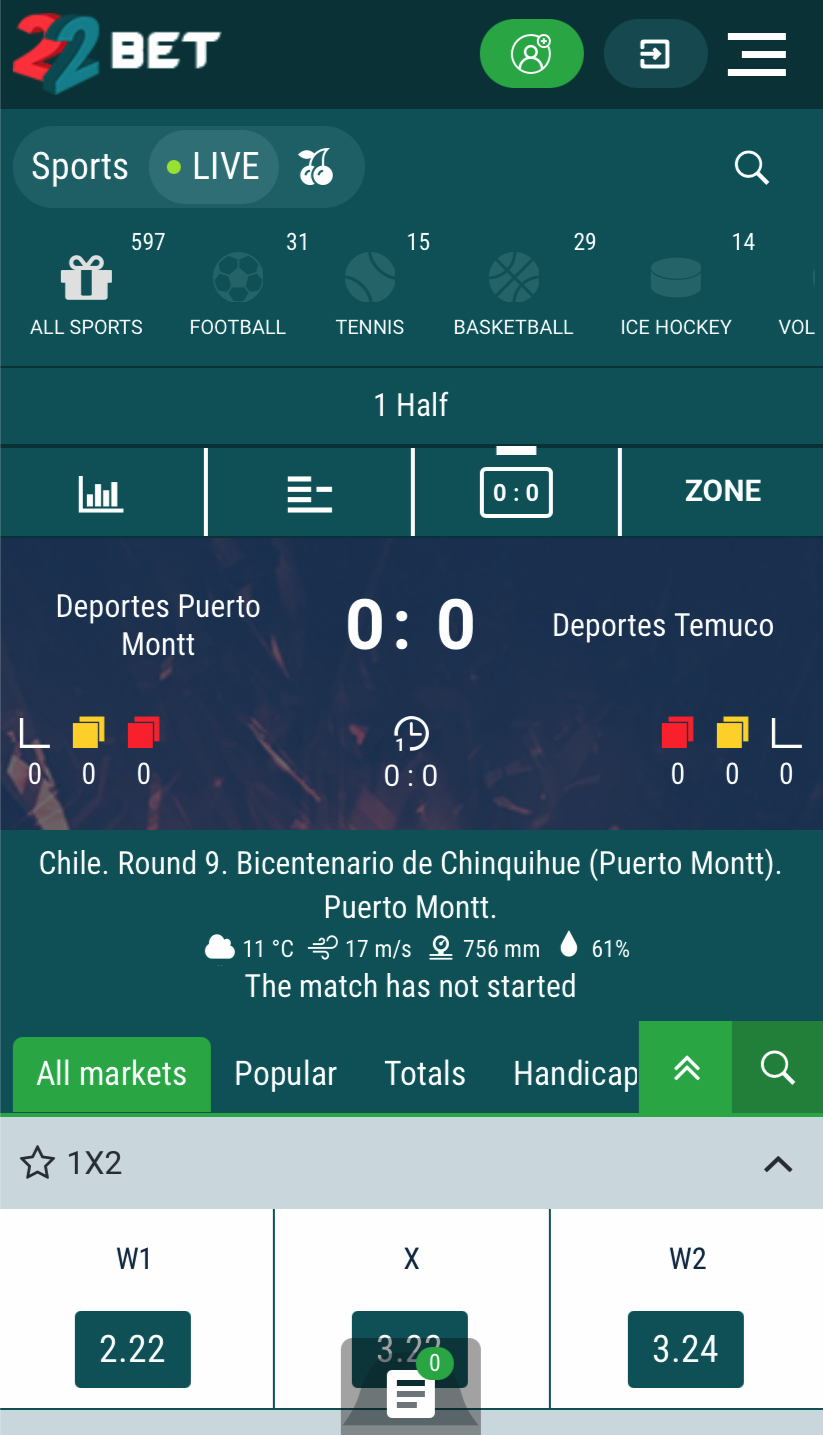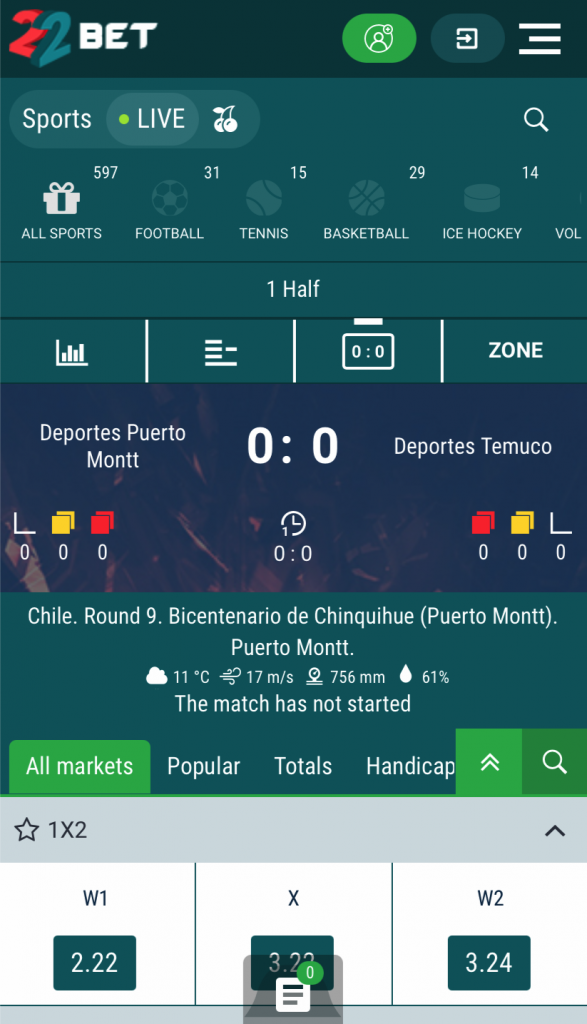 What we like:
Great for international betting
Strong odds and pricing throughout the app
Visually, very attractive
Highly knowledgeable and accessible customer support
What we don´t like:
Still fairly young in terms of experience
5) 888Sport: Stunning Looking App with Huge Depth
888Sport is one of the most exciting Canadian betting apps on the market. They kick things off with a C$200 bonus  and with that comes a betting app that has grown quickly in a short period. Their market coverage is about as good as you will find and pricing amongst sports such as NHL, NBA EPL Soccer and Golf make them stand out from the crowd. They are one of few to offer live streaming within the app.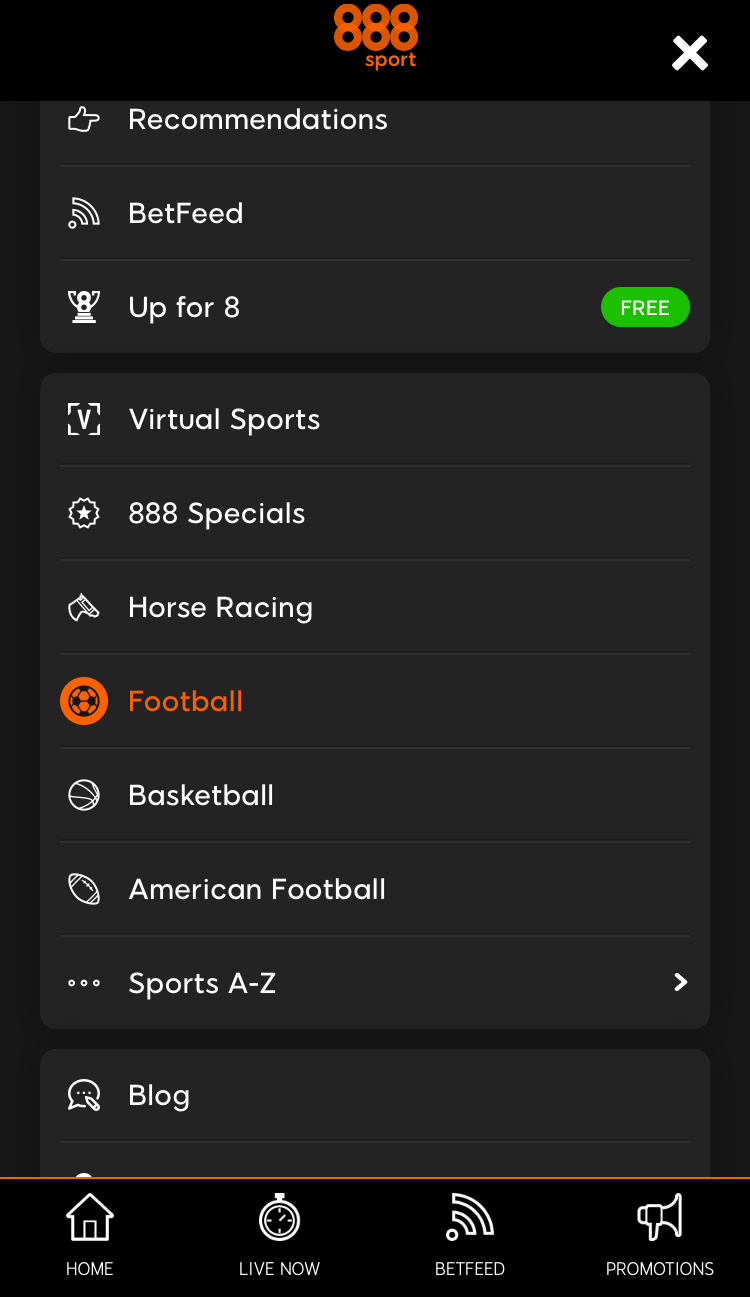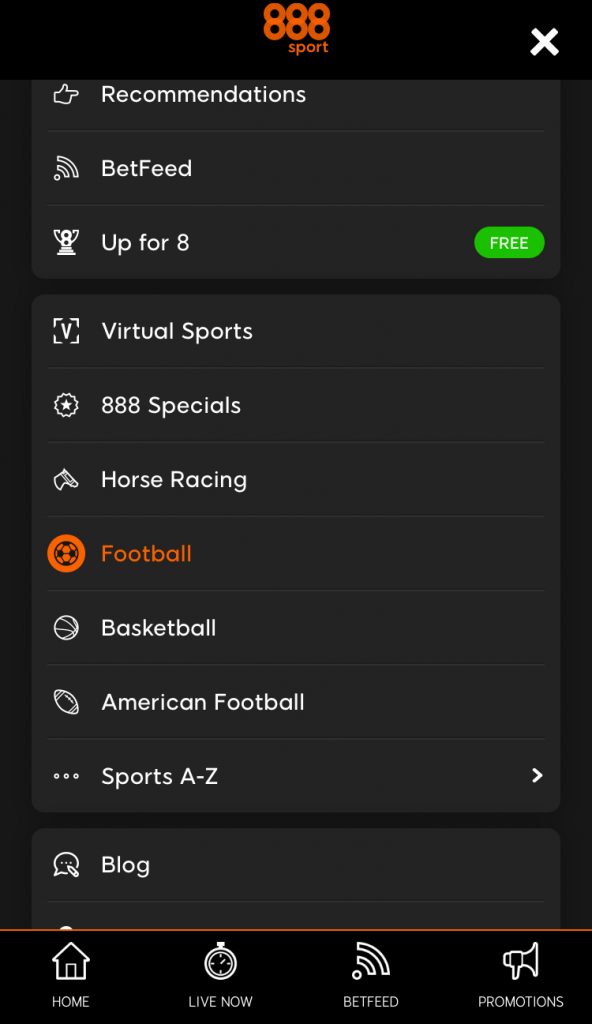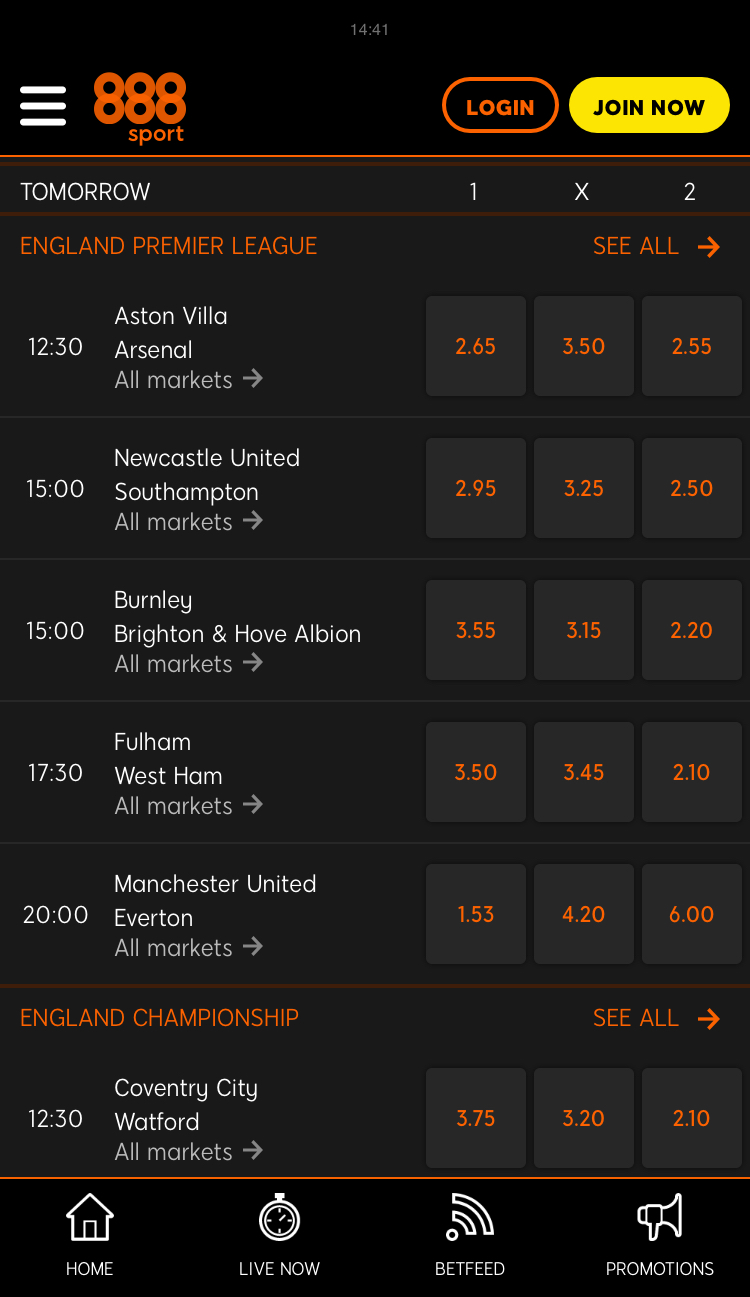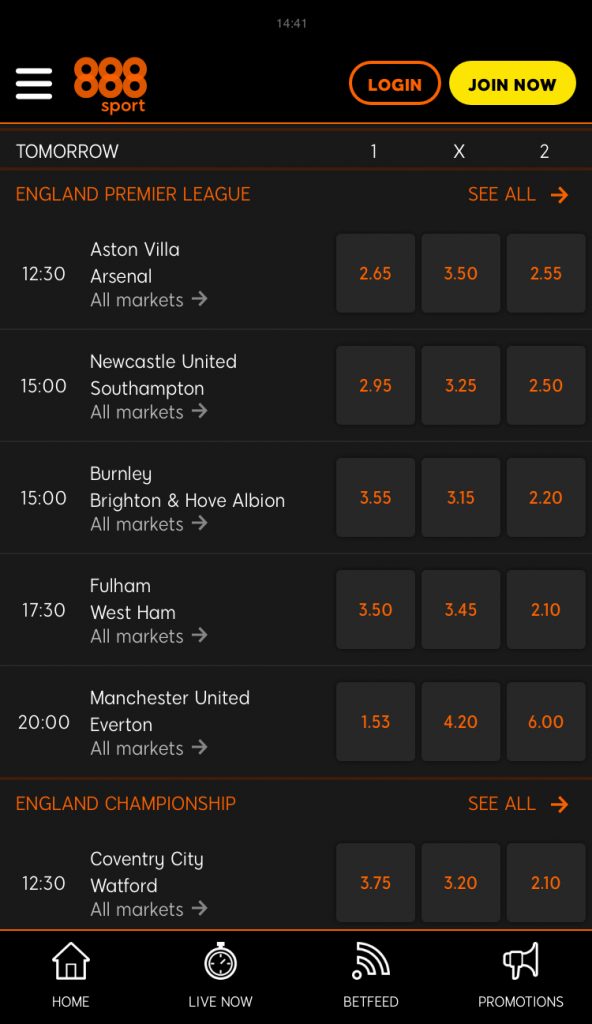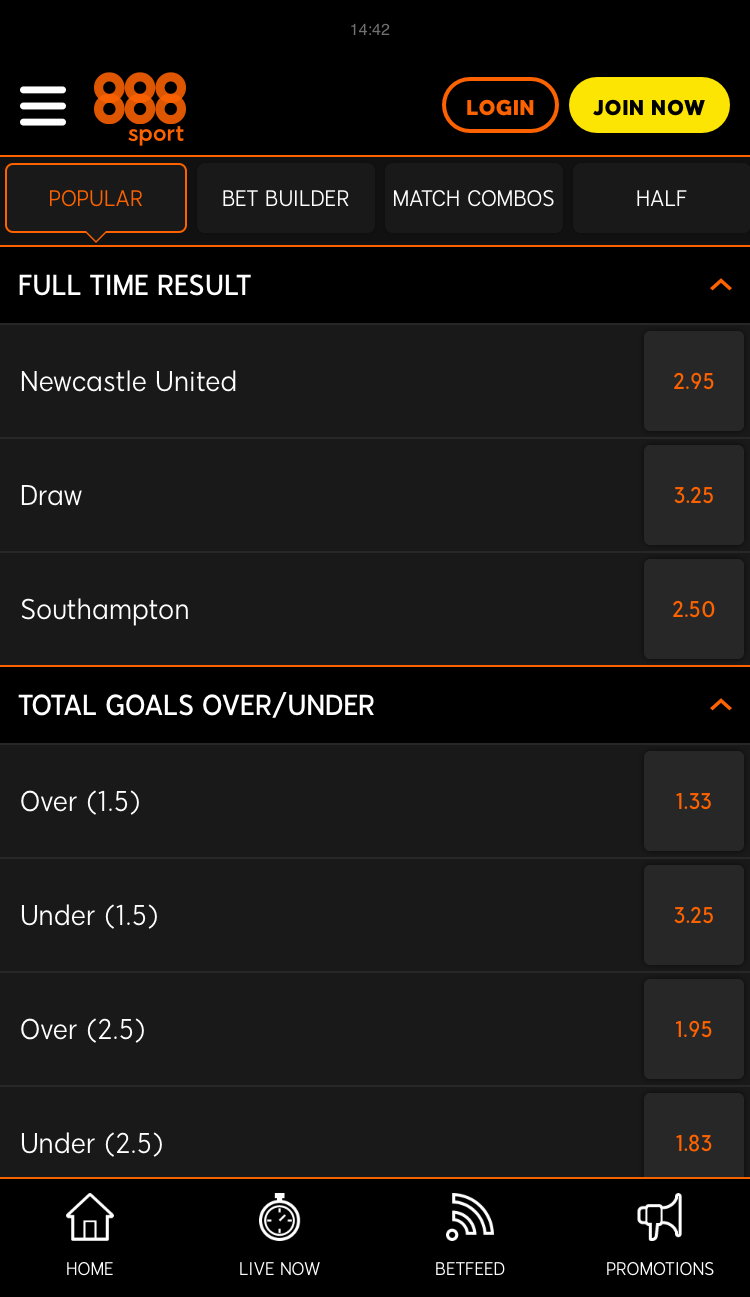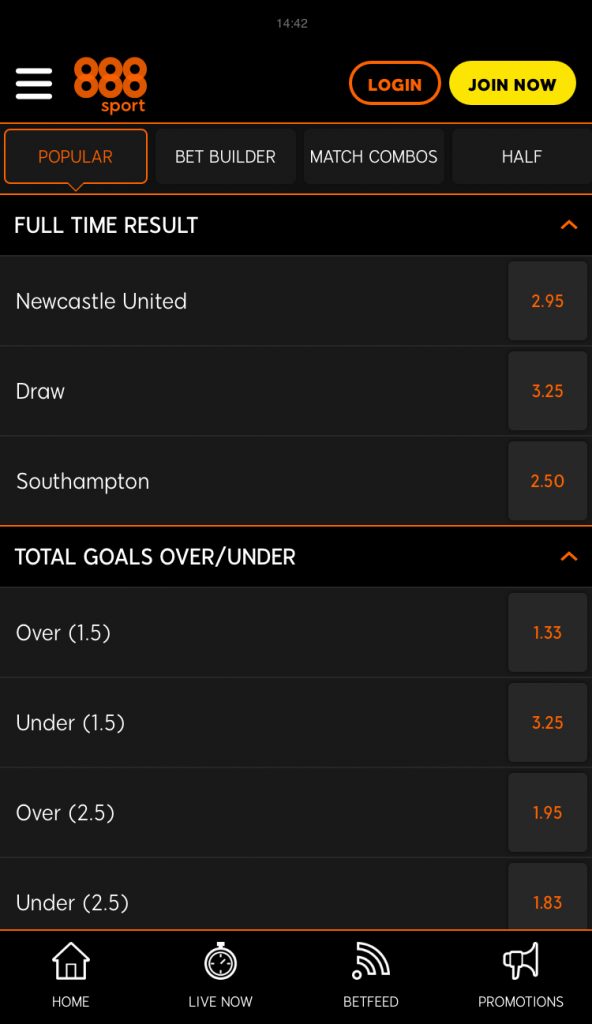 What we like:
Huge range of sports and betting markets
Great deposit welcome offer
Stunning app
Live streaming available via the app
What we don´t like:
Can feel a little cluttered within live betting sections
Lack of existing player offers
Using a Betting App vs Betting on Mobile Web or Desktop
Most of the biggest sportsbooks come with a dedicated betting app. However, there are plenty that offers a mix of mobile web and desktop sites.
There are pros and cons for using each of these and it's important to remember that it's not always a "one-size-fits-all" scenario. We're going to outline several ways in which they differ, allowing you to then work out which is best for you.
You'll find that the difference between a mobile betting app and a mobile website is very small these days. Technology like HTML 5 has allowed developers to create what is essentially an app, accessible from a mobile browser.
Most betting sites are going to offer both options here, but for those that don't, its' the app that will be omitted. Even though this isn't ideal, as we've mentioned, the difference between the two is often minimal.
The biggest change you're going to see here is between mobile (be it an app or mobile web) and desktop. Accessibility is the area that these two differ the most and with mobile, you can bet from anywhere that you have an internet connection. The whole concept of the mobile betting app is betting on the go, something that is much more challenging using a desktop or even a laptop.
Speed is another area where most of the best sports betting apps trump that of both desktop and mobile websites. Apps fully install onto your phone, meaning you can then just click on the logo, and it starts straight up. Browsers can often slow sites down, which means you're going to find a bit of a delay between opening and the page loading.
Screen size means that apps are much more compact. They include a lot more data in a smaller area and betting companies spend huge sums of money making them as functional as possible.
A great example of this has been the inclusion of bottom bar menus within betting apps. These were incorporated to allow users to browse using one hand, instead of having to use a second hand to access a top menu.
Small changes and design inclusions like this are littered throughout betting apps and it's one of the main reasons why they are constantly changing and updating. Even comparing some apps to just 12 months ago and they are night and day different.
To give you a better overview of how different features work within a betting app and to highlight areas that we think are important, we've created a table below. We've taken apps, mobile sites, and desktops, rating them each out of 10 in key areas for usability.
| | | | |
| --- | --- | --- | --- |
| Feature | Betting App | Mobile Site | Desktop |
| Speed | 8 | 6 | 6 |
| Readability | 7 | 6 | 7 |
| Image Quality | 8 | 6 | 8 |
| Live Streaming | 7 | 5 | 8 |
| Accessibility | 9 | 8 | 5 |
| Features | 7 | 6 | 8 |
| Navigation | 9 | 7 | 7 |
Pros and Cons of Betting Apps v Desktop/Mobile Browser
Below we've included a look at some of the pros and cons of choosing a dedicated, downloadable betting app or using a desktop/mobile browser instead.
Dedicated Betting App
Desktop/ Mobile Browser
Pros
Cons
Pros
Cons
Easier to access
Need to stay updated
No need to download
Not safe if on a shared network
Looks cleaner on smartphone devices
Takes up space to download the file
Saves space on any device
Sometimes look clunky
Usually the more stable connection
Can clutter phones with too many apps
Can adapt to the page you are on
Design moving more toward apps, desktop generic looking
Can be used offline
Some not compatible with all devices
Can open multiple bookmakers at one time
Android Betting Apps in Canada
Android is the biggest mobile platform in the world, with 2.5 billion handsets, and in Canada, around 50% of mobile users are using these exact handsets. Betting companies have been keen to tap into this and as a result, you've got a good range of Android betting apps in Canada.
Whilst accessibility is pretty good, Android users often need to work a little harder to physically download their apps. Let's look at a couple of scenarios.
Android has a couple of dedicated app stores, such as the Google Play Store. This is the easiest way that you're going to be able to download an app and all you need to do is search and click install.
Some betting sites will have apps for Android, but they may not be in the Google Play Store. This is where you now need to work a little harder to download the app.
These apps will come in what is known as a .APK file. If you're familiar with Android, then it's likely you know how this works. If you're new, then basically it's a file extension that you can download to your phone and create an app.
It bypasses the likes of the Google Play Store, and it means that betting companies can host the app on their platform for users to download. Below is a typical example of how this might work:
Before accessing the betting site, head to phone settings and allow installations from "unknown sources".
Head to the betting site and then find the download page.
Download the .APK file to your phone.
Once the download has finished, open the file to begin the installation.
The app will now be fully downloaded and installed on your phone.
You can now create an account or log in to an existing account via your phone.
Before we move on, we just wanted to address security with the best betting apps for Android. If you're a long-time Android user, you will know that allowing "unknown sources" in your phone settings is a necessary evil to access A LOT of apps. Android covers a huge number of phones and manufacturers, so it needs to be more flexible than say, Apple, for example.
Apps that are hosted directly with the bookmaker have the highest safety that you can get from any app. Any breaches in safety here would violate their licensing agreements, which means that they would have to cease trading legally.
We just wanted to offer a little bit of peace of mind to how Android works compared to Apple, which we will talk about next.
iOS Betting Apps in Canada
Even though Android is big, iOS devices from Apple are right up there in terms of Canadian users. Betting apps are generally more accessible on iOS devices with many being available direct from the App Store.
iOS will differ from Android in that, there is no third-party app platform available like you would find with .APK files. This means that if a sportsbook doesn't have a dedicated betting app hosted within the App Store, there isn't one for iOS devices.
Downloading the best betting apps for iPhone is a pretty simple process. We've outlined a generic download procedure below that can be copied across most betting apps.
Open the App Store
Search for the betting app that you want to download.
Click "get" and the download for the app will begin.
Once finished, the app will be downloaded to your home screen.
Enter your home screen, find the app and then open it to finish off the installation process.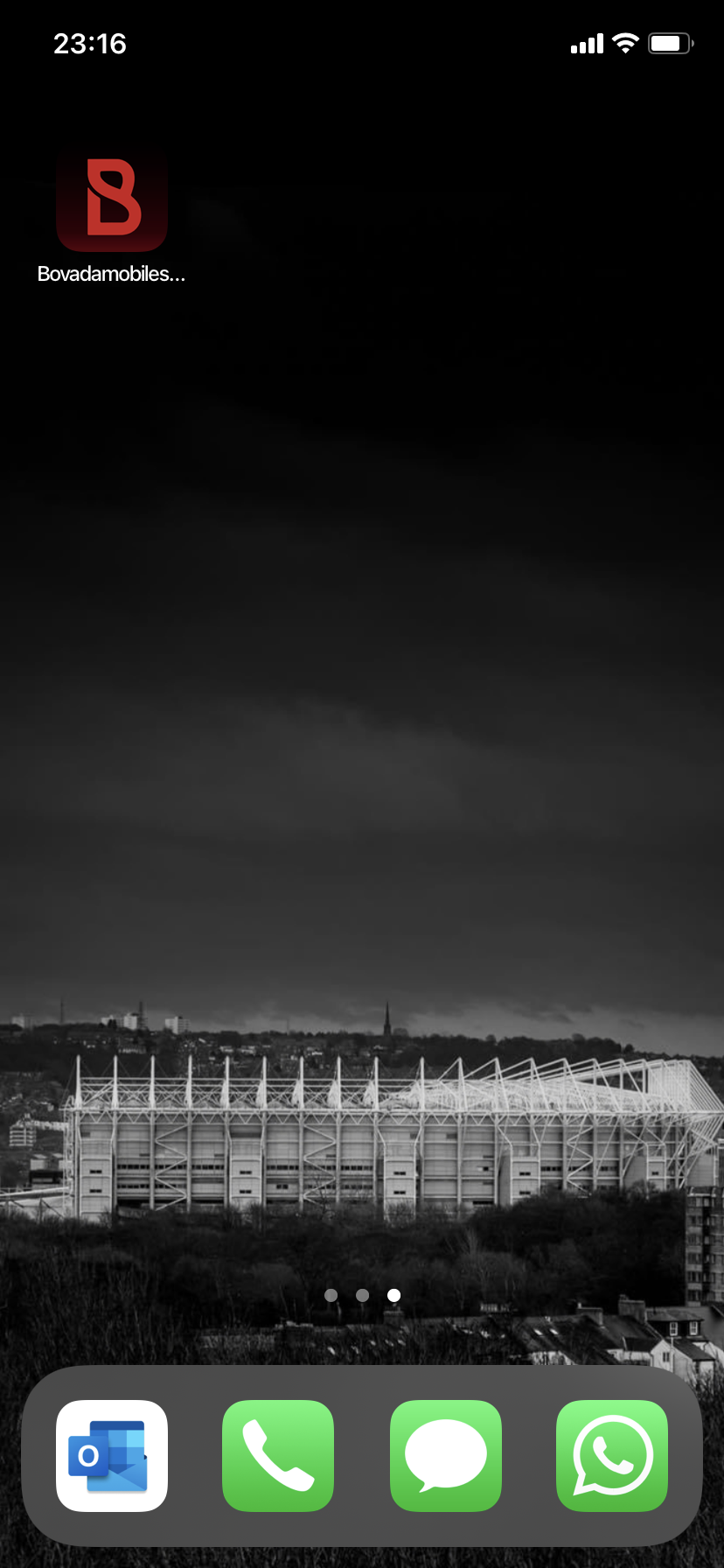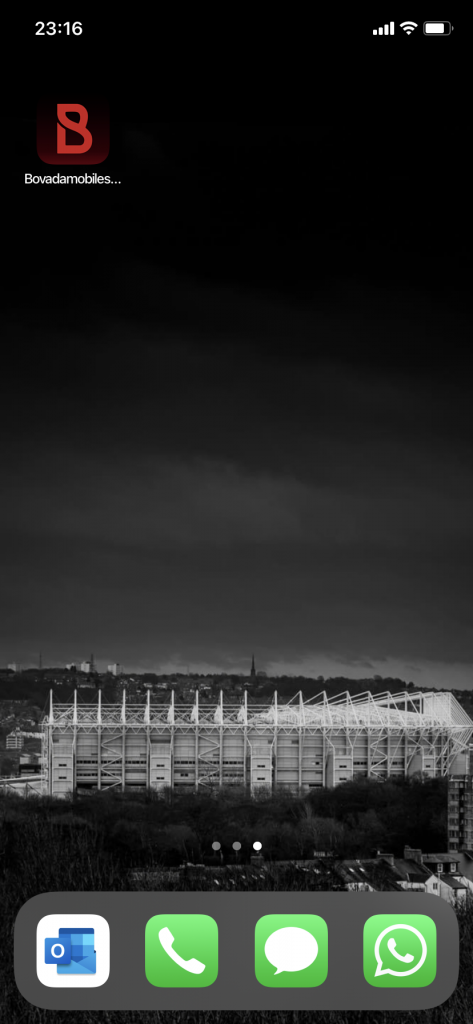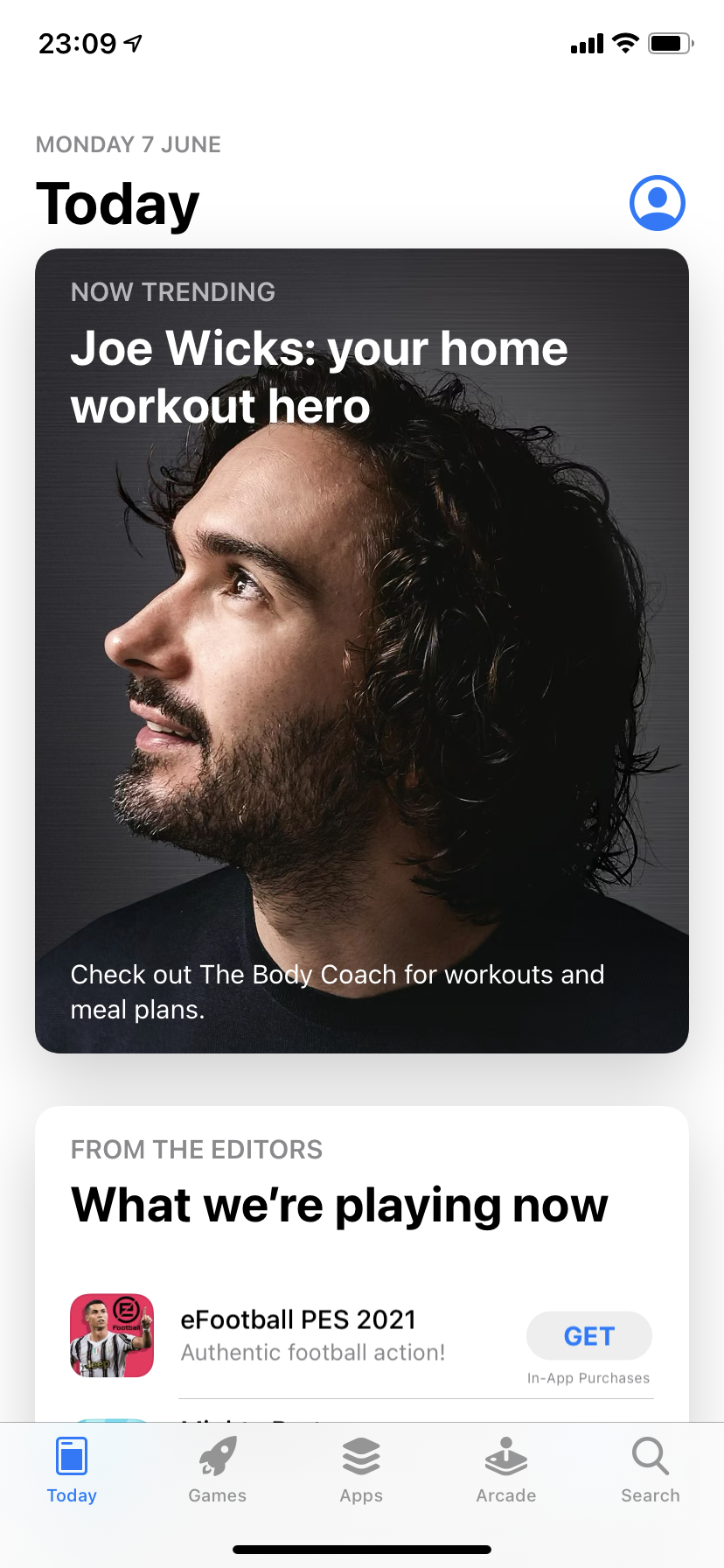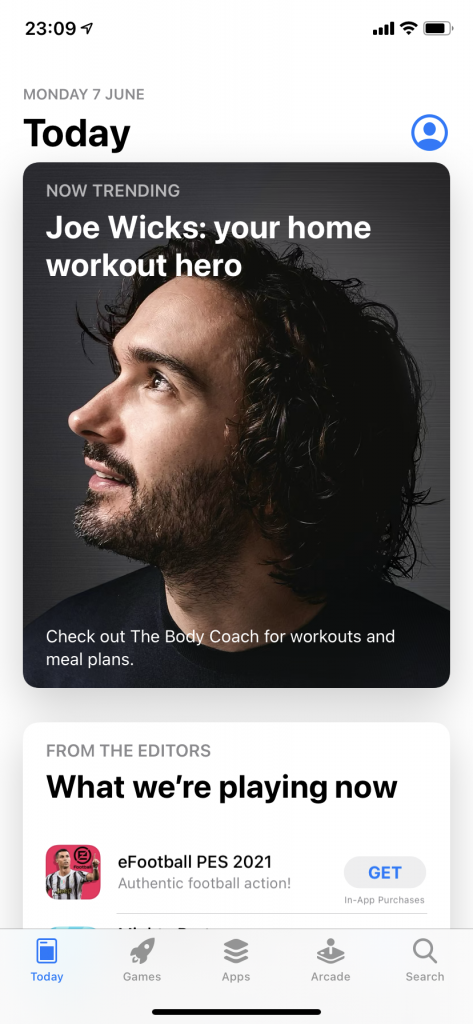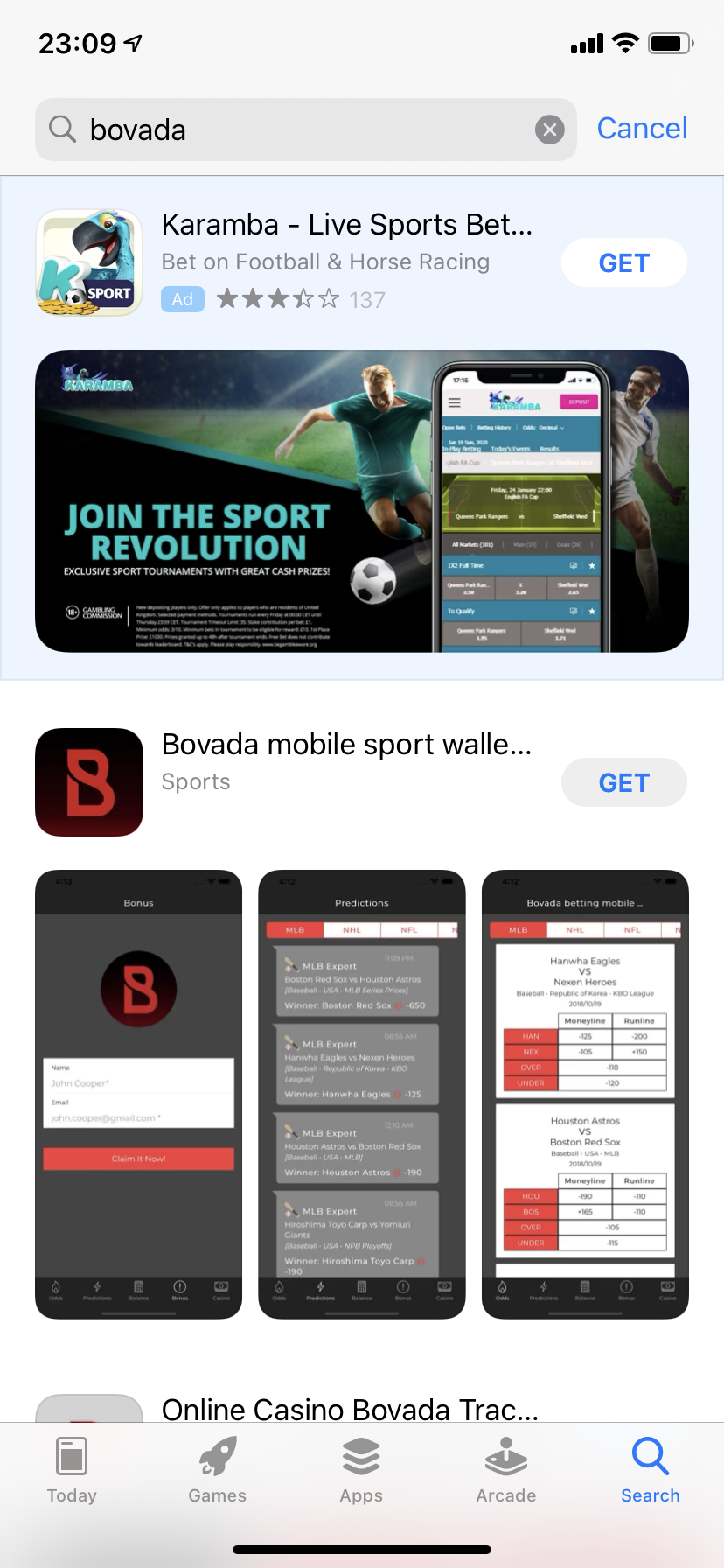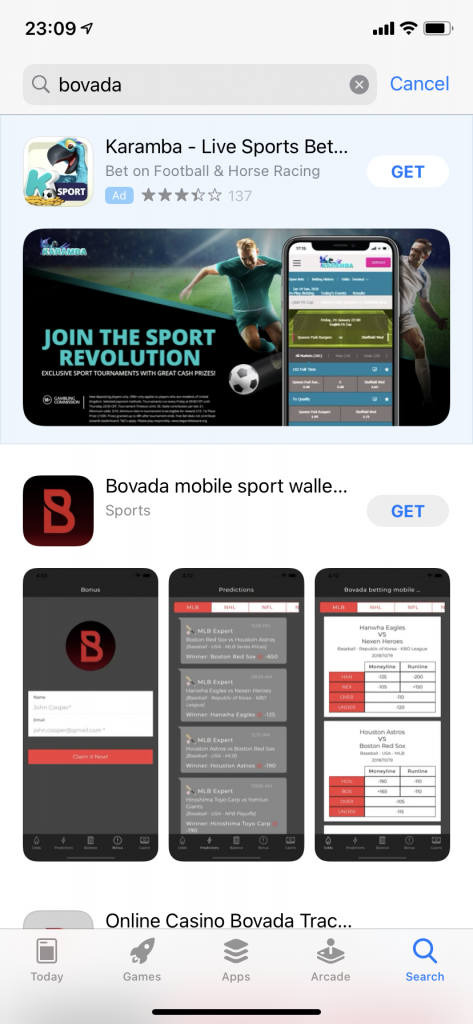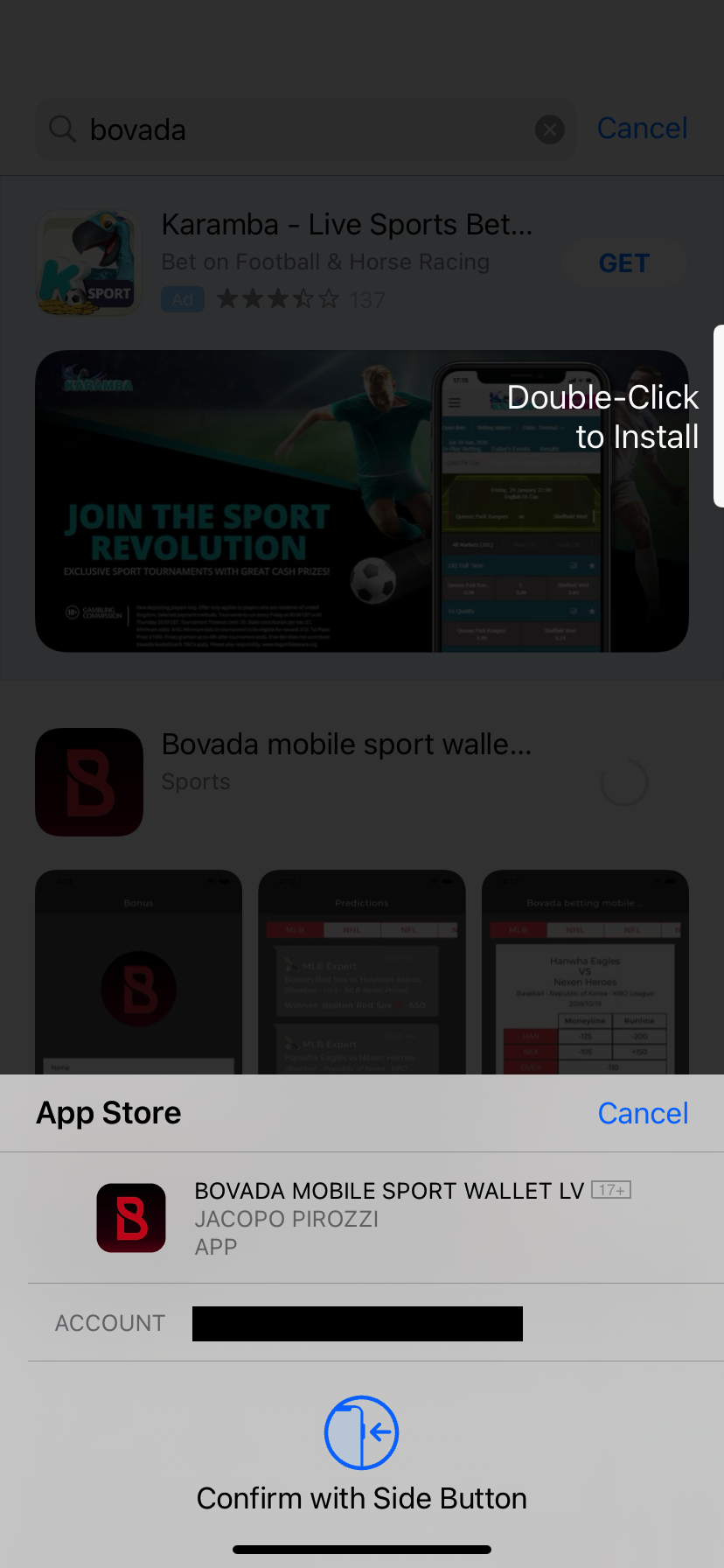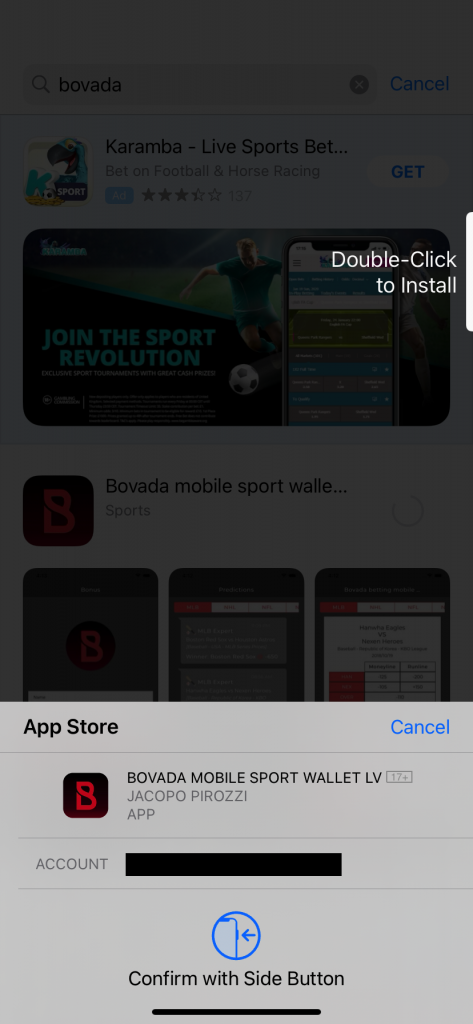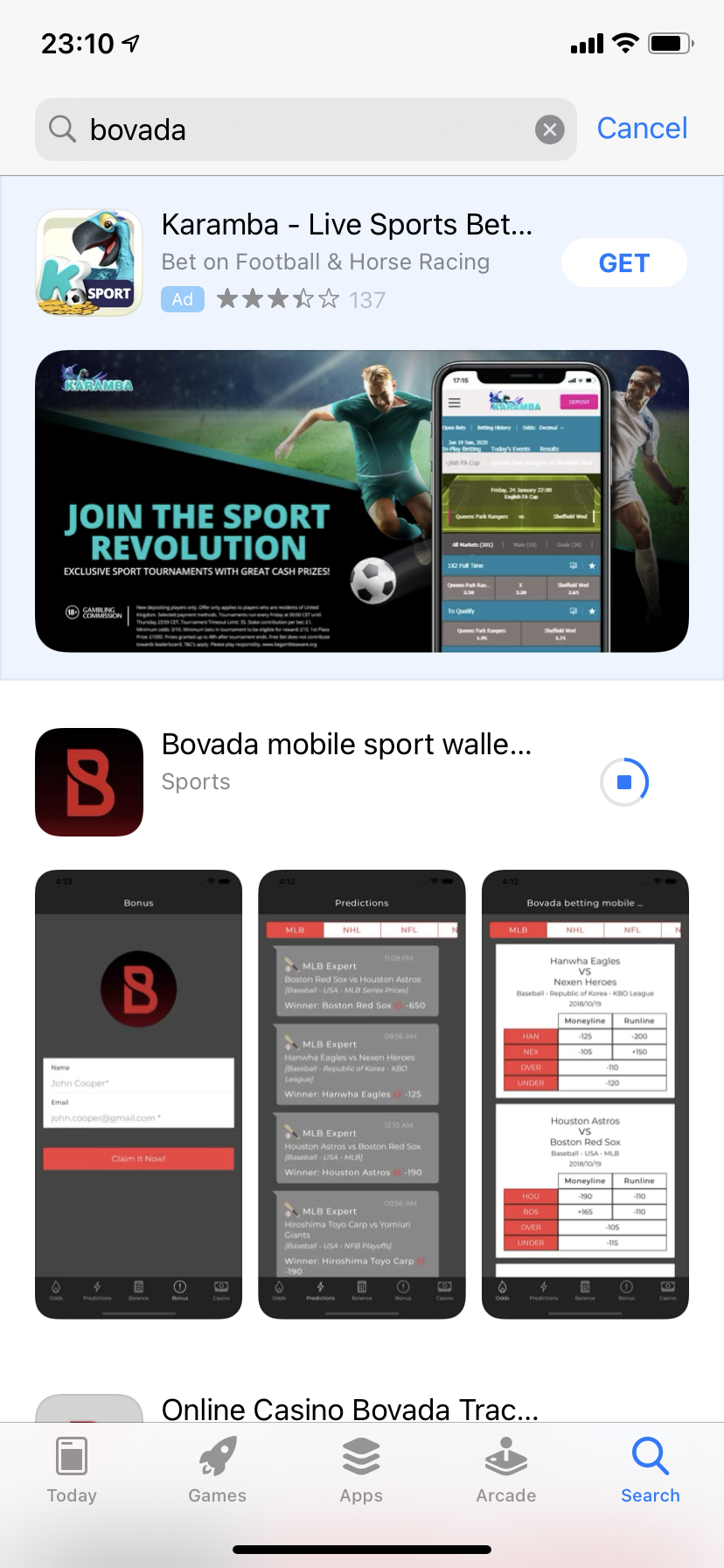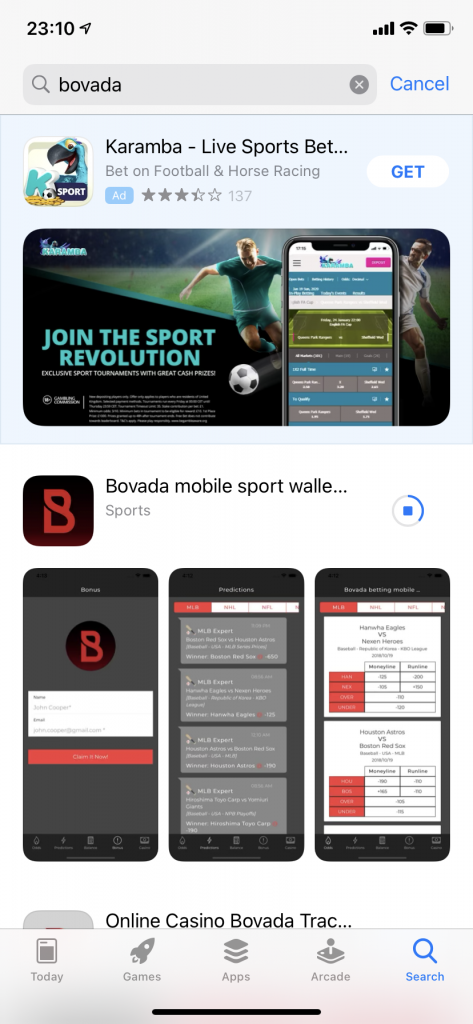 Lots of bookmakers have apps that you can access from their main site. They are usually linked to the App Store and it's worth noting apps you download outside of the App Store will come with security issues that will flag on your phone.
It's not the apps aren't safe, but Apple will be highlighting the fact that they've not been able to vet them via their store. All betting brands that we recommend on-site have been tested by us and we are 100% confident that they are safe. If you venture off the beaten track and look to download apps from brands that aren't as well known, then you do so at your own risk.
Canada Betting App Features
One of the best things about betting apps is that the technology involved is evolving at an outrageous pace. Bookmakers now have dedicated teams that work solely on the development of their app and it's all in an attempt to make it the biggest and best there is.
From a player's point of view, competition is great. The more the brands push each other, the better the products for us.
Betting features within these apps play a key role in the development and when we conduct our reviews, it's exactly these that set each betting apps apart. We also like to take into account that Canadian punters need features that are tailored to them (you!) and the best betting apps in Canada, will have done exactly this.
Below we've included several features that we feel are vital to a successful betting app. You need to work out which of them are most important to you, as not all apps thrive within each division.
It would be easy for us to say that X betting app is better than Y, but Y may still offer features that X does not, and these may be more appealing to some players than others.
Deposits & Withdrawals
Online transactions on mobiles are now common and extremely easy. The same can be said for betting apps and you need to be able to get money in and out safely. Features like Google Pay and Apple Pay have simplified and sped up the process, even more, creating two key mobile banking options within a plethora of alternative banking options.
Live Streaming
Being able to watch sport on the go has been a revolution for betting apps. Not all betting apps offer live streaming, so this is still relatively niche. The best keep the feature free and highly integrated into live betting markets within the app.
Parlay Betting Options
Parlay betting options are now some of the most popular for any betting app. Players looking to get value from combining smaller bets to create higher-priced parlays. Keep an eye out for betting apps that do promotions and boosted odds around these bet types.
Cash Out
A feature and function that is now standard with the best betting apps, cash-out allow players to close bets early and lock in a win or loss. Integration into betting apps is key and we want to be able to access this via the betting slip with just a single click. Ideally, the betting app would have partial, and auto cash-out features as well.
Bonus & Promotions
Another area that all players need to claim when opening a new betting account is bonuses and promotions. Most betting apps will allow you to claim a welcome offer of some sort but try and look beyond that to see what existing player offers can be claimed once the welcome offer has expired. Ideally, we like to see reload bonuses, VIP points and even random free bets, where possible.
Enhanced Odds
Possibly the most important feature for any player who is looking long-term is with pricing and more specifically, enhanced odds. This is where the sportsbook gives you an odds boost on certain games or as a special offer for big sporting events. Ideally, you want a sportsbook that will offer consistently high pricing as long term, this will prove as valuable as any betting offer.
Loyalty Schemes
For this, we're looking at what rewards can be claimed outside of short-term offers, such as welcome bonuses. A loyalty scheme should be where you earn points each time you bet and then you can exchange those points for things like free bets, bonuses or even prizes. Lots of betting apps may refer to this as a "VIP" section, but it's essentially the same.
Customer Service
Hopefully, you will never need customer service as they are usually only accessed when something goes wrong. However, we like to look at sites that have someone on hand 24/7, be it via live chat (preferred) or email. No query should take more than 24 hours to respond to and these all need to be easily accessible via the app.
Best Canadian Betting Apps by Features
We mentioned in the feature section above that whilst it's important to have as many options as possible, some features are more important to some players than others.
As a result, below we've included a table to show you how some of the best betting apps in Canada stack up in terms of features. Instead of just saying that a betting app includes a certain feature, we've rated them out of 10 to highlight how well they perform.
The idea of the table is to allow you to work out which features are most important (using the info in the section above) and the seeing which betting app best suits those demands.
| | | | | | | | |
| --- | --- | --- | --- | --- | --- | --- | --- |
| Betting App | Banking | Live Streaming | Parlay | Cash Out | Bonus/ Promos | Odds | Support |
| 888Sport | 8 | 8 | 8 | 9 | 7 | 9 | 9 |
| Bovada | 8 | N/A | 7 | 7 | 9 | 9 | 9 |
| 22Bet | 9 | N/A | 8 | 8 | 8 | 7 | 9 |
| Bodog | 8 | N/A | 7 | 7 | 9 | 8 | 7 |
| Sports Interaction | 10 | N/A | 7 | 7 | 7 | 9 | 8 |
How We Rate the Best Betting Apps
At Safe Betting Sites we pride ourselves on our reviews. We've taken the time to create teams that are experts in the role of betting app reviews and as a result, we think we've got some of the most comprehensive and in-depth reviews in the sector.
Each betting app is different, and we need to be able to adapt to each to highlight both their strengths and their weaknesses. This means that the team needs to be fluid in their review, considering everything and anything they come across, before relaying that information to you, our readers.
However, there is a certain criterion that we kick-off with and below we've included some of the key areas that we test with each Canadian betting app. Each of these areas will tie in with the features section above, but as some betting apps will not necessarily have all those features, scoring can be a little uneven as a result.
The criteria below are areas that all of the best sports betting apps can equally be tested on. Let's jump in:
Ease of use – This is a key role for any betting app, and it has to be user-friendly both in terms of design and how easy it is to use. Testing over several hours or even days gives our team a great insight into how easy the betting app is to use.
Layout – Linked to ease of use is the layout. We look at button placement (huge for betting apps), access to bet slips, ease of adding bets into the said betting slip and moving between sports/markets/features.
Graphics – The app needs to look good. There is no excuse in this day and age, and to be honest, most are pretty stylish. There is a fine line between looks and functionality though, so a balance must be struck in terms of the graphics used.
Navigation – Poor betting apps are often let down by poor navigation. This is how easy it is to jump between different markets and bet types. The layout is linked to this as well, but players need to be able to jump forward and backwards in a single step and have to go back to the homepage each time they want to move back.
Odds – A betting app with a good pricing section can overcome poor results in just about all the above sections. At the end of the day, players are looking to make money from betting and to get the best possible chance of doing this, they need to be able to get access to the best odds possible.
Markets – A good range of markets and sports to choose offers depth and this will then appeal to a larger player base. There are staples for Canadian players such as Ice Hockey, Football and Basketball, but it's the apps that go above and beyond this, providing coverage of less-mainstream sports and betting options that will essentially, flourish.
There is an awful lot more that makes up a quality betting app, but if a sportsbook is performing well in all of these key areas, they are on to a winner.
Below we've included a look at the top Canadian betting apps and how they rank for each of these sections. As you will see, we've included a scoring chart based out of 10, ranking each accordingly.
You need to realize what is most important for you from the app. A betting app will rarely be the top score in each section, so you need to prioritize aspects of the app that you need and then choose from that.
| | | | | | | |
| --- | --- | --- | --- | --- | --- | --- |
| Betting App | Ease of Use | Layout | Graphics | Navigation | Odds | Markets |
| 888Sport | 8 | 7 | 9 | 8 | 9 | 9 |
| Bovada | 8 | 9 | 9 | 8 | 9 | 7 |
| 22Bet | 10 | 9 | 8 | 8 | 7 | 7 |
| Bodog | 7 | 8 | 7 | 7 | 8 | 9 |
| Sports Interaction | 8 | 8 | 10 | 8 | 9 | 7 |
Banking with Canadian Betting Apps
Getting money in and out of a betting app is going to play a huge role in whether that app is right for you. Mobile banking is now a part of everyday life, and the online gambling sector has been able to jump on this, allowing players to move money quickly, but most importantly, safely.
All betting apps are going to have some form of banking option to choose from, but what's going to set apps apart is the range of options and the timeframe that they can process these payments.
Below we've included a range of banking options that most Canadian betting apps are going to allow you to access. We've also included a rough period that you can expect to find from each option.
Whilst each has its own positive and negatives, the two standouts must be that of Google Pay and Apple Pay. Given that most of us are using one or the other to bet on, then it means there are two payment methods that couldn't be easier to use for mobile users. A simple click or even a Face ID scan will trigger the payment and away you go.
| | | | |
| --- | --- | --- | --- |
| Payment method | Fees | Min deposit | Min Withdrawal |
| Credit Cards/Debit Cards (Visa, Mastercard) | 0% | 10 CAD | 2,000 CAD |
| EcoPayz | 0% | 20 CAD | 10,000 CAD |
| Citadel | 0% | 10 CAD | n/a |
| EntroPay | 1.95% withdrawals | 10 CAD | n/a |
| iDebit | 0% | 15 CAD | 1,800 CAD |
| Paysafecard | 0% | 10 CAD | 250 CAD |
| Wire Transfer | 0% | 25 CAD | 100,000 CAD |
| Interac | 0% | 10 CAD | 15,000 CAD |
| MuchBetter | 0% | 10 CAD | 15,000 CAD |
| PayPal | 0% | 10 CAD | 5,500 CAD |
| Neteller | 0% | 10 CAD | 25,000 CAD |
| Skrill | 0% | 5 CAD | 10,000 CAD |
| Apple Pay | 0% | 10 CAD | N/A |
| Google Pay | 0% | 10 CAD | N/A |
How to Choose a Betting App
We've designed this page to offer you as much information about betting apps in Canada as we can. We've even gone to the trouble of stating which we think are the best online sports betting apps and why.
However, one of the main goals for the page is to allow you to make your own decision about which app is best for you. All the betting apps on this page we recommend in some form. They all have strengths and weaknesses, which we highlight for you.
Two key factors that all players should be looking for are that of pricing (odds) and the ease of use within the app. Getting the best price possible as often as you can be going to make you more money. Useability will mean you spend less time searching for those bets and essentially creating a much more pleasurable experience with your time on the app.
You rarely find a single app that covers all aspects of the features section exceptionally well. The same can be said when it comes to sports coverage, which again, is another key area.
Below we've included a look at some of the key sports you're going to access as a Canadian punter.
Best Hockey Betting Apps
It's fair to say that most Canadian punters are going to want to bet on ice hockey at some, given that it's the national sport of Canada. Betting apps tend to go above and beyond here, offering good coverage of NHL and CHL.
The best, however, will go above and beyond, offering up markets in local leagues across the country, women's hockey and even college hockey. Bet coverage is likely going to be good, which should include the likes of match results, over/under points, enhanced parlays, correct score, top scorers and many more.
American football plays another important role as a leading sport to bet on in Canada. The NFL takes precedent here and like most US-based bookmakers, the betting platforms are often shared across the border.
Again, the best go above and beyond here and they not only offer a comprehensive range of betting options on the NFL, but also those based outside of the US, within Canada and even across Europe.
Best Basketball Betting Apps
Basketball has always been a popular sport in Canada, but there is little doubt that the Toronto Raptors 2019 NBA win has propelled the sport no end. Popular bets on basketball include money line, parlays, over/under points and prop bets.
Best Golf Betting Apps
Golf carries a huge amount of popularity within the country and there have been some great Canadian players, including the likes of Mike Weir, Stephen Ames, Adam Hadwin and currently, Corey Conners. The best golf betting apps cover several tours from all over the world.
The PGA Tour and the European Tour are the two flagships, with 4 majors littered throughout the season in the mens and five in the women's game. Betting markets include outright winners and to place, but keep an eye out for the single round, group and head-to-head betting, offering up slightly more value and lower variance than that of the outright winner picks.
Best Soccer Betting Apps
Soccer is a sport that is still on the up in Canada and whilst we wouldn't say that it's one of the biggest in terms of player numbers, betting-wise, it's a must-have. You've got the MLS in the US, but it's the European and South American leagues that offer the most value and coverage for the majority of sports betting apps.
Best Tennis Betting Apps
Tennis is another sport that can be wagered on throughout the year. They have four majors that all betting apps will cover in some form but separating the men from the boys is their coverage outside of these majors. The best betting apps all have huge tennis sections as it's a hotbed for professional punters looking to bet 24/7 in competitions all over the globe.
Top Rated Canada Betting Apps
One of the goals for us on this page is to bring you the top-rated betting apps Canada. The apps, as listed below, take on board all that we've spoken about already and then highlight some brands that we think you should test.
All
AstroPay
Bet Builder
Ecopayz
eSports
Free Bet
Live Betting
Live Chat
MasterCard
MuchBetter
Neteller
NFL
NHL
Skrill
Soccer
Visa
Cash Out
Skril
More Filter
Best Canada Betting Apps for Parlays and Accumulators
We know that both parlays and accumulators make up a huge percentage of the overall bets taken by the best betting apps Canada. The ability to create a larger bet from multiple single bets can yield huge returns, so when players win, they often win big.
One of the key features for this to work well is pricing and the odds structure that the betting app includes. Even tiny improvements in price can lead to huge differences when it comes to a parlay or an accumulator bet.
What we've found is that generally betting apps that are most consistent when it comes to pricing are the best in this sector. Now, consistency doesn't always mean the best price but instead, the smallest difference between the top and bottom price.
Another thing that you need to note for parlays is that betting sites can only legally accept these bets if they cover different games. Same-game parlays or accumulators are not accepted.
For example, you couldn't have a bet that included the NY Nicks to win an NBA game, score over on the spread and for Julius Randle to be top points scorer.
However, you could have a parlay that took the NY Nicks, Boston Celtics, and LA Lakers all to win their match on the moneyline.
Below we've included three apps that we consider to be must-haves for parlay betting.
Bodog – 100% Bonus Up To C$200
22bet – Up to $300 in bonus money for new accounts
Sports Interaction – Up to $200 in bonus money
Horse Racing Betting Apps in Canada
Horse racing might not get the following in Canada that it does in other parts of the world, but it's still eyed as a key part of any successful betting app. It's also one of few sports that can be accessed 12 months of the year at an incredibly high level throughout.
Most betting apps will include it in some form, but the best go to town with both their coverage and features. A highlight within Canada includes the likes of The Queen's Plate, Woodbine Oaks, Breeder's Stakes and Canadian international.
Just across the border in the US you've got the likes of the Kentucky Derby, Belmont Stakes, Breeder's Cup and Preakness Stakes, to name just a few.
You're going to be able to access some great features within many betting apps, with things like comprehensive form guides, betting blogs, racing history and even live streaming.
Fantasy Sports Betting Apps in Canada
In short, Daily Fantasy Sports (DFS) is perfectly legal in Canada and there is a good range of apps to choose from. Whilst DFS doesn't replace the thrill of real-money betting, it's a great alternative and it works seamlessly well on many mobile devices.
For those that aren't familiar with DFS, the concept is that you pick several players from a sport and then gain points based on their performances for that game week. You enter pools (at a cost) and each pool will usually pay out a top percentage of the field.
What's unique about Canadian DFS is that it targets Canadian leagues more than say, a US-based site. However, the liquidity of DFS largely lies in the bigger player pool games, which does mean that US-based sports, and even sites to some degree, are better options.
Can I play on DraftKings in Canada?
Yes, you can access DraftKings DFS section of their app. You would sign up for it as a Canadian citizen but bear in mind that you won't be able to get access to the sportsbook that DraftKings also run.
Can I play on Fanduel in Canada?
Yes, you can access Fanduel's DFS app and site from Canada. Like DraftKings, you will not be able to access their real money betting site though, which is restricted for Canadian residents.
Other Daily Fantasy Sports apps available in Canada
If you're looking at options outside of DraftKings and Fanduel, then there are two alternative DFS sites that allow access for Canadian players.
Monkey Knife Fight is probably the best of the two and with it, they often have a ton of promotions and offers for both new and existing players. The range of contests on offer is also strong, with head to heads, 50/50 or double-up games, guaranteed prize pools and even beginner games all on offer.
Alternatively, you can look at Yahoo! Fantasy who is relatively new to DFS. They work well for players with smaller bankrolls, with plenty of low buy-in games. However, they're the weakest out of the four brands that we've spoken about, and the number of contests is simply not as in-depth.
Online Casino Apps in Canada
Sports and casinos tend to go hand in hand with most gambling brands. They often make it incredibly simple to jump from one to the other, so we wanted to look to see which free sports betting apps did it best.
A key area for success here needs to be the integration of the two. The best allows you to download a single app and then easily jump between the sportsbook and the casino. Having two independent apps can still work, but there is no getting away from the fact that useability decreases as a result.
The next thing we like to look at is the range of games. Mobile casino games are incredibly popular now and we are seeing more people play casino games on their phone than they do on their computer. If current trends continue, desktop casino play might be obsolete within the next decade.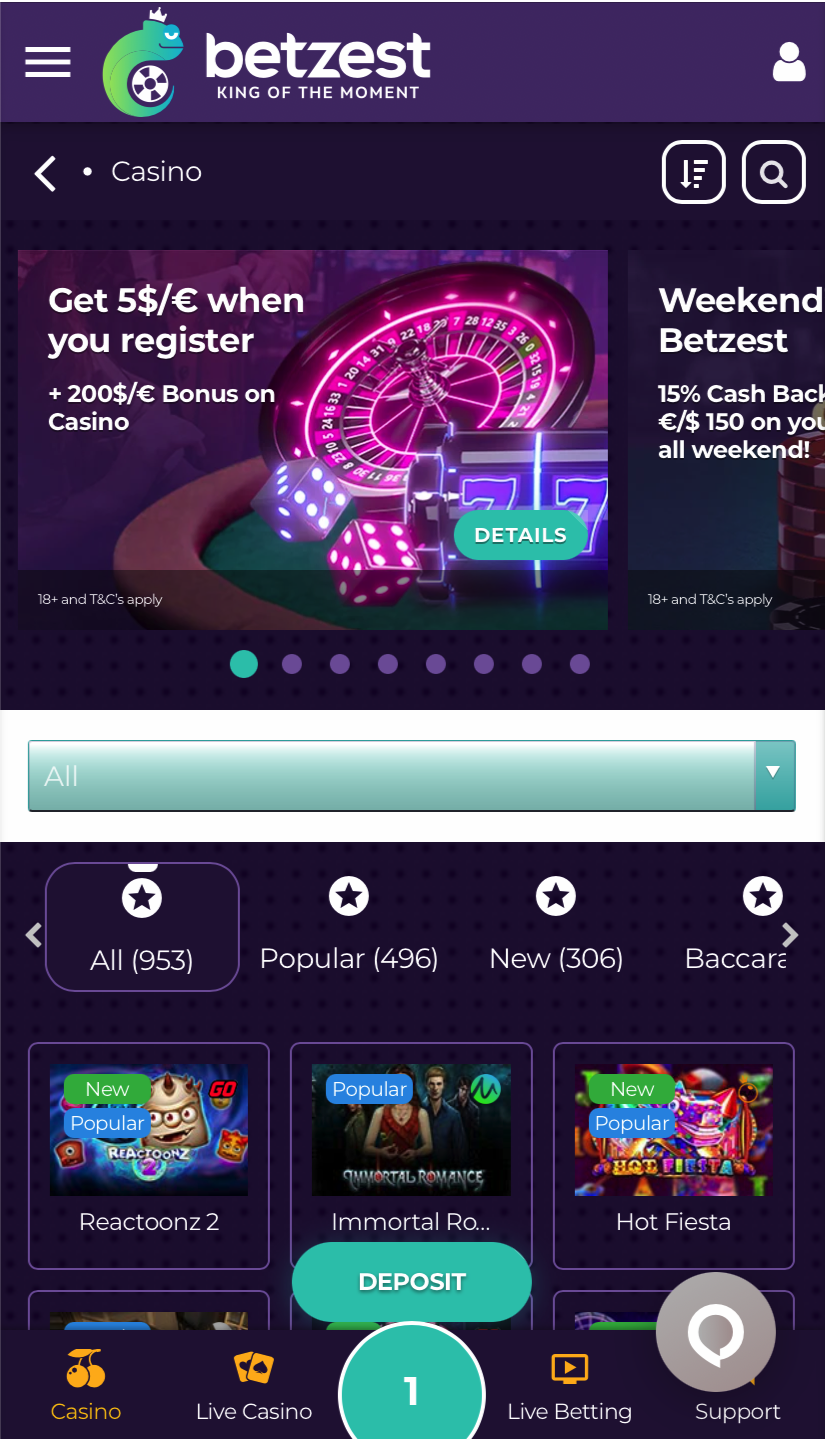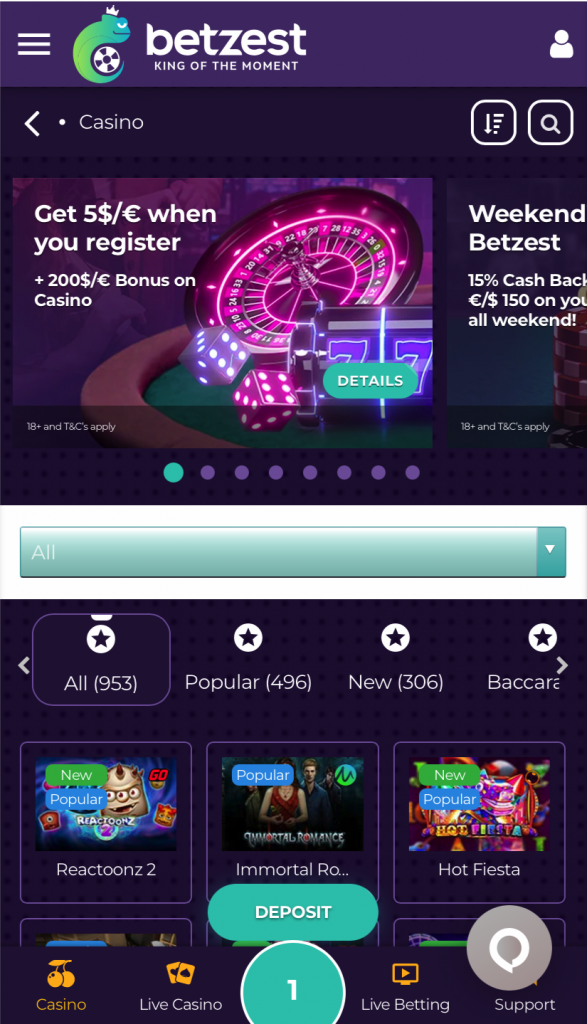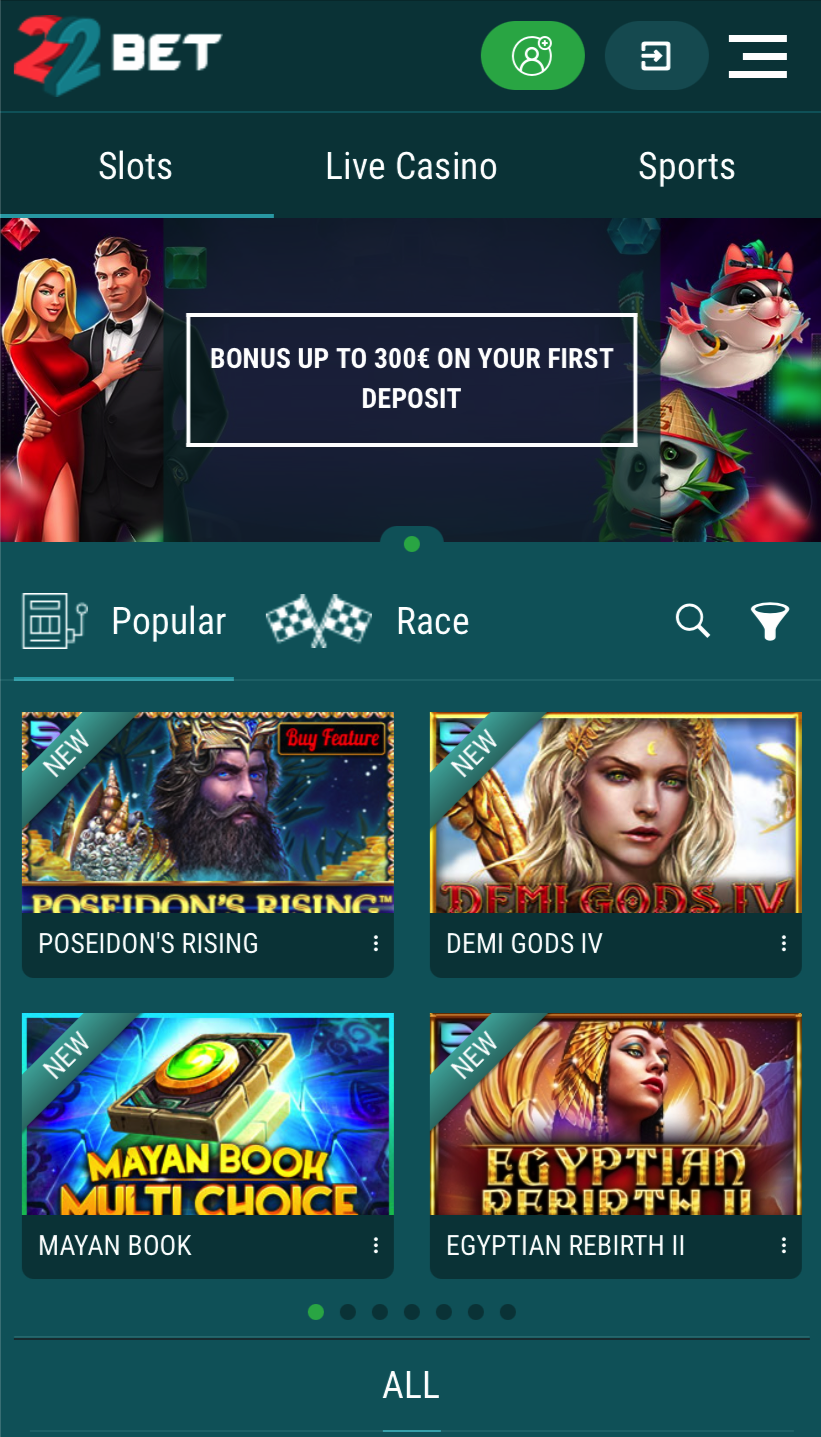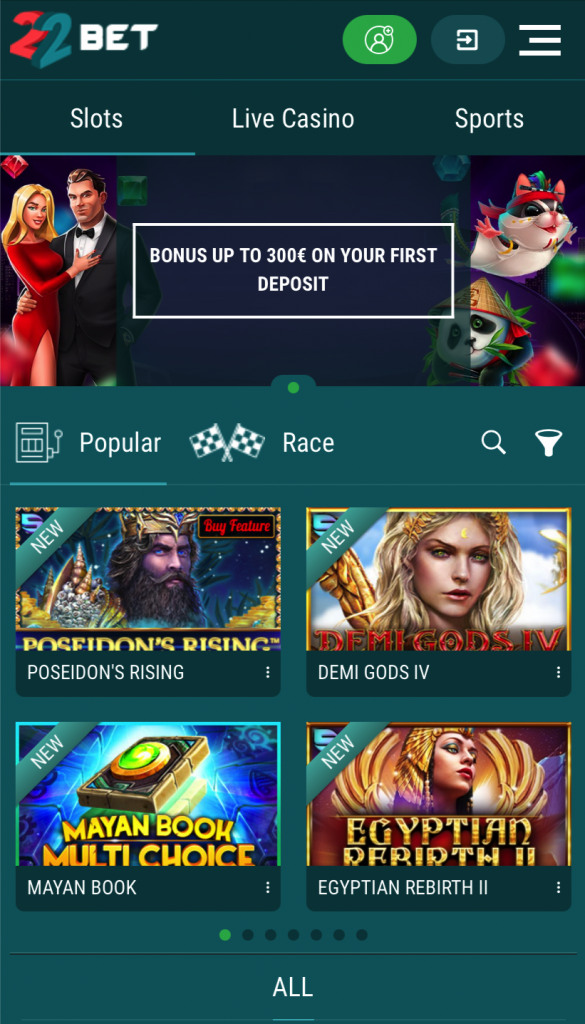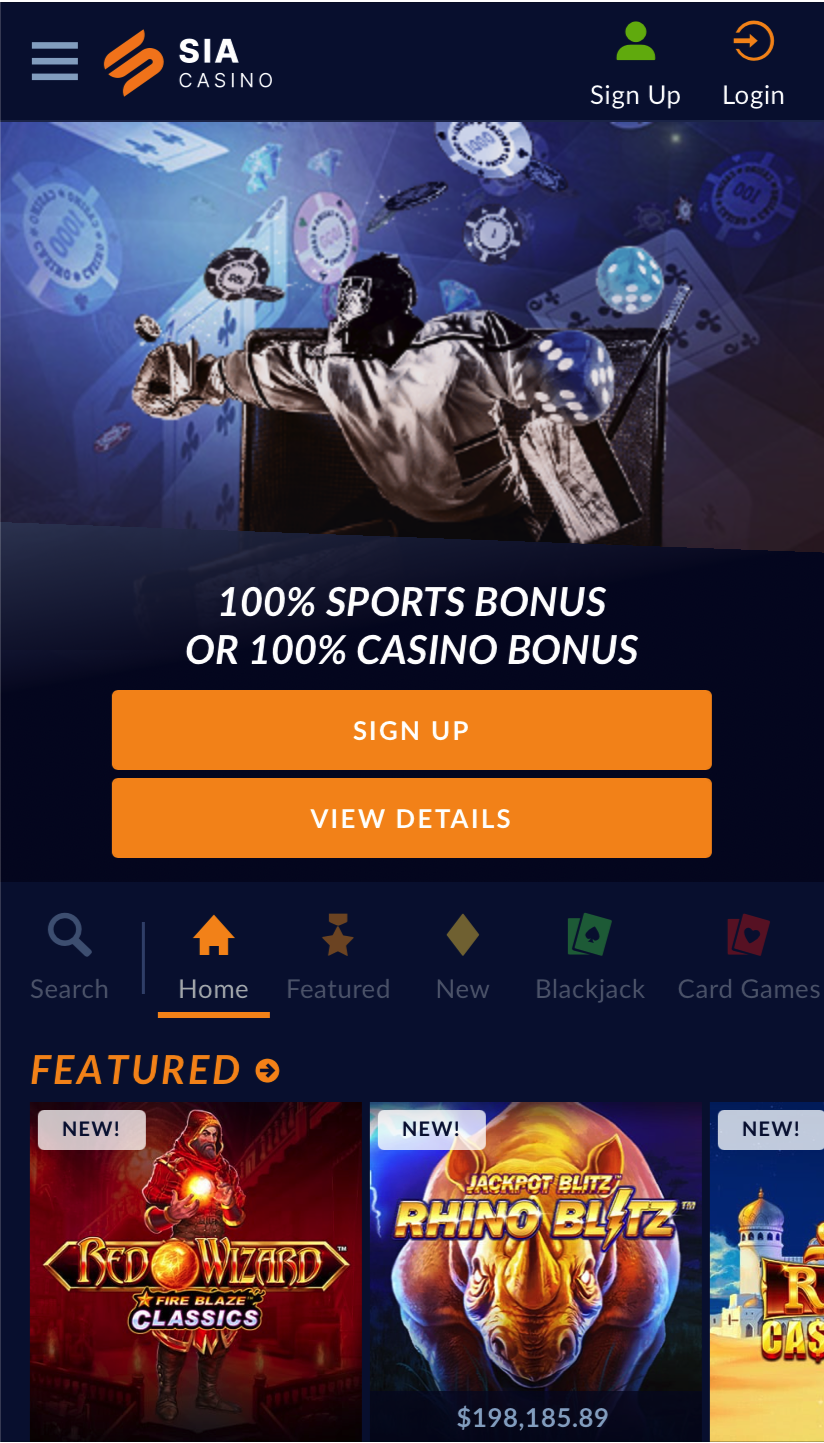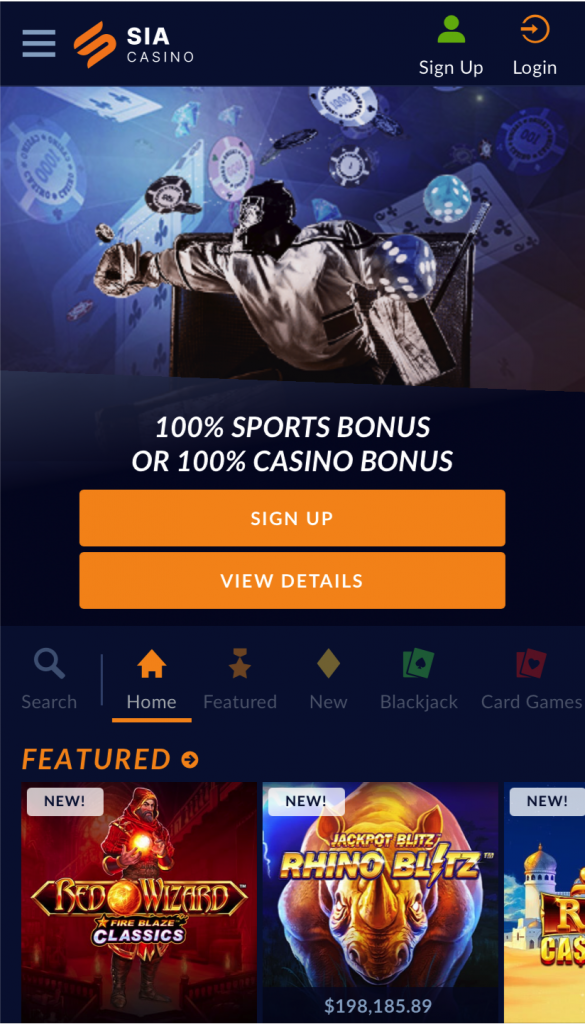 Most of the biggest and best include hundreds of mobile casino games to choose from. They're usually linked with multiple game developers, which allows them to keep a diverse range of games.
If we're honest, most casino apps carry way too many games, and more than any single player will ever play in their lifetime. However, it costs them very little to keep adding and most apps included decent filters that allow you to narrow down your search.
Game quality is an area that's massively improved for mobile over the last few years. A lot of new games are now designed with a "mobile-first" concept and then adapted to desktops at a later date. Each game needs to cater to the limited screen size that comes with mobile, without losing playability.
Security and Safety of Canada Betting Apps
Security and safety are key components for real money betting apps. You want to know that the platform you're playing on is fair and that when it comes to things like banking, you can get money in and out, with minimum fuss.
First off, let us assure you that any betting app we recommend is 100% safe and secure. We've taken the time to not only test each of them but also make sure that they've ticked the right boxes and got the right licensing which they legally need to trade to Canadian players.
Canadian licensing is relatively straightforward. The main licensee is that of the Kahnawake Gaming Commission, which has been about since 1996. Other licenses are also issued by the likes of the Malta Gaming Authority and Curacao Gaming Authority, both of which allow sports betting apps to legally trade and accept Canadian players.
Once licenses have been issued, they then do multiple checks throughout the year. These are done anonymously to make sure the betting app does not know they are being tested. Any issues or failure to conform starts with a freeze on their license until they tie up any loose ends. Consistent failure to conform will result in the license being revoked.
What's best about all this is that tests and licensing info can be found on the licensee's website. It's incredibly transparent and even though we do the work for you, if you ever need to check, you can do it.
Below we've listed a range of highly trusted Canadian Betting apps along with some licensing information.
| | | |
| --- | --- | --- |
| Betting App | License | Expiry Date |
| Sports Interaction | Kahnawake Gaming Commission | 09 September 2025 |
| Bovada | | |
| Bodog | Antigua and Barbuda Financial Services Regulatory Commission | Unknown |
| Betinia | Malta Gaming Authority | Unknown |
| BetPat | Curacao Gaming Authority | Unknown |
| 22bet | Curacao Gaming Authority | Unknown |
| Betiton | Malta Gaming Authority | Unknown |
| 20bet | Curacao Gaming Authority | Unknown |
| Sportsbet.io | Curacao Gaming Authority | Unknown |
| Shangri La | Curacao Gaming Authority | Unknown |
| Leo Vegas | Malta Gaming Authority | Unknown |
| Royal Panda | Malta Gaming Authority | Unknown |
FAQ
Is betting on sports legal in Canada?
Yes, sports betting in Canada is legal. There are a couple of restrictions on what you can bet on (inter-game parlays for example) but as a whole, it is legal.
What're the best sports betting app in Canada?
Bovada is the best sports betting app Canada. Not only does it have a great range of sports, competitive odds and a huge range of live betting options, but it also includes a great welcome bonus for new players.
Can I trust betting apps in Canada?
If the bookmaker is fully licensed, then you can trust betting apps in Canada. The most common licensee in the Kahnawake Gaming Commission and you can see all active licensed betting apps on their page.
Do I have to pay to use a betting app in Canada?
No, you shouldn't need to pay to use any betting app in Canada. If one is asking you to pay, then it's likely running illegally and should be avoided.
Do all sportsbooks have apps?
Most sportsbooks have dedicated apps that can be accessed from any of the major app stores. However, some only run mobile sites, which are non-downloadable and accessed via your mobile browser.
Can I win big playing online casino apps?
Yes, the ability to win huge sums of money on casino apps is very real. Some of the biggest potential winnings come from slots and in particular, progressive slots.
Can I withdraw money from mobile betting apps?
Yes, you will be able to move money in and out of betting apps. Some apps may have limited banking options compared to that of desktop, but some will also have additional ones (Apple Pay and Google Pay) that can't be accessed on desktop.