Colombia is arguably the most sports betting-friendly country in South America. Online gambling is completely legal there, and – as such – there are a wide selection of both domestic and international betting sites who are ready and willing to accept Colombian bettors. In this article, you'll not only learn what the very best brands are for betting within Colombia, but how we arrived at these rankings. We'll also explain the special offers you can use and the sports you can bet on, give you some top tips on turning a profit, and plenty more besides.
How We Ranked the Best Online Betting Sites in Colombia 
The relaxed legal situation in Colombia means there are a wide number of domestic and international betting brands operating in the country. We've narrowed all these down to five top options, as you can see above, with these being five of the key criteria we used to do so. 
As the name of our website suggests, safety is pretty important to us. One of the first things we always check when evaluating a new sportsbook, therefore, is its security measures. 
These should include several ways to protect your personal data and your money, including encryption, firewalls, independent audits, and anti-fraud measures. Other tools to help you protect your own account – like 2FA – are also welcome. Finally, we also ensure that every brand we recommend carries at least one license, with a reputable regulatory body. Bwin is just one of our recommended bookies which checks all these boxes. 
Colombia is a sports-mad country, with betting fans often following several different sports at any given time. To be suitable for as many of these people as possible, a betting site simply must provide a wide cross-section of betting markets. 
These should stretch far beyond football, to preferably include 20 or so more sports. Of course, the variety of bet types you can choose between for those sports is also important. Once again, it's a case of 'the more, the better' there. The range of betting markets on Codere, for example, impresses with both its breadth and depth.
Bettors should never need to wrestle with the interface of a sportsbook. Instead, these sites should feel intuitive and easy to use from the very first time you open them up. That goes for both the desktop and mobile platforms, and applies regardless of your experience level as a punter. 
To an extent, of course, this is subjective. We believe that 1xBet provides a standard-setting layout though, regardless of your personal preferences. 
This is another of the first things we look at, on any new Colombian betting sites we encounter. Firstly, we check that its welcome offer provides genuine value, with rewards which help to give your new account a great jump-start. Secondly, we look at the ongoing promotions too, and gauge the extent to which they reward your loyalty. 
In both cases, we've looked at the T&Cs carefully, and ensured that our chosen brands provide fair offers with no hidden catches. This is definitely the case with Betfair, which also provides appealing promotions for both new and existing customers. 
We've based the vast majority of our rankings on our own personal experiences with every bookie. In addition though, we've also been sure to check the wider reputation of each brand, among both critics and regular users. Among other benefits, this has helped us to identify any important issues we didn't encounter ourselves. YaJuego, in particular, passed this test with flying colours.
Key Features of the Best Sports Betting Sites in Colombia 
Over the past couple of decades, since online sports betting really took off, the total number of special features on these platforms has increased dramatically. This is as true for Colombian betting sites as for those in any other country.
With that said, certain features are definitely more important than others. While some are simply 'nice' to have, almost like luxury features, others will significantly impact your betting experience. They might make it a whole lot more fun, like live streaming, or open up a new world of betting possibilities, like an in-play tool.
Let's see how our 10 recommended Colombian betting sites stack up regarding these features, and in a couple of other key areas. 
Best Online Sportsbooks in Colombia 2023 by Category
For the most part, our recommended betting sites in Colombia have very few 'weak points'. Naturally though, they are stronger in some areas than in others. Some excel particularly when it comes to in-play betting, for example, while others provide particularly good promotions for their customers. 
If you're mostly interested in one specific area, as you conduct your search for a new sportsbook, the table below should quickly help you find the top site for your needs. You can check it out now to instantly see which is our top bookie in each category. 
| | | | |
| --- | --- | --- | --- |
| Category | Sportsbook | Category | Sportsbook |
| Best Overall Betting Site in Colombia | Codere | Best Special Offers | 1xBet |
| Best New Sportsbook in Colombia | WPlay | Top Special Features | Betfair |
| Top for In-Play | Zamba | Best Range of Payment Methods | YaJuego |
| Best Mobile Features | WPlay | Best Betting Odds | Betfair |
| Strongest Security | Bwin | Top Option for eSports Betting | 1xBet |
Welcome Bonuses Available on Colombian Betting Sites
Out of all the promotions offered by betting sites, welcome offers provide the biggest bonuses by far. While these bonuses will only last for a short time, their sheer size often means that they can give your new betting account an incredible kick-start. 
Among Colombian betting sites, you'll typically find two main types of welcome offer available to you. These are very similar to each other for the most part, but have one key difference. 
Deposit Match
This is the most common type of welcome offer you'll find in Colombia, by a distance. It also happens to deliver the biggest bonuses of any type of sign up deal, so that's certainly not a bad thing. 
The name is pretty self-explanatory here. After signing up with a new sportsbook, and making your first deposit, the bookie will 'match' the amount of that payment. The match will usually be a full 100%, although in some cases it might drop down to 50%, and – other times – it can ramp all the way up to 200%. 
Either way, the match will be delivered as a bonus – a free bet, essentially – rather than as cash. Unfortunately, these bonuses often come with a pretty sizable catch – the rollover requirement. We'll cover what that means in the next section, but – for now – simply know that it does detract from the surface appeal of these deals. 
Top Three Deposit Match Deals:
Bwin – 100% Match, Up to $250,000
YaJuego – 100% Deposit Match, Up To $200,000
BetPlay – Up to $200,000 Bonus
Recharge Bonus
In other countries, you might be able to get your hands on a 'Risk-Free First Bet' or 'Bet X, Get Y' welcome offer. In Colombia, however, there's only one other main format available to you – the Recharge Bonus. 
These work similarly to the previous offer we looked at, in that they only kick in after you've made a deposit. In this case though, you're getting a 'Recharge Bonus', which basically means that it applies to a subsequent deposit rather than your first one. 
Again, the size of this bonus can vary. It will usually be 100% though, meaning that – if you top-up your account with 40,000 COP, you'll be given another 40,000 as a free bet.
Top Recharge Bonuses:
WPlay – Up To $50,000 COP Bonus On First 'Recharge' Deposit
AquiJuego – 100% First Recharge Bonus, Up to $50,000 COP
Key Sports Bets Bonus Terms Explained
Whether they take one of the two forms above, or a different structure entirely, all welcome offers on legitimate Colombian betting sites will come with a full set of terms and conditions. It's crucial that you read through these thoroughly before committing to any deal. As you do so, we'd recommend focusing on these key areas. 
Signing Up and Depositing
You must be careful to obey an offer's T&Cs from the moment you start signing up with a new bookie. You may need to use a certain bonus code when creating your account, for example, or when making your first deposit. That first deposit will also need to exceed a certain minimum amount, and should be made avoiding ineligible payment methods (usually including eWallets).
Qualifying Wagers
While it's not such a factor with the two promotion types detailed in the last section, some welcome offers will require you to place qualifying wagers in order to receive your bonus. These must meet minimum requirements for both stakes and odds, and may need to be used on certain sports and/or bet types. 
Rollover Requirement
This is a key part of triggering any Deposit Match or Recharge Bonus welcome offer. Before you can withdraw any winnings earned via your bonus, you must complete a rollover requirement. This involves betting through your deposit and/or bonus amount a certain number of times. This should be done within a certain timeframe, while also meeting minimum odds requirements. 
Bonus Usage
Once you've got your bonus (or a 'free bet'), you'll generally find very few restrictions in how you use it. Some bookies may impose minimum odds requirements on you, or make certain markets ineligible, but this is thankfully rare. Do be aware, however, that your tokens will come with an expiry date, after which they will simply disappear if you still haven't used them.
How to Choose the Best Betting Sites in Colombia
If you're interested in getting started as quickly as possible, or simply want to ensure you're going with a good brand, we'd recommend going with one of our 10 recommended Colombian betting sites straight away. 
If you'd prefer to find your own bookie instead though, you're perfectly welcome to do so. As you conduct your search, we'd recommend taking some or all of these steps:
Check that the brand definitely accepts customs from Colombia
See if you can make payments and wagers directly in COP
Ensure there is at least one suitable payment method you can use on the site
Find out if there is a Spanish-language version of the website available
Browse the list of betting markets, and check that your favourite sports and bet types are included
Test out the platform's interface, and gauge its usability and intuitiveness
Download and try out the brand's mobile app, if you're an on-the-go bettor
Compare the brand's odds to those being offered by its competitors
See what features are available on the platform (in-play, live streaming, and so on)
Research the brand's wider reputation, among both regular users and critics
Check the site's security features
Ensure the operator holds at least one license with a regulatory body
Sports Markets Available to Colombian Bettors
As a bettor in Colombia, you're blessed with an extremely wide range of sports on which you can bet. These should number anywhere from 20-30 or more on most modern betting sites, with some offering even more. Let's take a close look at some of the most popular betting markets in Colombia, before getting a more general overview of your other options. 
Football Betting Sites
Colombia is the absolute definition of a football-mad country. The beautiful game is comfortably the nation's most popular sport, so it's no surprise to see that most Colombian betting sites also make football their priority. 
The coverage here tends to be incredibly wide ranging. Every top-level domestic, continental, and international competition can be wagered upon, plus lower-league fare and even youth football too. Crucially, all fixtures from both the Colombia Primera A and involving the Colombian national team will also be available to bet on. Given that it's such a popular market, it's no surprise to see that football also gets more specific promotions than any other sport. 
Recommended Bookie: Bwin
Top Tip: Football has the widest variety of bet types, by an absolute mile. Look to mix in pre-match, in-play, and outright wagers whenever you spot a good opportunity to do so. 
Cycling Betting Sites
Cycling is a popular pastime around much of the world, but Colombians take it particularly seriously. They tend to follow the professional scene more closely than people in other countries, and it draws a considerable amount of betting attention too. 
Fortunately, the vast majority of Colombian betting sites will have their own cycling subsection. True, this will include significantly less variety than football sections, with wagers usually being limited to outright Competition Winner only. You'll still find a good range of those competitions provided though, taking in major events across Europe, South America, and more.
Recommended Bookie: Betfair
Top Tip: Use the fact that cycling betting is largely limited to outright wagers as a positive. This means you have plenty of time ahead of each competition to gather betting tips, read expert analysis, study each rider's form, and more. 
Baseball Betting Sites
Baseball is another of the most popular sports to watch in Colombia, and it draws plenty of attention from bettors too. Naturally, the vast majority of that goes towards Major League Baseball in the USA. This enoys excellent coverage among betting sites, with pre-match, live, and outright markets are all easy to find. The most committed baseball bookies will also let you wager on leagues in countries like Japan and South Korea, but this is much more rare.
Recommended Bookie: 1xBet
Top Tip: Thanks to its slow-paced nature, baseball is a perfect sport on which to practice live betting. The constant breaks between innings give you plenty of opportunities to consider placing and cashing out in-play wagers.
Other Betting Sites
On top of the three markets listed above, most Colombian betting sites will give you 20 or more sports to bet on. These will usually include heavy-hitters like tennis, golf, athletics, motorsports, and so on. Combat sports like MMA and boxing also enjoy excellent coverage, as do contests in the US like the NFL and NBA. The quality and quantity of eSports betting markets is also improving all the time, and most bookies will round out their offerings with a few more niche offerings, such as handball and chess.
Recommended Bookie: Codere
Top Tip: While the majority of betting sites will give you around two dozen options to choose between, the specific sports can vary from brand to brand. If you want to bet on a particular competition or sport, therefore, be sure to check it's covered before signing up with a bookmaker.
Where to Find the Best Betting Odds
First-time bettors might simply assume that you must accept the odds you're given by your bookie. Veteran punters, by contrast, know that the quality of these prices is incredibly important, and must be checked before signing up with any betting site. After all, if the odds your bookmaker provides are unfairly low, you'll never get the rewards you deserve for making good picks. 
The quickest way to ensure you're getting good odds is to simply pick one of our recommended Colombian betting sites, each of which has been thoroughly investigated in this department. If you'd prefer to find your own bookie though, you'll need to confirm the quality of its prices for yourself. To do so, compare the odds on a handful of markets with those being offered by the competition, and ensure they're competitive. 
As your benchmark, we'd recommend using one of the three brands listed below, each of which has exceptionally good prices. 
Get Up to $50,000 in Free Bets
Get Up to $50,000 in Free Bets
Welcome bonuses for both sport and casino bettors
Hundreds of live betting markets
Great virtual sports section
9.8
Claim Bonus
18+, new customers only. Must be based in Colombia. No minimum betting requirement. Full T&Cs apply.
100% Bonus, Up to $250,000 COP
100% Bonus, Up to $250,000 COP
Great live betting tools
Top pick for accas and same-game multiples
Exceptionally good odds
9.6
Claim Bonus
18+, new customers only. Rollover requirement must be completed before withdrawing bonus winnings. Full T&Cs apply.

100% Match, Up to $100 USD
100% Match, Up to $100 USD
Live sports streaming available
Cryptocurrency payments accepted
Wide range of ongoing promotions
9.8
Claim Bonus
18+, new customers only. Minimum deposit $1. Minimum odds 1.40 for qualifying bets. Full T&Cs apply.
Payment Methods Available to Bettors in Colombia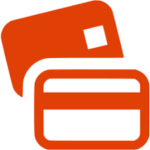 This is another area in which Colombian punters have a pleasing amount of choice. Naturally, all modern-day betting sites will let you use debit cards and bank transfers to make your payments. The vast majority will go beyond this though, and give you other options too. These could include eWallets like PayPal, prepaid cards, or even cryptocurrencies, which will help you to protect your anonymity. 
The relatively relaxed gambling laws in the country have meant that brands can also accept payments and wagers directly in COP. In certain cases you may need to use another currency, like USD or EUR, but that is thankfully rare. Elsewhere, it's also pretty easy to find popular payment methods within Colombia that you can use, such as PSE or Exito.
| | | | |
| --- | --- | --- | --- |
| Payment Method | Fees | Min Deposit | Min Withdrawal |
| Debit/credit card | 0% | $10,000 | $10,000 |
| Bank Transfer | 0% (banks may charge) | $10,000 | $10,000 |
| PSE | 0% | $10,000 | N/A |
| Exito | 0% | $10,000 | $1,000 |
| Neteller | 1.9-4.95% | $10,000 | $1,000 |
| Skrill | 0% (withdrawal fee may apply) | $10,000 | $1,000 |
| Cryptocurrencies | 0% | 0.001 BTC (223,000 COP) | 0.005 BTC (1.1 million COP) |
Betting Apps and Mobile Sports Betting in Colombia
For many punters, on-the-go betting on a phone or tablet has replaced traditional desktop usage as their preferred way to gamble. This is as true in Colombia as it is elsewhere.
We're happy to say, therefore, that Colombian betting sites tend to do very well in this area. Many will provide their own standalone mobile apps, often for both iOS and Android devices. Even without this, you'll usually find a mobile version of the main website. Either way, the brand will usually carry over all the most important functionality of their desktop site to their mobile platforms. This includes all the same markets, special features, and so on.
If mobile betting is particularly important to you, we'd recommend checking out these three brands first of all:

Up to $50,000 COP Bonus on First 'Recharge' Deposit
Up to $50,000 COP Bonus on First 'Recharge' Deposit
Streaming of various sports available
Good variety of payment methods
Virtual sports, casino games, and live casino sections in place
9.7
Claim Bonus
18+, new customers only. Min deposit $10,000 COP. 4x rollover requirement, min odds 2.0. Full T&Cs apply.
Get Up to $50,000 in Free Bets
Get Up to $50,000 in Free Bets
Welcome bonuses for both sport and casino bettors
Hundreds of live betting markets
Great virtual sports section
9.8
Claim Bonus
18+, new customers only. Must be based in Colombia. No minimum betting requirement. Full T&Cs apply.
100% Bonus, Up to $250,000 COP
100% Bonus, Up to $250,000 COP
Great live betting tools
Top pick for accas and same-game multiples
Exceptionally good odds
9.6
Claim Bonus
18+, new customers only. Rollover requirement must be completed before withdrawing bonus winnings. Full T&Cs apply.
How to Open an Account at a Colombian Bookmaker 
Colombian betting sites nowadays tend to be very easy indeed to use, regardless of your experience level. It takes very little time at all to start betting on them, with these being the few steps you must take.
Step 1 – Pick a Brand
The first thing you need to do is choose which bookie you're going with. We'll assume you're picking Betfair for the purposes of this guide, but each of our other nine recommended brands would be an equally excellent option. 
Step 2 – Create an Account
Head to the homepage of your chosen bookmaker, then click the 'Register' or 'Sign Up' button, usually located in the top-right. Now complete the registration process, which will require you to alternately provide your personal information (such as your address or date of birth) or set your account details (i.e. your username and password).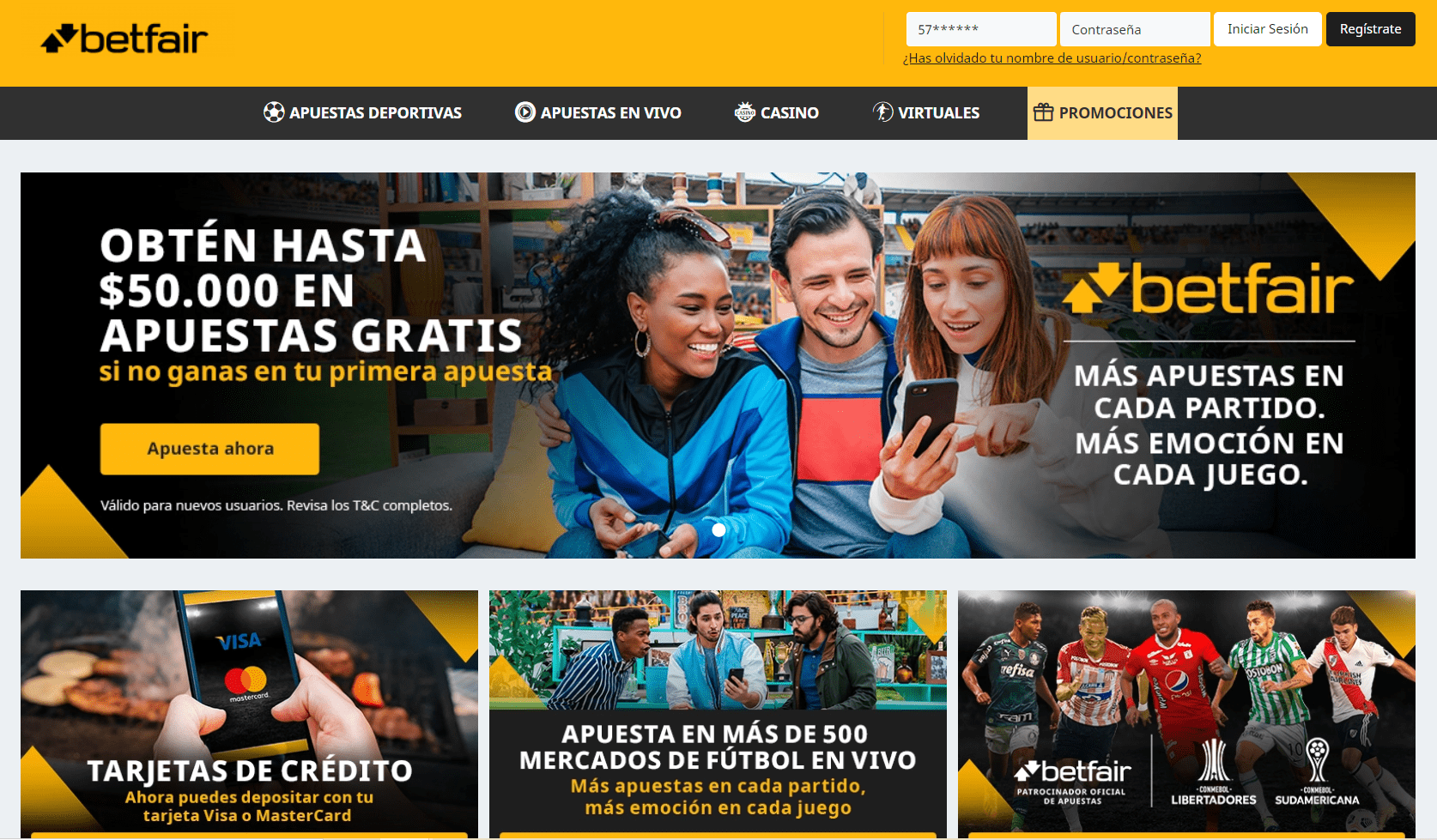 Step 3 – Make a Deposit 
Now that your account has been created, it's high time to fund it. Ensure you're logged in, then click the 'Deposit' or 'Cashier' button. You will now see a list of your available options. Pick the one you want to use, enter the amount you wish to deposit, provide the requisite details, and confirm the payment.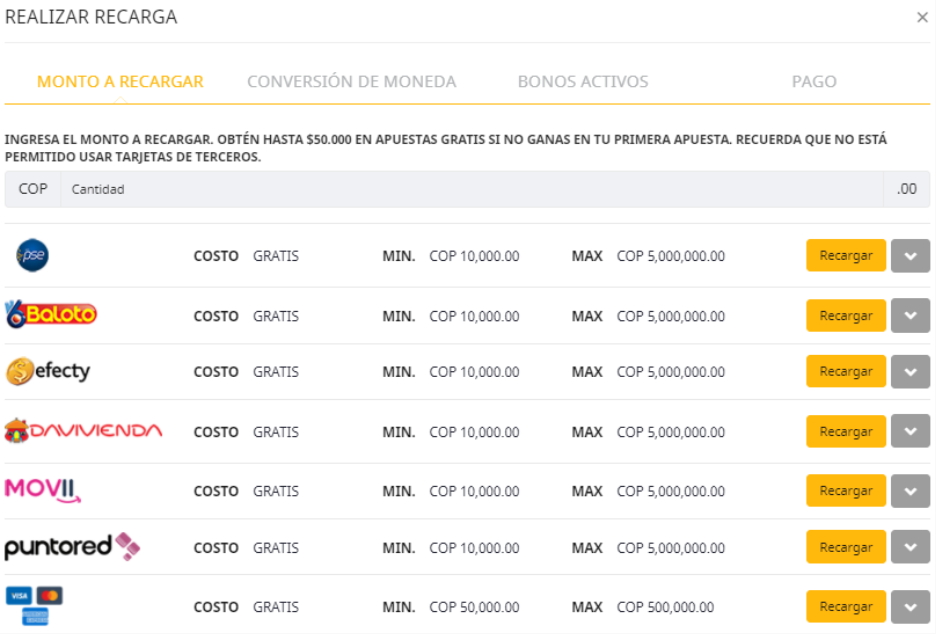 Step 4 – Place a Wager 
With your account funded, you can finally start betting. Head back to the home page, then pick a sport from the list on the left-hand side. Find the matchup on which you wish to wager, click the odds next to your preferred bet type, set a stake within your betslip, and confirm the wager.

Step 5 – Verify Your Identity
Before you can take any money out of your account, you'll usually need to verify your identity. This might seem like a pain, but it's a key anti-fraud measure, and is actually pretty easy to do. You simply need to use either the document uploader tool or live chat feature, and send the support team images of a piece of photo ID, and another document which shows your address. 
Step 6 – Withdraw Your Winnings
Once your identity has been verified, you're free to withdraw your winnings. To do so, head back to the 'Cashier' section and select 'Withdraw, then pick one of the available payment methods. Again, you just need to enter an amount and provide any necessary details, then confirm the transaction to get your money. 
Online Gambling Law in Colombia
We're pleased to say that online sports betting is completely legal in Colombia. In fact, it's arguably the most betting-friendly country
in South America. This wasn't always the case, as – prior to 2016 – all betting belonged to a state monopoly. Since the eGaming Act of 2016, however, all online sports betting and gambling has been made legal. 
Needless to say, this is a great thing for Colombian sports bettors. It means you can enjoy as much sports betting as you please, without needing to fear being caught or punished by the government, as you might in other countries. 
Top 5 Betting Tips
As in any other country, there's never a guarantee that you'll actually make money from your sports betting. There are definitely steps you can take to improve your chances though, with these being some of the most important of all. 
Tip 1 – Create a Staking Plan 
This is the first thing we'd recommend doing, before you even sign up with a bookie. Identify exactly how much you're willing to stake on your sports betting over a given week, or month. Then decide the maximum number of wagers you want to place within that span, and divide the first figure by the second to determine your average stake. Sticking to that amount afterwards is a great way to control your spending.
Tip 2 – Have Multiple Accounts
There's no rule that says you need to stick exclusively to one bookie. In fact, creating multiple accounts has two major benefits. It not only lets you trigger a series of welcome offers, but also shop around for the best price on a given market, and place your bet with the bookie providing the best odds. 
Tip 3 – Do Your Research
The more time you put into your betting picks, the better they will be. Gather as much information as you can before placing your wagers, making use of expert betting tips, the opinions of other casual punters, your own statistical analysis, and so on. 
Tip 4 – Use Those Promos
Some offers will help you win more money, while others seek to reduce your losses. Regardless of their specific form, all betting promotions have one thing in common: they help your money go further. As such, you should use them whenever and wherever possible. 
Tip 5 – Watch Along
It doesn't matter whether you're using a bookie with live streaming, an online subscription service, or cable TV. If you can watch the matchups on which you want to bet, you definitely should. This will help you enormously when it comes to picking the perfect time to place or cash out live wagers. Of course, it makes the whole betting experience much more exciting too.
Final Thoughts
Considering the difficulties which citizens of other countries have in placing wagers online, Colombians can count themselves extremely lucky. The nation's gambling-friendly laws ensure that – if you're based in the country – you've got an excellent range of domestic and international Colombian betting sites to choose between. 
After reading this article, you know the 10 very best options in this regard, and can get a reminder of our number one pick below. Now all you need to do is choose which bookie you'll go with, sign up and trigger the welcome offer, and start betting for yourself. 
First Deposit Bonus, Up to $100,000 COP
First Deposit Bonus, Up to $100,000 COP
Wide range of pre-match and live betting markets
Live streaming available
Great casino section too
9.8
Claim Bonus
18+, new customers only. Full T&Cs apply.
FAQ
What are the best betting sites in Colombia?
Is sports betting legal in Colombia?
Can I place wagers directly in pesos?
Are there NFL betting sites in Colombia?
How do I know if a Colombian betting site is legit?