Welcome to our guide to the best betting sites in Tanzania. In this unbiased article, we examine the top bookmakers that accept wagers from Tanzanian players. We highlight their strengths and uncover their weaknesses, helping you make informed decisions.
Further down the page, we share the criteria that factored into our ranking process. We also address common questions related to sports betting online and provide actionable advice to help you bet with confidence.
Best Betting Sites in Tanzania Ranked
10
Bookmaker that match your criteria...

9.4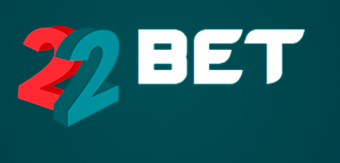 9.3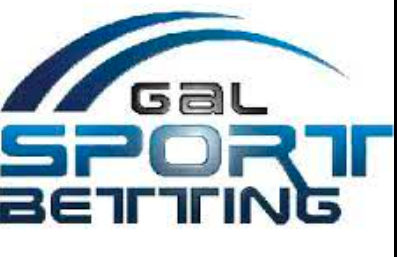 9.2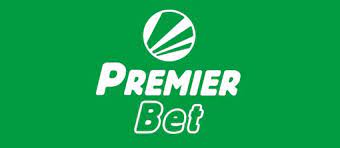 9.1

9.0
The Best Betting Sites in Tanzania List
After hours of in-depth research, we compiled the following list of the best betting sites in Tanzania:
Betzest – best overall for Tanzanian bettors
Sportsbet.io – best cryptocurrency sportsbook
Betwinner – largest esports selection
Bet365 – best live betting market variety
Betway – several re-deposit bonuses
1xbet – large variety of bonuses
22Bet – simplest user interface
Gal Sport Betting – licensed in Africa
Premier Bet – generous welcome bonus
Goalbetting.net – largest portfolio of soccer markets
Best Sports Betting Sites in Tanzania – Reviewed
1. Betzest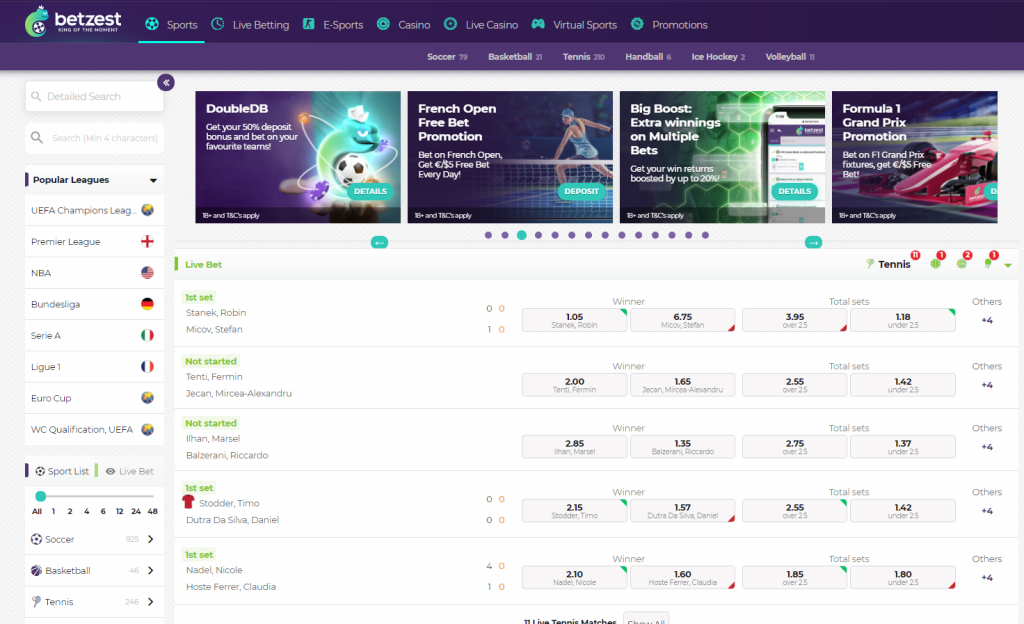 Betzest launched its online sports betting operation in July of 2018. The company holds valid licenses from the Curaçao eGaming Licensing Authority and the Malta Gaming Authority.
Players will find a range of sports at BetZest, with competitive odds on soccer, boxing, rugby, basketball, baseball, and over two dozen other disciplines. Available markets include all the major leagues, such as NBA, UEFA, Premier League, Euro Cup, and minor events like Egyptian 2nd division football leagues. Soccer, in particular, comprises a massive subset of Betzest's offering, with over 936 matches to bet on at the time of this writing.
If you're an eSports enthusiast, Betzest lets you bet on League of Legends, Dota 2, StarCraft, and CS:GO events.
Additionally, the bookmaker has attractive bonuses on offer, among them a no-deposit and a first-deposit bonus.
The only downside is the lack of support for TSH as a primary currency, so if you make a deposit using Tanzanian shillings, you'll incur a small conversion fee. You can fund your account using credit cards, ecoPayz, Neteller, Interac e-Transfers, and Paysafecard.
What we like:
Impressive choice of sports
Generous introductory bonus
Licensed in several jurisdictions
Beginner-friendly interface

What we don't:
THS not available as a primary currency
2. Sportsbet.io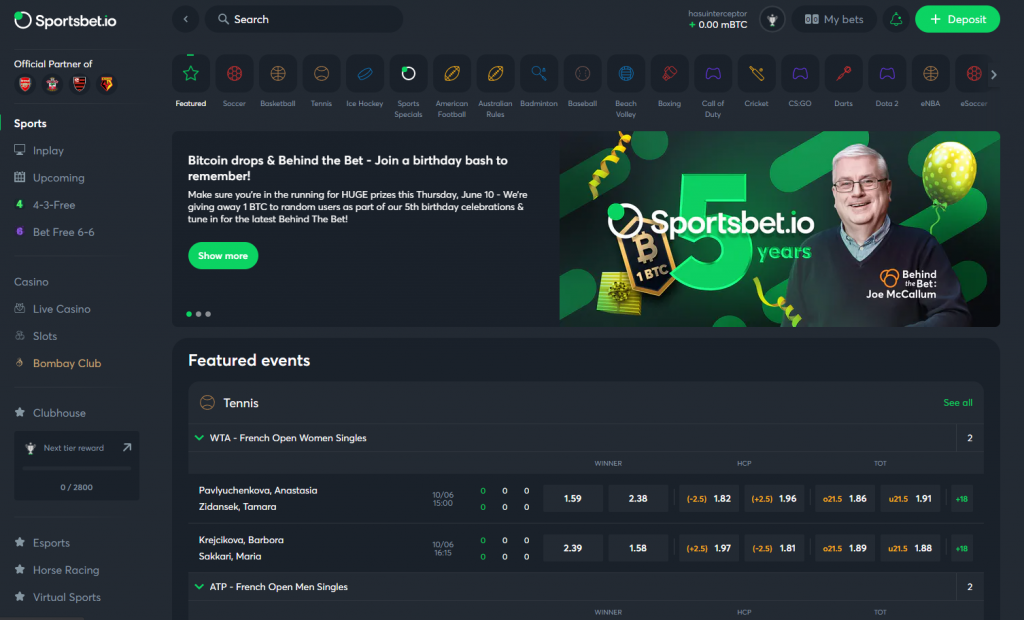 Established in 2016 and licensed by the government of Curaçao, Sportsbet stands out by allowing players to deposit and wager using cryptocurrencies, including Bitcoin and Ethereum.
The bookie offers wagering options on all sports popular in Tanzania. You can place pre-match and live bets on soccer, boxing matches, major and minor rugby leagues, Olympic events, basketball, and much more.
Additionally, sportsbet caters to competitive video gaming fans by offering odds on Dota 2, CS:GO, LoL, Call of Duty, and SC 2, Overwatch, eFIFA, and eNBA.
While most sportsbooks grant new customers a first-deposit bonus, Sportsbet.io doesn't. Instead, they award a free bet equal in size to a multiple of the first wager you place through their platform.
Unfortunately, TSH is missing as a primary account currency; your choices are limited to cryptocurrencies, USD, and Euros. On the flip side, the sportsbook accepts deposits via reliable payment methods, among them credit cards, ecoPayz, Jeton Wallet, Neteller, Skrill, and, of course, Bitcoin.
What we like:
Wager in cryptocurrencies
Strong esports and regular sports portfolio
Five years on the market
Free bet introductory bonus

What we don't:
No standard first-deposit bonus
3. Betwinner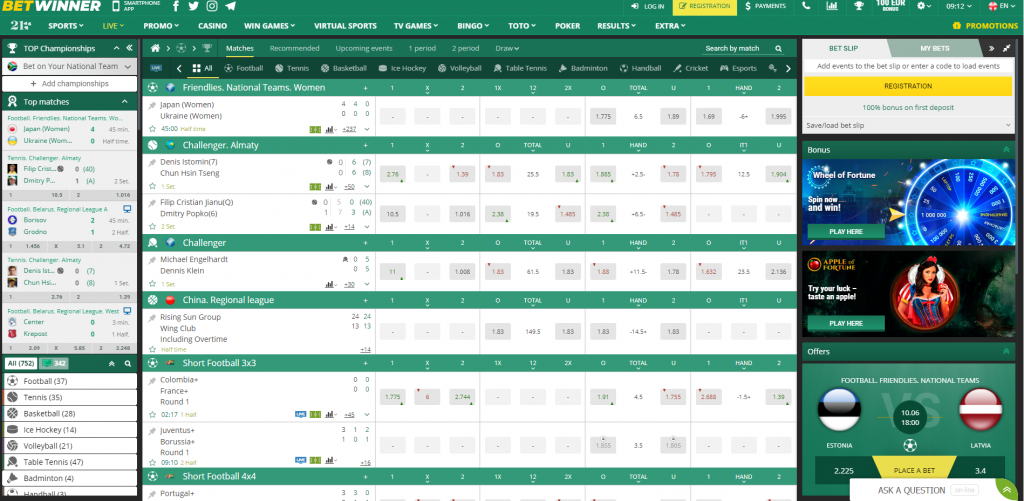 Betwinner was formed in 2018 and currently holds an online betting license from the Curaçao eGaming Licensing Authority.
Their selection of traditional sports markets is extensive. Enjoy betting on over 20 sports, including soccer, boxing, Olympic events, basketball, baseball, and rugby. Their broad coverage includes everything from the major leagues to ones we've never heard of.
What's more, Betwinner's eSports section is the most comprehensive we've seen. In addition to betting on popular titles like LoL and Dota, you can wager on Tekken, Valoran, SC:BW, and much more. All told, there are over 25 esports listed in their portfolio – most competitors pale in comparison.
To attract and retain players, Betwinner offers several first-deposit and recurring bonuses.
Unfortunately, Tanzanian shillings aren't available as a primary currency. You can move money in and out of your account using M-Pesa, Aritel Money, Skrill, Perfect Money, ecoPayz, Bitcoin and Litecoin, credit and debit cards, and several other trusted options.
What we like:
Superb selection of esports markets
Diverse range of welcome bonuses
M-Pesa and Aritel Money deposits

What we don't:
4. Bet365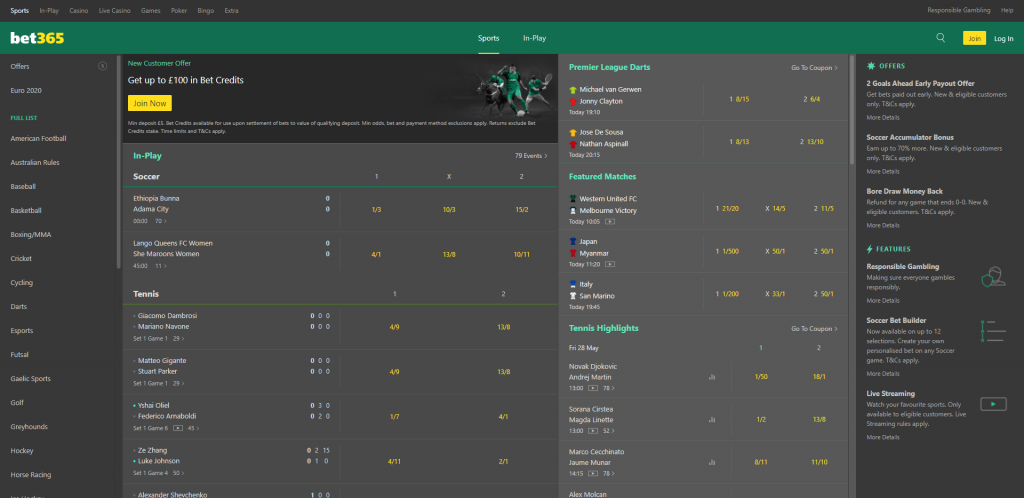 Bet365 was launched in 2001 and quickly became a top destination for sports bettors worldwide.
Like all sportsbooks in our roundup, Bet365 offers a strong selection of traditional sports markets. You can bet on soccer, boxing, rugby, basketball, and athletic events, and so much more. What's more, Bet365's breadth of in-play betting markets is genuinely astonishing.
If you're in the market for some eSports action, Bet365 is a great place to be. Their portfolio includes odds on major and minor tournaments in CS:GO, League of Legends, Fortnite, SC 2, Overwatch, and Rainbow 6.
Because Bet365 doesn't support TSH as a primary currency, you'll have to settle for an account in USD, Euro, or GBP. Examples of available deposit options include credit cards, Skrill, Neteller, Paysafecard, Astropay, and Qiwi.
What we like:
Recognizable brand
Live betting heaven
In-depth market coverage
1x bonus turnover requirement

What we don't:
No cryptocurrency deposits
5. Betway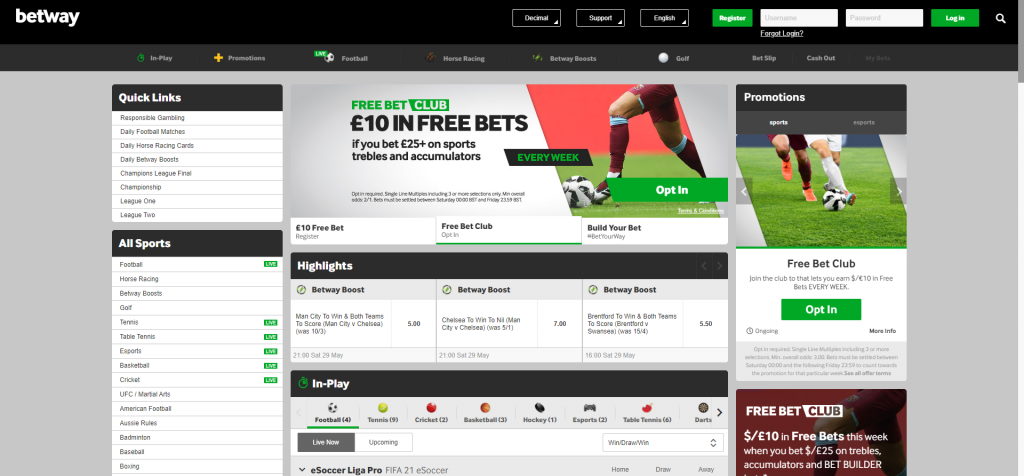 One of the most prominent online betting sites in the World, Betway's history in online gaming dates back to 2006. Their parent company is registered in Malta and has a valid gaming license from the United Kingdom Gambling Commission.
All major sports are available at Betway, including soccer, boxing, rugby, Olympic events, baseball, and basketball. The bookmaker also does a great job serving e-gaming enthusiasts by offering a range of odds on in-play and future CS:GO, Dota, LoL, Heroes of the Tempest, and Hearthstone matches.
Betway differentiates itself by offering new customers a set of deposit bonuses, with a maximum value of $1,000.
Unfortunately, you can't manage your account in Tanzanian shillings, so you must choose a different currency for your account. Betway processes deposits and withdrawals through Aritel Money, M-Pesa, Neteller, Skrill, credit and debit cards, direct bank transfers, and several other options.
What we like:
Huge UK brand
Good sports selection
Impressive welcome bonuses
M-Pesa and Aritel Money deposits

What we don't:
Limited live betting options
How We Rank The Best Betting Sites in Tanzania
We consider several factors:
Key Features of The Best Betting Sites in Tanzania
We hope that our earlier overviews of the top bookmakers in Tanzania helped you zero in on a sportsbook most suitable to your needs. If you're still undecided, refer to the table below for a quick comparison between our top five bookies:
Best Online Sportsbooks in Tanzania 2021 by category
International Betting Sites that Accept Tanzanian Players
The United Republic of Tanzania is one of just a handful of African countries with legal online gambling. Hundreds of international betting sites have capitalized on this opportunity, resulting in an impressive range of choices for Tanzania residents. Below are the top three sportsbooks that we recommend:
Sports Markets Available to Tanzanian Bettors
A critical aspect of a quality sports betting site in Tanzania is its sports diversity. The best sportsbooks cover a wide range of sports and provide a breadth of markets within each one.
Tanzanian punters can wager on all sports popular in their country. This includes soccer, boxing, rugby, athletic events, basketball, and baseball. The markets available within these sports are also impressive; they include leagues such as FIFA, NBA, Olympics, MLB, WBA, WBC, IBF, Premier League, UEFA, and hundreds of minor leagues worldwide.
Where To Find The Best Tanzanian Betting Odds
Turning a profit from online sports betting, unless you're a seasoned punter, is a difficult task. To simplify it, consider comparing odds across several sportsbooks before placing your bets.
Although odds are usually identical across the best betting sites in Tanzania, opportunities can still be found. Below are the top three bookies with the best betting odds:
Betzest – 100% welcome bonus up to $100, min odds 2.0
Betway – 100% welcome bonus up to $10, min odds 1.75
Bet365 – 100% welcome bonus up to $100, min odds 2.0
Mobile Sports Betting in Tanzania
Thanks to the proliferation of fast internet and powerful mobile devices, mobile sports betting has become the norm. What's more, gone are the days when bettors had to compromise; modern mobile betting apps are full-fledged platforms that mirror the functionality of browser-based applications. You can make deposits, trigger bonuses, and place pre-match and in-play wagers on the bookie's full range of odds, straight from the palm of your hand.
Most sportsbooks on our list have dedicated apps for Android and iOS tablets and smartphones; the best way to find the appropriate download link is through the bookmaker's official website. Unfortunately, some bookies, such as Goalbetting.com, are lagging – they are yet to release functional mobile apps.
Interestingly, a growing trend is for online betting sites to offer exclusive bonuses for mobile users.
Top Tanzanian Betting Apps
3
Bookmaker that match your criteria...
How to Choose the Best Betting Site in Tanzania
Do they accept Tanzanian players? This should be your primary consideration. All sportsbooks we listed on this page are open to players in Tanzania.
Are they safe and reputable? Avoid depositing with unlicensed online betting sites. The quickest way to verify a sportsbook's trustworthiness is to consult our reviews.
Are you more of an esports or traditional sports bettor? If it's the former, choose a bookie with the largest selection of esports markets. If it's the latter, no worries; all bookmakers on our list offer an extensive selection of physical sports.
Do they accept deposits in TSH? All sportsbooks accept payments in Tanzanian shilling. However, because most of them don't support TSH as a primary account currency, deposits in shilling usually incur a small conversion fee.
Payment Methods at Sports Betting Sites in Tanzania
Unfortunately, most Tanzania-facing betting sites lack support for Tanzania's most popular mobile payment gateways, such as Airtel, Mpesa, MTN, and Tigo; noteworthy exceptions include Betwinner and Betway.
But there's also good news: the overwhelming majority of providers accept international solutions like Neteller, ecoPayz, Skrill, and debit cards. Cryptocurrencies are also gaining in popularity.
When it comes to cashing out, you can withdraw using the same options that are available for deposits.
How to Open an Account at a Tanzanian Bookmaker
The process is straightforward; we'll use Betzest to illustrate:
Step #1: fill out the registration form by entering your username, email, password, and address. This step is also where you choose your account's primary currency. After you click the "Register" button, Betzest will email you an account activation link, so make sure to provide a valid email address.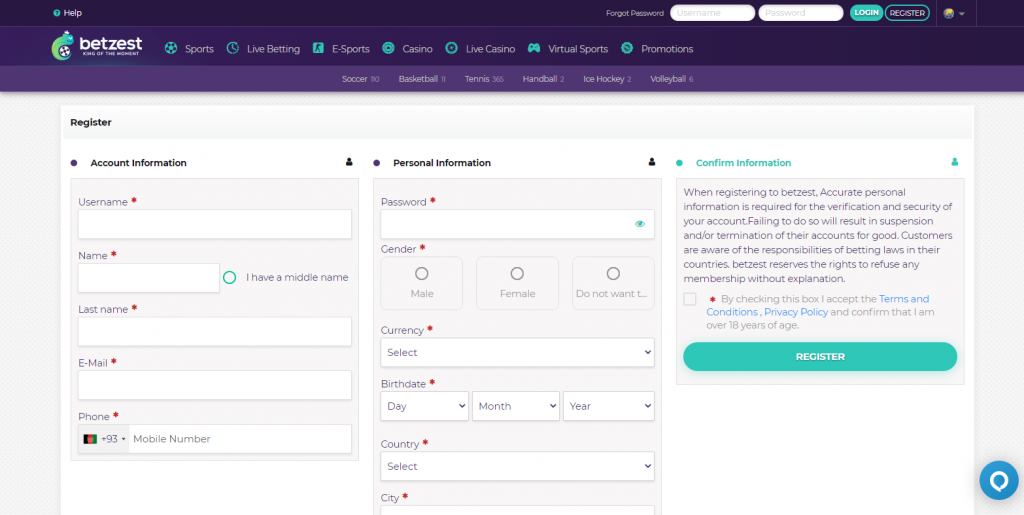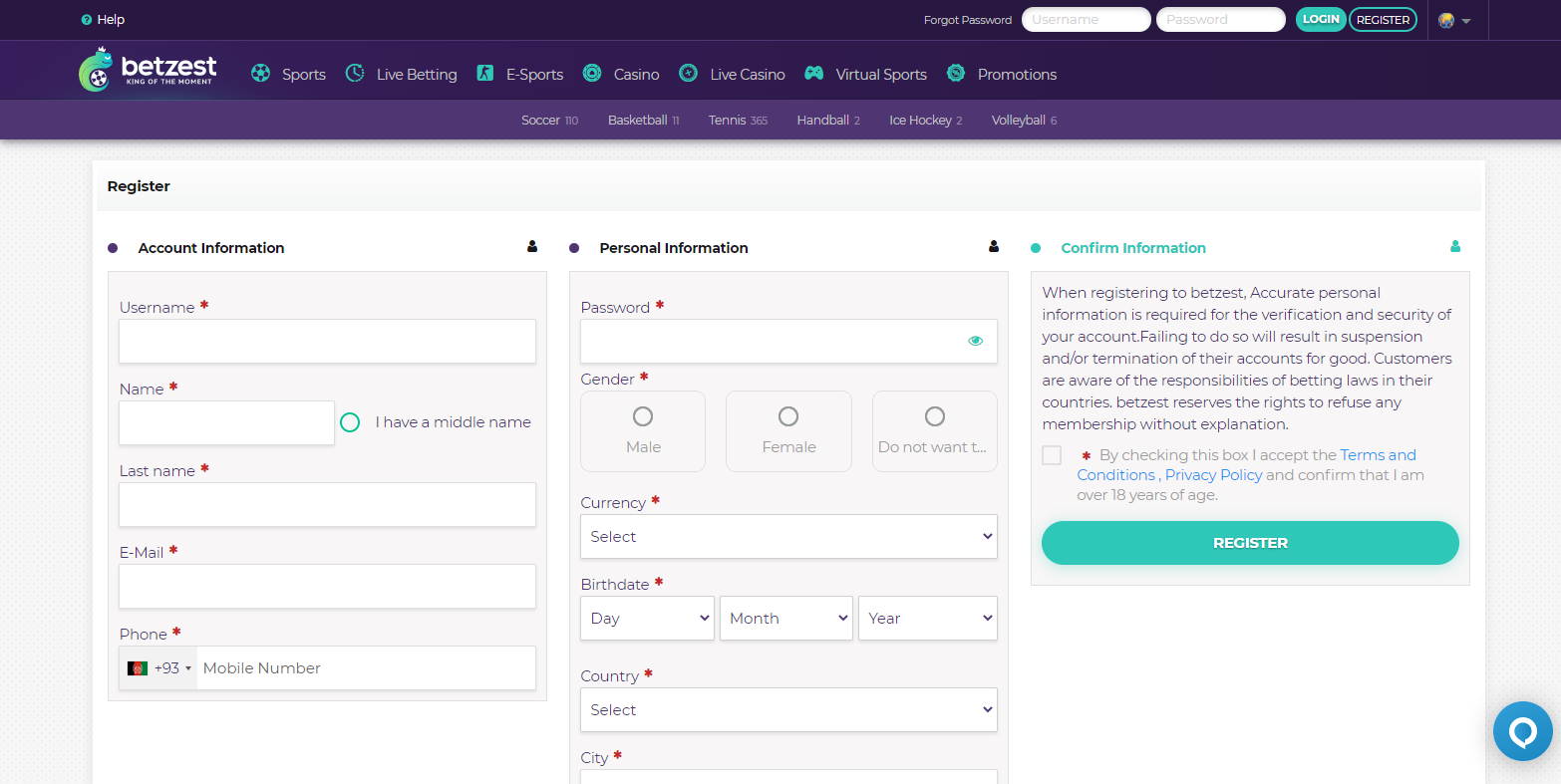 After you follow the activation link in your email, log into your account and press the cashier button in the top-right corner of the lobby. You'll see a list of available deposit options, along with the minimum and maximum deposit limits for each one: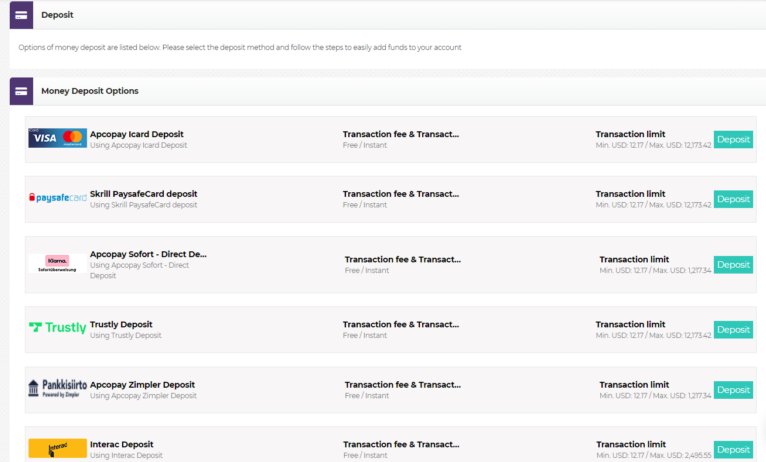 Now click "Deposit" next to your preferred payment method and enter your payment details (e.g., credit card number or e-wallet credentials). You can start betting as soon as your bankroll reflects your deposit, which takes less than a minute for most deposit channels.
Online Betting Law in Tanzania
When it comes to betting, Tanzania is one of the most lenient African countries. Online sports betting has been legal in the country since 1999 when the government passed an amendment to the Tanzanian Gaming Control Act of 1992.
Officially, only sportsbooks licensed by the Gaming Board of Tanzania can offer online sports betting services in the country. Unofficially, there are hundreds of European sportsbooks that welcome bettors from Tanzania.
Online Sports Betting Tips
Here are a few beginner tips to put you on the right track:
1. Always compare odds
Even minor differences can add up to a significant profit or loss over time. As a result, you should sign up with several of the best betting sites in Tanzania and compare odds across them before you place your wagers.
Pay attention to patterns; for example, does any sportsbook regularly offer better odds on the underdog or the favorite?
2. Don't avoid moneyline bets
If you believe that betting the moneyline is juvenile, think again: assuming you perform a thorough market analysis, moneyline bets can be surprisingly lucrative. More complex bets aren't necessarily more profitable.
3. Specialize in one sport
This is particularly important if you hope to turn a long-term profit from sports betting. Because consistently placing winning bets requires intricate market awareness, narrowing your focus to a single discipline or video game will help you get ahead.
4. Practice Good Bankroll Management
Beginners often risk a large portion of their bankroll on a single wager. In the event of an unlucky streak, this practice will quickly deplete your balance. If you're new to sports betting, we encourage you to minimize the harmful effects of variance by capping your wagers at 4% of your bankroll.
5. Focus on market research
Don't get caught up in advanced bankroll management strategies; in the long term, the only way to win consistently is through research and skill. To become a more efficient bettor, focus on understanding your market and its underlying trends.
Conclusion
There are many online betting sites available to Tanzanians. By sticking to the providers we recommend, you'll enjoy a safe and thrilling online betting experience. The range of sports will satisfy the most demanding fans, and the crowded online betting landscape is a breeding ground for innovative features that will keep your blood pumping.
Sign up with one of our top Tanzanian bookmakers and start wagering for real money in less than ten minutes.
Betzest - Best Bookie in Tanzania
Frequently Asked Questions (FAQs)
How do I read betting odds?
The most popular betting odd formats are Fractional, Decimal, and American. The Fractional (British) format represents the ratio between your total potential winnings and the size of your wager. For instance, if you bet on 3/1 odds and win, you'll get $3.00 for every one dollar wagered. You'll also get your original stake back in full. The Decimal (European) format is a bit different. Here, potential winnings are represented as a multiplier that is applied to your stake. For example, if you bet $10 on 2.5 odds, you stand to win 2.5 x $10 = $25. Note that this already includes your original bet. As for American (Moneyline) odds, the format uses two different representations: one for the underdog and one for the favorite. The favorite is denoted by a negative (-) number, representing the stake required to win $100. For example, if the odds are -180, it means that you stand to win $100 for every $180 wagered. Conversely, a positive (+) number represents the underdog and denotes the amount you stand to win for every $100 staked. For instance, +300 odds imply that you stand to win $300 for every $100 wagered. In both cases, your original wager is also refunded.
How do I win at betting?
Generating a consistent profit from online sports betting is an arduous task that demands dedication and in-depth market analysis. If you think you're up for the job, you'll benefit from consulting our Online Sports Betting Tips section further up this page.
What is handicap betting?
Bookmakers employ handicapping to compensate for significant skill differences between competing teams. This helps bookies generate more action on the underdog. For example, if Grant Hackett were to swim against an average club swimmer in a 100-meter race, we would expect the former to win every time. To encourage bets on the underdog, the sportsbook could handicap Hackett by giving the average swimmer a virtual 50-meter head start in the race.
Can I deposit in Tanzanian shillings at betting sites?
Yes; however, because TSH is not available as a primary account currency at most sportsbooks, you'll probably incur a small currency exchange fee.
Is Sports Betting Legal in Tanzania?
Yes. Tanzania's online sports betting regulations are among the most lenient anywhere.
How does betting work?
After you register and fund your account, you browse the sportsbook's betting markets. You then bet a chosen amount on a specific outcome of a sports match. If your prediction materializes, you'll be entitled to a payout based on the odds on your pick.