Sports betting in Ghana is on a high like never before, and betting apps in the country play a huge part in that. Top betting sites such as 1xBet, myBet and MELbet have succeeded in creating state-of-the art iOS apps and some of the best Android betting apps that bring sports betting to all your mobile devices. You can load up your betting account via Airtel with cedi and get betting on the 2023 African Cup of Nations, pronto.
But which apps are the best? That's the question we are here to answer. Keep on reading to find out which are the best betting apps of 2023, and why you need to download them to your iPhone or Android-powered device.
Top 10 Betting Apps in Ghana for 2023
If you haven't got time to hang around, then immediately below you'll find our ten top betting apps Ghanaian people can download to their devices, and the main reason that we rate them so highly.
Top 10 Betting Apps in Ghana
1. 1xBet – Best all-round mobile betting app
Not only do we consider 1xBet to be the providers of the best all-round betting app in Ghana, we think that they're one of the best global betting companies in 2023. As a company, 1xBet was founded in the dim and distant past of 2007, and has expanded ever since and now provides sports betting sites and apps in over fifty different countries. The app for sports bettors in Ghana is available on both iOS and Android.

As well as being the best all-round betting app in Ghana, this app also offers you the chance to claim a magnificient 200 percent first deposit bonus up to a maximum of 550 GSH. Once you have wagered your bonus cash you only need to wager it again three times over on events with minimum odds of 2/5 (1.40) before you can withdraw it.
What we like:
Brand known all around the world
One of the best welcome bonuses – up to 550 GSH
Enough markets to please most
What we don't:
More unusual sports are not covered
2. myBet – Best betting app in Ghana for football
People in Ghana love football. The Ghanaian football team reached the FIFA World Cup finals in 2006, 2010 and 2014 and have won the African Cup of Nations four times. Asamoah Gyan, Andre Ayew and John Paintsil are three footballers who have played in the EPL – one of the biggest football leagues in the world. People in Ghana love betting on football too, and we think that myBet is the best betting site in Ghana for football betting.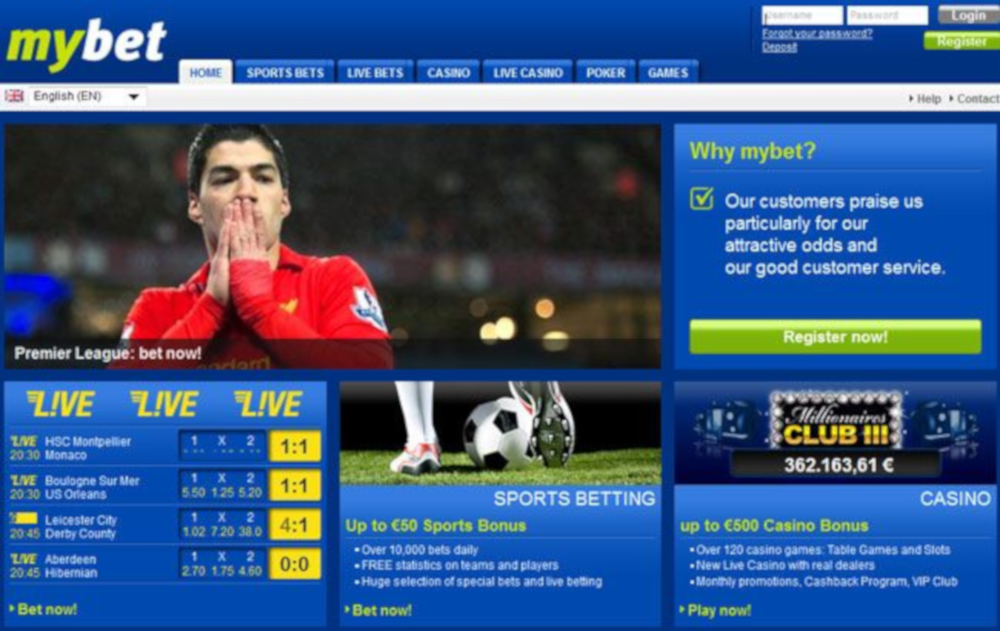 At MyBet not only can you bet on the Ghana Premier League, FA Cup and Super Cup, you can also easily find events in the English Premier League, UEFA Champions League and the UEFA Europa League to bet on too. In fact you can bet on most football leagues around the world with MyBet, as well as countless other sports and activities.
What we like:
Leading football betting site in Ghana
Up to 200 GHS free bet
Plenty of deposit methods available
What we don't:
Slow-running app at times
3. MELbet – Fastest payouts for a Ghanaian mobile app
Because of the legacy in Ghana for SMS sports betting, the most common payment method by far remains via SMS payment services such as Airtel and Vodafone. Despite the move to more streamlined sports betting apps and the availability of deposit methods such as debit and credit cards and eWallets like PayPal, Airtel remains Ghana's number one payment methods choice. There is one problem with this though – Airtel payments can be slow.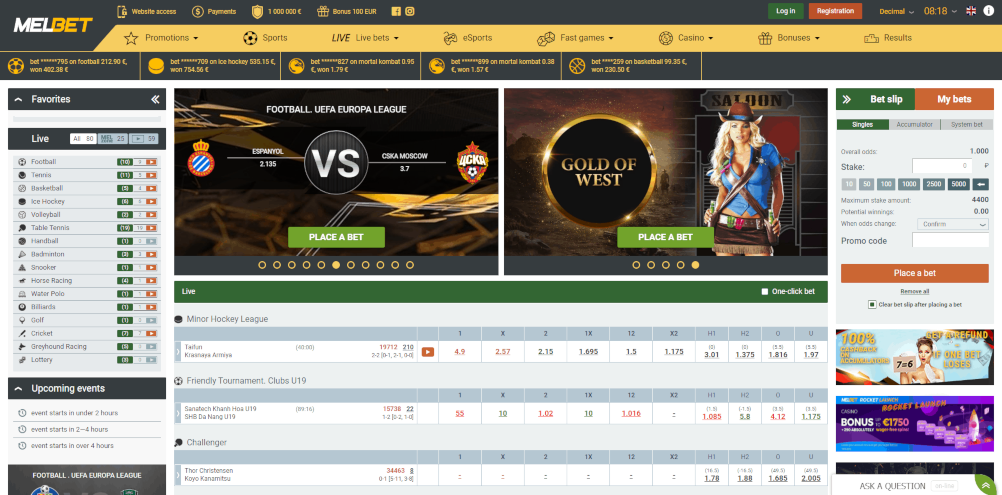 That is not the case at MELbet. This exciting new betting venture prides itself on the speediness of its withdrawals. You can still use plenty of other payment methods via the site such as Vodafone, ecoBank, bank transfers and MTN Mobile Money, and all withdrawal requests will be honoured as quickly as MELbet can process them. MELBet has several other plusses, including a wide range of markets and an app that's east to use.
What we like:
Payout speeds are the fastest in Ghana sports betting
Some live streaming available
No minimum deposit
What we don't:
Credit and debit cards not available
4. 22bet – Best mobile betting apps for Android
Around the world there's a battle between Google's Android and Apple to be the number one provider of smartphones and tablets, but in Ghana this is a skirmish that Android is winning. If you own a phone in Ghana there's a 60 percent chance it runs on Android, but less than 10 percent chance that it runs on iOS. That's one reason why sports books in Ghana tend to concentrate more on the Android market than they do on Apple.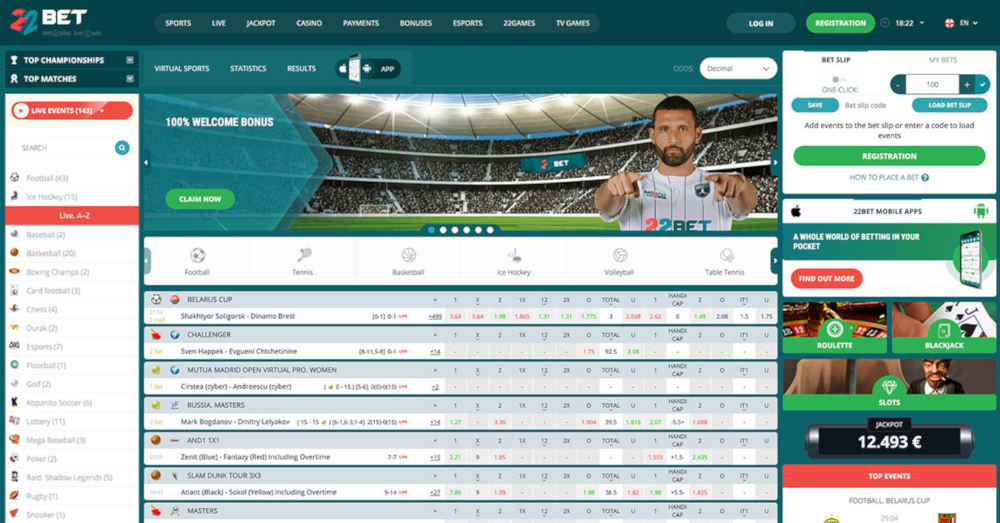 From our experience with the best mobile betting apps in Ghana, we consider 22bet's app to be one of the best Android betting apps that's been designed specifically for Google's phone operating system. You can download the apk file for the Android app directly from the 22bet site, but you might find it elsewhere on the world wide web. The app is super-speedy and has all the features we think important when it comes to sports betting apps.
Apple phone users are not excluded from 22bet as there's an iOS app as well – we just don't find it as impressive.
What we like:
One of the best Android betting apps in Ghana
Decent bonus – 100% up to 750 GSH
Plenty of deposit methods
What we don't:
iOS app is just not as good
5. 888sport – Leading betting app for number of markets
The majority of sports betting apps and sites in Ghana have been created by smaller betting companies based in Ghana or in some other close-by African neighbour. Some available apps though are from true global companies. We've already encountered Russia's 22bet, so now it is time to meet one of the biggest gambling companies on the face of the planet – 888sport. They are part of the massive 888 group of companies which originated in the United Kingdom but now is based in Gibraltar.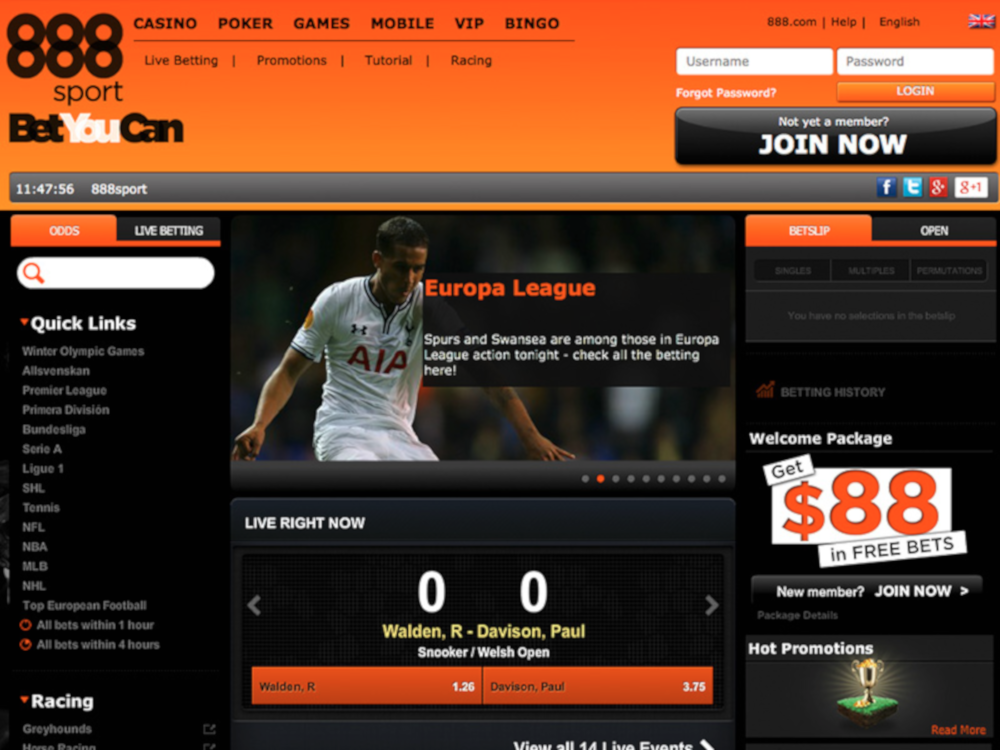 Betting at a huge betting company via an app has countless advantages and that could not be more true than at 888sport. The number of markets available via the 888sport betting app is remarkable, and there is no betting company in Ghana that can match them for that. The app has countless other advantages too, including a wide range of betting options and a number of inventive promotions.
What we like:
Biggest range of betting markets in Ghana
Decent bonuses and promotions
Superb for live betting
What we don't:
6. SupaBets – Top betting app in Ghana for live streaming
While other countries have betting apps where live streaming is readily available on a number of events and markets, such a thing is not common among the leading Ghanaian sports books. SupaBets does have some live streaming, but in addition – and to significantly enhance your sports betting experience – the app has state-of-the-art tracking software which is almost as good as (if not better than) being at the event yourself.
If, for example, you have bet on a football match, then via the app you can watch a virtual realisation of the game as it progresses – as live. Every kick, throw-in, corner and attack is indicated, and you may even feel as though you are playing in the match yourself! The real-time data element of this feature also makes the SupaBets sports betting app one of the best for live, in-play betting.
What we like:
Some live streaming
Excellent choice for live betting
Decent odds for all markets
What we don't:
More live streams, please!
7. Bet9ja – No.1 betting app in Ghana for a welcome bonus
Bet9ja is simply one of the best sports betting apps and sites in the entire African continent. Although based in Nigeria, the Bet9ja site is available in many other African nations, including Tanzania, South Africa and of course, Ghana. No matter the country you are accessing Bet9ja from, you will be in receipt of one of the best welcome bonuses around – a 100 percent welcome bonus plus a free league bet.
The bonus is up to a maximum of 150 GHS, but any deposit over 2 GHS will be enough to secure you a bonus. This is extremely generous but – and we have to be honest here – the wagering expectations are not the best. You need to wager your bonus ten times over at odds of 3.00 in order to withdraw. That means to get anything out of your bonus you will need to be lucky. The flipside of this that if you are lucky, lots of lovely extra money` will suddenly be sitting in your Bet9ja account!
What we like:
Popular site throughout Africa
One of the best welcome bonuses – up to 150 GHS
Easy to use app with lots of markets
What we don't:
8. BetYetu – Leading Ghanaian betting app for ease-of-use
As has been previously mentioned, people in Ghana have of course been betting with their mobiles for years, mainly via SMS betting. Therefore, mobile betting platforms have always been popular and the best mobile betting apps are becoming increasingly popular – and when they are as easy-to-use as the sports betting app that's available at BetYetu, you can see why.
BetYetu had been designed specifically to look good and work especially well on phone and tablets, be they powered by Android or iOS. Even if you head to the BetYetu site on your PC or laptop it looks as if you are using a mobile app! The app works well in any browser and there's an added bonus at BetYetu – weekly free bets for loyal customers!
What we like:
Site is designed with mobile devices in mind
Weekly free bets for loyal players
Superb in-play betting options
What we don't:
Too much emphasis on football
9. PremierBet – Top betting apps Ghana for live best boosts
One of the key advantages of the best betting apps Ghana residents can use is the concept of live betting. This is where you can bet on events that are currently in progress – not just the final outcome of the event, but other markets such as the next player to score a goal during a football match, or the final score of the current set in a tennis tie. You can really win extra money if you've an idea of what's about to happen, and PremierBet will add to your success by giving you a live bet boost.
Just choose a current event and see if you can apply a live bet boost too it. If you can, then if your live bet intuition turns out to be good, your winnings will gain an extra little sparkle. PremierBet has plenty of other betting promotions just for good measure, including a sports welcome offer up to 300 GHS, insurance on your combination bets and mega bonus boosts up to 250 percent on your combi bets too.
What we like:
The best site for live betting boosts
Lots of incentives for combi bets
Decent welcome bonus
What we don't:
10. Betfair – The top Ghana betting app for exchange betting
If you are a seasoned sports bettor in Ghana, then obviously you're accustomed to fixed odds betting. You place a bet via an app and the online bookie will offer you a price. There are, though, other ways of betting such as spread betting and exchange betting, and Betfair is the number one site for exchange betting that's available in Ghana. Naturally being a global company, Betfair offers utterly decent apps for both iOS and Android.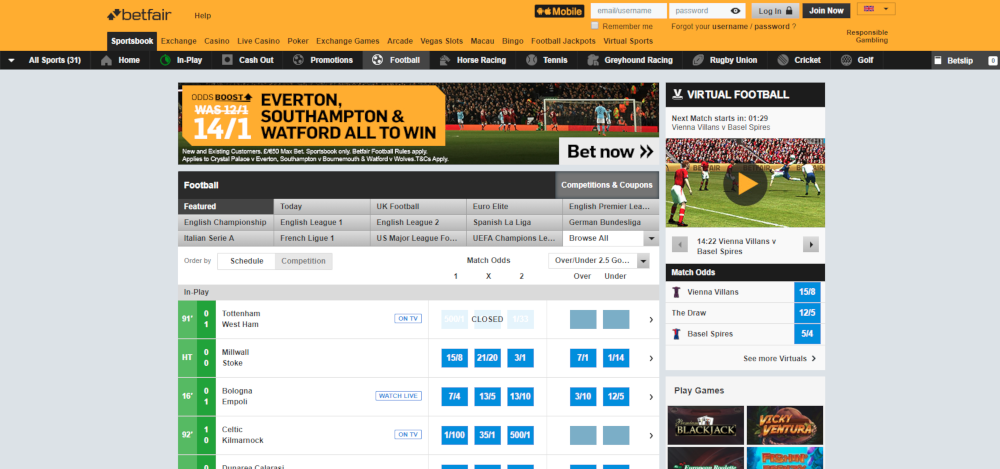 Exchange betting is just like placing a bet with a buddy. You may say to a friend you'll bet then 10 GHS that Medeama will lose at Hearts of Oak in the GPL. Your friend takes the bet as long as if he loses, he only has to pay you 5 GHS (so he offers odds of 1/2, or 1.50). That's how Betfair works – you place or lay a bet and the app will cover you with people doing the opposite for the same bet, and at odds. Because Betfair is acting as an exchange as opposed to bookie, the odds you receive are generally more favourable.
What we like:
Exchange betting = better odds
Ultra-secure, state of the art app
Customer support is outstanding
What we don't:
Betfair charges a commission
Key Features of the Best Online Betting Apps for Ghana
We've already told you why we think downloading sports betting apps to your phone or tablet is something you should definitely consider. They make betting super simple and essentially convenient, and there are a number of key features that make apps stand out. But which apps in our top ten list have those key aspects? Look at the table below and you'll find out!
How We Rank the Best Ghanaian Sports Betting Apps
So we've told you what we think are the top ten sports betting apps in Ghana, but why should you believe us? What makes us the experts on Ghanaian sports betting apps? Well, what we do is evaluate each app based on a number of criteria, and – depending upon how each app performs when evaluated – we come up with a complete evaluation. Below are the main aspects of what are looking for to determine the top betting apps in Ghana.
Availability – Although the main phone OS in Ghana is Android, we don't think that people with iPhones should miss out. We value apps, such as the ones offered by 22bet, that are available for both Android and iOS.
Safety – We only list safe and secure betting apps such as those offered by Betfair on our site, as our reputation depends on it. All sites listed here have proper licensing from the Ghana Gaming Commission, and take steps to keep you and your data safe and secure.
Markets – Football, rugby and athletics may be the number one sporting passions in Ghana, but that does not mean your app betting options should be limited to those three. Like the 888sport apps, we champion apps with a decent range of diverse markets.
Odds – To be fair, odds do not vary much no matter how many sports betting apps you use. We do check the odds offered by apps thougb to make sure they are fair, and we boost apps like PremierBet where enhanced odds are available.
Bonuses – Again to be fair, bonuses in Ghana tend not to be very knicker-wetting. You may get lucky and win a few extra cedi, but it can be a tough ask. We like apps with bonuses like Bet9ja where the T&Cs are better than most.
Usability – A diploma from Apps University should not be a requirement if you're going to use a sports betting app. We favourite apps such as the ones offered by BetYetu where you can hit the ground running.

Support – Help should always be at hand an in all honesty, this is one area where many sports books in Ghana fall down. Some apps, such as the ones offered by MELBet do not fall into the 'let down' category though.
How to use a Betting App
It's estimated now that around 80 percent of the population of Ghana have moved away from candy bar and flip phones over to phones powered by Android and iOS. If you are new to the concept of sports betting apps in Kenya, then here is a quick guide as to how you can place your first bet using one.
Step 1: Choose Your App
Pick through our mini reviews and see which of our suggested apps appeals to you the most. Remember, we think that 1xbet offers the best all-round experience, although perhaps PremierBet has an app more suitable for beginners. Head to the site of your chosen app to get the download, or look for the app at GooglePlay or the Apple App Store.
Step 2: Getting Downloading
Press the necessary buttons to get your download in motion. Most sport betting apps in Kenya are small, so the download should not take too long. The app should install by itself and you're good to go.
Step 3: Get your account
If you haven't got an account with the sports betting firm that has supplied the app you're using, then you need to get on. Doing so in Ghana is super easy – usually all you need to do is supply your mobile phone number. You'll receive an SMS telling you your account is ready.
Step 4: Deposit your shillings
If you've previously placed a bet using a candy bar phone then you'll already know how to get cedi into your sports betting account. If not, you can use any of the available SMS-based deposit methods like Vodafone, Airtel, Ecobank, MONIcliq, MTN or SpeedBanking, or a direct bank transfer. Just follow the usual steps to transfer your money.
Step 5: Place your bets!
Snap open the betting app on your device to get betting. Find an event you want to bet on, and press the odds of the aspect of the event for your wager. This will transfer the bet to your betslip, where your choose your stake. Press 'bet now' to complete your bet, and cross your fingers!
Active Betting Apps in Ghana Sign Up Offers
You may be accustomed to sign up offers in Ghana as offered by sports betting sites and apps. If so, then you'll know that generally, the terms and conditions offered associated with them are hardly spectacular. Most sports betting sites in Ghana are hardly the most charitable, but some sites, such as PremierBet, do offer deals that at least give you a chance of coming out on top.
Below you will find listed what we think are the best the betting app Ghana sign up offers available to punters today.

100% up to 150 GHS
Variety of ongoing promotions
Virtual sports markets available on mobile
Large number of daily live betting markets
9.8
Claim Bonus
Please note that if more than 5 selections are placed, all additional selections must also have minimum odds of 1.50 for the bet to count towards the wagering requirements.
50% up to GHS 750
Daily price boosts
Regularly offers best odds in betting industry
Excellent sports coverage
9.6
Claim Bonus
18+. T&Cs Apply.
No.1 for Ghana Betting Apps
200% up to 550 GHS
Large number of bonuses and promotions
Fantastic live betting platform
Mobile betting apps available
9.8
Claim Bonus
18+. 3x wagering requirements. Min odds 1.40. T&Cs apply
Dedicated Ghana Betting Apps v Mobile Browsers
Most betting sites in Ghana are designed with mobile in mind. Indeed some, such as BetYetu, look exactly the same when using a mobile browser as they do via an app. This leads to people asking the question – why use a betting app at all when you can just visit any of the best betting sites in Ghana 2022 in a mobile browser?
The answer to that question is not difficult – an app simply gives the better all-round experience. True, it may eat up a little of your valuable disk space, but sports betting apps in Kenya are generally small so you're not suddenly going to get 'disk full' messages if you install a handful of them.
What are the other pros and cons of using a dedicated sports betting app as opposed to just viewing a betting site in your browser? Well, keep scrolling and you'll find the most pertinent of them listed below.
Pros:
Just a better all-round experience
Some apps can be used offline
Speedier
No navigation to site necessary
You may get an app-only bonus
Cons:
Eats up a little space on your device
Can be buggy, especially if your OS is not up to date
You need a separate app for each bookie you use
Best Ghana Betting Apps for iPhone and iPad
As we've mentioned previously, Android phone users generally outnumber iPhone users in Ghana by a factor of six to one. That does not mean though that iPhone users should be abandoned at the edge of the road when it comes to sports betting apps. Here are some of the best online betting apps in Ghana we recommend for iPhone and iPad users:
Bookmaker
Bonus
Key App features
Visit Site
myBet
50% Up to GHS 200 welcome offer

No.1 iOS app all round
Deposits via Airtel, MTN and Vodafone
Fast & Easy-to-Use

Check Out myBet
1xbet
Welcome bonus 200% up to 550 GHS

Great app for iOS-based devices
Works superbly on iPads
100% Secure

Check Out 1xbet
Betfair
Welcome offer up to €100 in Free Bets

Leading betting exchange app
Better odds, usually
Fine-tuned app

Check Out Betfair
Best Android Betting Apps in Ghana
The majority of phone owners in Ghana have phones that are powered by Google's Android OS. Android users have more options that iOS users, but that doesn't mean that all sports betting apps Ghana residents can download are excellent. Below is our pick of the best three online betting apps for Android in Ghana for 2023.
Bookmaker
Bonus
Key App features
Visit Site
22bet
50% up to GHS 750

Excellent all-round app
Easy to download
Easy to install

Visit 22bet
888sport
Bet $10 Get $30 in Free Bets

The best app for range of markets
Enhanced odds offers
Dynamic app

Visit 888sport
Bet9ja
100% up to GHS 150

Nigerian brand good for Ghana too
Excellent for football
Bonus codes always available

Visit Bet9ja
Best Ghana Betting Apps with Live Streaming
Live steaming via an app in Ghana is not all that common. If you are unsure about live streaming, it is where you can watch a sporting contest on your mobile device via a sports betting app. You must have an account at the app's providers, and you may need to have a bet on the event you want to watch. Below we list three sports betting apps in Ghana where live streaming is sometimes available.
The Best Football Betting Apps in Ghana
Just like in most African countries, football is top of the perch when it comes to popular sports. People in Ghana follow the successes of Asante Kotoko and Hearts of Oak in the Ghana Premier League, as well as leading leagues all over the globe from the EPL to the MLS. The table below lists the three best apps for football betting in Ghana.
| | | | | |
| --- | --- | --- | --- | --- |
| Bookmaker | Key App feature | Android | iOS | Visit Site |
| myBet | No. 1 Ghan app for football betting | | | Visit myBet |
| BetYetu | Easy to use football betting app | | | Visit BetYetu |
| Betfair | Wide range of football markets | | | Visit Betfair |
Why Should You Use Ghana Sports Betting Apps?
If you are happy using your computer or laptop for sports betting in Ghana, then you might not want to use a Ghana sports betting app. If that is the case, then you are missing out on a very convenient experience. Sports betting apps are designed to be easy to use, and fast and responsive too. Your phone is usually with you all the time – can you say the same about your laptop or computer?
Naturally, the only computer you may use is at your workplace, and you shouldn't be using that for sports betting! If you have betting apps on your mobile device you can use them at work, in a restaurant or even when you're waiting for your bus or train home.
If you're a fan of SMS betting the bad news for you is that betting by text is being phased out. No need to shed tears, though – sporting betting apps in Ghana offer a much superior experience.
Bottom Line on Ghanaian Betting Sites
It's become a 'content on demand' world, and that is becoming as true in Ghana as it is globally. People want to watch what they want to watch, and when they want to watch it.
Sports betting is going the same way. Sports bettors in Ghana want to bet on what they want to bet on, and when they want to bet on it. The leading sports betting apps in Ghana allow them to do just that.
With a host of other benefits too such as live betting, bonuses and live streaming, sports betting apps in Ghana open up a complete new world of sports betting to every betting enthusiast in the country.
No.1 for Ghana Betting Apps
200% up to 550 GHS
Large number of bonuses and promotions
Fantastic live betting platform
Mobile betting apps available
9.8
Claim Bonus
18+. 3x wagering requirements. Min odds 1.40. T&Cs apply
FAQs
Must I always use cedi at sports betting apps in Ghana?
At most, the answer is yes, but some (888sport, Betfair) do not accept cedi as a currency. When depositing, your cedi will be exchanged for an accepted currency.
Is sports betting legal in Ghana?
Sports betting is completely legal in Ghana, but to be safe, only use sports betting apps provided by sites with licences from the Gambling Commission of Ghana.
Can I use my credit card to make payments via a sports betting app in Ghana?
Yes, but only at the bigger sites such as 888sport, Betfair and 22bet. Most Ghana-based sites will only allow SMS payment options like Airtel, Vodafone and MTN.
How old do I have to be to use a sports betting app in Ghana?
You have to be of or above the legal gambling age in the country, which is 18.
Using which apps will I make the most money?
The apps with fair odds, which is all the apps mentioned on this page. Be aware though that sports betting is not a guaranteed way of making money, especially if you do not really know what you are doing?
My phone's OS is not iOS or Android? What should I do?
You can use your phone's browser to navigate to any of the sites mentioned here and place bets that way.