CMD368 Singapore Review 2023 - Offers, Facts, Pros & Cons
Overview
CMD368 is the most popular online sportsbook available to the people of Singapore, and there is no doubt in saying that. Also commonly available in Malaysia and other Asian jurisdictions, CMD368 not only provides its own sportsbook, it provides sports betting software to numerous other online sportsbooks across the vast Asian continent. Keep reading our CMD368 Singapore review to find out all you need to know about Asia's number one sportsbook and sports betting software provider.
Who is CMD368?
Despite being incredibly popular in Singapore and Malaysia, CMD368 itself is actually based in a neighbouring Asian country – Cambodia. The company was founded in 2016 (some sources say 2013), but like any other gambling company that's based in Asia, it does not go around screaming and shouting about what it is and what it does. Gambling is forbidden in a number of Asian jurisdictions and while what CMD368 does it totally above board (only non-muslims are supposed to use online gambling sites in Asia), its services are still frowned upon by many.
One thing we can say about CMD368 is that it offers a very effective all-round gambling experience, backed by a licence from First Cagayan which is a Philippines-based private corporation owned by Leisure and Resorts World Corporation. As well as sports betting CMD368 can also provide you with casino games, slots, fishing games, lotteries and poker.
CMD368 Promotion – Welcome Bonus Offers
There are a number of welcome offers available at the CMD368 site overall, but we are going to concentrate on the one offered to people who are most interested at sports betting at the CMD368 bet site.
The 'normal' sports betting bonus is a 100 percent matched deposit bonus up to a maximum of SGD250. The minimum amount you are required to obtain this bonus is SGD25, and the bonus has a rollover requirement of 20x.
This rollover requirement applies to both your deposit and your bonus. If you make a SGD100 deposit and obtain a SGD100 bonus, then your rollover is 20 x SGD(100 + 100) = SGD4,000.
There are no other real restrictions that we could find that may affect your welcome bonus at CMD368 other than that when you claim it, you set the clock running and you must use it and meet rollover requirements within 30 days.
If you are more of a high roller than there's a special VIP-only bonus available to newbies at CMD368 as well. This is a 50 percent bonus up to SGD1,200 with a minimum deposit limit of SGD250. The bonus code you need to claim this bonus is 'VIP50'. Rollover requirements remain the same, though.
Below are details of other bonuses you can claim as a newcomer and regular site user of the CMD368 site:
Weekly Cashback – You can claim back a percentage of your losses each and every week at SGD368. This is a tiered weekly cashback scheme that is based on your weekly deposit amount. The lowest tier is SGD928, and the highest SGD34,000+. The amount of cashback you receive depends upon which tier you are at, and all cashback has to be turned over ten times before it can be withdrawn.
eSports Bonus – If you are a fan of competitive video gaming then you can satisfy your love for eSports by obtaining an eSports bonus. This is a 100 percent bonus up to SGD240 with a minimum deposit amount of SGD25. You need to use the bonus code 'IMSPORT100' and this offer has a turnover requirement of 22x.

Other, non-sportsbook related bonuses:
| | | | | | |
| --- | --- | --- | --- | --- | --- |
| CMD368 offer | Offer description | Wager requirement | Min qualify odds | Offer expiry | Min deposit |
| Poker (15%) | Welcome bonus | 8x | N/A | 30 days | SGD10 |
| Fishing (20%) | Welcome bonus | 30x | N/A | 30 days | SGD25 |
| Live Casino (50%) | Welcome bonus | 50x | N/A | 30 days | SGD25 |
| Slot Games (150%) | Welcome bonus | 22x | N/A | 30 days | SGD20 |
| 3D Games (100%) | Welcome bonus | 18x | N/A | 30 days | SGD20 |
Is CMD368 safe?
First and foremost CMD368 has a problem, but it is not one of their own making. Because the Asian online sports betting and gambling is not as stringently regulated as many others, there exists many 'fake' CMD368 sites that look like they are legitimate but are in fact completely unregulated. We implore you to keep well away from these sites as they are only interested in getting your money from you – to make sure only use the links that we supply as part of this review to make your way to the CMD368 sports betting site.
CMD368 does have a licence, which is a reassuring. It comes from 'First Cagayan' which is, admittedly, a licence provider we are familiar with. They are a corporation existing under the laws of the Philippines who are part of the First Cagayan Leisure and Resort Corporation, and who offer licensing opportunities for sportbooks and gambling sites such as CMD368 and many others.
CMD368 Review
You've come looking for an expertly-penned CMD368 review, so the good news is that is what precisely we are going to provide for you. We've split our CMD368 review into a few convenient categories, so if you've not time to read the whole thing, simply scroll down to the section(s) that interest you the most!
What Sports Can I Bet on with CMD368?
The main sport you can bet on at the CMD368 online sportsbook is – and no prizes for guessing – soccer. There are over 1,000 soccer events to bet on at the CMD368 bet site on average, and that goes for every day of the year.
It's not all soccer though. The other popular sports available here include basketball, tennis, cricket, volleyball, table tennis and US sports such as American football and baseball. If you can think of any sport, though, the likelihood is that it will be covered at CMD368.
CMD368 Odds and Value
People in Singapore know all too well that getting very generous odds at any sports book available to people in the country is a very tough task. That's because there's really no strict regulation. We have to say though that the odds we found at CMD368 were among the best we've seen through our experiences of Singapore sports books.
There are several formats available at the site for odds too – Malaysian, Decimal, Hong Kong, American and Indonesian. Just pick the format you are most comfortable with from the drop-down menu.
Bet Limits
The minimum accepted bet accepted by CMD368 is a tiny SGD2. The maximum varies depending on a huge number of factors (sport, event, type of wager) but it is roughly SGD3,000 for most bets that are available.
In-Play Betting
There are lots of events that you can bet on 'in play' at CMD368 and it is extremely easy to do so. If you head to the main CMD368 sports betting menu you will see 'LIVE' next to any sport where CMD368 live betting events are currently taking place. If you want to concentrate on in-play betting events only, then click on the 'Live' tab on the sport menu.
Once you do this you'll be presented with CMD368 live betting options. Be aware that this is a mix of real events, eSports events and virtual sports events. The easy way to tell is if there are any brackets after the competitors. For virtual sports this will be '(V)' and for eSports it will be the name of the gamer or the gamer team.
Live Streaming
There is no live streaming available at CMD368, except of eSports events and that's through other portals such as YouTube and Twitch. Live streaming of events is unavailable both at the CMD368 desktop site, and mobile.
Other Functionality
In terms of 'other features' there is very little at CMD368. You can create your own parlay bets very easily though, by clicking the 'mix parlay' selection on the menu. Here you can use filters to select the events and sports (over a period of seven days) that you might want to add to your acca bet. This makes it easy to create your own bets.
Customer Service
Customer service is very good at CMD368 and we should know as we have used it! We used the live chat function and our query was answered immediately. Not only that, but instead of providing us with a 'generic answer' the customer support team member actually went away and researched our question, even providing us with a screenshot of the information we couldn't find!
Live chat is your best option for customer service here, although you can also connect to CMD368 via phone and a number of online communication channels. There's an email address too, but that's mainly just for technical issues.
How to Get Started With CMD368 in Singapore?
Naturally, CMD368 would love nothing more than for you to open an account with them, so they've made the process reasonably easy. Just for a little bit of extra help, we're going to walk you through the process anyway.
Step 1: Visit CMD368
The first step is to visit the CMD368 site itself. Remember, to keep yourself perfectly safe it is best that you use the links that we provide so that you do not end up at a fake CMD368 site. Click on our link and below is what you should see.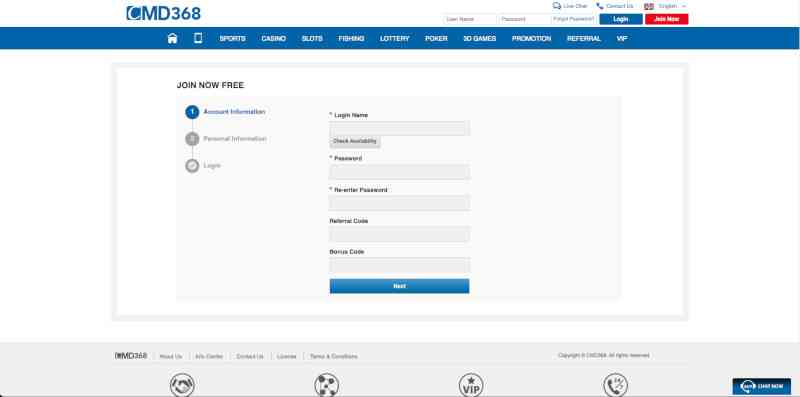 Step 2: Sign Up
There are not many details that you have to fill in so that you can register with CMD368. You will need to select a username and password, and add your full name and a phone number. Once you have done all this, your account will be opened for you. The screen below is now what you should see.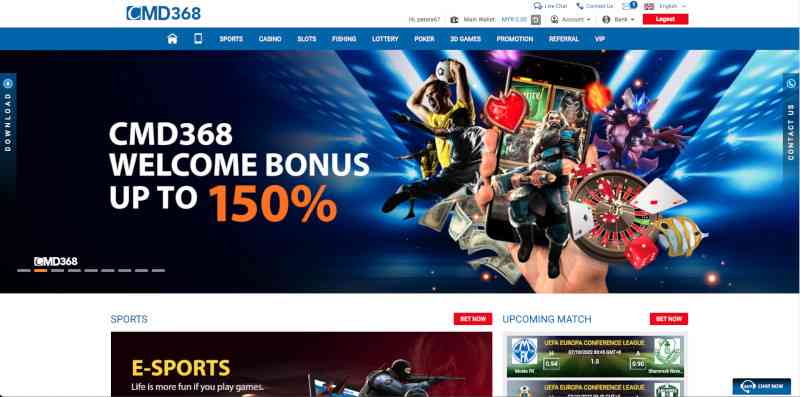 Step 3: Deposit Money
Once the register with CMD368 process is completed, click the 'Bank' button to be taken through to the cashier section. The screen below is what you will see. You can select from all the available payment options in order to find the best deposit solution for you. Select your deposit amount and click 'submit' once you have done that. Hoepfully your deposit will be approved without any problems.
Step 4: Claim Your Bonus
If you've opted for the sports betting bonus that is available at CMD368, then you should receive it automatically once you have made a qualifying deposit. If you haven't, then contact support. Don't forget to meet all the wagering criteria before you try and withdraw any winnings.
Step 5: Place Bets
Now it is time to place your first bet or bets. Navigate to the actual sportsbook itself – you will see the following, as depicted below.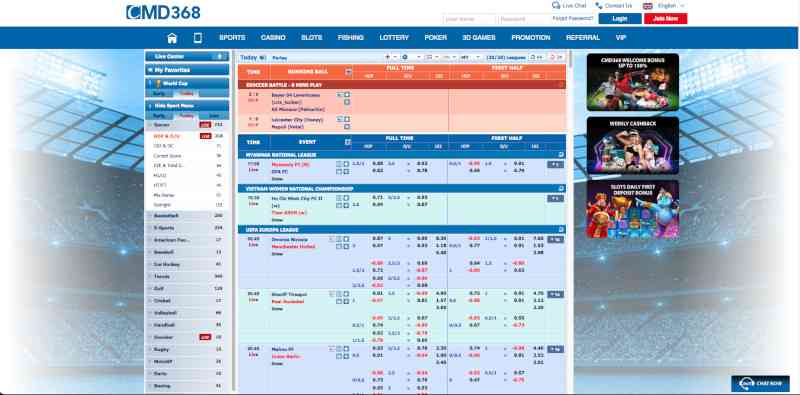 Don't worry too much if this looks confusing, as you will soon get used to it. The menu on the left will allow you to select the sports or events you are interested in, and then all current available markets will appear in the centre. To place a bet all you need to do is chose the odds of the outcome – this will transfer the potential bet to your betting slip. Add more bets or set your stake and then make the confirmation to place your bets.
CMD368 Sports Betting and Casino App
There are CMD368 sports betting apps available for all suitable mobile devices, both iOS and Android. The CMD368 sports betting site also has a setting that will transform the site into one that is optimised for mobile. This should happen automatically if you access the site on a phone or tablet but you can switch if that doesn't happen.
You can't search for the CMD368 app at the Apple App Store. Go to the CMD368 site and scan the provided QR code. This will show you the relevant app at the App Store, which you can then download and install as normal.
You do the same for Android but the CMD368 app is not available at Google Play at all. Clicking the QR code will cause an apk file to download to your phone. Install this for all your CMD368 mobile needs.
CMD368 Bonus Code
You need the CMD368 bonus code 'SPRT100' in order to activate your main deposit bonus. Just make your deposit and your bonus money should be with you automatically.
CMD368 bonus code details may be available in the future if the sportsbook decides to promote a special deal or promotion – check back here for the latest information.
There are some CMD368 bonus codes available for alternatives to the welcome deal, should you choose to go for them. These are as follows:
PKR10/PKRQ10 – 15% poker bonus
VIP50 – 50% sportsbook bonus
IMSPORT100 – 100% eSportsbook bonus
CMD368 Payment Methods in Singapore
Getting money into and out of a sports betting account in Singapore can at times seem a little difficult, but it helps if the sports betting site that you are using has plenty of available payment methods. The good news for you if you want to create an account at CMD368 is that there are indeed plenty of payment methods available.
The easiest way perhaps is to transfer directly from your bank. CMD368 supports three bank accounts – CIMB, Hong Leong and Maybank – but there are a number of banks that you can transfer money from. Just head to the cashier and complete your details.
You can also use eWallets – PayTrust, EeziePay and DoitNow. Again, just complete the information in your cashier section to get transfering. Concise details of these banking methods can be found below.
| | | | | |
| --- | --- | --- | --- | --- |
| Banking Method | Fees | Min Deposit | Min Withdrawal | Withdrawal Times |
| Bank transfer | 0% | SGD30 | SGD50 | 5-10 minutes |
| PayTrust | 0% | SGD30 | N/A | N/A |
| EeziePay | 0% | SGD40 | N/A | N/A |
| DoitNow | 0% | SGD50 | N/A | N/A |
CMD368 Casino Overview
The main alternative to the sportsbook at CMD368 is the casino. There are two sections to it – casino and slots. The casino side of things takes in mainly live casino games, while the slots side has online video slots from many top providers.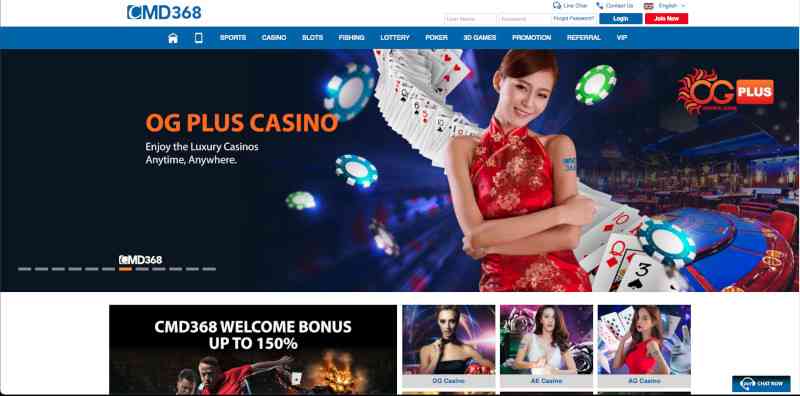 The live casino has live casinos from a very good number of software providers. The full list includes DG Casino, AE Casino, AG Casino and WM Casino. All your favourite online casino in Singapore games are available, including roulette, blackjack and baccarat.
There are plenty of great providers for slots too and included in this particular list are Pragmatic Play, Playtech, Spadegaming and Nextspin. If you love your slots that you can rely on the CMD368 casino to give you a real (or reel?) treat.
CMD368 Pros & Cons
As we have taken our time writing this CMD368 review, we can safely say there are a lot of things we like about this site, and a few things that do not meet with our approval as much. We have summed our positives and negatives and you can view them below.
What We Like:
Mobile Betting – mobile betting is extremely popular in Signapore, so it is a really good thing that apps are available for both iOS and Android users at the site. We have seen better apps though, but the CMD368 mobile betting apps do get the job done.
Bonuses & Promotions – The welcome bonus at CMD368 does meet with our approval, and the restrictions on it are lax compared to the types of bonuses we have seen at other sports betting sites in Singapore. There's a good choice of bonuses plus ongoing promos too.
Customer Support – It is always a good sign when a sportsbook goes to the trouble of providing top class customer support, and CMD368 scores highly in this department. Every single time we tested out the support function here we came away satisfied, and we think you will too should you ever need to use it.
Casino Games – Most sportsbetting sites available in Singapore can offer more than wagering opportunities, and CMD368 certainly can. With casino games, slots, fishing games and more, CMD368 really is an all-rounder.
What We Don't Like:
Additional Features – We would like to see more added to the betting options at CMD368. At the moment there seems to opportunity to create parlays, and that's about it. More inventive options pleased!
Usability – People in Signapore will be used to how sportsbooks look, and that's because they all tend to look the same! And, they don't look that nice! An overhaul would not go amiss.
Best CMD368 Sportsbooks in Singapore
Did you know that as well as using the CMD368 sportsbook online directly in Singapore, you can also using via a number of other leading Singapore sportsbooks? They all offer CMD368 Singapore access directly via their own sites, so you can use the CMD368 sports betting software using this method too.
Here are our top picks for the leading sports betting sites where you can gain access to the CMD368 Singapore sportsbook.
Welcome offer 288% up to 2880SGD
Welcome offer 288% up to 2880SGD
Official Partner of Aston Villa F.C.
Your first bet is free
Instantly claim 1% unlimited rebate
9.8
Claim Bonus
All first deposit members are entitled to this promotion. Transfer a minimum amount of MYR 50 into the Sports, Live Casino, Slots, MEGA888, or 918KISS wallet to be entitled for this promotion.
Welcome Bonus 208% + SGD38 Free Credit
Welcome Bonus 208% + SGD38 Free Credit
One of the best new sportsbooks in Singapore
Big library of fishing games
Deposit with Crypto accepted
9.8
Claim Bonus
All first deposit members are entitled to this promotion. Transfer a minimum amount of SGD 50 into the Sports, Live Casino, MEGA888, or 918KISS wallet to be entitled for this promotion. 12x times wagering requirement on sports
200% Conor McGregor Welcome Bonus
200% Conor McGregor Welcome Bonus
Fastest & easiest platform to achieve VIP status
Proud Sponsor of Namewee music videos
Regret after placing bet in soccer matches? Try our cash out feature now!
Claim Bonus
Deposit and received extra 10% bonus on your favorite Sports games. Members are required to fulfil a 8x turnover [(Deposit + Bonus) * 8x] in order to transfer or withdraw.
Exclusive 12Olympus Slot Games X Pragmatic Play Win Up Daily Cash Drops SGD R60,000
Exclusive 12Olympus Slot Games X Pragmatic Play Win Up Daily Cash Drops SGD R60,000
Free SGD12 for New Member
Daily Unlimited Cash Rebates Up to 1.2%
Features On Bloomberg - Yahoo Finance
9.9
Claim Bonus
To enjoy this special promotion, members have to select the "100% Welcome Bonus" option on the deposit form. Each member is only allowed to claim the bonus once.
Final Thoughts on CMD368 Singapore
Our CMD368 review is now complete and it is time for us to deliver our verdict. It is hard to ignore CMD368 Singapore as it is everywhere – even when you log on to a sports betting site that is not CMD368 there is a chance that you will end at the CMD368 Singapore sportsbook online site.
The good news is that the CMD368 sports betting site has you covered for all sports, and that includes eSports. Placing a CMD368 bet is easy once you get used to the process, and the CMD368 mobile app makes sports betting on the go extremely easy.
Why not sign up for the CMD368 sportsbook online today and get placing your first CMD368 bet? Don't forget to claim that CMD368 promotion welcome bonus!
Register To Claim Your cmd368 Sign-up Bonus
100% Up To $250
Huge Range of Sports Betting Markets
New Sportsbook Reload Bonus Every Week
Weekly 1% Sportsbook Rebate
Use bonus code
Copy
Visit Site
This offer is valid for those members who make their First Deposit at Sportsbook, and will start effective at 01 Jan 2020, 00:00 (GMT+8), until the further notice. This offer is valid for members whose registered currency as MYR, SGD, THB, and VND. Enter bonus code SPORT100 when making your first deposit into Sportsbook wallet. Prior to the withdrawal of any winnings, the FULL deposit + bonus must be rolled over 20 times (20x) in the Sportsbook.
CMD368 Singapore FAQs
Where can I find an CMD368 review for Singapore?
You've just read one! You can of course read CMD368 Signapore reviews elsewhere to get furthur appraisals of the site, but some of these may have been written by CMD368 employees! Our CMD368 review is completely independent and has been written by an expert in the Signapore gambling and sports betting scene.
What sports can you bet on with CMD368 Singapore?
CMD368 will cover all your sports betting needs, so you should never have a problem find a particular event that you want to bet on. Soccer has the best coverage at the CMD368 Singapore site, with good options for US Sports, tennis and golf too. Esports are very well covered here too.
Is there an CMD368 sign up offer?
Yes there is. It is currently a 150% welcome bonus up to a limit of SD250. You can read about all the details towards the top of this CMD368 review. Don't forget to thoroughly review all the terms and conditions associated with the welcome offer before you claim it.
Is there an CMD368 mobile app?
Indeed, there are mobile apps available for Android and iOS users that you can download from the instructions given via the CMD368 Signapore site itself. Head to the site on your device and follow the instructions.
Is CMD368 a safe and secure betting platform to wager on sports at?
We believe this to be the case. The licence that CMD368 runs by is supplied by the First Cagayan corporation, who are a legitimate business that is run in the Phillippines.