This page will run down the best poker sites in the UK for 2023. Just to be clear, we are talking about poker sites where you can sit down at virtual poker tables and play Texas Hold'em and other variants with your fellow poker players. We are not talking about RNG poker games, live casino poker games or even video poker.
Here we will pick out the best poker sites for real money in the UK, how you can select the poker room that is best for you, and the best online poker tournaments you can enter and where to play them.
Best Poker Sites in the UK
The Best Poker Sites for Real Money in the UK
PokerStars – the best poker online real money site in the UK
GGPoker – the UK's poker room that leads in terms of traffic
PartyPoker – play poker or receive coaching 'til you feel ready to play
888poker – one of the best mobile poker sites in the UK
William Hill poker – the leading UK poker site on the iPoker network
Grosvenor poker – play exclusive mystery bounty poker tournaments
Paddy Power poker – sign up and enter a £1,500 newbs freeroll
Betfair poker – high roller tournament – become a poker millionaire!
Bet365 poker – play Twister – the turbo-charged poker variant
The Best UK Poker Site – Editor's Pick
We have selected PokerStars as the number one choice for online poker players in the UK. This long-established site (has been online since 2001 believe it or not) is the global leader in terms of poker traffic, although in that regard in the UK it has to play second fiddle to GGPoker.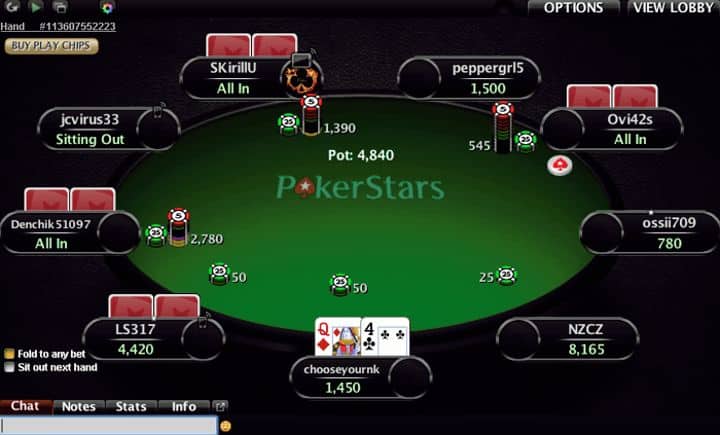 The question at PokerStars is not what you can play in terms of poker, but what you can't, and that's also a question with an easy answer – basically nothing! Hold'em, Omaha, Stud, Draw are all covered, as are all common variants across cash games, sit & go's, and tourneys. PokerStars in the UK has recently added 'Spin & Go' – random three-player tournaments with buy-ins from $0.25 to $25 with top prizes up to 10,000 times the buy-in amount.
There are also poker tutorials and lessons, and access to satellites that could lead you onto WSOP or WCOOP events or even the leading poker tours. All this can be enjoyed in browser, via a downloadable client or a smartphone or tablet.
Rake
The rake at PokerStars is based on a sliding scale, as it is at most UK poker sites. The lowest rake is 3.30% for £0.01/£0.02 NL and PL Omaha & Omaha Hi/Lo micro stakes (£0.25 cap), up to 5% for the majority of other poker tables.
Rakeback
The poker rakeback at PokerStars starts at 15 percent, but can rise to 25 percent if you reach the highest reward levels. You can amass a further 40 percent on top of that by completing monthly poker challenges.
Poker Traffic
The 7-day average in terms of traffic at PokerStars varies between 3,000 and 3,500 peaking at around 4,000 players, ranking it second in the UK.
Poker Tournaments
PokerStars runs both daily and weekly internal tournaments, including all-in shootouts, multi-stack tournaments and both HUs and progressive knockouts. It also runs WSOP, WCOOP and SCOOP satellites, with access to tours such as the NAPT and EPT.

Why we rank PokerStars #1:
The longest-established site, since 2001
All variants, options and range of blinds covered
Access to lucrative tournaments, including global events
Earn up to 65% in poker rakeback
Play in-broswer, via a dedicated client or mobile
Where Else Can I Play Real Money Online Poker in the UK?
Although we recommend PokerStars as our number one poker site in the UK, we always like to give our site users choices. There are plenty of top poker sites in the UK, and now we are going to take a detailed look at the other selections on our 'best online poker sites UK' list.
#2 – GGPoker – the UK's poker room that leads in terms of traffic
GGPoker has not been around as long as PokerStars (since 2014, but since 2017 in the UK) but it has certainly made waves in the UK. It really came to prominence in 2020 when it co-hosted the WSOP Main Event online because of the COVID-19 pandemic. It also has the legendary Daniel Negreanu as its brand ambassador.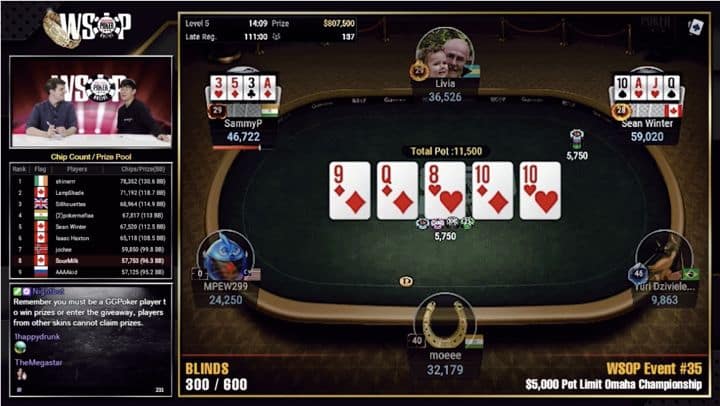 Following the emergence of GGPoker as a major player in the poker market, many players excited by its WSOP coverage in 2020 began to switch over to the site. As a result, in the summer of 2022 GGPoker overtook PokerStars as the top UK poker site in terms of traffic volume. This is a status it has easily maintained since.
GGPoker has a large amount of unique poker variants, including All-in of Fold, Battle Royale, PLO and Short Deck in which every card deuce through five is removed. Naturally, for poker purists all the normal poker variants are included.
Other unique and entertaining GGPoker features include the option to share your best poker moments with the rest of the GGPoker community, to make side bets with your fellow table occupants and even speak online at the table with others. A top-notch poker experience all round.
Rake
As is usual, rake at GGPoker is on a sliding scale in terms of capping, but it's actually fixed at five percent across the board, which is unusual, but it does make the rake system here easy to understand. The cap can be as little as $0.15 for low stake games, up to 1.6 x big blind for higher stakes.
Rakeback
Rakeback is fishy at GGPoker, because the rakeback scheme sees you rise through several fishy levels, from plankton to platinum. Each $1 you generate in rake earns you one fishy point, and the more points you amass, the higher your rake from 15 percent at the lowest level all the way up to 60 percent if you reach the top of the tank.
Poker Traffic
As we have already said, GGPoker currently ranks at number one in the UK for poker traffic. The seven-day average at GGPoker tops 10,000, which is a massive three times at least the traffic at all other UK poker sites. Traffic tends to peak at around 14,000, which is very, very impressive.
Poker Tournaments
The main attraction at GGPoker in terms of tournaments is access to WSOP, including online events, seasonal online circuits and 'road to' competitions. There's a high number of internal tournaments too, including the annual GGMillion$ tournament for high rollers where earnings well in excess of $1 million are up for grabs.

What we like:
Number one in the UK in terms of traffic volume
Very entertaining site
Access to WSOP satellites
Plenty of inventive variants and tournaments
Great rakeback scheme – earn up to 60%

What we don't:
Some might consider the site too 'quirky'
#3 – PartyPoker – play poker or receive coaching 'til you feel ready to play
PartyPoker is another grand-daddy of a site when it comes to online poker, but although it is long in the tooth, it certainly is not behind the times. Like PokerStars, it has been running since 2001 and for the first five years of its operation it was the big poker room in the world. It suffered a blow in 2006 when the US declared online poker illegal, but in the UK is now the third biggest poker site in terms of traffic.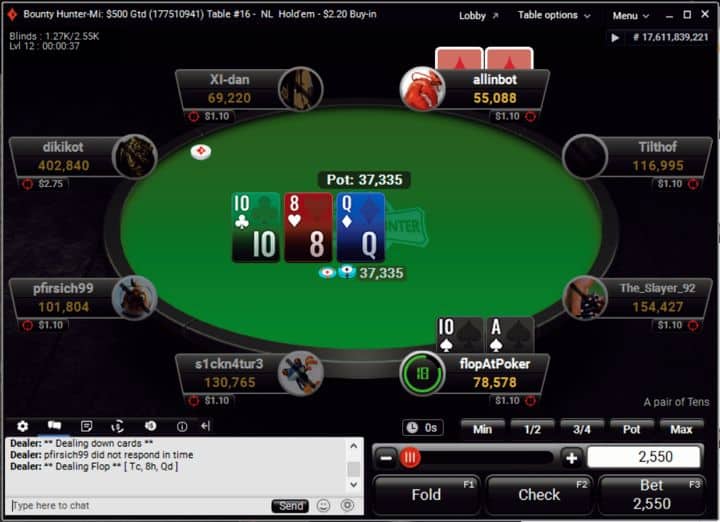 Old timers may miss the look and feel of the old PartyPoker client, in which you could choose your character to sit at the virtual table. The latest version is much more 'professional' looking, although you still get to pick your avatar. The software is easy to use though, with plenty of decent functions.
Naturally, PartyPoker covers all possible poker variants, so no matter your game, playing style and bankroll, you'll always find an appropriate table to sit at. Where PartyPoker really excels though is with tournaments. It really promotes 'bounty hunter' style competitions which have significantly grown in popularity since 2022. In case you didn't know, in such competitions if you eliminate a player you are immediately paid 50 percent of their bounty, with the other 50 percent being added to the bounty of your own.
Rake
Rake is reasonably complicated to understand at PartyPoker as it's on a variable sliding scale. For example, for limit cash games at 2/4 cent blinds it's one cent per 20 cent pot, capped at 50 cents. For NLHE cash games at $50/$100 blinds it's five cents per $1 pot capped at $40 for five to ten players. These are fair deals though, so rake perhaps is not something to worry about here.
Rakeback
At PartyPoker, your poker rakeback could max out at a generous 55 percent! You earn up to four points per $1 of rake you generate, and the rake begins once you have amassed ten points. The more points you amass up to the maximum of 1,200 the higher the percentage of cash you rake back.
Poker Traffic
Traffic at PartyPoker averages around 500 per seven days, maxing out at a little under 900 at peak times. While this is not great when compared to PokerStars, GGPoker and the iPoker network, it should never mean you have a shortage of players to play with.
Poker Tournaments
The tournament series at PartyPoker is very impressive. There are daily, weekly, monthly and annual tournaments which combine to give a guaranteed yearly prize pool in excess of $150 million. All tournaments are internal though, given that PokerStars and GGPoker have all the major satellite tournaments tied up.

What we like:
Another long-established site
Annual tournament prize pot in excess of $150 million
Spins Overdrive – unique turbo poker variant
Play in brower, via client or via mobile

What we don't:
Not as entertaining as it used to be
No access to WSOP, WCOOP, EPT etc
#4 – 888poker – one of the best mobile poker sites in the UK
No one really wants to spend all day sat at a desktop PC or with a laptop on the table in front of them … unless they are at work of course. Poker should be a much more casual and entertaining affair and that's where 888poker comes in. This site has always championed its mobile poker client, keeping it up to date with the latest hardware developments so it doesn't get left behind in the poker tech race.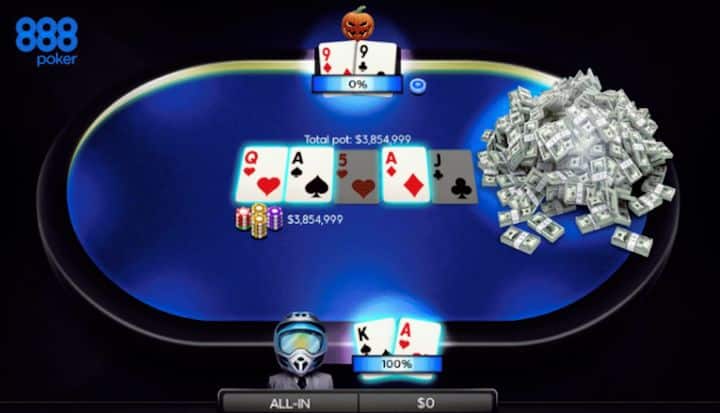 You don't have to play at 888poker on mobile, though. The site functions perfectly well on desktops and laptops too, either via a browser or a downloadable poker client. 888poker (part of the 888 group, although you have probably guessed that) does push the mobile app above all else though.
888poker has just five variants though – Hold'em, Omaha, Omaha Hi/Lo, Blast (Jackpot S&G) and Snap (fastfold poker) – so fans of Stud, Draw and Razz will be forced to look elsewhere. The site also has zero access to major off-site tournaments and tours, which is another disappointment but following what we have learnt so far, not a surprise.
888poker does have its fair share of internal tournaments though, including MTTs, PKOs and bounties. All the tournaments have impressive-sounding names though – Big Shot, Rumble, Dash, Voyage, Mayhem, Classic and so on.
Rake
There's a varied rake at 888poker, but it does not vary by much. The highest is 6.25 percent for 1/2 cent tables, capped at 50 cents. For most other stake limits its a five percent rake, capped at five dollars for poker tables that are more than a heads-up.
Rakeback
Rakeback is extremely easy to calculate at 888poker. There are seven levels to the rakeback scheme, and the higher your level the greater the rakeback. It's tight at the bottom at two percent, rising to 36 percent for those at the top.
You can get bonus rakeback too if your rake contribution tops $200. That's 20 percent on top, or 35 percent if over $500, and maxing out at $1,000 which benefits players an extra 50 percent rakeback.
Poker Traffic
888poker ranks just about level with PartyPoker in terms of poker traffic, averaging just over 500 players online at any one time over seven days, although this can peak above 1,000 during evenings and weekends. That should be enough to fill most poker tables.
Poker Tournaments
We've already mentioned the main tournaments at 888poker, but there are standard MTTs, Sit & Go's and PKOs available at all times. 888poker also runs live events, so if you fancy playing for real, you can venture to such exotic places as London, Madrid, Barcelona and … er … Coventry!

What we like:
The best looking poker site on mobile
Nice array of games
Decent rakeback + bonus rakeback for high rollers
Live tournaments

What we don't:
Not as big as it used to be
Missing some popular variants such as stud and draw
#5 – William Hill poker – the leading UK poker site on the iPoker network
The iPoker network is the largest poker network in the UK, and is run by experienced gambling company Playtech. It is actually now the sole poker network in the UK (all the sites mentioned so far are ring-fenced), having absorbed other now defunct networks such as Microgaming poker. There are well over 20 poker sites on the iPoker network. Most of these are online bookmakers and of those, we consider William Hill to be top dog.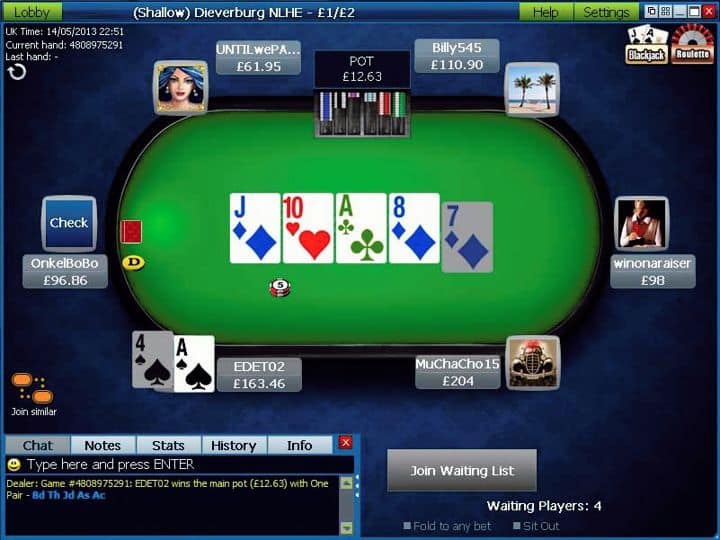 You may initially be confused by the poker aspect of William Hill, as it seems to form part of their casino and pushes you towards video poker and casino poker. However, things become clearer once you have opened up the poker client in your browser. One thing to note, here – no download option when it comes to the William Hill poker client.
The main options for William Hill poker players are cash games, MTTs and Sit & Go's. The iPoker network offers and impressive array of competitions and because William Hill poker is on the iPoker network, finding players to pay with is never an issue.
Rake
Rake is not too complicated at William Hill poker. For most games, it maxes out at 6.67% for low blinds cash games with a max cap of $1.20. For the remainder, it never rises above five percent, with the cap even at the higher blinds is steadfast at $1.40.
Rakeback
At William Hill, rakeback is calculated like a rewards programme. By grinding games you can acquire club points, and the most club points you can gather, the higher the rakeback rate you can take advantage of, up to a maximum of 64 percent.
Poker Traffic
William Hill poker is the part of the UK's sole-surviving poker network, iPoker. If you play at William Hill, you'll be playing with players from a number of other poker sites. This network has a seven-day average of 1,500 players, peaking at 2,500 at peak times.
Poker Tournaments
William Hill poker is not all that hot with bespoke poker tournaments as other sites on the iPoker network, but you'll find plenty to keep you occupied in terms of MTTs and Sit & Go's. It has recently added more PKOs and bounty-style competitions, though.

What we like:
A long-running and well-known gambling name
High traffic on the iPoker network
Easy to play via your chosen browser
App for Android and iOS
Plenty of competitions

What we don't:
No downloadable poker client
Other iPoker sites have more competitions
#6 – Grosvenor Poker – play exclusive mystery bounty poker tournaments
Grosvenor is a unique name on this list, as the online site is the web-based version of the UK's largest chain of IRL casinos. Although poker is not really hot at Grosvenor Casinos, Grosvenor does host a entire season of fantastic poker tournaments as part of the Grosvenor UK Poker Tour (GUKPT).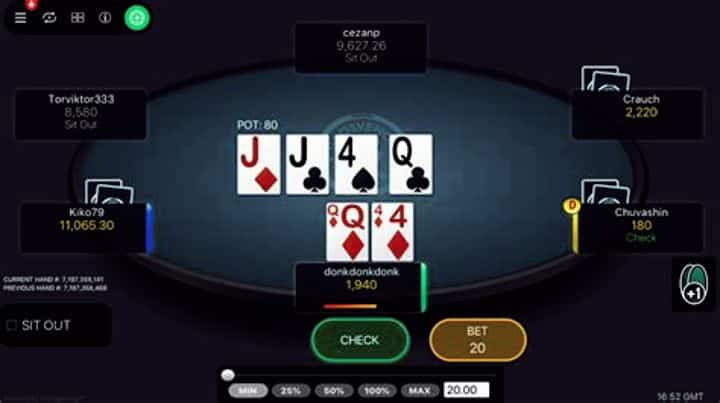 Grosvenor prides itself as being the 'heartbeat' of UK poker and that's a title we are not going to deny it. It runs competitions at both its casinos and other venues throughout the UK. If you fancy playing 'real' poker then you should head to the Grosvenor site as soon as.
Of course, we are more interested in the online poker offerings here. If you do want to get involved in the GUKPT but don't fancy heading to the live tables immediately then that is fine, as you can enter low buy-in satellites via the online version of Grosvenor poker. You have to progress well to get to the live stages, but it's a handy way of getting involved. There's plenty more to Grosvenor poker, though, and the site offers everything from cash games to money-rich bounty competitions.
Rake
Information about rake at Grosvenor poker is really hard to find, which is not how things should be at all. Eventually we found the information, sitting alongside a needle in a haystack. There are two basic rake rates – 6.67% for low blinds (50 cent cap) and 5% for higher blinds ($4 cap) which are the standard rake rates for iPoker sites.
Rakeback
Rakeback info at Grosvenor is much easier to find! Players earn ten Status Points (SPs) for each $1 in rake generated, and the more SPs earned (on a monthly basis) the better the rakeback. Rakeback starts at 20 percent for basic levels, and rises to 40 percent for Diamond players who have amassed at least 50,000 SPs. SPs must be topped up monthly.
Poker Traffic
Again, Grosvenor Poker is part of the iPoker network meaning an average of 1,500 players online at any time, maxing out at around 2,500 during peak periods.
Poker Tournaments
As previously mentioned, Grosvenor runs the GUKPT with access online via satellites to real-world poker competitions. It also offers its own National Poker League with UK-wide tourneys making a contribution to the leaderboard. Again, qualification to such events can be secured online. There's the usual array of MTTs and Sit & Go's too.

What we like:
The UK's #1 IRL poker venue(s)
Access to the GUKPT & National Poker League
Impressive rakeback – up to 40 percent
Play in browser, via client or app
Receive tuition from poker pros

What we don't:
Info about rake is hard to find
May be overwhelming for newbs
#7 – Paddy Power poker – sign up and enter a £1,500 newbs freeroll
Paddy Power is a very well-known name in Ireland and in the UK … for sports betting and casino play. It may surprise players to learn that Paddy Power has taken an interest in poker too … actually it may not surprise players as Paddy Power really does turn its hand to anything when it comes to gambling in the UK.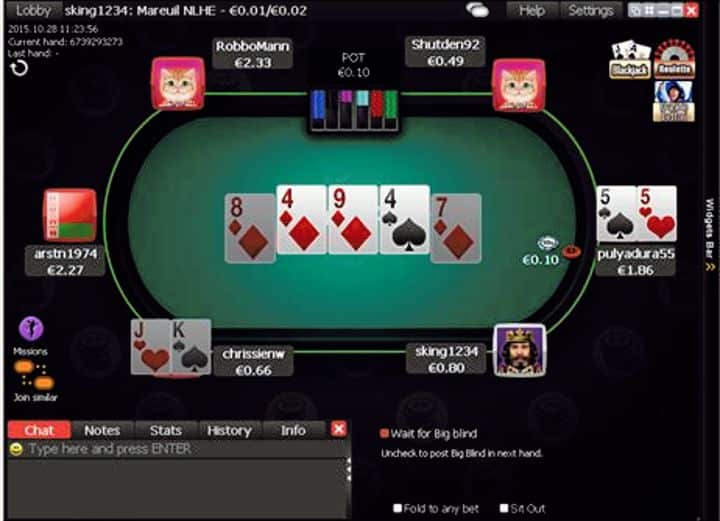 The poker side of Paddy Power does seem a little old-fashioned when compared to other offerings at the site, and it really needs to be upgraded a little. There are two options here – download the iPoker skin for Paddy Power  (as Paddy Power poker is another on the iPoker network) or play in your browser.
There are only the standard offerings at Paddy Power, including MTTs and Sit & Go's, with Texas Hold'em being by far the most popular poker sites variant. The site does though offer a number of freerolls, including an amazing $1,500 freeroll for new players. This freeroll takes place every 60 days, and you can only ever enter once, and after your initial real money deposit at the site.
Rake
Info about rake at Paddy Power is easy to find, and presented in an easy-to-understand format, if long-winded. It is fairly standard at a rate of 1 cent for every 25 cents in the pot, with varying max rake limits. Even at high blinds, the max rake seldom rises above four dollars, which is great.
Rakeback
Rakeback could be more generous at Paddy Power. If you are a very casual player, the your rakeback rate will largely be stuck around the ten percent mark. By earning power points (20 points for every $1 in rake generated) you will increase your rake rate, up to the maximum of 25 percent. This rake rate is called 'Max Power', but a 25 percent rakeback rate does not really deserve such a name.
Poker Traffic
iPoker yada yada yada. Around 10,000 online at any one time.
Poker Tournaments
Paddy Power poker has the standard array of MTTs and Sit & Go's. It also has PKOs and bounty competitions. It does not though seem to have any satellites to bigger, non-PP compos.

What we like:
A well-known gambling name for UK and Ireland
Access, once only, to a $1,500 freeroll
MTTs, S&Gs, PKOs and bounties
Browser & download client
'Player of the Week' competition

What we don't:
No satellites to WSOP, EPT etc
A little old-fashioned looking
#8 – Betfair poker – high roller tournament – become a poker millionaire!
Betfair is another well-known name, in the UK at least. It is the UK's number one betting exchange, where you bet against your fellow punters as opposed to Betfair itself. It runs fixed-odds betting too, and several other gambling concerns including a casino and a poker room, which is what we are going to be taking a look at now.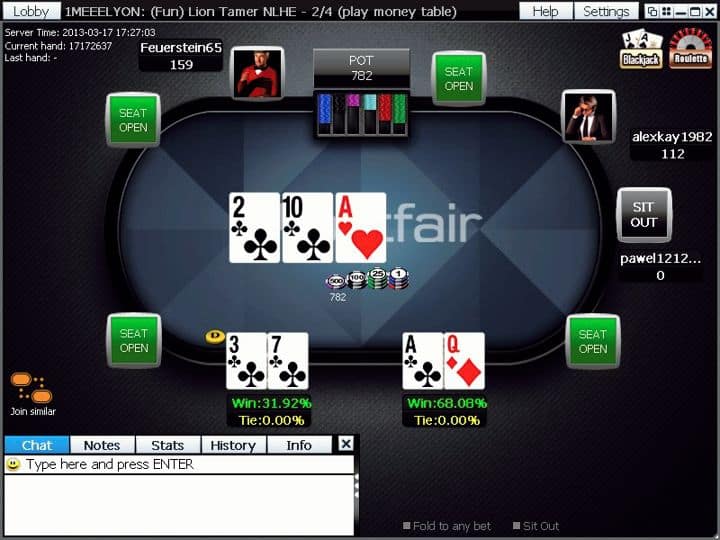 If you get a sense of deja vu looking at the image above, that's because it is, of course, the Betfair skin on the iPoker client as Betfair is yet another site on the iPoker network. At least this means players will always have plenty of opponents to play with.
New players at the Betfair poker site can claim up to €40 in free poker tickets when they sign up. The site has the usual array of cash games, sit & go's and MTTs, with again the emphasis very much on Hold'em. Fastfold poker is also available – here it is known as 'Twister'.
One aspect of this site of note – Betfair runs a €1,000,000 prize pot tournament every couple of months or so. There are a number of satellites you need to negotiate to reach the final table, but the prize bonanza could change your life if you do!
Rake
Details of rake can easily be found at the Betfair site. The standard rate is one cent for every twenty-five in the pot, rising to one cent for every fifteen in the pot for some PL and NL games. Rake maxes out at 50 cent for low blinds, and $4 for high blinds.
Rakeback
Rakeback at Betfair is handled by the Betfair Poker loyalty club. Status points is how you progress, gaining 30 for every £1 of rake you generate. You need to grind up to silver level to gain 20 percent rakeback, which you do by gaining 1,250 SPs in a calendar month. If you break 12,500 SPs, then you are gold and your rakeback climbs to 35 percent.
Poker Traffic
Another site on the iPoker network, meaning 1,500 players online, on average at any time, climbing to 2,500 during popular periods.
Poker Tournaments
MTTs, S&Gs, PKOs and bounty tournaments also seem available. The usual array of iPoker daily free rolls are available too.

What we like:
Another leading UK gambling name
On the iPoker network, so plenty of players
Daily freerolls
Varied tournaments, an active line up
€40 in free tickets when signing up

What we don't:
Too similar to other iPoker skins
A bit repetitive
#9 Bet365 poker – play Twister – the turbo-charged poker variant
You might be surprised that bet365 poker only makes it to number nine on our list, mainly as bet365 is regarded as the number one sports betting site by many in the UK, and its the most-used sports book. That's mainly why we have placed it ninth, though – we expected a little more from bet365 then just another iPoker skin.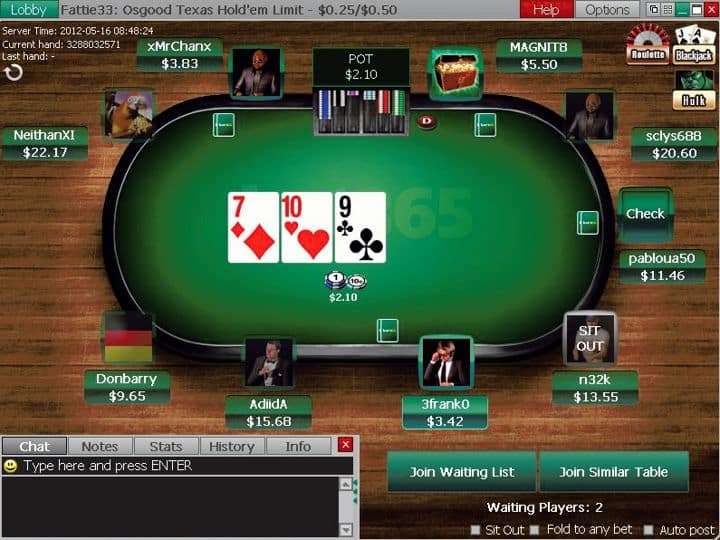 To be fair, bet365 may use the iPoker online poker game client but it has made some effort in the client software instead of just re-skinning what iPoker offers, like Betfair and Paddy Power. The site offers cash games, MTTs, S&Gs, PKOs, bounty games and Twister which is the iPoker version of fast-fold poker.
The lobby is nicely presented, and you can easily find any online poker game to suit. The main options are Six Plus Hold'em, Twister, Speed Games, Cash Games, Tournaments and Sit & Go's. Just choose your preferences (game type, bet type i.e. NL or PL, stakes (blinds) and currency) and a list of available tables will be presented to you.
To add to the entertainment you can compete in mission in order to add bonuses and other incentives to your bet365 poker account.
Rake
The rake rate at bet365 poker should be easier to find. It is fairly standard, though – 6.67% for low stake games with a €2 cap, falling to 5% with a maximum €4 cap for games with higher stakes.
Rakeback
This is an easy one to answer, as currently bet365 poker does not offer any rakeback.
Poker Traffic
On the iPoker network, so 1,500 players online on average at any time, peaking at around 2,500 in the evenings.
Poker Tournaments
Just the standards – MTTs, S&Gs, PKOs and bounties. Nothing special.

What we like:
At least it looks nice
Always populated sufficiently
Freerolls for varying amounts on a daily basis
Enjoy poker to keep anyone interested

What we don't:
No rakeback
We expected more from bet365
Best Poker Sites Compared
| | | | | | | | |
| --- | --- | --- | --- | --- | --- | --- | --- |
| Site | Network | Rake* | Rakeback | Tournaments | Freerolls | Cash Games | Sit & Go's |
| PokerStars | None | 3.5 – 5% $5 cap | Up to 65% | | | | |
| GGPoker | None | 5% $6 cap | Up to 60% | | | | |
| PartyPoker | None | 5% $3 cap | Up to 55% | | | | |
| 888poker | None | 5 – 6.25% $5 cap | Up to 50% | | | | |
| William Hill | iPoker | 4-5% $4 cap | Up to 64% | | | | |
| Grosvenor | iPoker | 4-5% $4 cap | Up to 40% | | | | |
| Paddy Power | iPoker | 4-5% $4 cap | Up to 25% | | | | |
| Betfair | iPoker | 3.75 – 5% $4 cap | Up to 40% | | | | |
| Bet365 | iPoker | None | None | | | | |
*rake is variable and can be calculated based on a number of factors including type of game, number of players, size of the pot and so on.
Choosing the Perfect Poker Site
Poker players do not have the same kind of options as sports bettors and casino players when it comes to opting for the best poker site. While there are over 100 online casinos in the UK and 70 or so UK betting sites, the number of poker sites is only around 30, and 25 or so of those are iPoker skins so practically it's the same site.
It's still important that you choose the perfect poker site for you, so what do you need to look out for? Here are a few tips given to us by our site poker experts.
Is it legal? – only ever play at sites with proper and current UKGC licensing
Is it reliable? – no one wants to lose the nuts because the client disconnected you and folded your hand. Play freerolls to see if the client software can be relied upon.
Is it good on mobile? –  playing poker on a phone or tablet (better) is perhaps the best experience. Try the site on mobile and see if you consider it good enough.
Is the rake/rakeback fair? – compare the rake and rakeback with other poker sites to see if it compares favourably.
Is support supportive? – you should be able to contact support before you complete your sign up. See if they help you or if you are fobbed off with bots or told to look at the FAQs.
Does it have the games you like? – you're going to be okay if you play Hold'em, but what if your preferences are for Omaha, Draw or Stud? Check the games to see if there are enough options for you.
Can you play and not pay? – if you're a casual player, check the site to see if it has freerolls. If so, how lucrative are they? Will it be 1,000 players batting for a dollar?
Types of Online Poker Bonuses Explained
All UK online poker rooms will offer newcomers some type of bonus, plus those bonuses differ from site to site. Here is a quick rundown of most of the bonus types offered by UK sites, followed by a listing of some of the best bonus deals currently available at poker sites in the UK.
Deposit Bonus

Just like a deposit bonus at a casino, you deposit an amount of cash over a minimum limit, and the poker site will add the same amount of bonus cash, or will even double or treble it. Such bonuses are usually more generous than casino bonuses as you are winning money from other players, rather than the site itself.

Redeemable Bonus

This works like a deposit bonus, except that you don't get it all at once! You should get a small bonus once you start playing, but every time you play in cash games, S&Gs or MTTs you acquire reward points. Once you have enough points, you can redeem another percentage of your bonus until you've claimed as much of your bonus as possible within a timeframe, or up to a set limit.

Free Play Bonus

As an alternative to a deposit bonus, you may be offered a free play bonus instead. With this type of bonus, you will receive free money in return for making a minimum deposit. This money is not cash that can be withdrawn, but free entries into tournaments that otherwise you would've needed to spend your own money to enter. Each 'ticket' can only be used on the specific tournaments as listed by the site.

Exclusive Freeroll Bonus

Freeroll tournaments are poker games which you can play for free but have real cash as prizes. Usually the prize fund is small, but as part of a welcome deal you might get a 'once in a lifetime' entry into a freeroll tournament with a sizeable prize pot. You will join other newbs in the freeroll battle, which may occur once or month or so.
Double Your Deposit at PokerStars
The welcome bonus at PokerStars could not be easier to understand. Make a minimum deposit of £10 at the site using the code 'STARS600' and PokerStats will add on the same amount of bonus cash, up to £600! By playing at the time you will earn 6.5 redemption points for every £1 of your own money you play with. For every 75 RPs you earn, £5 of your bonus will be released. You have four months to unlock as much of your bonus as possible, and you cannot make a withdrawal during the redemption period.
Your Choice of Bonuses at GGPoker
You can get a £600 bonus at GGPoker, or £80 worth of free play, the choice is yours! If you select the freeplay option you will, over seven days, receive 38 tickets value £80 in all-in, fold S&G and Spin & Gold tournaments. If you prefer the sound of the £600 bonus, then its a 100 percent match up to £600, unlocked at £1 at a time for every £5 paid in net cash online poker game rake and tournament fees. You have 60 days in which you must try and unlock as much of the bonus as you can.
Grab a Bonus + Free Play at PartyPoker
If you're ready to join the poker party at PartyPoker then you can grab a two-fold bonus – a 100 percent matched bonus up to £400 plus £40 in free play. The welcome bonus is released in increments of 10 percent, and you need to earn loyalty points in order to release each part of the bonus. LPs are earned at the rate of one point for everyone £1 raked, and you need, in total to earn 12 x the value of your bonus in LPs to release it all. The free play is released as free play party dollars and tickets to SPINS overdrive games.
Best Poker Online Real Money Tournaments and Where to Play
There are plenty of poker tournaments in which you can play, both online and in the real world. These do not include the individual tournaments run weekly or monthly by poker sites in the UK and poker networks. These are official tournaments that anyone can enter, usually beginning with online tournaments.
World Series of Poker (WSOP)
The premier global poker tournament that has been running since 1970. It is now run annually in Paradise, Nevada each year. The WSOP consists of many different types of competition, with the most prestigious being the 'Main Event'. The 2023 winner of the Main Event was Daniel Weinman, who won $12.1 million.
You should be able to enter WSOP satellites online at UK poker sites.
World Championship of Online Poker (WCOOP)
This is a series of poker tournaments that are purely held online. For the 2022 event, there were 75 separate tournaments that anyone could enter, as long as they could afford the entry fee. Unlike the WSOP, all tournaments are played purely online.
The big competition at the WCOOP is the main event, which is a No Limit Texas Hold'em tournament with a $10,300 buy in. In 2022 this was won by Luis Faria of Portugal, who secured the $1.3 million prize out of 760 entrants.
Spring Championship of Online Poker (SCOOP)
As the WCOOP runs each autumn, SCOOP was brought in to fill in the void between each annual WCOOP event. It is practically identical to SCOOP, although with less tournaments.
The main tournament at SCOOP is again No Limit Texas Hold'em (NLHE) tournament with a $10,300 buy in. In 2023 the main event was by Brazilian poker pro Felipe Boianovski, who took home $1.04 million.
What is Poker Rake and Rakeback?
Poker sites stay in business via rake and rakeback. Unlike online casinos, sports betting sites and bingo sites, players at poker sites can only win other player's money. If nine players put £1 into the pot and the pot won is £9, how does the online poker site make any money?
The answer to that is rake, and it's also how real world poker rooms survive and indeed, thrive. The rake is the percentage of the final pot that the poker site removes and keeps all for itself. This percentage can be anything between three and ten percent. As an example, say the winning pot is £100 and the rake is five percent. This means the winning player will receive £95, and the poker site keeps £5. With large pots the rake is usually capped, so if you win a £10,000 pot don't be surprised if the rake is much less than £500.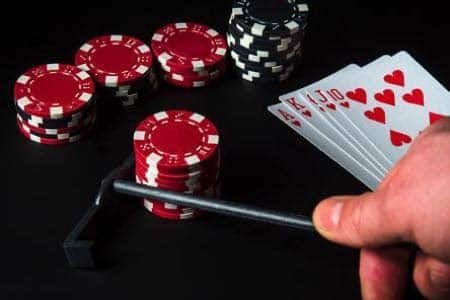 The term 'rake' comes from the tool dealers use to take the chips from the table. They will 'rake off' their percentage in chips, and then use the same tool to pass the winning chips to the successful player.
Rakeback is a bonus offer made by online casinos. The amount of rake you lose throughout a set period is monitored and then at the end of that period, a percentage of the rake you have paid is paid back to you. Say, you paid £100 in rake during the week, and you have a rakeback deal of 25 percent. This means that at the end of the week you will receive a rake back bonus of £25.
Rake is not the only way that poker rooms make money, and it only really applies to cash games. Poker rooms will also take a fixed percentage of your buy-in for tournaments for example. Rake can also be timed – for example once per hour all players seated at the table are obliged to lose a small percentage of their current chip stack. There is the dead drop rake method too, but this is now uncommon. This is where before the start of each hand the player on the button has to toss in a fixed number of chips as rake before play commences.
Poker Varieties and Game Selection
One of the best things about poker sites is that there are plenty of ways you can play the game. Even if you only want to play Texas Hold'em, there are more ways to play it than just sitting down at the nearest table (virtually, of course) and asking to be dealt in. Here we look at all the possible ways you can play poker at poker sites in the UK.
Cash Games
This is the simplest way to play online poker. You look at a list of cash games filtered or ordered by the blinds, find a table with a vacant seat, wait for the next hand and get playing. You can get up from the table whenever you wish.
Sit & Go's
Sit & Go's (or STTs or SNGs) are mini, single-table tournaments. Instead of playing with as much cash as you wish, you pay a fixed buy-in instead, and then receive the same amount of chips as every other player. You then play poker until you run out of chips or are the last player standing, with the blinds increasing every couple of rounds or so. You then receive prize money for winning, but you may also win prize money for finishing in the top two, three or four.
MTTs (Multi-table Tournaments)
Same at Sit & Go's except they stretch across multiple tables and have larger prizes. As soon as you run out of chips, you are out of the tournament. Tables are merged as soon as they are small enough – for example in a nine player-per-table tournament, a table with four players remaining may likely be merged with a table of five players. Play continues until only one player remains. The number of winning places depends upon the size of the tournament.
Turbo Poker
This has different names at different sites. When you are playing a hand, you can fold at any time, even when it is not your turn. Once you have folded you will be moved to a different table where the next deal is about to commence. This speeds up your poker experience as you don't have to wait until the latest hand has concluded before your next deal.
Satellites
Did you know you can qualify for 'real world' poker tournaments by playing online? Well, you can by playing at satellites. These are online tournaments where you pay the usual fee to enter and play. Should you win a satellite tournament (or place high) you will be entered into the next stage, and so on until you play in the real world tournament itself.
It was Chris Moneymaker who set the online poker world ablaze (before the US shutdown) in 2003 by winning the main event at the 2003 WSOP (World Series of Poker) after qualifying via an online poker satellite. He paid a $86 entry fee and ended up winning $2.5 million.
Freerolls
Freerolls are poker cash tournament games that you don't have to pay to play. You simply sit down and are given a number of free chips to play with at the table (chips you cannot cash out). Once the tournament is over, the winners and highest placed players are given their prize money.
Freerolls usually have tiny prize pots and a high number of players, so getting rich via them is not really possible. They are ideal though if you are just finding your way in the online poker realm.
Progressive Knockout Tournament
In this tournament you buy-in as normal, but half your buy-in is added to the prize pool, and half becomes your 'bounty'. When you eliminate a player, you win half their bounty, and the other half is added to your own bounty. This means the more players you eliminate, the bigger your bounty, and the bigger a target you become. If you survive to the latter stages of the tournament, then you could be looking at a sizeable win. When the tournament is over, the prize pool is shared between the players who placed the highest.
Why Poker Traffic Matters
Unlike online casinos, online poker sites rely upon traffic i.e. the number of players at the site. Online poker players need other players to play against, so playing at a site with a low number of players means a lot of waiting around, or playing with the same players time and time again. If a highly skilled player is 'sharking' around a site, then it no fun to be continually shredded.
GGPoker is currently the UK site with the highest average of players, around 10,000 at any one time. PokerStars comes next (3,000), followed by the iPoker network (1,500), PartyPoker (500) and 888poker (475).
What is a Ring-Fenced and Shared Player Pool?
There are two kinds of player pools, ring-fenced and shared player pools. If you play at a ring-fenced site then you will only be playing against other players at that site. If you place at a shared player pool then you will be playing against other players at different sites on the same network.
In the UK PokerStars, GGPoker, 888poker and PartyPoker are all ring-fenced player pools. Sites on the iPoker network are shared player pools. There are around 20 or so sites currently on the iPoker network, including Betfair, William Hill, PaddyPower and Betfred.
Can I Play Real Money Poker on Mobile in the UK?
This is a question with a very easy answer – yes! All the sites we have listed here can be played on mobile, and most of them have dedicated poker apps that will allow you to play on your phone or tablet, be it powered by Android or iOS. You can easily find games to play via the app, be they cash games, Sit & Go's, MTTs or even freerolls. You can manage all aspects of your poker gambling account via the app too, although we recommend you play on a tablet, or at least a phone with a reasonably-sized screen.
To get you started, we have picked out three of the best UK poker sites that can provide you with high quality real money poker apps.
Double Your Deposit: Up to $600
Double Your Deposit: Up to $600
Play New Spin & Go poker in your browser
Plenty of epic casino offers
No. 1 in the UK in terms of poker experience
9.9
Use bonus code
Copy
Claim Bonus
First time depositors only. Min. deposit $10 with code 'STARS600'. No withdrawal during bonus period. Terms Apply. 18+
100% up to £400 + £40 Free Play
100% up to £400 + £40 Free Play
Global brand - world-class online poker site
Spins Overdrive - Unique 3P Sit & Go with random prizes
Sunday Party tournament with GTD $100k prize pool
9.8
Claim Bonus
18+. UK. New players only. Deposit min £10 to get 100% deposit bonus (up to £400). Must accumulate 12 x deposit bonus in points to release in full, within 90 days. Bonus is released in 10% increments. Additional £40 credited as P$ and SPINS Overdrive tickets (credited over 6 days). Restrictions and T&Cs apply.
Deposit £10 Get £60 Free Pay or Deposit Bonus up to $600
Deposit £10 Get £60 Free Pay or Deposit Bonus up to $600
No. 1 in the UK for online poker traffic
Backed by poker legend Daniel Negreanu
Over $10M in monthly rewards
9.8
Claim Bonus
FREE BONUS: £60 in free tickets plus bonus C$ for completing challenges. MATCH BONUS: A 100% matched bonus to a maximum of $600. Plus on selecting either bonuses, you'll also get
50 Free Slot Spins in Daniel Negreanu's Fish Buffet.
Key Poker Terms to Help You Play
Confused by poker jargon? Then we are here to help! If you are confused by flopping, going all-in on the turn or having the nuts, then to clear away your confusion we have come up with a detailed glossary of the key poker terms you will need to understand else you'll just end up being continually gobbled up by those scary poker gambling sharks.
| | |
| --- | --- |
| Poker Term | Explanation |
| All-in | To bet all your remaining chips on a single hand |
| Ante | The fee required to play a hand, entered into the pot |
| Big Blind | The player sitting on the left of the small blind. The big blind has to pay an ante to play a hand |
| Bluff | Betting to indicate a strong hand, when in fact the hand is weak |
| Button | The dealer – the player whose turn it would be to deal if there was not a non-playing dealer at the table |
| Buy-in | The fee required to play in a tournament-style game |
| Call | Match the existing table wager |
| Check | To make no wager (when possible) but to continue in the game |
| Community Cards | In many versions of poker, the cards dealt face up in the centre of the table that are shared among all players |
| Fish | A weak player |
| Flop | In games such as Hold'em and Omaha, the round of a hand where the community cards are dealt |
| Fold | To take no further part in the hand |
| Heads Up | A tournament where only two players remain |
| Kicker | Card of no value in a hand that is used to separate a tie |
| Nuts | Having the best hand at the table (and usually, knowing so) |
| Pot | The chips in the centre of the table – the amount to be won |
| Raise | To call the current bet and add more chips, raising the current bet |
| River | The final betting round in many poker variants |
| Shark | A good player who searches for tables full of weak players |
| Showdown | Once all betting is complete, the point at which all remaining players must show their hands if they want to win |
| Small Blind | The player sitting to the right of the button. The small blind has to pay an ante to play a hand (half that of the big blind) |
| Suited | Two or more cards in a hand of the same suit |
| Tilt | To make poor decision based on emotion or other illogical factors |
| Turn | The penultimate betting round in most poker variants |
| Under the Gun | The player who is required to start a round of betting |
| Upcard | Any card that's part of a valid hand face up on the table |
| Whale | A very bad player, worse than a fish |
How Online Poker Sites are Regulated in the UK
Poker qualifies as gambling in the UK, so like all gambling sites that accept players from the United Kingdom, poker sites are legally required to apply for and successfully attain a licence from the United Kingdom Gambling Commission. There is no exception to this rule.
In order to protect yourself, you should only ever play at a poker site that has a current and valid UKGC licence. It is not illegal for you in the UK to play at a poker site that does not have a UKGC licence, but it is illegal for that poker site to accept you as a player. This should leave you asking the question – how will a poker site be fair with you if it is acting illegally in the first place?
You can easily check the status of any poker site in the UK as it should display its licence number somewhere on its landing page (usually in the footer – the licence number for PartyPoker is, for example, 54743). If you can't find the licence number you can use the search facility at the UKGC site itself.
The Showdown
That's it for your introduction to poker in the UK, online at least. It really is a vibrant and entertaining world, and if you get bitten by the poker bug online you can always take the poker skills you've gathered into the real world.
We sincerely hope you see the nuts as often as you'd like, and avoid all those bad beats!
FAQs
Are there any free poker sites in the UK?
How many UK online poker rooms are there?
Which are the best online poker sites for real money?
Are there any PayPal poker sites? Do they list among the best sites to play poker?
Can I play at no deposit poker sites?
Was this article helpful?