Overview
12Play Malaysia is one of the most popular sportsbooks and online casinos available to the people of the country. It offers a wealth of wagering opportunities, with sections for sports betting, eSports betting, a live casino, slots, arcade games, '4D' games and lottery games. 12Play focus almost wholly on the Asian market, operating mainly in Malaysia and Singapore.
To learn everything you need to know about 12Play and whether it is likely to be a good sports betting and casino site for you, keep reading our exclusive 12Play review.
What is 12Play Malaysia?
What is 12Play Malaysia or who are the people behind this site is a very good question indeed! We had to search very deeply to learn as much as we could about 12Play, as they do not seem to be the type of business that like to shout about themselves too loudly.
The best we could do is that the company behind 12Play is based in Kuala Lumpur, but whereabouts in Malaysia's capital remains a mystery. They say they have a PAGCOR (Philippine Amusement and Gaming Corporation) licence, but we have been unable to confirm that they do. They seem to be doing very well for themselves, so we doubt there is anything seriously dodgy to be found here.
12Play Malaysia Offers Overview
There's a very decent bonus available at the 12Play Malaysia sports betting and casino site, and it is one that will match your initial deposit at the site up to a maximum of MYR588. There are some terms and condtions attached to this bonus though, and we're going to go through them now.
First up, your bonus comes with wagering but it is extremely reasonable – just 25 times the total amount of both your deposit and your bonus. This means a MYR100 deposit that generates a MYR100 bonus will require wagering off MYR5,000 (25 x (MYR100 + MYR100)). It seems you can use your bonus money at both the sports betting arm of 12Play, and the casino side of things.
Blackjack, Casino Hold'em (or any casino poker games), any number game, any board game, '3 Pictures' and virtual sports are all excluded from your wagering, as are bets on more than 24 numbers in roulette, opposites betting (for example, betting on red and black at the same time in roulette) and bets with odds lower than 1.50.
You have thirty days from the award of your bonus in order to meet wagering requirements. If you haven't met wagering once this thirty day period is up, all bonus money and any winnings derived from it will be removed from your account.
There are a small number of other promotions available at the 12Play Malaysia site, and we've outlined them in the table below along with that 12Play Malaysia welcome bonus.
| | | | | | |
| --- | --- | --- | --- | --- | --- |
| 12Play offers | Offer description | Wager requirement | Min qualify odds | Offer expiry | Min deposit |
| Welcome offer | 100% Welcome Bonus | 25x | 1.50 | 30 days | MYR100 |
| Lucky Draw | Win a Tesla X | N/A | N/A | 90 days | MYR20 |
| Daily First Deposit Bonus | 15% bonus on first daily deposit | 18x | 1.50 | 1 day | MYR100 |
| Unlimited Daily Bonus | 10% reload bonus | 12x | 1.50 | N/A | MYR100 |
| Unlimited Daily Bonus | 5% reload bonus | 5x | 1.50 | N/A | MYR100 |
You can check the 'promotions' tab at any time to see the latest offers that are available at 12Play, as they do change on a regular basis, and most of them are quite generous. Note that whenever you make a deposit at this site, you get a choice of taking a ten percent bonus with 12x wagering, or a five percent bonus with 5x wagering. The five examples above are just some of the bonuses available at the 12Play Malaysia site, so head to the site and click on that 'promotions' tab to see all the 12Play bonus goodness that is available to you.
12Play Review
Okay, so we have explained a little bit concerning what 12Play is all about, so now it is time to get a little deeper into the 12 Play Malaysua sports betting experience with a full rundown on what this online sports betting site is able to offer you.
Which Sports Can I Bet On With 12Play?
Let's cover sports first. As is the norm at Asian sports betting sites, 12Play acts as a conduit to three other sports betting sites – Saba Sports, CMD368 and M8Bet. We'll take a brief look at each of these in turn.
SABA Sports: Has a very good range of sports, but soccer dominates. The other popular markets here are basketball, cricket, table tennis and volleyball, plus eSports. Also has virtual sports and keno/lottery options.
CMD368: Probably the most popular sports betting portal in Malaysia, CMD368 has a very similar set up to SABA sports but with more markets. Soccer, basketball, eSports, tennis, cricket and volleyball are the dominant sports. Here, it is sports only.
M8Bet: Another similar set up to SABA and CMD368 (the three sites are actually difficult to tell apart), M8Bet has the least number of markets out of your three options. Soccer is number one by far again, with tennis and US sports also very popular too.
Moving now onto eSports betting, you can bet on popular competitive video game markets at all three sportsbooks, or at the dedicated eSports betting sites TPGaming or InPlayMatrix. Both give you access to well over a dozen eSports, from LoL and Dota 2 to Valorant, Overwatch and PUBG.
12Play Malaysia Odds and Value
One of the best things at 12Play is that if you are not happy about the odds you are in receipt at one of their sportsbooks, you can simply move to the next one! Indeed, when you are intent on placing a specific sporting bet, you can look at the event at all three sportsbooks to see which one is offering you the best odds. We found the odds at all three sportsbooks to offer great value, though.
The odds here are displayed in Malaysian format by default, as only naturally you would expect. There are four other 'odds display' options – China, Indonesian, American and decimal.
Bet Limits
Bet limits vary by sportsbook and markest and it's all a bit complicated, but as far as we can tell, the minimum accepted bet by 12Play is MYR2, while the absolute maximum varies by sportsbook, sport and event.
In-Play Betting
All three available sportsbooks have live sections, so that you can bet on events in play. Some people will find the in-play betting section a little confusing, as eSports (and by that we mean eSoccer, eBasketball and so on) are mixed in with real sports. If you see a '(V)' after a side's name then that means they are a virtual side, and it's an eSports match, and not a real one.
The sad news then is that if you take all the eSports action out of the in-play betting section, then there is not a lot of authentic action going on at all! The live options are sufficient, though – we just wish there were a higher number of them.
Live Streaming
There is absolutely no live streaming of authentic sports at 12Play, and we checked all three sportsbooks. There is live streaming of virtual sports though, which is only to be expected.
Support for eSports streaming does exist though, and if you click on most live eSports streams you will be sent through to Twitch or YouTube or whatever streaming platform the live stream is available upon.
12Play Cash out & Other Features
When it comes to live betting, 12Play does offer cashout on most events. If you feel a bet you are winning is about to swing against you, then you can cash it out to win, albeit for a reduced payout.
We've listed below the 'other' features we found at each sportsbook in turn:
SABA Sports: Virtual Sports, Number Game, Saba PinGoal, RNG Keno/Lottery.
CMD368: Financial Bets.
M8Bet: Perdana 3D, 4D Specials, Lottery.
There's not really space to go into a full explanation of each of these options, so we suggest that you do your own research. Sab PinGoal is perhaps the oddest 'other feature' that's available at 12Play, as it's a bizarre mix of football and pinball!
Customer service
There are two ways of getting help at 12Play, email and live chat. For email support, the email address to use is 12support@12play.com. 12Play says that their email inbox is monitored 24/7.
Live chat is also monitored 24/7, so if you have an urgent issue that needs resolving, then live chat is your best way of going about it. We tried the live chat and although our responses were answered quickly, the actual responses themselves were less than satisfactory.
12Play Online Casino Malaysia
As well as being a sports betting site, there's a 12Play casino Malaysia too! This is ideal if you like to mix up your Malaysian sports betting with slots, casino and live casino games.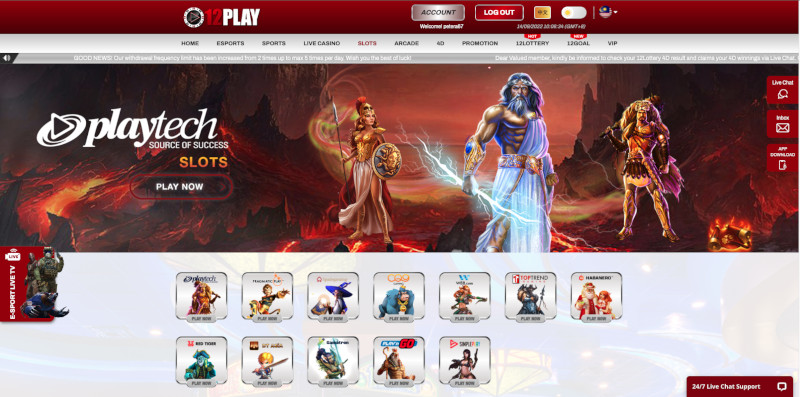 The 'slots' section at the 12Play online casino Malaysia has a large number of top providers, including the long-established Playtech plus relative newcomers such as Play'n GO and Pragamatic Play. Top slots available include Super Lion, Jin Qian Wa and Nian Nian You Yu.
You get a dozen choices for the live casino at the 12Play casino Malaysia, with live casino table provided by Playtech (again), Evolution, Ezugi, eBet, AGaming, W88 and others. All have plenty of tables available for baccarat, blackjack, roulette and so on.
The arcade section at 12Play has fishing and aviator games, while the '4D' section has plenty of 'four number lottery games'.
How to Get Started at 12Play?
It is very easy to get started at 12Play – one word of advice though, as ever with online betting in Asia there are a number of scam and cloned sites out there, so to be 100 percent sure you are in the correct place, use the link(s) we provide to make sure you end up where you are supposed to be.
Step1: Visit 12Play
Hit one of our buttons to visit the correct 12Play site:
Step 2: Sign Up
This is the sight that will greet you. The button you are looking for is 'SIGN UP'.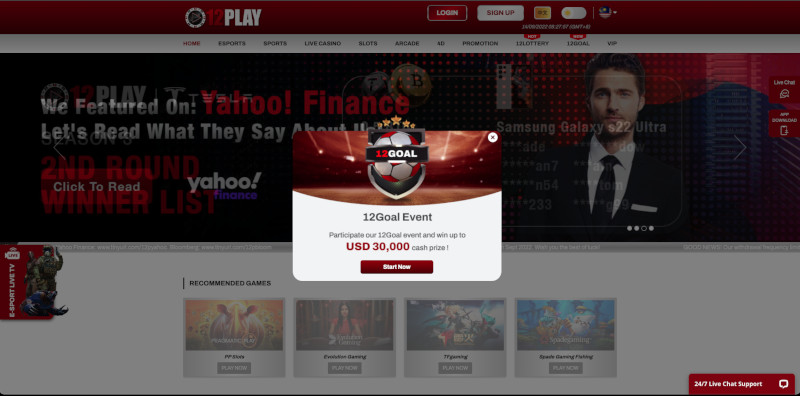 Click on this button to start the registration process. There are only a few items of information that you need to fill in so that you can start placing sports bets at 12Play.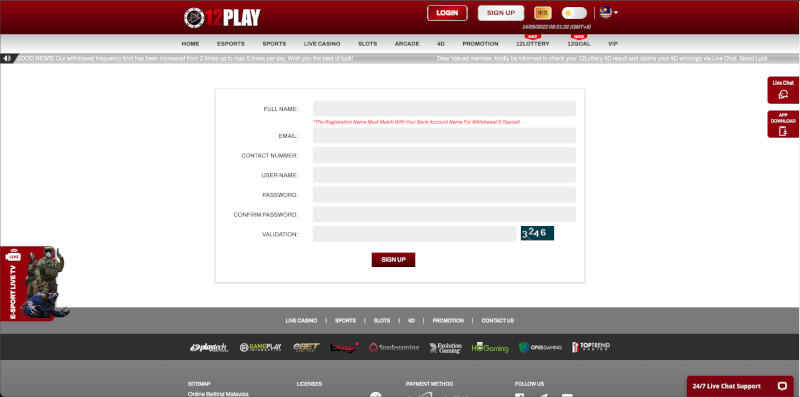 Step 3: That's it!
If 12Play is happy with all the information you have provided, then your 12Play account should be created there and then.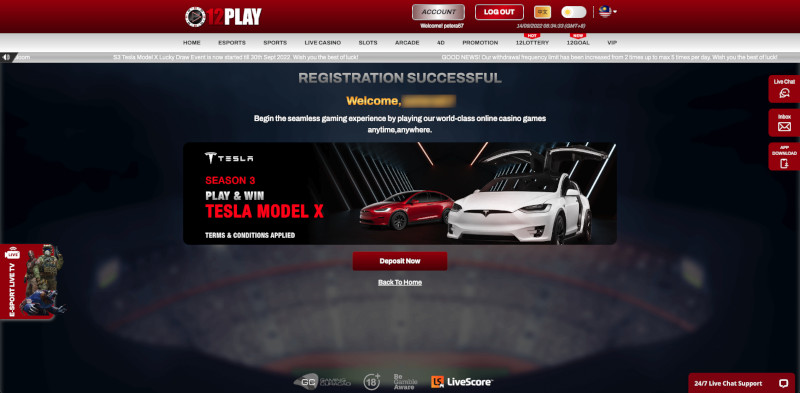 You'll get an email to confirm your registration, including details of the available welcome bonus.
Step 3: Deposit Funds
To get betting, you need ringgits in your account! To make a deposit, click on the 'Account' button towards the top of your screen.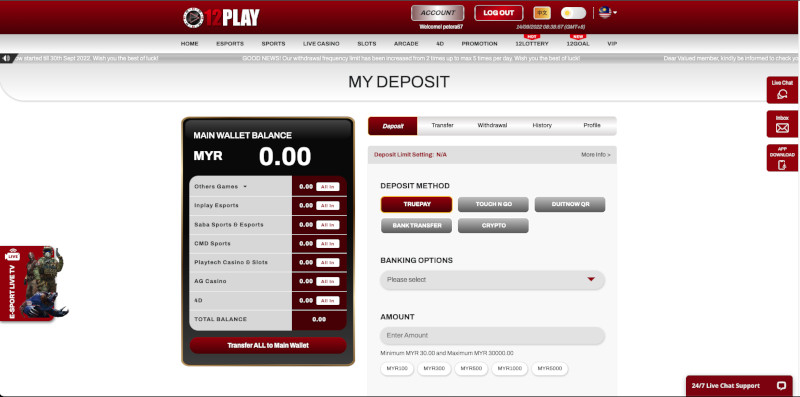 As you can see, you have a main 12Play balance but if you want to bet at any of the three sportsbooks (or three casinos) then you must transfer your balance to the sportsbook in question. You can click on one of the banking options to choose your deposit method. Once you've money in your account, you can start betting!
12Play App
12Play is something of a rarity in Malaysia (and Asia) as it offers a dedicated betting app for Android phone users. There is no app available for iPhone users, unfortunately. To get the app, head to the 12Play site on your PC or laptop and click the 'App Download' button. This will take you to a page with a QR code. Scan the code using your phone and your phone should then ask you if want to download the 12Play app. Confirm that you do and a file named 12play.apk should download to your device. Install it and you've successfully installed the 12Play betting app.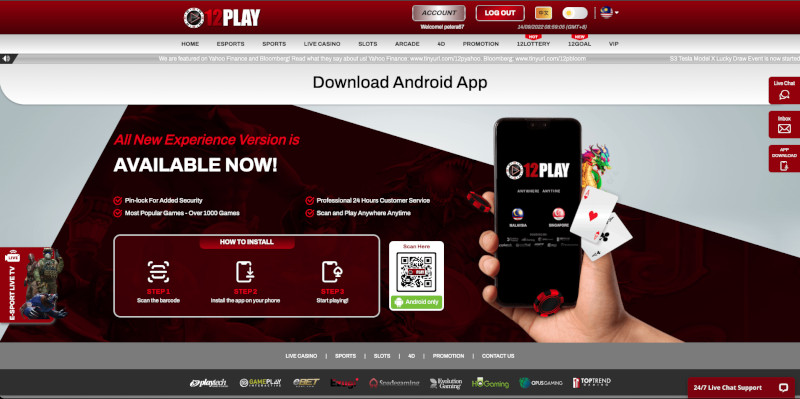 12Play Bonus Code
To get 12Play free credit, there are plenty of 12Play offers available as we discussed in our promotion section. Some deals at other sites require you to use promo codes, but there seems to be no such thing as a 12Play bonus code, or a 12Play sports promo code.
If we do find a 12Play sports promo code, or a 12Play bonus code that you can use to your benefit at the 12Play Malaysia sports betting site or 12Play online casino Malaysia, then you will the first to hear about it!
12Play Payment Methods
There are plenty of payment methods available at the 12Play Malaysia site, so you should have no problem getting your ringgits in and out of your 12Play Malaysia account. Don't forget that you can get some 12Play free credit with your first deposit at this site, and there is a potential 12Play bonus waiting for you with each and every deposit you make.
Here are details of all the accepted payment methods available at the 12Play Malaysia sports betting site.
| | | | | |
| --- | --- | --- | --- | --- |
| Banking Method | Fees | Min Deposit | Min Withdraw | Withdraw times |
| Truepay | None | MYR30 | MYR30 | Up to 7 days |
| Touch N Go | None | MYR30 | MYR30 | Up to 7 days |
| Duitnow QR | None | MYR30 | MYR30 | Up to 7 days |
| Bank  Transfer | None | MYR30 | MYR30 | Up to 7 days |
| Cryptocurrencies | None | Varies | Varies | Instant |
12Play Malaysia Pros & Cons
Just as with any other online sports betting site, the 12Play Malaysia sports betting site has its positive aspects, and its negative ones too. Here is what we like the most about the 12Play Malaysia sports betting site, and what we think needs improving.
What We Like:
Generous bonuses – The 12Play Malaysia sports betting site cannot be said to be tight with its bonuses, with a generous welcome bonus, plus reload bonuses on each and every deposit. What's even better is that you get a choice of reload bonuses, and we always like options!
Nice site to use – You do not have to be an established sports betting site user in order to get the most out of 12Play. The site has been designed to be very easy to use, and that includes all aspects from placing your bets to managing your ringgits.
Speedy customer support – The customer support at 12Play is one of the fastest-responding live chat helplines we've ever used. Okay, so it took us a little while for us to get answers to our queries we were happy with, but customer support that's so speedy can only be a good thing.
What We Don't Like:
Lack of transparency – If you want to find out anything about 12Play Malaysia or the company that runs them, then good luck! We could barely find out anything about them, and the site itself doesn't exactly help. It would be more reassurring if 12Play was more open about themselves beyond saying their HQ is in Kuala Lumpur.
No App for iOS – We thought the Android app provided by 12Play was very good, so it's a really shame that it seems to be for Android users only. There's no iOS app, and we think that's because of the stricter regulations that are enforced by Apple. We have 12Play Malaysia makes an iOS app available soon, but it's not something we'd bet on.
Bottom Line on our 12Play Malaysia Review
There are plenty of great elements about 12Play Malaysia, but that lack of transparency is a concern. We cannot even establish if they are properly licensed, but that shouldn't worry you are all three sports betting portals – CMD368, Saba Sports and M8 Bet are all licensed, and all have a good track record of providing sports betting opportunities to people in Malaysia and throughout the rest of Asia.
We can find no real complaints about 12Play online either, so we are guessing they are doing most things right. Why not dip your toe into the sports betting waters at the 12Play Malaysia online casino and see if what you encounter there is to your liking?
Register To Claim Your 12Play Sign Up Offer
100% Deposit Bonus Up To MYR 588
100% Deposit Bonus Up To MYR 588
Daily cash rebate up to 1% on sports
Cmd368, iGKbet & M8BET available
12Goal event with up to $30,000 to win
9.7
Claim Offer
To celebrate our new members, we're giving you a 100% Welcome Bonus, up to a maximum of MYR588 to welcome you to our site. Let's start playing! To enjoy this special promotion, members have to select the "100% Welcome Bonus" option on the deposit form. Each member is only allowed to claim the bonus once.
12Play Betting FAQs
Is there a 12Play bonus for newly registering customers?
Yes, your initial deposit at the 12Play Malaysia site is subject to a 100 percent matched bonus, with wagering of only 25x!
Is there 12Play free credit available?
Yes, you can get a large amount of 12Play free credit as a welcome bonus when you join, plus there is 12Play free credit available as a reload bonus with every deposit you make at the site.
Which payment methods are available at 12Play?
Most payment methods are via direct banking, either directly or via a third-party provider such as TruePay or Touch N Go. The 12Play Malaysia sports betting site also accepts cryptocurrencies.
Is 12Play safe?
We'd like to think so! We could find out very little about the company that runs 12Play, or the legitimacy of their licence. However, we have found no complaints about them either, so we consider them safe to use.
When was 12Play Malaysia launched?
Again, this is hard to find out, but it seems that reports online of 12Play being active go back as far as 2017, so that's when we think that 12Play was launched.
Is 12Play live streaming available?
There's no live streaming available at 12 Play. The only events you can stream are eSports events such as Dota 2, League of Legends or Overwatch.