In sports betting, as in life, there aren't supposed to be any 'sure things'. No risk matched betting aims to reverse this trend. If done properly, it should – in theory – always deliver you a profit. It's not hard to see why this strategy has become more and more popular in recent years. 
In this article, you'll learn everything you need to know about no risk matched betting. We'll explain exactly what it is, how it works, and how much money you can make. Perhaps most importantly, we'll also tell you exactly how you can start doing it for yourself. 
What is Matched Betting?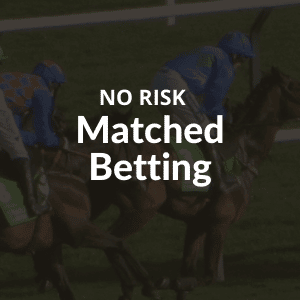 Matched betting is a 'guaranteed profit' betting strategy, similar to dutching, which involves using free bet special offers on different betting sites. In short, you take a two-outcome wager, and place wagers on both sides of that outcome. This is done on two separate sites, at least one of which should be a betting exchange, rather than a regular sportsbook like William Hill. 
As the name suggests, no risk matched betting – if executed correctly – will guarantee a profit. This is because you're not using simple chance, as you would with a regular sports wager. Instead, you're using a mathematical equation which ensures that – whatever happens – you end up making money.

How Does Matched Betting Work?
No risk matched betting might guarantee you make money online, but that still doesn't mean it's 'easy'. If it was, then everyone would do it all the time!  To successfully practice it, you must do two things. Firstly, you must understand the three most important parts of a matched bet. Secondly, you must understand how to actually find and place these bets for yourself. 
We'll tackle the second part in the next section. For now, let's look at the three key components of how no risk matched betting works.
1. Backing a Bet
Back bets are the kind you would normally place on a sportsbook. You're simply betting on what you think will happen. In short, you're 'backing' that outcome. The term 'back bet' is only really used on betting exchanges, to separate it from a 'lay bet' (which we'll explain shortly). 
To give an example, let's say Manchester United are playing Southampton. You think there will be a lot of goals before full-time, so you take the Over 2.5 Goals wager on a sportsbook. This is a simple, two-outcome back bet. If you took it, you'd have already completed the first part of your matched bet – congratulations!

2. Laying a Bet
Lay bets are the opposite of back bets. They involve literally betting against a certain outcome. Naturally you can't place these with regular bookmakers like Coral. Betting exchanges, however, rely on lay bets to provide liquidity, and for the whole platform to function. After all, a user can't place a back bet in the first place if there's nobody to bet against!

Let's stick with our original example. Man U are still playing Southampton, and you still think it's going to be an action-packed sporting event. You need to match your earlier bet, though. So, you choose to take matching lay odds against the Over 2.5 Goals market. Remember, this must be done on an exchange, using a different website to your first bet.

3. The Result
You've now taken both sides of the same market – Over 2.5 Goals on Manchester United versus Southampton. Whatever happens in the actual game – however many goals are scored – one of your wagers is obviously going to hit. 
Unfortunately, successful no risk matched betting isn't that easy! The above example still hasn't actually guaranteed you an overall profit. In fact, because betting exchanges charge commission on winning bets, you're more likely to make a small loss. We'll explain how you ensure profits shortly, but – for now – you know the three main parts of a matched bet.
Free Bets
This is a key part of a no risk matched betting UK strategy. Wherever possible, matched bettors won't place the above wagers solely using real money. Instead, they will target special offers on bookmakers that give them free bets (which usually come via sign up offers for new customers).

To trigger those betting offers in the first place, you will need to place a qualifying bet with real money. Once you've done so, you'll use the new free bet token on that sportsbook for your next matched bet. 
This is where the 'no risk' part comes in. Because one of your two bets has been made without actually spending your own money, the mathematical equation has suddenly swung in your favour. You're now guaranteed to make a profit, whichever one of your wagers hits. 
To clarify, let's use a highly simplified example. You're taking both sides of that Over/Under 2.5 Goals bet, and you're getting roughly 2/1 on both the sportsbook and betting exchange. You're staking £30 on both sites… but the sportsbook wager is using a free bet token. 
If you hit on the sportsbook bet, you'll return £60 (your free bet stake won't be included). If you hit on the exchange bet, you'll return £90 (minus commission). Either way, you've only actually spent £30, so you're making a profit of either £30 or £60, whatever happens. That's how no risk matched betting works. 
How to Place a Matched Bet
By now, you should know the basics of how no risk matched betting works. Let's get stuck into the details, so that you understand exactly how you can start trying it for yourself. There are three main things you'll need to do so: 
An account with a betting exchange
Free bets from a sportsbook
Matched betting software
Let's take a closer look at each item in turn. 
Betting Exchanges
If you've never used a betting exchange before, they're pretty easy to understand. On a regular sportsbook, the bookmakers set the odds, and you simply decide which of those odds you want to bet on. You're basically betting 'against' the bookies. 
Our Recommended Betting Exchanges
Exchnage
Welcome Bonus
Features
Claim Free Bet

On an exchange, you're betting against other people. This allows you to theoretically get any price you like on a market… as long as somebody is willing to lay that bet (i.e. take the other side of the wager). Thus, you'll almost always be able to get better odds on an exchange. The drawback is that you'll typically need to pay commission on winning bets, which typically ranges from 2-5%. 
There are three main betting exchanges we'd recommend using for your no risk matched betting: Smarkets, Betfair, and Betdaq. You can see a quick comparison of the three below. 
| | | | |
| --- | --- | --- | --- |
| Criteria  | Smarkets | Betfair | Betdaq |
| Commission  | 2% | 5% | 2% (0% on certain markets) |
| App | Android/iOS | Android/iOS | iOS/Android |
| Available Sports | 19 | 25 | 20 |
| Welcome Offers | Deposit £20, Get £10 Risk-Free Bet | £20 Risk-Free Bet | Bet £10, Get £10 Free Bet |
| Support Hours | 24/7  | 24/7  | 09:00 – 20:00 |
Each has its own strengths and weaknesses. Smarkets has an excellent interface and solid commissions, but slightly fewer markets to bet on. Betfair has the most markets and liquidity, but the highest commissions. Betdaq probably has the worst interface of the trio, but does offer 0% commissions on certain sports. All three are excellent exchanges, and we'd recommend investigating each in more detail before committing to one. 
Free Bets
As we mentioned in the previous section, free bets are integral to no risk matched betting. They're the part which ensures you actually make a profit out of this betting technique.  If you've never used free bets before, they're also very easy to understand! These are simply tokens, which you can use as stakes on your wagers instead of real cash. You're basically just betting with free money.
There are only a couple of differences between these and regular stakes. Firstly, you won't get your free bet stake returned with any winnings. Secondly, free bets sometimes come with T's & C's. The most common are expiry dates (e.g. you must use them within seven days), and wagering requirements (e.g. you must use them with certain minimum odds). 
The most common way to get free bets is through a sportsbook welcome offer. You'll need to make a real money qualifying bet to begin with. Then, you'll get given a free bet token, or multiple tokens. A classic example is betting £10, and getting £30 back in free bets. Matched bettors will then use these free bets for their very next wager on that sportsbook, while taking the other side on a betting exchange as normal.
Matched Betting Software
Originally, no risk matched betting was done manually. Bettors did all their research and calculations themselves, to the nearest decimal. Doing it this way is time-consuming, and greatly increases the risk of human error.
Thankfully, there is an alternative! Most bettors nowadays prefer to use matched betting software when following this strategy. This does most of the hard work for you. One of its most important functions is to do the maths, working out the amount of money you stand to make from a matched bet, down to the lay odds you should take. The better pieces of software will not only do this, but even locate eligible bets for you. 
We'd definitely recommend going down this route, to minimise your risk of making a mistake, and maximise your profits. These are the three best no risk matched betting sites currently available. 
1. OddsMonkey – The Best All-Round Matched Betting Software (50% Discount on Your First Month)
OddsMonkey might well be the single best piece of matched betting software out there right now. Essentially everything you need is contained within this one piece of software.
Most importantly, it gets you access to the OddsMatcher tool. This locates, sorts, and compares the prices at over 90 bookmakers and four betting exchanges. You can filter its searches by sport and market, and set it to only search certain UK betting sites, if you like. All that's left for you to do is go to those sites, and place the bets OddsMatcher finds for you. A calculator also comes included, to help you work out the bet amount to stake, and what your returns will be.
An OddsMonkey subscription also gets you access to over 100 step-by-step tutorials, to teach you literally everything you need to know about matched betting. Finally, you also get a daily offer calendar. This lets you know whenever a bookie has posted a new promotion offering free bet tokens, which you can naturally use for your no risk matched betting.  
What we like:
OddsMatcher tool does the hard work for you
Excellent customer support 
Alerts you to the latest free bet offer 
What we don't like:
Literally nothing – this is a brilliant service, which offers great value for money
2. Profit Accumulator – Best User Experience (Earn Up to £40 in a Free Trial)
OddsMonkey's fame might be growing, but Profit Accumulator is actually a bigger brand. In fact, it's reportedly the most popular matched betting software in the UK, having helped over 120,000 customers since launching in 2014. 
Over £500,000 has been invested in Profit Accumulator's Oddsmatcher tool, and it shows. Searching for and browsing matched betting opportunities is faultlessly easy. This feature is fast, powerful, and intuitive, making it suitable for matched betting veterans and newcomers alike. 
This software also comes with a couple of other excellent tools. One is Match Catcher. This is designed to improve your horse racing matched betting, by finding free bet refund offers on racing as soon as they're launched. Acca Catcher also helps you build matched acca bets, and there's a useful Profit Tracker to help you keep tabs on all your no risk matched betting. 
All these features and more are explained via a step-by-step matched betting guide. And, if you do encounter any problems, support is available seven days a week. 
What we like:
Incredibly easy to use
Specific tools for horse racing, accas, each ways, extra places, and more
Impressive amount of video tutorial content 
What we don't like:
Not the quickest loading times 
3. Profit Squad – Best for Finding Special Offers (Regular Refer-a-Friend Offers Available)
Profit Squad is the youngest of our three pieces of matched betting software, having been launched in late 2015. It's still got a huge amount going for it, though, and certainly deserves your consideration. 
One of the clear focuses here is on finding all the latest special offers which can help you with your no risk betting. The Profit Squad team search the web constantly, hunting down the latest relevant promotions. Not just that, but they give you step-by-step guides on how to activate each one using a qualifying bet, and even tell you the expected value they can deliver via no risk matched betting. Like other such software, Profit Squad also has both an odds matcher search tool, and a matched betting calculator. Both are quick, reliable, and easy to use. 
Another area in which Profit Squad excels is in its community feel. In addition to a forum, you also get access to a chat room in which Pro members can discuss the latest news, reload offers, and matched betting opportunities.
What we like:
Plenty of help in finding and using special offers
Share and receive tips 24/7 in the live chat room
Seven day a week support is available 
Free Matched Betting Sites
As noted, there are quite a few subscription-based websites designed to help make your no risk matched betting life easier. The three that we've listed above are the best of the best. 
In addition to that, though, there are also quite a few websites which offer similar services for free. The appeal here is obvious. A subscription will set you back around £20 per month, at the time of writing. Going with one of these sites will cost you nothing at all, but we genuinely wouldn't recommend taking this route. There are a couple of major reasons for this. 
Firstly, free tools naturally tend to get more users. This means that a lot of people will be jumping on very specific bets, which wouldn't normally get that much action. It's not hard for online bookmakers to flag up this action, and either change the odds, or start limiting the accounts of the people taking that market (known as 'gubbing'). 
Secondly, the software simply isn't as good. The search functions tend to be inferior, meaning you can miss out on a whole load of matched betting opportunities that you wouldn't otherwise. Thus, while you might be saving £20 per month on a subscription, you're potentially costing yourself £100's per month in profits. 
How Much Can I Earn With Matched Betting?
You can probably guess our answer to this one. It depends! Specifically, it depends on a few different factors. Firstly, your willingness to spend money on a subscription to a quality matched betting website, like OddsMonkey, Profit Accumulator, or Profit Squad. For a minimal outlay, this can greatly increase your profits. 
Secondly, how much money you're able to spend on stakes. Quite simply, the higher your stakes, the higher your winnings will be. Naturally, we strongly recommend only betting what you can afford to, based on your income, account balance, and so on. 
Thirdly, how much time you're willing to commit. Even with some quality no risk matched betting software, it still takes time to browse markets, find the best possible opportunities, activate sign up offers and ongoing promotions, and so on. The more time you commit, the more bets you'll be able to put down, and the more money you'll earn. 
Is Matched Betting Legal?
Yes. In short, there are no laws whatsoever against matched betting in the United Kingdom. You won't incur any fines, or get into any legal trouble, for doing so. Not only that, but the money you earn is actually tax-free!
That doesn't mean, however, that there aren't any consequences involved. As you'd expect – given that it guarantees profits – sports betting sites don't exactly love matched betting. When you sign up with a site, they reserve the right to restrict your account if they judge it necessary. If they detect a betting pattern on your account over a long period of time, which has delivered almost constant profits, this will be a red flag. 
In this situation, a betting site like Coral will often 'gub' your account. That's not an official term, but it's how most matched bettors refer to it. In short, it means that your account will be restricted. It probably won't be closed outright, but you may have stake limits imposed, and won't be able to use promotions any more. Given that matched betting relies on free bets for its profits, that's obviously an issue! 
There are methods you can use to minimise your risks of being gubbed. The easiest is to have accounts with a lot of different bookies, and spread your bets around. You can also mix in regular wagers with your matched bets, to make any patterns less obvious.
Summary
No risk matched betting is basically a dream come true for many punters. As the name suggests, it removes the risk which is supposed to be part of gambling, while still delivering regular profits. It's definitely not easy, though. Matched betting requires time, patience, and concentration. If you want to try it out, we'd highly recommend making life easier on yourself by signing up to a matched betting website, and letting it do the hard work for you.
FAQ

What is no risk matched betting?
Matched betting involves betting on both sides of a two-outcome market. When calculated correctly, whichever of the two bets wins, you'll end up making a profit.
How do I find a matched bet?
We'd recommend simply using a website like OddsMonkey, Profit Accumulator, or Profit Squad. Each site has tools which find matched betting opportunities for you.
Can I cash out a matched bet?
Technically, yes. This obviously requires monitoring your potential profits in real-time though, and we wouldn't recommend it for a newcomer to no risk matched betting.
Is matched betting a scam?
No. When practiced properly, it is a guaranteed way to make money. The amount you make is largely determined by the time and effort you put in.
Which exchange should I use for matched betting?
Betfair, Betdaq, and Smarkets are all excellent options. Betfair has the most markets, Betdaq has the best commissions, and Smarkets has the best interface.