This page will explain the methodology we use when we are ranking online casinos in the UK. Please be aware that we take the full customer experience when we are evaluating a casino's performance, including registering an account, making a deposit, claiming the bonuses we are entitled to, playing games and using the site's customer support channels.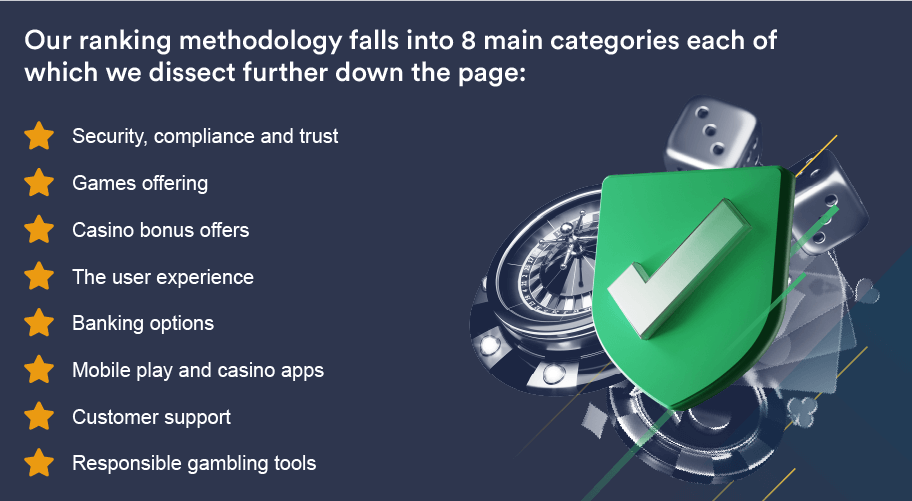 If you are interested to learn how we decide how to rate online casinos in terms of coming up with top ten casino rating lists for example, then please keep on reading.
1. Security, Compliance and Trust
As it should go without saying, we only ever mention casinos on our page that have proper United Kingdom Gambling Commission licences. We check each casino's licence individually (and you can do the same yourself as the UKGC site) to make sure their licence claims are legitimate. The UKGC also lists any past or current sanctions for a casino, such as fines or suspensions, and we take note of any casino or gambling company that seems to spend long periods in the UKGC's bad books.
Having a valid UKGC licence says much more about a site than the 'licence to operate'. To gain and maintain a licence, a site must adhere to a number of very strict guidelines. These include player protections in terms of data and from themselves, such as identifying spending or gambling patterns that hint at someone displaying gambling dependency tendencies. Sites must also be aware of illegal activities like a continual stream of deposits and withdrawals which may indicate money laundering.
In short, a valid and unsanctioned UKGC licence ticks all three boxes in terms of security, compliance and trust. We take things one step further though by checking for SSL encryption certificates at the site in question, and hunting around the internet for independent player evaluations that we feel we can trust.
2. Game Offerings
In terms of online casino play, the bigger the gaming library a site has, the better … almost. If a site boasts it has 2,000 slots that's all well and good, but who's going to play all 2,000 of them? Instead, we look for the right mix of quantity and quality.
So, how do we do that? Well, we look for certain slots such as Starburst, Book of Dead, Thunderstuck II and any from the Age of Gods series. These are very good slots, but they also signify to us that top providers are on board. You can see below the names of the casino software providers that we think to be the best in the business.

The Best Casino Software Providers
NetEnt
Microgaming
Play'n GO
Pragmatic Play
Playtech
Yggdrasil
BigTimeGaming
Quickspin
If we find at least fifty percent of these names mentioned at a site, then we're pretty happy. The inclusion of the top two at least also usually covers a decent site for table games too, as we recognise that not everyone heads to an online casino just for slots.
Live casino play is also very important, and here we look for one name in particular – Evolution (formerly Evolution Gaming). They are the undoubted number one of live casino play in the UK, so if a casino has their live casino games and game shows, then that is a massive bonus in terms of our casino rating. In terms of live dealer casinos, we also look out for Pragmatic Play, Playtech and Ezugi.
3. Casino Bonuses

Every casino offers some kind of bonus … well 99 percent of them. Of course, the presence of a bonus is no guarantee of our approval, as many bonuses are swathed in unfriendly terms and conditions that render them worthless. We check the T&Cs of any bonus we find (and we suggest you do too) to make sure they're not just flim flam.
Welcome bonuses are not all we expect to see from a casino we're considering as worthy of our applause. Below we break down the common kind of bonuses found at UK casinos, and what we expect from them.
Bonuses at Online Casinos in the UK
The most common bonus types found at UK online casinos.
Welcome or 1st Deposit Bonus
This bonus is commonly in the from '100% up to £100'. This means that your 1st deposit at a site (above a minimum threshold, usually £10) will be matched 100% up to that £100 limit. Such deals come with wagering expectations (we think 30-40x is reasonable) and expiry times. Some also come with game contributions and winning caps, but the best deals do not. Also check for excluded payment options such as Skrill and Neteller.
Free, Extra or Bonus Spins
These are spins on video slots that you don't have to pay for. They have a specific value, usually £0.10. They could be on a certain slot, or a range of slots, or can be used on any slot the site offers. Once you have used your free spins (be careful as they expire) your winnings are added to your account, but you may not be able to do anything with them until you've completed wagering.
Cashback on Your Losses
If a casino runs this deal, you will get money back on your casino losses during a specific period. The period for nearly all of these deals is 00:00 Monday to 23:59 Sunday. If a casino offering cashback has a 10% cashback clause, then if your net loss (winnings - expenditure) during the period is £100, you'd get £10 back. Note cashback is usually paid as bonus cash and not withdrawable money.
Ongoing or Reload bonuses
These bonuses are for returning customers only, and work in exactly the same way as 1st deposit bonuses, albeit with slightly less attractive terms. Some sites may allow you to claim a reload bonus as often as you want, while others will limit you to one per day, or one per week. Like 1st deposit bonuses, reload bonuses come with wagering, time limits, game contributions and other T&Cs.
No Deposit Bonuses
Sadly, no deposit bonuses are hard to find these days, with only a very, very small number of online casinos offering them. With such a bonus, you only have to complete your registration at a site to get 'free' money. Usually the amount is small, and wagering high. It's unlikely you'll have anything left once completing wagering, but they are a good way of testing out a sight, while hopefully having an entertaining time.
4. The User Experience
Of course online casinos are all about their users, or at least that is how things should be. As we explained in our introduction, when we are evaluating an online casino we do so first hand, by opening an account and having a thorough examination of the site.
But what are we looking out for? Below we have listed a few aspects of a site's design and navigation that we expect to find.
Signing Up – We appreciate that casinos have KYC concerns in line with their UKGC licensing, but gaining an account should not be akin to applying for a mortgage. A process that's a breeze but still makes you feel secure is the way to go.
Availability – Is the site often down? Do pages hang or freeze? Do you get kicked out for no reason? Do games not load? Do you get 'page unavailable' or 'page not found' notices?
Menus – Are the menus easy to navigate or do you end up going around in circles? Do the sections makes sense, or do you get slots in table games, and table games in video poker? Is there a search function? Can you filter by game provider? Can you save your favourites?
Your Account – Is it easy to manage your account? Can you easily change your username, password, email address, phone number? Can you enable two-factor authorisation? Is it easy to close your account?
Information – How is information provided, such as bonus terms and conditions? Is it easy to understand or written in gobbledygook? If you need to find something out, is that easy to do without bothering support?
5. Banking
The number of banking options open to people who wish to play online casino games for real money has been greatly reduced over the past few years. This has been done by the UKGC to protect vulnerable gamblers by preventing them from 'gambling on credit' and getting into financial difficulties. Despite this, there are still plenty of payment options open to online casinos.
One of the ways how we rate online casinos is by evaluating how many payment systems in the UK they make available to their customers. Debit cards are a given, but we like to see other options including popular eWallets such as PayPal, Skrill and Neteller, plus bank transfer schemes either directly or via systems like Trustly. We also take a look at processing times and we do not, at all, like online casinos that take two or three days to process a payment. There is no reason that a withdrawal should take any time longer than a deposit, and we champion online casinos that pay you as quickly as they take money from you.

Payment Options Available in the UK:
Debit cards (Visa, MasterCard)
eWallets (PayPal, Skrill, Neteller, Payz, MucBetter)
Bank transfers (direct, Trustly)
PaysafeCard

Payment Options Unavailable in the UK:
Credit cards
'Pay by Mobile'
Cryptocurrencies
6. Mobile Play and Casino Apps
Before 2015 the only way to play at an online casino using your phone was by downloading a dedicated app. Then HTML5 came along and helped companies create adaptable websites that looked good no matter the device and the size of the screen they were being displayed upon. Casino apps therefore largely vanished.
However, since 2019 casino apps have made something of a comeback. Online casinos have realised that their customers want options – the choice of downloading and installing an app to their phone, or using a web browser. Not all online casinos offer mobile play and casino apps, but a decent percentage do.
As part of the methodology of how we rate online casinos and come up with casino ranking tables, we go for the full mobile play experience. We use an online casino via a web browser to evaluate the user experience, plus if apps are offered, we download them to both iOS and Android devices (if apps for both OSs are available) and see how they perform. The better the mobile experience, the higher the casino ranking.
7. Customer Support
Taking care of customers should be a high priority for all online casinos in the UK. We've all, no doubt, had poor customer service experiences, where you are trying to solve an issue only to be put through to a call centre in Mumbai where some poor soul attempts to answer your issues by working through a tick sheet. We always go through ALL support options at an online casino we are looking at, and see how they respond. Poor experiences, as you can imagine, have a detrimental effect on the casino rating we decide upon.

Customer Support Options Available in the UK:
Telephone
Live chat
Email or messaging
Social media channels (WhatsApp, Twitter/X, Facebook, Instagram)
FAQs
8. Responsible Gambling

Online casinos are legally required to take care of their customers, and risk heavy fines levied by the UKGC if they don't. This duty includes encouraging responsible gambling, identifying unhealthy gambling patterns such as losing too much money or spending too much time at the site, and by adhering to GAMSTOP, which is the national online gambling self-exclusion scheme.
We raise the casino rating if we find the site is offering other tools, such as deposit limits (soon to be required legally, anyhow), sanity checks and 'time outs'. The more tools a site can offer to promote responsible gambling, the better of course.
While we understand that the majority of online casino users in the UK gamble in a healthy and responsible manner, there is a small percentage for whom gambling can be problematic. We therefore applaud online casinos that take extra steps to protect such customers from themselves, as opposed to encouraging them to spend as much money at the site as possible.
Wrapping Up
This page has fully explained how we rate online casinos – what factors we take into account when we are coming up with a casino rating, and how we decide where to place an online casino in the UK in any casino ranking table.
We hope you have found this information useful, and can use the same factors when performing your UK casinos review when you are deciding upon a safe and secure UK casino website as which you feel you'll be subject to an effective user experience.
Was this article helpful?