Founded in 2015, Football Index is a football betting site where players can stake on the future success of players. Licensed by the UK Gambling Commission, Football Index has attracted over half a million customers already. Football Index is the official shirt sponsor of both Nottingham Forest and Queens Park Rangers, while they are also regulated by the Jersey Gambling Commission This Football Index review will explain just why the site is so popular, as well as how to make money on Football Index. 
£500 Money Back Guarantee Welcome Offer
£500 Money Back Guarantee Welcome Offer
A risk-free demo account is available
Spread betting and fixed-odds betting both available
A great mobile App
9.4
Sign-Up Today
Not made a profit after 7 days? Simply email us and we'll refund losses up to £500*. New customers only. Min. deposit of £10. Max refund of up to £500 to be claimed within 7 days of first deposit. UK only. 18+ only. Promotion period from 00:00:01 GMT on 01/11/2020 until 23:59:59 GMT on 30/11/2020. Verified account required. Additional T&Cs apply. Please gamble responsibly.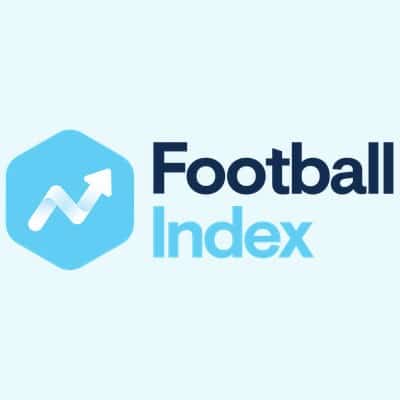 Football Index was established to offer an alternative to traditional bookmakers and betting exchanges. As the world's first football stock market, those signing up are able to buy and sell shares on their exchange, which surround professional football players. Shares are known as Futures, with traders being able to use data cuts and charts to make their decisions.
Effectively, traders bet real money on the future performances of players, putting their football knowledge to the test in the process. Football Index is different to traditional bookies in many ways, having been compared to fantasy football. Here, shares fluctuate, rather than bets simply winning or losing.
Shares can be held for a maximum period of three years, with shares potentially increasing and decreasing in value.
The fact that Football Index is licensed and regulated by the UK Gambling Commission should tell you everything you need to know about its legitimacy. The site also has a fantastic reputation within the industry, having over half a million traders to its name at the time of writing this Football Index review. Around £2 million per month is now paid out in dividends to traders. Meanwhile, the likes of John Motson, Andy Townsend and former Manchester United defender Gary Pallister having endorsed Football Index in the past. Meanwhile, Football Index recently won the Best Alternative Market prize at the ADVFN International Financial Awards 2020. Finally, Trust Pilot, which is always worth checking out, gives Football Index a 4.6 star average, with over 1,250 reviews.  
Football Index operates in a similar manner to a traditional stock market. Traders can buy and sell shares, with prices being determined by supply and demand. Shares are available on a huge number of professional players. The best players are separated into different Football Index player lists, the Top 200 and The Squad. Over 3,000 players were found at the time of writing this Football Index review. 
Available Football Index dividends include Mathday, Media, In-Play and Team of the Month. Each is slightly different, so, let's take a closer look at the four dividends available to traders:
Matchday dividends
Here, Football Index evaluates player performances through a performance scoring algorithm, powered by Opta. Points are allocated based on such evaluations. Those with the most points in their respective position will feature at the top of the Match Day rankings, winning dividends in the process. Matchday dividends are available on the Premier League, UEFA Champions League, UEFA Europa League, La Liga, Bundesliga, Serie A, Ligue 1, World Cup and European Championship.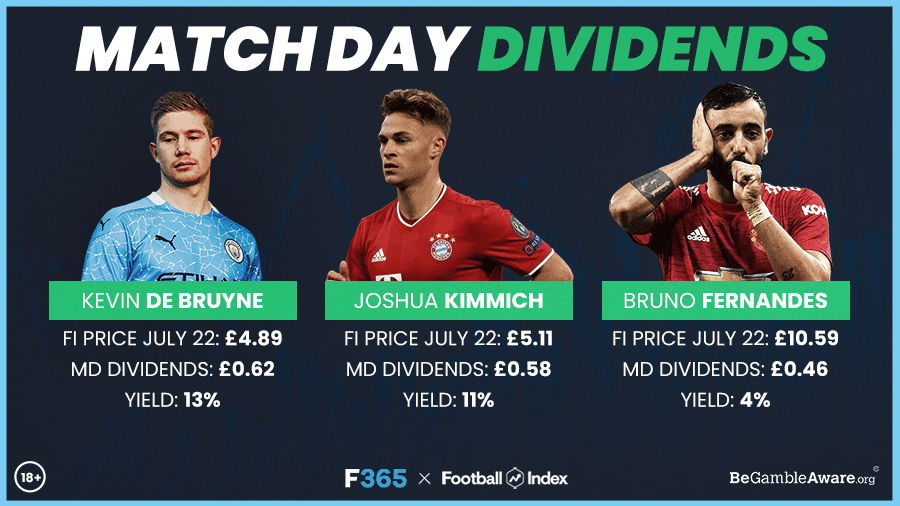 Positions are split into goalkeeper, defender, midfielder and forward, with trades having to be made before 4pm on matchdays. Match day dividends are then paid out between 9am and 11am the following morning. Those players who feature in Champions League and Europa League matches will see their score multiplied by 1.25. Meanwhile, should two players have the same number of points, the youngest player will be given the dividends. 
Media Dividends
Here, Football Index takes news headlines from 20 different media sources. Each time a player is mentioned, points will be scored. The players with the highest number of points will find themselves on the Media Rankings, with the top three winning dividends.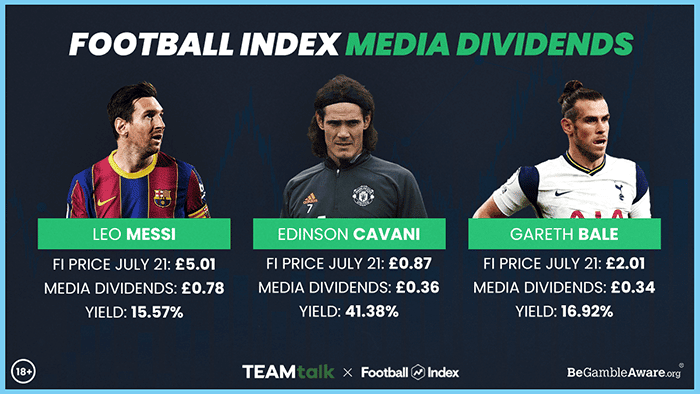 In-play dividends
If a player you have shares in scores a goal, provides an assist or keeps a clean sheet, dividends will be won. Shares are eligible for in-play dividends for the first 30 days, so looking into upcoming fixtures is important here.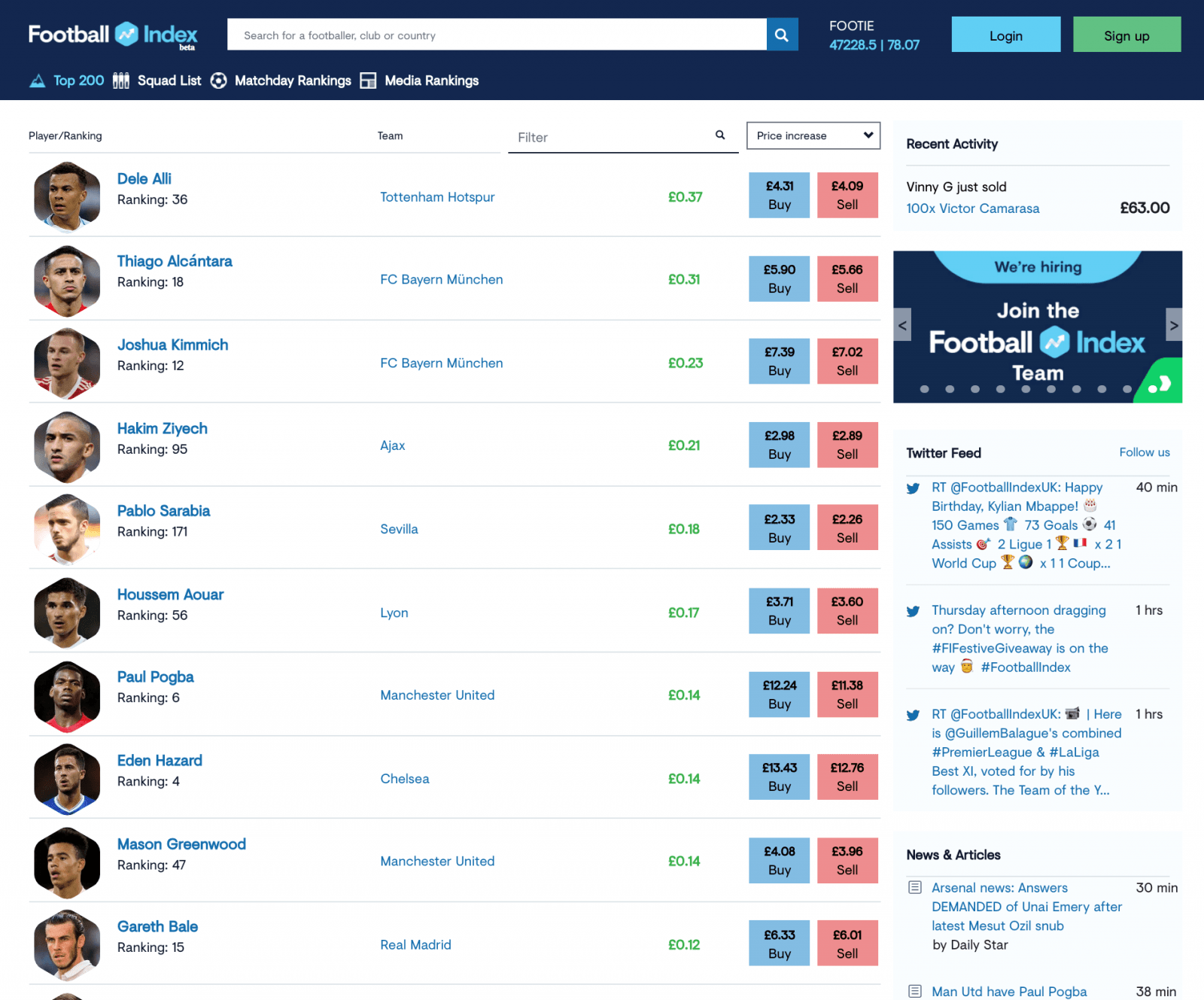 Team of the Month Dividends
Another option sees dividends paid out on the top three forwards, top four midfielders, top three defenders and top goalkeeper at the end of each month. Players are ranked based on their top three match days. For example, should Lionel Messi score 250, 250, 250, 250 and 150, he would finish the month with 750 points. Team of the Month dividends are only available when 5 or more match days have been completed.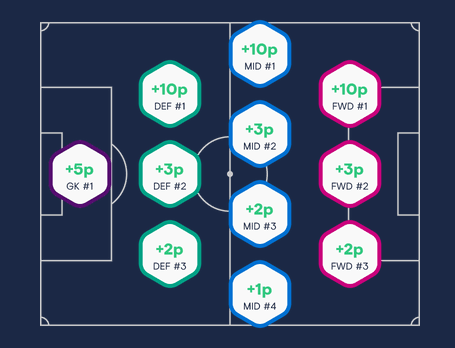 Simply put, there are three different ways to operate at Football Index. Traders can buy and sell shares, while dividends are also available. Traders buying shares are in a position to make significant gains. A classic example of this surrounds forward Idion Ighalo. The Nigerian was priced at just 29p on January 23, 2020, before a loan move to Manchester United saw this rise to £1.48, an increase of 410%. However, with just 3,000 players being available at Football Index, predicting such moves is not easy. The term buy low, sell high is also relevant at Football Index.
Meanwhile, dividend payouts range between 1p and 8p, with what this exactly means depending on the future cost at the time of purchase. Traders who are able to combine a dividend winner with an enhanced price will be in a good position to make money. As we have already discussed in this Football Index review, trade Football Index includes match day, media, in-play and team of the month dividends.      
While there is no guaranteed method to win money at Football Index, it is important to take into account a number of factors. There is certainly real money to be made at Football Index, with most successful traders selecting a diverse portfolio of players. Whatever your budget and goals, aim to have a balance between experienced names and talented youngsters. The thinking behind this is that the former have the potential to win regular dividends, while youngsters' prices can quickly grow. Whatever you do, be sure to make informed decisions, which can be achieved in part by following these Football Index tips:
Form, Injuries & Suspensions
Form – As when placing a traditional bet, look at how footballers have been performing of late. For example, if Paul Pogba has been showing signs that he is returning to the top of his game, it may be worth buying shares in the midfielder. Even top players can suffer periods of poor form, with this having a significant impact on prices and dividends. 
Injuries – There is nothing worse than buying shares in a player, only to find out that they recently suffered an injury that will rule them out of action. Even if it's not the most serious of injuries, this will also have an effect on your potential earnings. 
Suspensions – Another thing to look out for when reading football news concerns any suspensions that may surround players. While this will only likely impact players in the short term, it is still something that must be considered.
Fixtures, Age & Transfers
Fixture List – A player's performance can certainly be effected by his opponents. Should a Premier League club have a run of fixtures against Liverpool, Manchester City and Chelsea in the coming weeks, their chance of earning a high number of points decreases. 
Age – Tipsters will regularly mention the importance of having a good range of players. While selecting experienced players from major leagues may well see you win dividends, purchasing shares in an up and coming talent is also worth considering. Football Index does not offer shares on all players, however if you can time things right, there are some significant winnings to be made. 
Transfer Window – Be sure to keep a close eye on transfer rumours too. While some will be wide of the mark, a completed transfer can have a massive impact upon share prices. Whether it be a player moving from a lower league to the Premier League or top players switching to a rival, transfers are one of the most impactful things at Football Index.
Both a Football Index Android app and iOS version are available to traders. The relevant download links are available via Google Play and the App Store respectively. As a result, the Football Index stock market is available to mobile traders too. App users can build their portfolio of footballers, before buying and selling shares in an attempt to make a profit. The app comes with a similar design and interface to their main desktop platform. Blue and pink icons clearly demonstrate how player prices have changed, with a picture accompanying all available football players. 
Available on iOS and Android

Buy and sell shares on 3,000+ players

Easy to use and quick
Promotions
Both new customers and existing traders are in a position to take advantage of a small number of promotions. Such promotions include the Football Index welcome offer. In order to qualify, sign up and deposit at least £10 so that you can start building your player portfolio. For traders who have not made a profit in their opening 7 days after signing up, Football Index will refund you, up to a maximum of £500. Traders must send a message to support@footballindex.co.uk. An example of this offer comes in the form of the following:
Total deposits in first 7 days: £2,000
Account Balance + Portfolio value (at current Buy price) + Outstanding unmatched Bids: £1,500
Money refunded: £500
Account balance after money refunded: £2,000
Meanwhile, a small number of promotions are available to existing traders at Football Index too. T&Cs apply to all. At the time of writing this Football Index review, the following ongoing promotions were available:
Refer a Friend –

Those opening a new account using a Football Index referral code will give both parties a £10 cash reward. In order to qualify, sign up for a new account with your details and enter your friend's referral code. Buy at least £10 in footballer shares. 

Buy Order Rebate –

Existing traders are also in a position to claim a rebate of up to £250 a week at Football Index. Based on the amount spent on Buy Nows and Matched Bids, a 2% rebate on Buy Nows and a 1% rebate on Matched Bids is available every Monday.
Customer Service 
Support is available to traders at Football Index between the hours of 7:30am to 9pm, Monday to Friday, as well as from 7:30am to 8pm on Saturday and Sunday. Contact can be made via telephone and email, while Football Index is also active on social media platforms Twitter and Facebook. Response times are good across the board, with traders generally receiving a response to questions within a matter of hours. Our Football Index review found that the platform is also associated with BeGambleAware.
Bottom Line 
Our Football Index review has demonstrated just why this platform is growing rapidly in popularity. With an ever increasing number of players to potentially trade, along with a generous welcome offer, ongoing promotions and efficient customer support team, Football Index is well worth checking out for yourself. If you are looking for something a little different to the traditional form of sports betting, Football Index could well be for you. 
FAQs
What is Football Index?
Football Index is a trading platform centering around professional football players. Acting in the same way as a traditional stock market, traders can buy and sell shares, as well as earn dividend payouts. Footballers from top European leagues and competitions are available.
How can I start trading at Football Index?
In order to start trading at Football Index, the first thing to do is sign up and deposit funds. Those depositing £10+ will be in a position to take advantage of the Football Index welcome offer, which offers a refund of up to £500.
Can I lose money at Football Index?
Yes. As with any form of betting, there is a possibility that you will lose money at Football Index. Those who make mistimed trades could well lose out. For example, you buy a player who immediately gets injured or suffers a poor run of form. Trades stay active for three years, meaning that there is plenty of time to make amends however.
What is a Future at Football Index?
A Future is simply the name given to a share. So, if you buy 1 Future in Kevin De Bruyne, you own 1 share in the Manchester City man. Each Future is available to win match day, media, in-play and Team of the Month dividends.
What is the Top 200 at Football Index?
The top 200 is simply the top 200 ranked players at Football Index. This means that they have the highest share price.
What are Squad Players at Football Index?
The Squad is the name given to all other players at Football Index. Despite not being in the top 200, shares can still be purchased in such players, whether it be lower value goalkeepers or the next big thing.
How do I redeem dividends at Football Index?
Dividend payouts are processed automatically. This means that there is no need for traders at Football Index to contact them or complete a form. Match day dividends will be paid out the morning after.
How can I deposit and withdraw funds at Football Index?
Payments at Football Index are only available through Visa and Mastercard credit/debit cards. Deposits are instant, while withdrawals will take up to 10 working days to complete. Traders may have to upload a valid form of identification before withdrawals can be processed for the first time.
Was this article helpful?