Betfair reigns supreme when it comes to UK betting exchanges, but there are plenty of pretenders to their throne looking to tempt punters away. One of the new kids on the block is Smarkets, but how do they stack up against Betfair when it comes to the features that matter most to punters? Find out who wins the Smarkets vs Betfair battle as we take a deep dive into both exchanges, scoring each one out of 10 in nine categories before crowning the undisputed champ!
All
£20 Free Bet
£5 Deposit
Derby betting
Enhanced Odds
Live Streaming
patent bet
Paypal
Placepot bet
Trixie
More Filters
Free £20 exchange bet
Top UK sportsbook
Extensive markets
World's Biggest Betting Exchange
9.4
Use bonus code
Copy
Visit Site
Weekly opt in. Place £20 worth of bets on the betting exchange, at odds of 1/2 between Monday and Sunday. £5 free bet rewarded upon qualifying bets being settled, before being valid for 72 hours. Applies to bets placed on desktop and mobile devices
0% Commission For 60 Days
0% Commission For 60 Days
Lay betting selections
Good liquidity
Best rated exchange betting app
9.6
Use bonus code
Copy
Visit Site
Use code COMMFREE to trade with 0% for 60 days. New UK, IE & Malta users only. Min. £10/€10 first deposit only using Card or Instant Banking. Full T&Cs apply.
Smarkets vs Betfair: The Criteria
With any review or comparison of sports betting sites, we want to make sure we reach the most accurate verdict, so we have selected nine key criteria to judge both betting exchanges on. Below is an overview of all the categories and you can also see how we've rated both the Betfair Exchange and Smarkets on a scale of one to ten.
| | | |
| --- | --- | --- |
| Bookmaker | Smarkets | Betfair |
| Available markets | 9 | 8 |
| Odds value | 8 | 9 |
| Liquidity and exchange commission  | 9 | 8 |
| Betting exchange app | 8 | 9 |
| Betting exchange features | 9 | 8 |
| Welcome offers and promotions | 8 | 9 |
| Payment methods | 8 | 9 |
| Live betting | 8 | 9 |
| Customer Support | 9 | 8 |
Round 1: Betfair Exchange vs Smarkets – Available Markets
With 21 sports on offer, your average punter will have no problem finding exactly what they want to bet on at Smarkets, but Betfair has the more diverse sporting list with 25 different categories, including more niche sports such as Cycling, Gaelic Games, Volleyball and Winter Sports.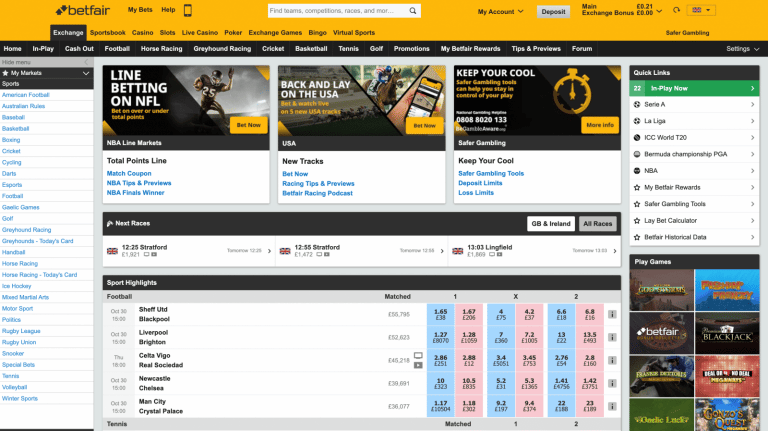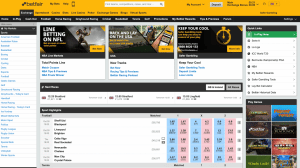 However, if you are a fan of non-sporting bets then Smarkets blows Betfair out of the water.
Both firms offer wagers on the usual suspects such as Sports Personality of the Year, Strictly Come Dancing and Dancing On Ice, but Smarkets has over 25 more markets including fan favourites such as the next James Bond and Doctor Who, as well as sporting markets such as the 2030 football World Cup hosts.
And if you're into politics then you're in for a treat as Smarkets host a staggering number of worldwide political markets totalling over 90, far more than Betfair.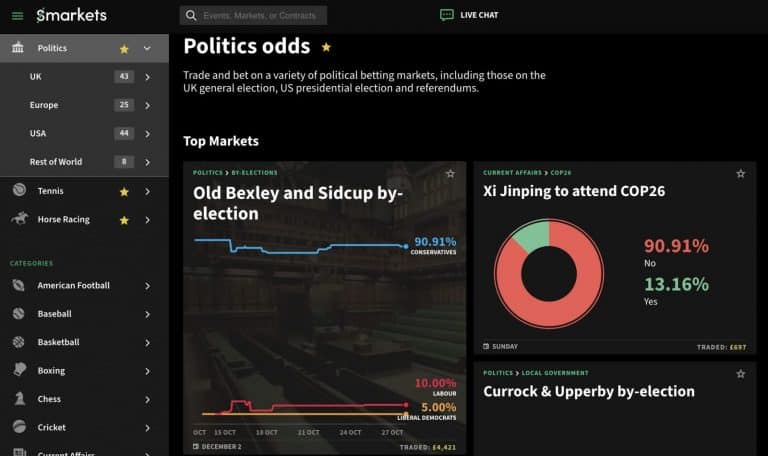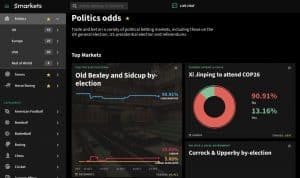 When it comes to available markets within a particular sport, both firms offer a huge range when it comes to football, but we didn't just want to judge the Smarkets vs Betfair battle on that, so we looked into some others such as golf, American Football and Tennis, finding that in each of those sports Smarkets offered at least five markets that their competitor did not.
So we have come to the conclusion that while the Betfair Exchange has a huge sporting selection to wager on, the amazing range of non-sporting markets available on Smarkets means they get the nod in our first category, to take a shock lead in our Betfair vs Smarkets betting exchange smackdown.
Winner: Smarkets
Round 2: Betfair Exchange vs Smarkets – Odds Value
The Betfair Exchange and Smarkets both offer the same advantages when it comes to odds because you can set your own prices, often resulting in more competitive prices than your average Sportsbook.
This means the only way to separate the two exchanges in the Smarkets vs Betfair competition is by comparing any offers that may nudge the odds up even further, and it's here that the Betfair Exchange shades it, with proven better odds on in-play racing at a number of tracks in the UK, with no such similar offer at Smarkets.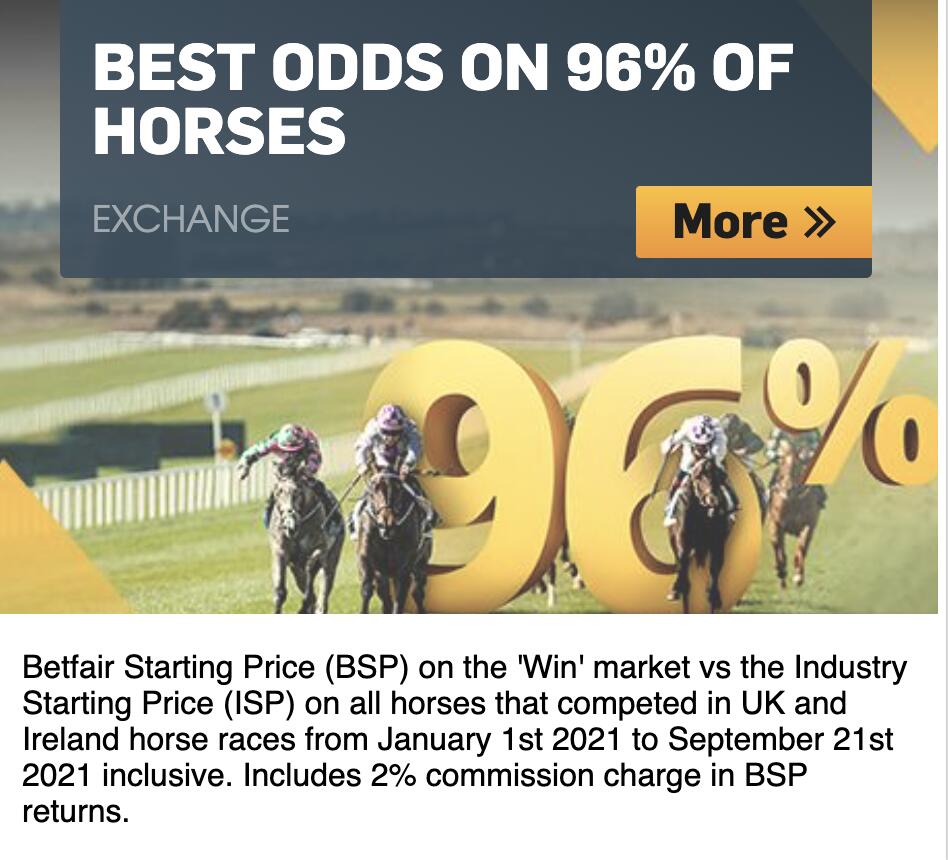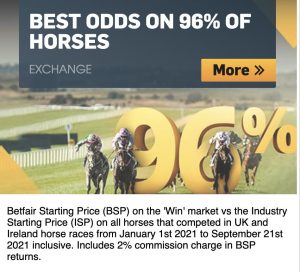 In addition, as part of the Betfair Rewards Club punters have the chance to receive extra odds boosts every month that aren't available at their rival exchange.
Winner: Betfair Exchange
Round 3: Betfair Exchange vs Smarkets – Liquidity & Commission
Liquidity is the pool of maximum money that a bettor can put down on a given betting exchange market, and can always be seen below the price on any back or lay market.
Because it's linked to the number of bets being placed then Betfair can offer superior liquidity because more people are betting and trading in higher quantities of money, and some of the markets we looked at on Betfair had 10 times the liquidity of the equivalent market on Smarkets.
So in this area, it's Betfair that comfortable wins the Smarkets vs Betfair battle.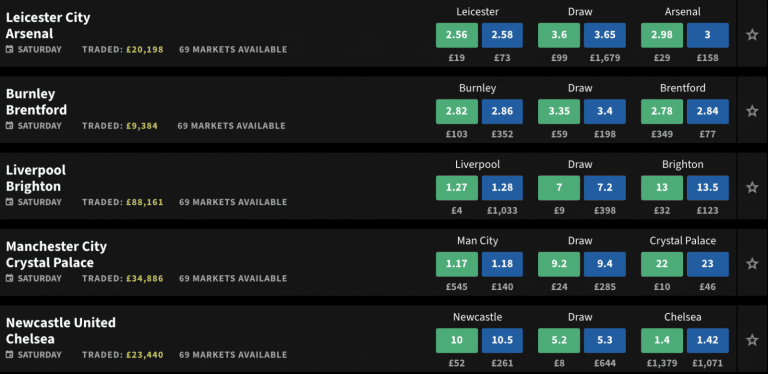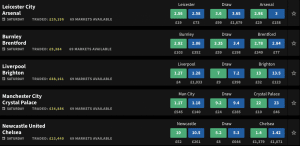 When it comes to commission, betting exchanges will always charge you a percentage of your net winnings on a particular market, but don't worry you won't get charged anything for your losing bets. Commission percentages vary from site to site so can play a crucial part in determining which exchange wins your business.
2% commission is the lowest basic rate you will find on any site, not including special offers or existing customer deals, and both Smarkets and Betfair offer this rate to their customers. And with a 2% commission, if your net profit is £100 you will pay £2 of it to the site.
From here things get slightly more complicated as both sites offer different commission rates under different circumstances. For example, Smarkets have a 1% Pro Tier for anyone who places more than 1500 bets, or stakes more than £1m in a calendar month. Then there's the 3% Select Tier for a very small number of Smarkets users who have exceeded £25,000 in net profit over the previous 12 calendar months.


However, only 0.2% of their current customer base meets either of those criteria so it's safe to say that the vast majority of Smarkets punters will be paying a 2% commission.
Over at Betfair they tempt bettors into accepting larger commission rates by offering incentives via the Betfair Rewards Club. You can see the full details below but to summarise, there are two further commission tiers of 5% and 8%, each offering bonuses like odds boosts, free accas and even a 10% refund on losses each month if you are willing to accept 8% commission on your net winnings.
Furthermore, accepting the 2% commission bracket means you won't be eligible for any promos or best odds guaranteed offers.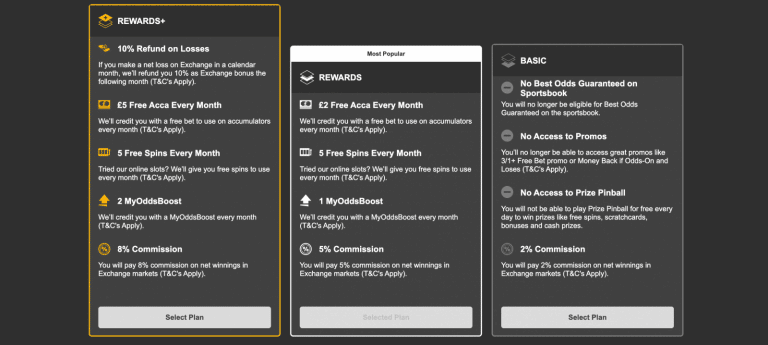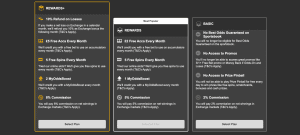 In our opinion, the offers are just not worth paying over double, or even quadruple the usual commission rate for, as free bets and free spins give you no guarantee of winning, and often you will fail to win back the extra 3% or 5% that you are paying for the privilege.
We also don't like the fact that Betfair penalises those that take 2% commission by excluding them from certain offers. And while a 10% refund on your losses is nice to receive we're worried that setting out with a mindset that losing is not as bad is not the way to go when it comes to healthy gambling.
So looking at liquidity Betfair are the best but when it comes to the Smarkets vs Betfair commission battle, we're giving the edge to Smarkets and their no-frills 2% rate. And given that your average punter should still be able to find more than enough liquidity for their betting needs at Smarket, overall it's another win for the underdogs!
Winner: Smarkets
Round 4: Betfair Exchange vs Smarkets – Betting Exchange App
With more and more punters looking for the convenience of having a wager without needing a computer, having a good app is probably one of the most important things any betting company can do. And we're happy to report that when it comes to Smarkets vs Betfair, both apps really do cut the mustard.
Both are available for iOS and Android devices and can be downloaded directly from the App Store or Google Play.
Smarkets is certainly the better-looking app, with a simple black background and white and grey writing complemented by a minimalist style where not too much is happening on-screen at any one time. The home page has a carousel on top with details of selected markets and offers, with the top events of the day underneath and a browse button below that to find a specific sport or market.
When you click on browse, a list of sports appears and then you can just tap on the one you want, followed by the specific league or match and then the market you want to wager on. And a nice touch is that you can easily access your recently viewed events at the top of the browse screen.
Betfair's app has a more functional rather than fancy look with a white background, flashes of their trademark yellow and much more happening on screen. Most of the home page is taken up by a "Quick Links" box to make it easier to find the most popular sports of the day, but you can also click on the menu button at the bottom of the screen to find your chosen sport.
You can also click through to the in play section directly from the home page, which is not an option on Smarkets, but both apps have a "my bets" button on their home screen that you can just tap to see your live wagers, along with the ability to see your balance at a glance at the top of the screen.
One advantage of Betfair's layout is that it generally took us one less click to get to the market we wanted than on the Smarkets app, but once we got to the match we wanted to bet on, finding a market was easy on both apps.
So our final verdict on the Smarkets vs Betfair app contest is that while Smarkets looks better, Betfair's mobile offering is quicker and easier to navigate, so they get the win here!
Winner: Betfair Exchange
Round 5: Betfair Exchange vs Smarkets – Betting Exchange Features
In this category, we're looking at features that are commonplace on Sportsbooks but not always prevalent on the exchanges.
The first is placing multiple bets, with the humble acca being a staple of many punters' betting strategies. At Smarkets you can create multiple bets on back selections only, just as you would on a regular Sportsbook, but that feature is not available on the Betfair Exchange.
So it's first blood to Smarkets in this particular Smarkets vs Betfair skirmish.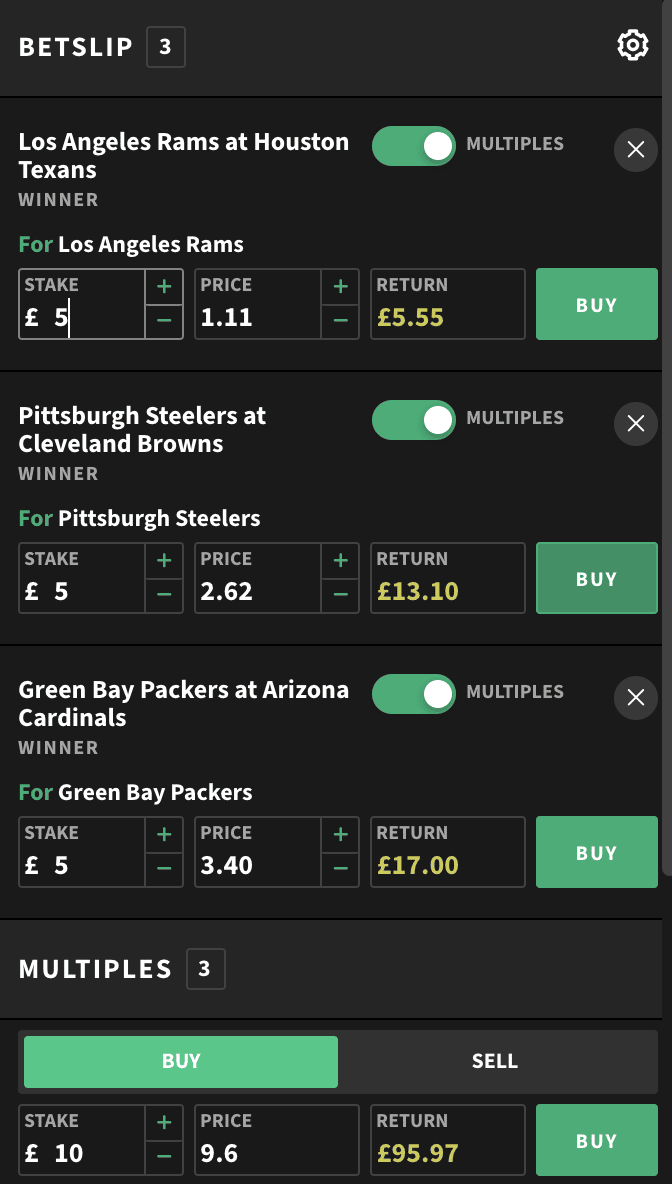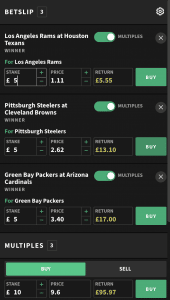 Bet Builder is another Sportsbook feature that allows you to combine different selections within the same sporting event, such as the winner of a football match combined with the number of goals and bookings, but that feature is not available on either exchange.
However, what is available is the option to cash out and lock in a profit or loss while an event is still going on. It's a more complicated process than a Sportsbook because the market is constantly changing so we would recommend checking out the cash out Ts & Cs on each site, but you can rest assured the option is certainly there on both exchanges.
Winner: Smarkets
Round 6: Betfair Exchange vs Smarkets – Welcome Offers and Promotions
Welcome offers for new customers are a key weapon in the bookies' arsenals when it comes to acquiring brand new bettors. Like all good exchanges looking to tempt punters away from Betfair and the other big fish of the betting market, Smarkets have a new customer promotion where you can trade without a commission for 60 days.
To qualify you just need to deposit at least £10 will be able to enjoy trading with a commission rate of 0% on all bets that settle within 60 days from the first deposit.  This will be applied to all bets that settle while the promotional commission rate is active on their account. Any bets which settle after the expiry of the eligibility period will settle at standard commission rates.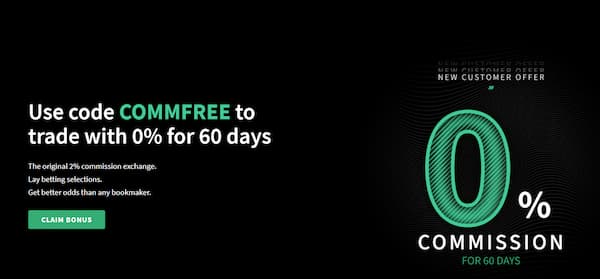 Over at Betfair they're offering new exchange customers a risk-free bet of up to £2o, refunded as cash if it loses. The initial deposit needs to be made by debit card or Apple Pay and the first qualifying bet needs to be placed and settled within the first seven days of the account opening.
We always like risk-free bets as an opening offer because you can try to win big with your opening wager, safe in the knowledge that you will be refunded if it's a loser, and Betfair holds the advantage here because it's double the refund, meaning you can potentially win bigger with your risk-free bet.
Winner: Betfair Exchange
Round 7: Betfair Exchange vs Smarkets – Payment Methods
Bettors should find more than enough choice within the six payment methods open to them at Smarkets, but the addition of PaySafe card and being able to fund your account in person at Paddy Power branches means that it's a definitive win for Betfair when it comes to deposit options.
| | | |
| --- | --- | --- |
| Banking Method | Smarkets | Betfair |
| Debit Card | | |
| PayPal | | |
| Apple Pay | | |
| Trustly | | |
| Paysafecard | | |
| WebMoney | | |
| Neteller | | |
| Skrill | | |
| Cash (In-Person) | | |
Winner: Betfair Exchange
Round 8: Betfair Exchange vs Smarkets – Live Betting
In play betting is enormously popular because it allows you to react to live events and situational variables such as goals, bookings, points, injuries, how well a horse is moving through the field and even the weather to find extra value in the market, adding an extra dimension to your betting and potentially increasing your chances of making a profit.
And when it comes to betting exchanges in particular, in play betting can give you the opportunity to guarantee yourself a profit by laying an outcome you have previously bet on but which has reduced in price significantly since then, or even reducing your risk on a particular market by laying some of it back, much like a stock trader would on the stock exchange.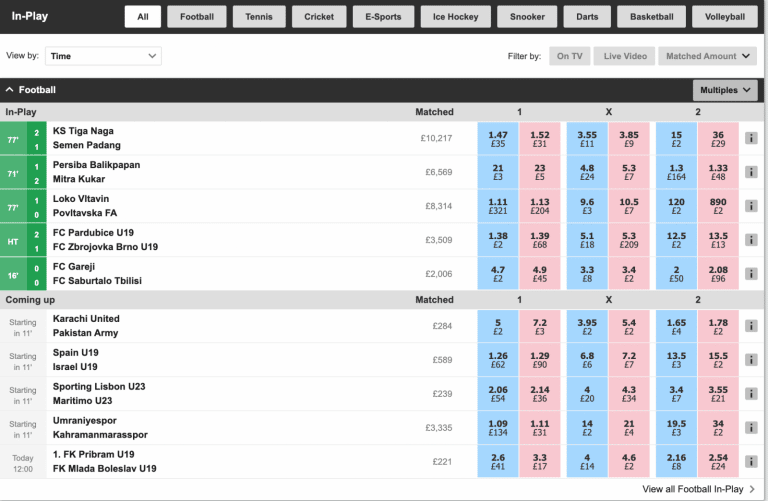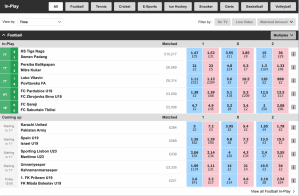 Betting exchanges not only need to make sure they are offering a good number of live betting opportunities on a wide variety of sports, but that all the information a punter may need is easy and quick to find.
So how do Smarkets and Betfair compare when it comes to live betting?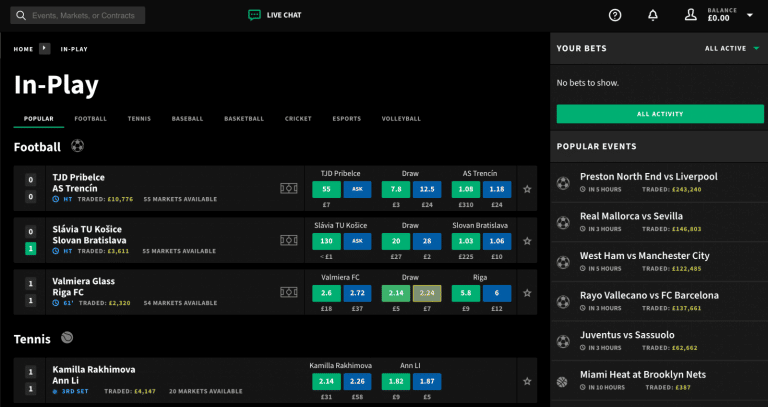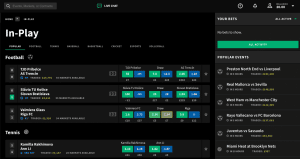 Both sites offer easy navigation to their in play section via a link at the top of the web site and when you get there you can easily navigate to the market you are interested in either by using the search feature at the top of the page, clicking on the match if it's featured on the main page or clicking on the sport and navigating from there.
Once you reach your desired sporting event the similarities end because the Smarkets site is far superior, offering all the available markets, every statistic you will need and a handy graph showing the betting history of that match, all presented in a visually appealing way in keeping with the rest of the site.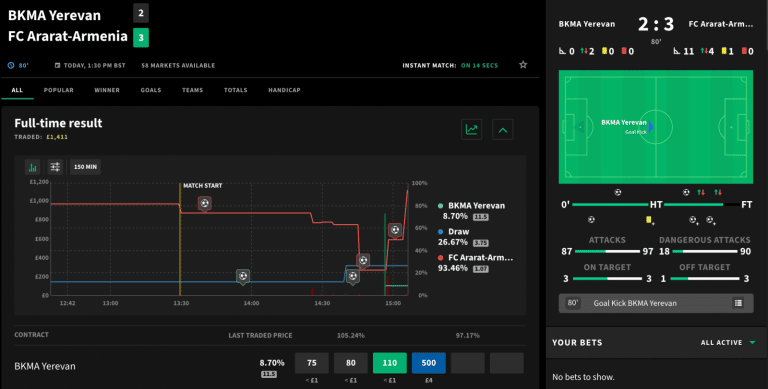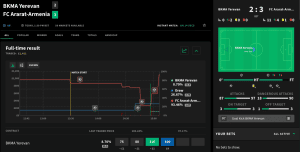 Betfair offers the same stats but you need a few clicks to get there, there is no betting history available and everything just looks a bit tired when compared to Smarkets visual brilliance.
However, Betfair is able to offer live streaming on certain events which Smarkets do not, their range of sports and markets is higher and their superior liquidity is also on show with far higher amounts matched on pretty much every market in every sport we looked at.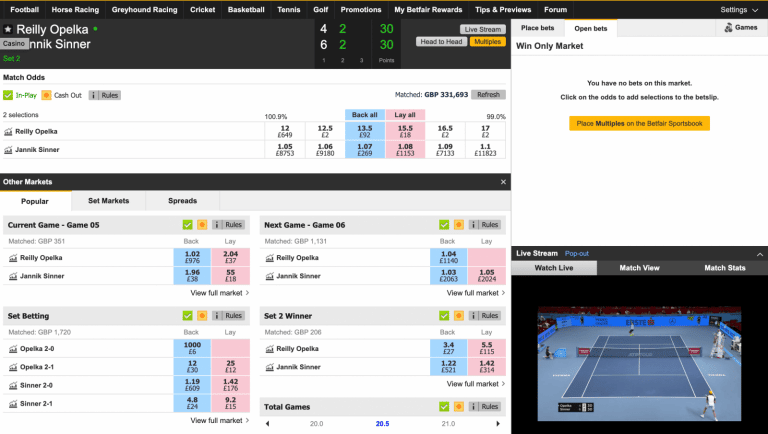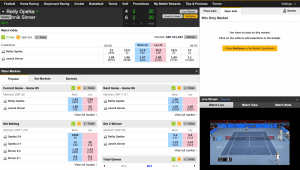 We're giving the edge to Smarkets though because the advantages that the Betfair Exchange offers will only really be noticed by a small portion of bettors, while the superior layout of the Smarkets in play site and the extra information offered will be enjoyed by all punters.
Winner: Smarkets
Round 9: Betfair Exchange vs Smarkets – Customer Support
When it comes to customer support there are two broad categories, the first of which is technical support to deal with general betting, site and finance queries, with the second being support for specific betting-related questions encompassing everything from how an exchange actually works, to providing tips and expert opinions on betting tactics.
When it comes to technical support, both sites have an enormous amount of information easily accessible on-site to answer any questions you may have, but if you can't find what you are looking for then there's always the 24-hour live chat, initially manned by a chatbot providing automatic answers to common questions that we found to be very effective on both sites.
However, if the chatbot can't answer your question then both Smarkets and Betfair will put you through to an actual person to deal with your query, and when we tried this on both sites we found their answers to be both quick and accurate.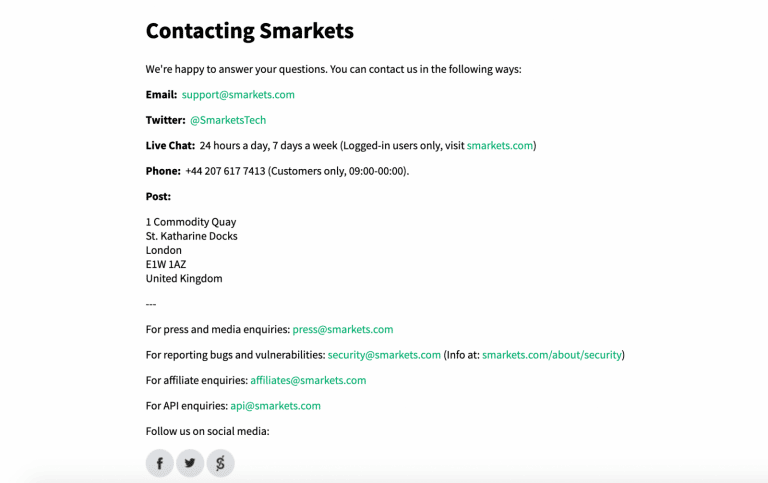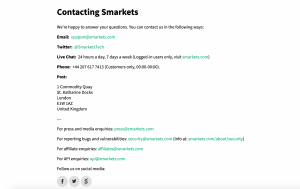 If you would prefer to speak to an actual person then Smarkets have a customer service telephone number and email, while Betfair does not offer a way to speak to someone by phone on their web site, and when we searched "Betfair customer service" online the number that came up did not work.
So it's another win for Smarkets in our final category!
Winner: Smarkets
Overall Winner
It was a really close Smarkets vs Betfair battle, but ultimately the Betfair Exchange came out on top by the narrowest of margins,  with a score of 77 out of 90 compared to Smarkets' 76. And while the result may not have been a surprise given the fact that Betfair is the most popular exchange in the UK, the fact that Smarkets ran them so close is a testament to the quality of the betting experience on their site, and we wouldn't hesitate in recommending them to punters.
Out of nine categories, Betfair came out on top in five, but the four categories that Smarkets triumphed in were related to markets, commission, betting exchange features and customer service, which are all massively important to punters. For a new kid on the block, we were mightily impressed but ultimately Betfair held on to their crown in this titanic Smarkets vs Betfair struggle, until the next challenger comes along!
Bet £10 Get £30 in Free Football Bet Builders
Bet £10 Get £30 in Free Football Bet Builders
Top UK sportsbook
Extensive markets
World's Biggest Betting Exchange
9.4
Use bonus code
Copy
Visit Site
New Customer offer. Place a min £10 bet on the Sportsbook on odds of min 1/2 (1.5), get £30 in Free Bets. Rewards valid for 30 days. SMS verification required. Only deposits via cards will qualify. T&Cs apply. Please Gamble Responsibly
Smarkets vs Betfair FAQs
Betfair Exchange vs Smarkets – Which bookie is better?
Which bookie has been operating longer?
Do both the Betfair Exchange and Smarkets offer a betting app?
What are the new customer offers available with the bookies?
How long do withdrawals take at Betfair and Smarkets?
Is live streaming available at Betfair and Smarkets?
Was this article helpful?