Steam is an important platform in the PC gaming industry, accounting for over half of all gaming downloads globally. Hence, popularity on Steam can only be positive news for upcoming games. According to the numbers presented by SafeBettingSites.com, Party Animals is the most popular forthcoming game on Steam, with 430,870 likes.
Hollow Knight: Silksong is in the second spot with 245k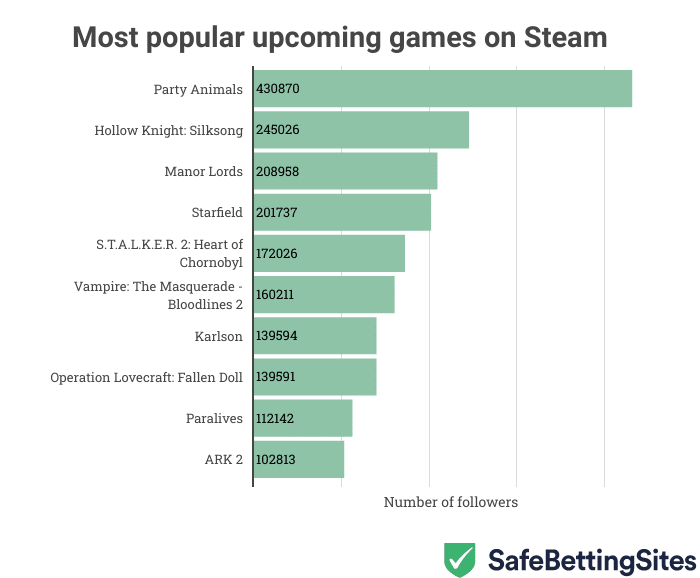 Party Animals is currently the most popular upcoming game on Steam. As per the SteamDB data, the multiplayer physics-based brawler/party game has already garnered 430,870 followers on Steam. Party Animals is being developed by Recreate Games and published by Source Technology. The game's demo was released in 2020 and received positive feedback. However, the game's full release has been plagued with delays, and currently, it is expected to release in 2023.
Hollow Knight: Silksong is a sequel to the hit 2017 game from Team Cherry. Silksong has collected 245,026 likes on Steam, and there is high anticipation for the game in the gaming community. The game has even won the award of 'Most anticipated game' from Unity.
Manor Lords is the third-most anticipated game on Steam, with 208,958 likes. It is a medieval strategy game developed by Slavic Magic and published by Hooded Horse. Manor Lords has been in development for some time, and its demo was released for a limited time in 2022.
Starfield occupied the fourth spot with 201,737 likes. It's a highly anticipated AAA game from Bethesda, with a current release date of 6 September 2023. Starfield is a space-action RPG, and given the history of success of its developer with extremely successful RPG series such as the Elder Scrolls and Fallout, there is considerable excitement about it in the gaming community.
S.T.A.L.K.E.R. 2: Heart of Chornobyl is a forthcoming first-person shooter survival horror game from Ukrainian developers GSC Game World. The game has collected 172026 likes on Steam. It will be the fourth release in the S.T.A.L.K.E.R series and the first since 2009. Vampire: The Masquerade – Bloodlines 2 is an action RPG published by Paradox Interactive. It has 160211 likes on Steam, but it doesn't have a release date yet. 
The next stops are occupied by indie games such as Karlson, Operation Lovecraft: Fallen Doll and Paralives. Karlson is an indie game with elements of shooters and platformers, while Paralives is a life simulator.
In the tenth spot, ARK 2 is the highly anticipated sequel to the 2015 action-adventure survival game, and it has already collected 102,813 likes on Steam. Studio Wildcard and Grove Street Games are developing the sequel, which is expected to release in 2024.
Vyom Chaudhary, an editor at SafeBettingSites.com, said: "The amount of likes on individual games on Steam are generally a good indicator to judge the anticipation about upcoming games. However, it is not necessary that this excitement will turn into success for a lot of these games."
Was this article helpful?