Agents (or intermediaries) have become an integral part of modern football as they dictate most of the transfer business in the sport. According to the numbers presented by SafeBettingSites.com, Premier League clubs spent a massive £318.2 million on agent fees in 2022-23.
PL expenditure on agent fees up by 16.7% in 2022-23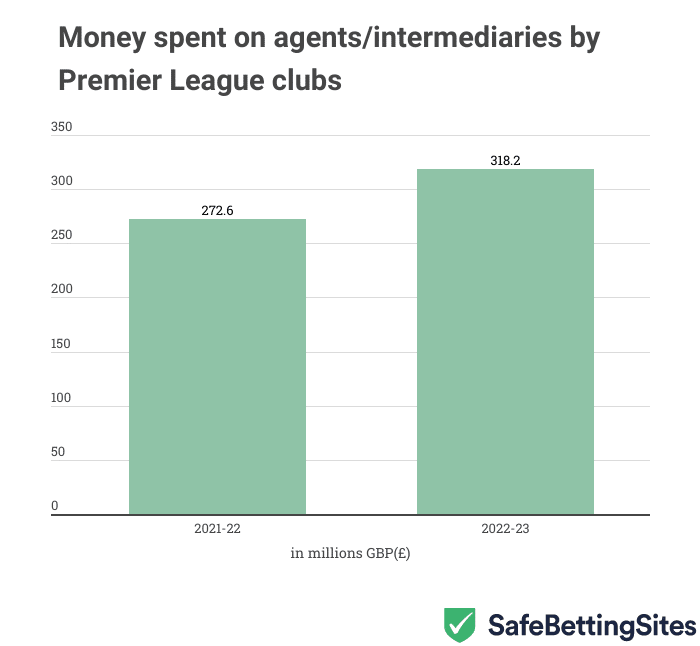 Premier League clubs spent a record-breaking £2.8 billion on transfers in 2022-23. Chelsea significantly flexed its muscles under the new ownership as the West London club ended up spending north of £500m alone across both transfer windows.
According to the latest transfer data released by the FA, Premier League clubs shelled out a total of £318.2 on agents/intermediaries fees during 2022-23. As compared to the previous season, PL expenditure on agent fees witnessed a jump of 16.7%. During 2021-22, Premier League clubs spent £272.6m on agent fees.
However, the increase in agent fees from the previous year was less significant than the increase in the overall transfer spend. PL clubs spent £1.44 billion on transfers in 2021-22. In 2022-23, the transfer outlay almost doubled to £2.8 billion.
Manchester City spent the most money on agents with a £51.6m outlay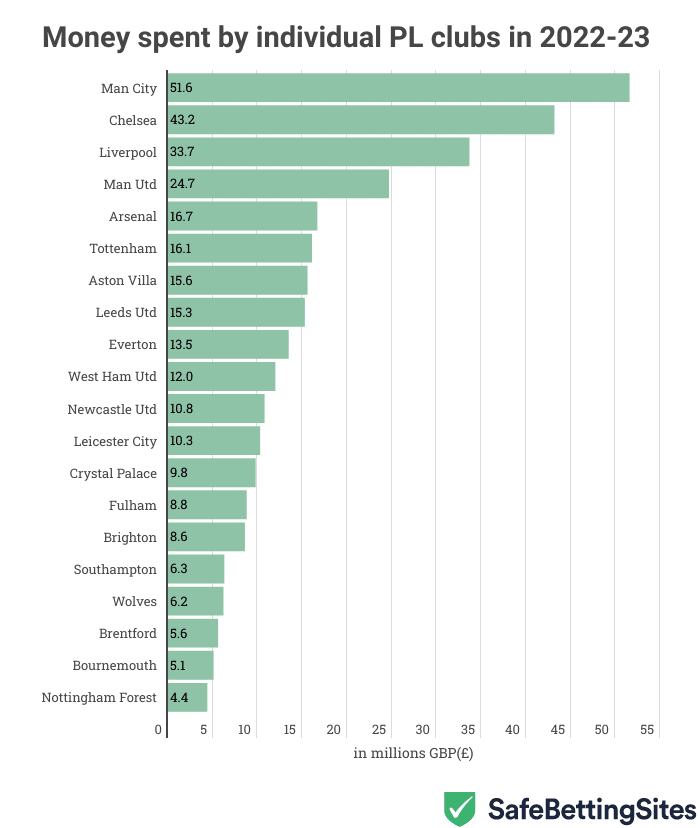 Manchester City spent the most money on agents in 2022-23 among Premier League sides. The English champions spent a total of £51.6m on agents/intermediaries fees. Chelsea was a close second with a £43.2m expenditure on agents. Interestingly, Chelsea outspent City by a lot in the transfer market in 22-23, but City's spending on agent fees was more lavish.
Following City and Chelsea are usual suspects in Liverpool, Manchester United, Arsenal, and Tottenham. Thus, the big six in the Premier League were also the six most significant spenders on agents/intermediaries fees in 2022.
The likes of Brentford, Bournemouth and Nottingham Forest find themselves at the bottom of the table with the least money spent on agents. Brentford, who are likely to finish in the top half this season, just £5.6m on agents. Bournemouth and Nottingham Forest, who were both promoted from the Championship in the summer, spent £5.1m and £4.4m, respectively, on agents.
Vyom Chaudhary, football expert at Safebettingsites.com, said: "It's interesting to note that City tops the list of agents fees despite doing very limited transfer business during 2022-23. It's very likely, as multiple reports have suggested, that City had to spend a huge sum of money on agents to acquire Erling Haaland from Borussia Dortmund."
Was this article helpful?