Apex Legends is one of the most popular free-to-play battle royale games in existence currently. Following its launch in 2019, Apex Legends has continued to attract gamers as many other battle royale games fade in popularity. According to the numbers presented by SafeBettingSites.com, Apex Legends drew a record 624,500 players on Steam in February. This was the highest number of gamers that the game has ever witnessed on Steam.
Apex Legends registers best numbers four years after release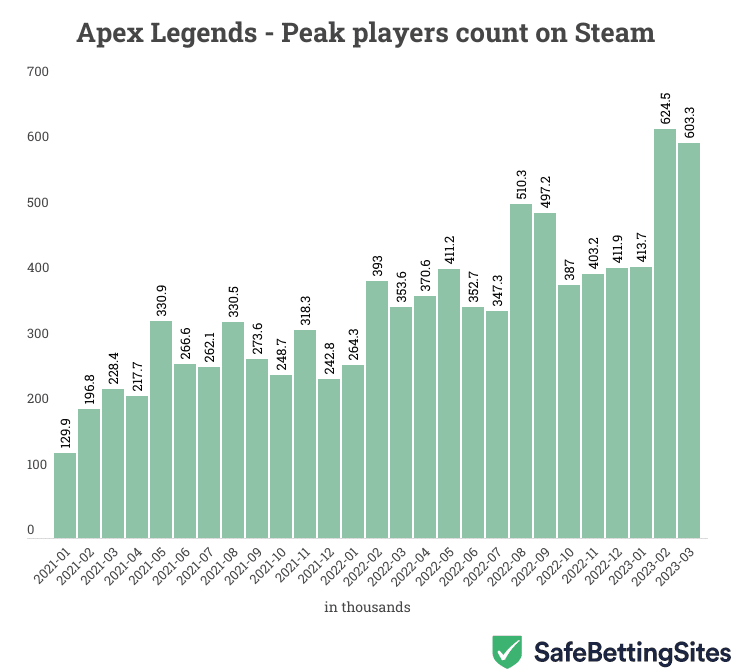 Apex Legends was one of the many battle royale games to be released in recent years. However, unlike most other such games, Apex Legends hasn't faded to obscurity. In fact, as per the data on Steamcharts.com, Apex Legends is currently at the peak of its popularity and has registered its best numbers in the past two months. 
The count of Apex Legends players reached the peak of 624.5k players on Steam in February. The sudden jump in monthly numbers, a 51% increase from January, can be attributed to the 4th Anniversary, which ran in the second half of January. The Anniversary event is an annual collection event in Apex Legends. Such special events and season launches always lead to a bounce in the number of players. However, the recent bounce was rather impressive from the game.
Before February, Apex Legends registered its best numbers on Steam in August 2022. During the month, which saw the launch of Season 14, the game witnessed its player count touch 510k. However, that record was eclipsed in February as the number of peak players increased by 23%. 
Even more impressive is that the game saw only a minimal drop in its numbers in March, which is currently the second-best month for the game on Steam. The peak number of players in March was 603k, a drop of a mere 3.4%.
Apex Legends is designed by Respawn Entertainment and published by gaming giants EA. The game is considered a spiritual successor to the popular Titanfall series, which Respawn also developed. The game has also led to a global competitive esports tournament series called Apex Legends Global Series (ALGS), which currently boasts a $5 million prize pool.
Was this article helpful?