Roblox is an online platform that allows players to create and play original games. Since its initial launch on Windows in 2006, Roblox has also been launched on iOS, Xbox and Android. Roblox has become hugely popular in the gaming community due to its vast collection of user-created games. According to the numbers presented by SafeBettingSites.com, Adopt Me! is currently the most popular game on Roblox, with 32.7 billion visits from gamers. 
Bookhaven in the second spot with 29.22b visits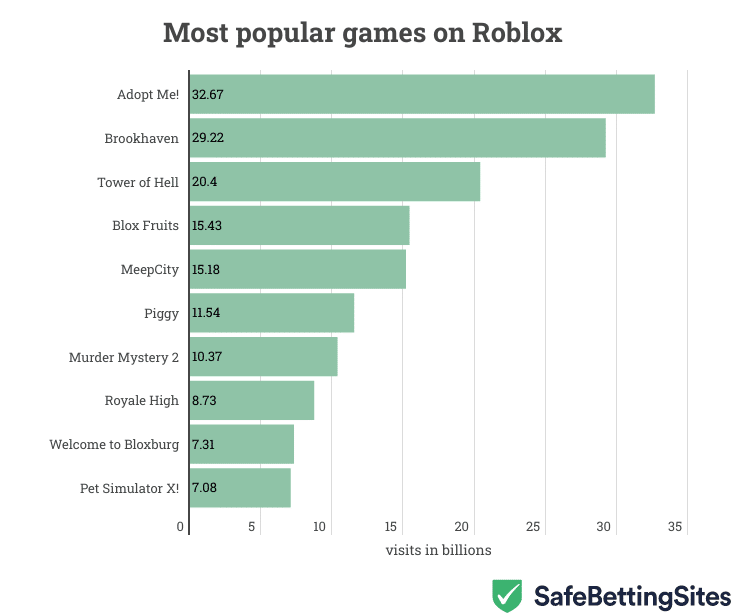 Roblox has existed for quite some time, but its popularity drastically surged during COVID just like online betting. This surge in the last few years has also resulted in surging profits for Roblox Corporation.
Adopt Me! is currently the most popular game on Roblox. Uplift Games developed the online multiplayer role-playing game, released in 2017. According to data website Statista, the game has accumulated 32.67 billion visits as of April 2023. As per the estimates, the studio earns more than $50m in microtransactions yearly from the game.
Another role-playing game Bookhaven is the second most popular experience on Roblox. Bookhaven has collected 29.22 billion visits since its launch in 2020.
Tower of Hell is currently Roblox's third most popular game, with 20.4 billion visits. It is a round-based obstacle course game, and it was released in 2018.
Blox Fruits is next on the list, with 15.43 billion visits. The game, released in January 2019, is heavily influenced by the popular manga One Piece. MeepCity completed the top five with 15.18 billion visits. MeepCity is a social hangout/role-play game which was launched in 2016.
Piggy (11.54 billion visits) and Murder Mystery 2 (10.37 billion visits) are the final two games on the list to have accumulated more than 10 billion. Hence, seven Roblox games have collected more than 10 billion visits so far.
The top ten is completed by Royale High (8.73 billion), Welcome to Bloxburg (7.31 billion), and Pet Simulator X! (7.08 billion).
Roblox Corporation has witnessed its revenue increase multifold on the back of its platform's increased popularity during COVID. According to the official data, the US-based developer made $2.23 billion in revenues in 2022. In comparison, the company made just $325m in revenue in 2018. This increase meant that the company's annual revenue increased by almost 600% in the space of four years.
Was this article helpful?