Digital video advertising has become essential for brands in the past decade. Furthermore, the emergence of social media has enabled marketers to easily reach out to potential customers using video ads. According to the numbers presented by SafeBettingSites.com, YouTube is currently the most popular medium for video advertising among marketers. A recent survey of marketers revealed that 90% of them used YouTube for video ads in 2022.
90% of marketers use YouTube for Video Ads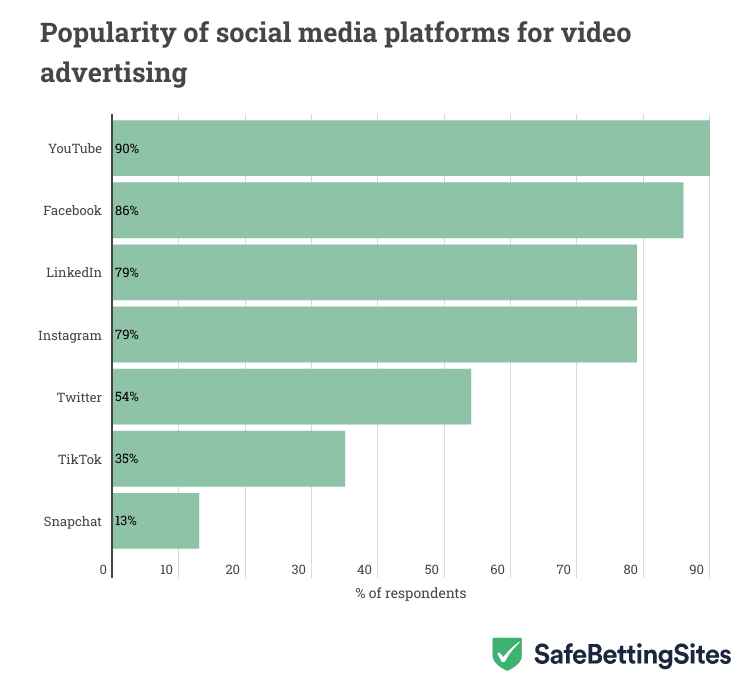 YouTube is the most popular video platform in the world, used by everyone from tipsters to clothing companies. Hence, it's not a surprise YouTube is the most popular platform for video ads. Video production company Wyzowl recently conducted a survey among marketing professionals to determine the popularity of various platforms. As per the results available on Statista.com, 90% of marketers/companies admit that they trust YouTube for their needs.
Meta's Facebook was the second most popular social media platform for video advertising. Facebook was used by 86% of professionals who took the survey.
Professional networking platform LinkedIn was the next choice of marketing professionals with a 79% use rate. Instagram, another platform from the Meta family, matched LinkedIn's popularity with a similar acceptance among marketers.
The feedback about Twitter was quite mediocre among the professionals. Only 54% of marketing professionals admitted to using Twitter for video ads. However, Twitter was still a better option than the likes of TikTok and Snapchat.
TikTok has become a hugely popular social media platform since its launch in 2016, but it still lacks the fancy of marketers. Only 35% of those surveyed used TikTok for ads in 2022. Snapchat was the least popular with only 13% using the platform for ads.
YouTube also the most effective with 78% approval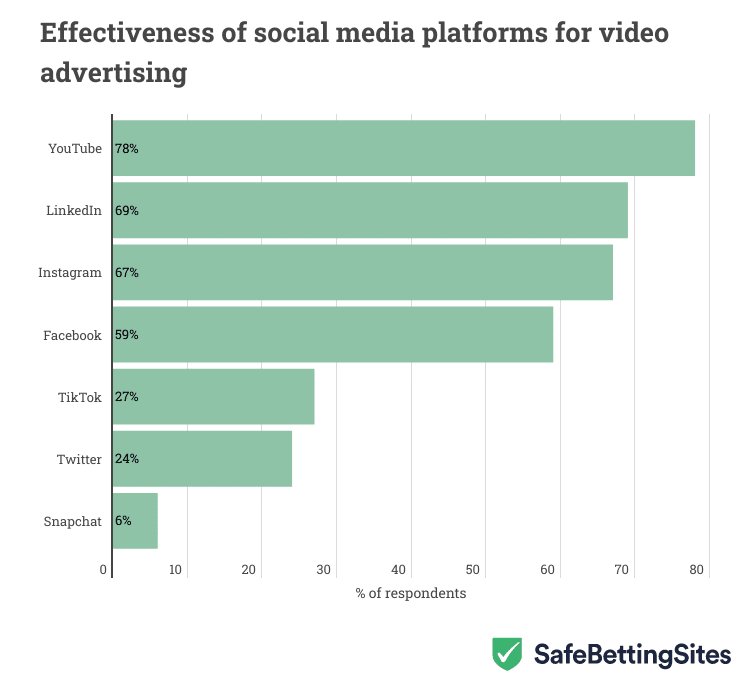 YouTube is not only popular among marketing professionals but it is deemed to be more effective. In the same survey, 78% said that they find YouTube to be effective.
If we look at the effectiveness of various mediums in the context of the first graph, Facebook and Twitter both perform poorly.
As per the survey, Facebook was used by 86% of marketers but was found to be effective by only 59%. Similarly, Twitter was used by 54% of those who were surveyed but only 24% found it effective.
In contrast, TikTok was found effective by a larger percentage of its users. It was used by 35% and found effective by 27%. The same can be said about LinkedIn, which was used by 79% of the survey base and found effective by 69%.
Was this article helpful?