Former Barcelona captain and current manager Xavi Hernandez has achieved a milestone in his coaching career. According to SafeBettingSites.com, he has now equaled fellow Catalan Pep Guardiola's record of 109 points after 46 matches in charge. With this, he has solidified his position as one of Europe's most promising young coaches.
Edith Reads, SafeBettingSites betting expert, commented on the record. "Xavi is a natural-born leader, both on and off the field. He has vision, passion, and dedication to the game. His impact on Barcelona has been nothing short of remarkable. For football lovers, it's a proud moment to see him in a managerial position. Let's see what the future holds under his leadership at Camp Nou."
Xavi's Impact on Barcelona
Since taking over the reins at Barcelona on Nov 6th, 2021, Xavi has been a revelation for the team. In just over a year, he has transformed the club's fortunes. Xavi has brought back the trademark possession-based style of play that made the team one of the most feared in Europe.
Under his leadership, Barcelona has won 36, with seven draws and only five defeats in Laliga. This season, the team has scored 47 goals and conceded just 7, showcasing an impressive attacking and defensive balance.
Xavi's impact on Barcelona manifests in the team's results and the players' performances. He breathed new life into the careers of some of the club's veterans, such as Sergio Busquets, who was on the fringes of the team. Additionally, Xavi has given opportunities to young players, such as Ansu Fati and Pedri, who have thrived under his leadership.
The former midfield maestro understands the importance of team unity. Therefore, he created a positive atmosphere in the dressing room, which increased team morale and confidence.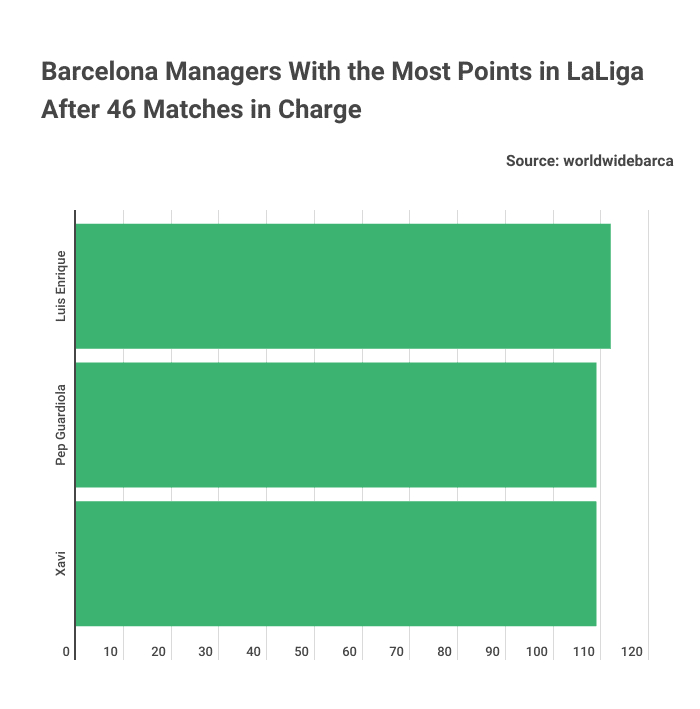 Xavi's Future at Barcelona
Xavi's success at Barcelona has led to speculation about his future at the club. Many fans and experts believe he has much to achieve, and rumors have linked him to some of the biggest clubs in Europe. However, the coach has committed to Barcelona and wants to continue building the team and achieving success with them. And so is the management.
Under his leadership, the team has shown significant performance improvement. His tactical acumen and leadership skills have been instrumental in bringing back the club's signature style of play.
With the backing of the club's management and the fans' support, Xavi looks set to continue leading Barcelona to greater heights. He has a clear vision for the team's success and has shown the ability to inspire his players to perform at their best. As such, the future looks bright for both Xavi and Barcelona.
Was this article helpful?