Following a tumultuous start to 2022, Netflix has made a strong comeback in the final quarter of the past year. According to the numbers presented by SafeBettingSites.com, Netflix added 7.7m paid customers during the last quarter of 2022. This has been positive news for the streaming giant, which saw negative growth during the first two quarters.
Netflix added 8.9m new customers in 2022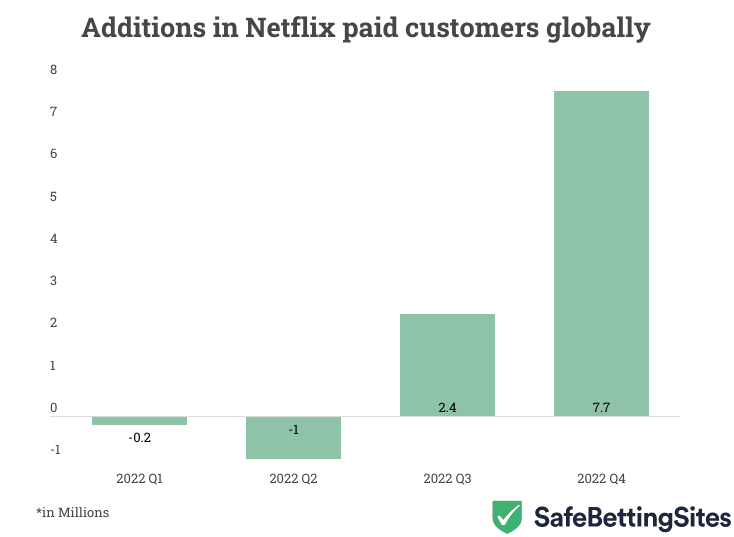 In its latest financial report Netflix has confirmed that it added 7.7m new paid customers during 2022 Q4. This increase comes after negative growth in paid customer numbers in the first two quarters. Netflix's paid customers reduced by 0.2m in the first quarter. This negative growth was followed by years of continued positive growth and surprised many industry observers.
The drop in Q1 was followed by a further reduction of 1m paid customers in the second quarter. The negative growth in the numbers accompanied a massive dip in Netflix's share price. However, the trend reversed in Q3 as Netflix added 2.4m new paid customers. Hence, if we consider figures from the entire year, overall, 8.9m new paid customers joined Netflix in 2022. Since the dip in mid-2022, Netflix's share price has also almost recovered to its previous levels.
Netflix's impressive numbers in Q4 were supported by popular shows such as Stranger Things S3 and Wednesday.
Furthermore, Netflix also launched ad-supported cheaper tiers of memberships in some regions in Q4. Hence, one can conclude that the streaming giant's initiative to move towards ads has not driven away new customers.
However, if we compare 2022 numbers to previous years, it was still a slightly disappointing year for Netflix.
Customer growth in 2022 dropped by 51%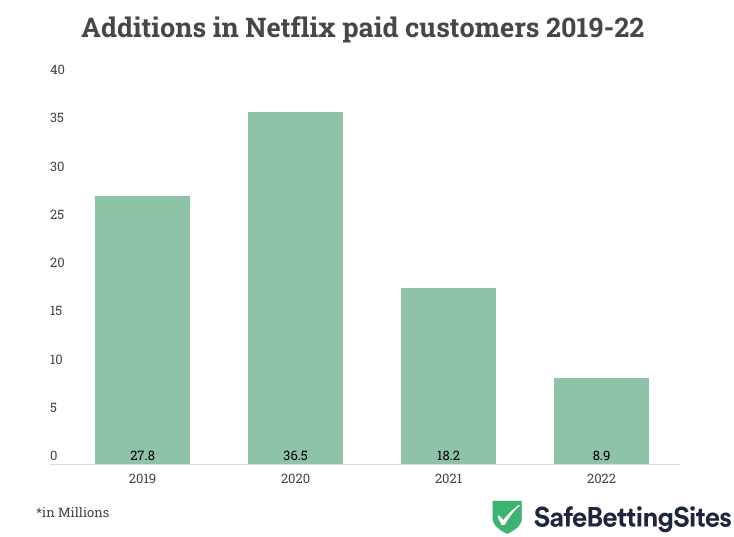 As stated above, Netflix added 8.9m new paid customers in 2022. These numbers came on the back of a strong Q4. However, when compared on a YOY basis, Netflix couldn't avoid a 51% drop in the number of new paid customers. In 2021, a total of 18.2m new paid customers joined the streaming service.
Netflix witnessed massive growth in new customers during the COVID years. In 2019, 27.8m new paid customers joined the streaming platform. It was followed by further 36.5m new customers in 2020. Hence, readjustment in the market can be seen as one of the primary reasons behind the recent decline in numbers.
Was this article helpful?