The popular multiplayer online battle arena game Dota 2 again topped the yearly Esports prize money charts. According to the numbers presented here by SafeBettingSites.com, Dota 2 was the game with the biggest tournament prize pool of $32.85m in 2022. Arena of Valor, another MOBA game, was just a little behind in the second spot.
Arena of Valor second with a $32.7m pool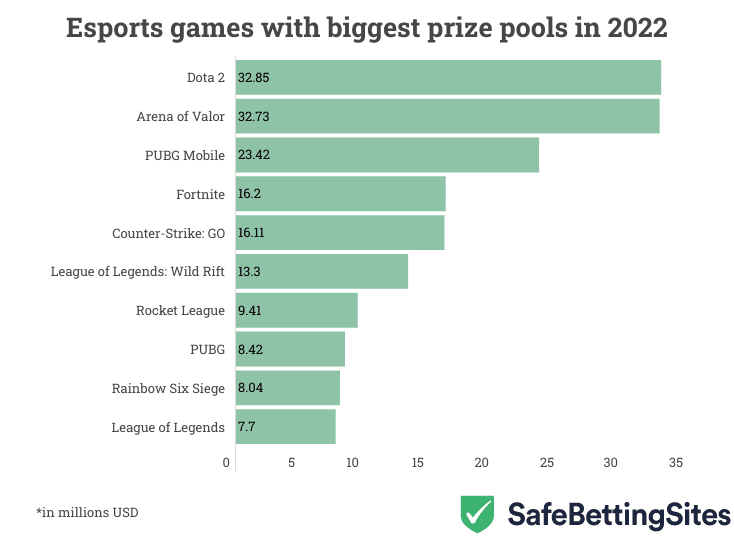 Dota 2 claimed the biggest prize pool on the Esports circuit for the second consecutive year in 2022. According to the numbers on Statista, Dota 2 players earned a total of $32.85 million in prize money in esports tournaments last year. In the second spot, Arena of Valor was just a little behind with $32.73 million in its prize pool.
Following the two MOBA games, PUBG Mobile completed the top three with $23.42 million in earnings. It was the most popular non-MOBA and battle royale game with esports players in 2022. Another battle royale game took the fourth spot in Fortnite. Fortnite's players won a total of $16.2 million in prize money in 2022. 
Multiplayer first-person tactical shooter Counter Strike Global Offensive was the most popular game in its genre. Overall, CS GO sits fifth in the prize money charts with $16.11 in its pool.
League of Legends Wild Rift, the mobile version of the popular MOBA League of Legends, is next on the list with $13.3 million in prize money.
The popular driving/soccer game Rocket League made its players $9.41 million in prize money last year. The PC/console version of PUBG is next on the list with $8.42 million prize money. If we combined the prize pool of both versions of PUBG, the game has a combined prize pool of $31.84 million – not far behind the top two games.
Rainbow Six Siege is the second tactical shooter on the list and ninth overall, with $8.04 in its prize pool. 
The top ten is completed by League of Legends with $7.7m in the pool. If we combined pools of both versions of League of Legends, it amounts to $21m – which would put the game in the fourth spot of the overall list.
Hence, the top ten list is dominated by MOBA games. Overall, there are four MOBA games, three battle royale, and two tactical shooters on the list. 
Was this article helpful?