As eSports has turned into a full-fledged industry, it's only natural that professional eSports teams have emerged. According to the numbers presented by SafeBettingSites.com, US-based Team SoloMid is valued at $540 million and is currently the biggest eSports team globally. 
Four out of the top five based in the United States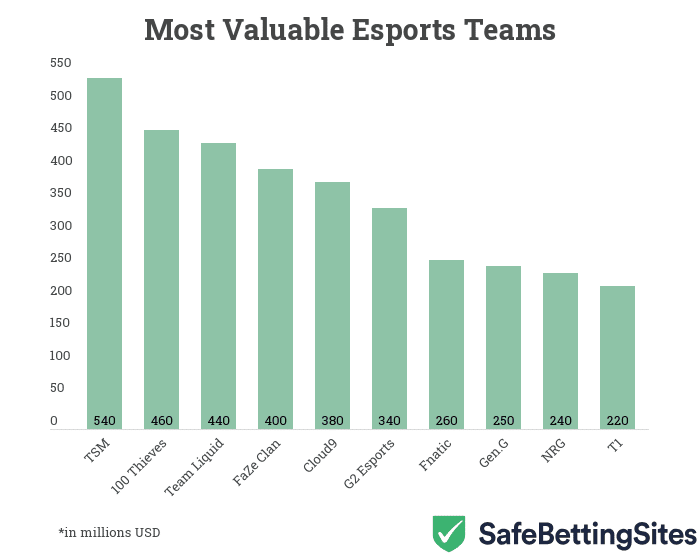 According to the latest data available on Statista.com, all top ten eSports teams are currently valued north of $200 million. As stated above, the top spot is occupied by Team SoloMid. The eSports team was founded by former League of Legends player Andy "Reginald" Dinh in 2009. Over time, the team started participating in other games and became the biggest Esports team globally.
The second spot is occupied by another US-based eSports team, 100 Thieves, valued at $460 million. 100 Thieves was founded in 2017 by former COD player Matthew "Nadeshot" Haag. Haag soon received a multi-million financial investment from sports mogul Dan Gilbert. It was followed by further investment from the likes of rapper Drake and Scooter Braun and top venture capital firms such as Sequoia Capital and more. Currently, 100 Thieves also functions as a lifestyle brand, particularly for gamers.
The top three are completed by Netherlands-based Team Liquid, valued at $440 million. Formed in 2000, Team Liquid is the oldest among the top three most valuable Esports teams. Team Liquid is the only team among the top five that was not formed in the United States. Faze Clan, valued at $400 million, and Cloud9, valued at $380 million, were created in the US in 2010 and 2013, respectively.  
The sixth most valuable Esports team is G2 Esports, founded in Berlin, Germany. Initially formed as Gamers2 in 2014, it acquired its current name in 2015. G2 Esports is valued at $340 million.
Another European team Fnatic occupies the seventh spot. The London-based organization was founded in 2004, and it also has teams based in Berlin and Kuala Lumpur. Fnatic is valued at $260 million.
Eighth-placed Gen.G was founded in 2017 and currently has headquarters in the US, South Korea, and China. Gen.G is valued at $250 million.
Ninth-placed NRG, valued at $240 million, is another US-based team on the list. It was founded in 2015. The list is completed by South Korea-based T1. Formed in 2003, T1 is valued at $220 million.
Vyom Chaudhary, an editor at SafeBettingSites.com, commented: "The emergence of such eSports teams is an impressive feat for the industry considering that many on-field sports' teams/franchises are valued comparatively. For context, the famous Premier League club Newcastle United was sold for $400 million last year."
Was this article helpful?