England and Germany have a long history of rivalry, which extends to the football world. The two national teams boast notoriously competitive fans, and there is often good-natured banter between them. However, the rivalry can also lead to tensions, particularly when England and Germany meet in competitive fixtures. 
So it's perhaps no surprise that a sizeable number of England fans are hoping Germany won't win the 2022 World Cup. Safebettingsites.com reports that 19% of The Three Lions' supporters would rather see any other team lift this year's trophy than Die Mannschaft. The tournament's hosts Qatar come second at 14%, while another 12% hope England doesn't win it.
"England and Germany have some of the most passionate supporters globally," says Safebettingsites' sports journalist Edith Reads. She added, " For either set of fans nothing would gall them more than seeing their arch-rivals triumph. For English fans, there's the extra incentive of not having done well in the competition bar 1966 while their opponents have had multiple successes at the tournament."
German Fans Less Bothered About England Winning
While Germany tops the list of teams that English fans wouldn't want to win the Qatar 2022 WC, the focus of German fans is elsewhere. Many are more concerned about the moral objections to Qatar hosting the event in 2022. 19% of them hope that Qatar doesn't win the trophy, and 14% hope England doesn't win it either. 
The 2022 World Cup in Qatar has been fraught with controversies from the get-go. From allegations of bribery and corruption to concerns about the human rights abuses of migrant workers to the extreme heat and ignoring the players' welfare, there have been plenty of issues to discuss.
Perhaps the most controversial issue surrounding the Qatar World Cup is the allegation of bribery and corruption. In 2010, when FIFA announced Qatar as the host country, several media outlets revealed that they had allegedly paid out $5 million in bribes to FIFA executives to win the bid. And although FIFA has upheld Qatar's hosting rights, perceptions of a lack of transparency in the award still linger.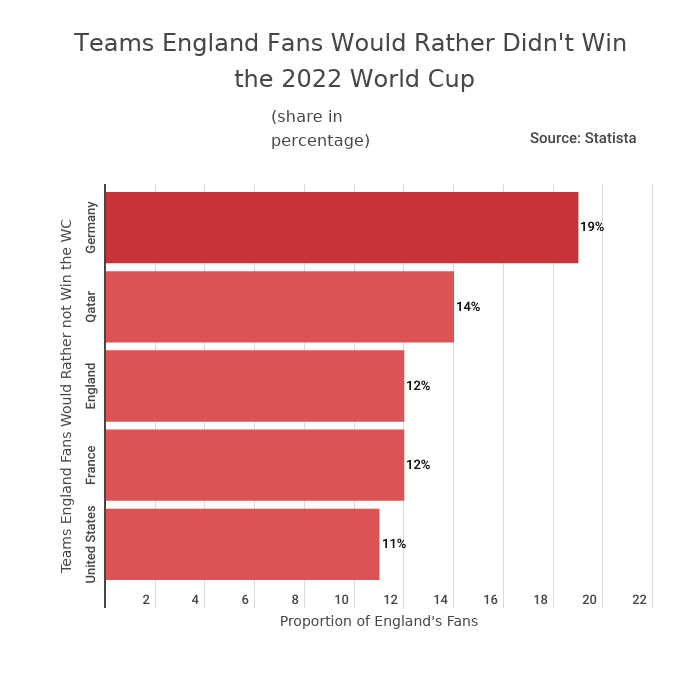 Qatar's Human Rights Issues
Another issue that has caused concern is the treatment of migrant workers in Qatar. Media outlets have reported that thousands of workers have died from working in extreme heat conditions and that many more have suffered abuse and exploitation. 
The Qatari government has promised to improve conditions for immigrant workers. But there are still concerns that it isn't doing enough for them.
Finally, there are questions about the welfare of the participating footballers. Critics have voiced concern about the extreme exhaustion that the players will undergo. Many football leagues are in the thick of their seasons, and subjecting the players to the rigorous tournament could tighten their risks of getting injuries or burnout.
Was this article helpful?