Fortnite Battle Royale launched in July 2017, and since then, it has completely revolutionized the video gaming industry. However, the free-to-play battle royale's popularity is finally dwindling among gamers. According to the numbers presented by SafeBettingSites.com, the game garnered only 39,793 viewers on Twitch during October – the lowest since the beginning of 2018.
Fortnite numbers on Twitch in a downward spiral since April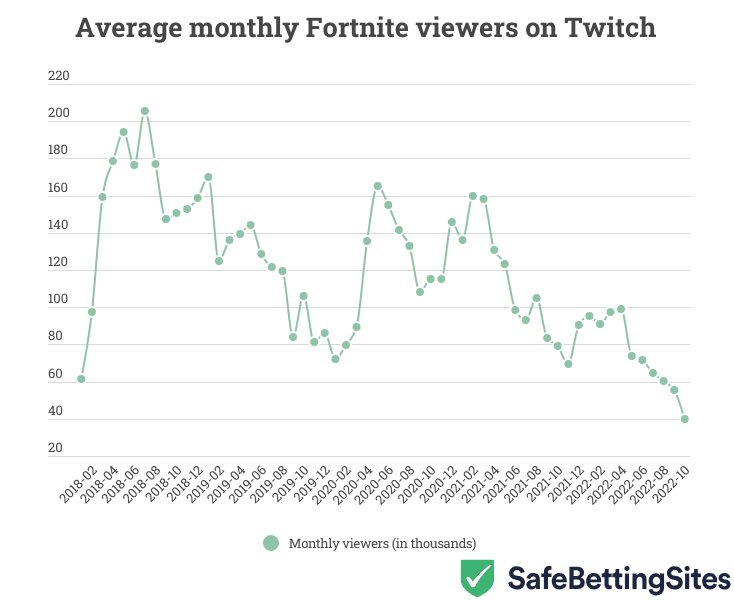 Fortnite Battle Royale has enjoyed unprecedented success since its debut in 2017. The game has proved to be a cash cow for its developer Epic Games, and helped increase its valuation enormously. When Tencent Holdings Ltd acquired a 40% stake in Epic Games in 2012, the US-based company was valued at $825 million. Fast forward to 2022, Epic Games was valued at $31.5 billion. Most of Epic Games' success during the past decade can be attributed to Fortnite.
However, it appears that Fortnite is slowly but surely losing its appeal among gamers after a five-year run. According to TwitchTracker.com data, Fortnite touched its monthly high on Twitch in July 2018, when the average monthly viewer count crossed 200,000. After a sustained period of popularity on Twitch, Fortnite started to see a dip in numbers on Twitch towards the end of 2019. In January 2020, Fornite gathered only about 72,000 viewers on Twitch. At the time, this was the lowest monthly count of Fortnite viewers since January 2018. However, the popularity of the game on Twitch soon benefitted from the arrival of the COVID-19 pandemic. From April 2020 to May 2021, Fortnite's average monthly viewers never dipped below 100k.
The game dipped again in popularity for most of 2021 before seeing a brief resurgence, primarily due to the Omicron variant. However, since April this year, the average number of Fortnite viewers has started to decline at a rapid rate. As stated above, the average monthly number fell to 39,793 viewers last month.
In recent years, Epic Games has tried its best to keep supporting the game with new content and modes. However, the drop in viewers has been quite significant since April, and it seems that the game has already passed its peak.
It's no surprise that the average number of Fortnite Twitch channels has also decreased rapidly in last few months. The average number of Fortnite channels reached the peak of 13766 in May 2020. Last month, only 3797 Fortnite channels were active on average.
Was this article helpful?