The negative growth trend in the app market doesn't look like stopping anytime soon. According to the numbers presented by SafeBettingSites.com, the combined customer spending on Google Play and App Store amounted to $31.6 billion during the recently-finished quarter three. During the same quarter in 2021, the total spending stood at $33.6 billion. 
Overall spending down by 6%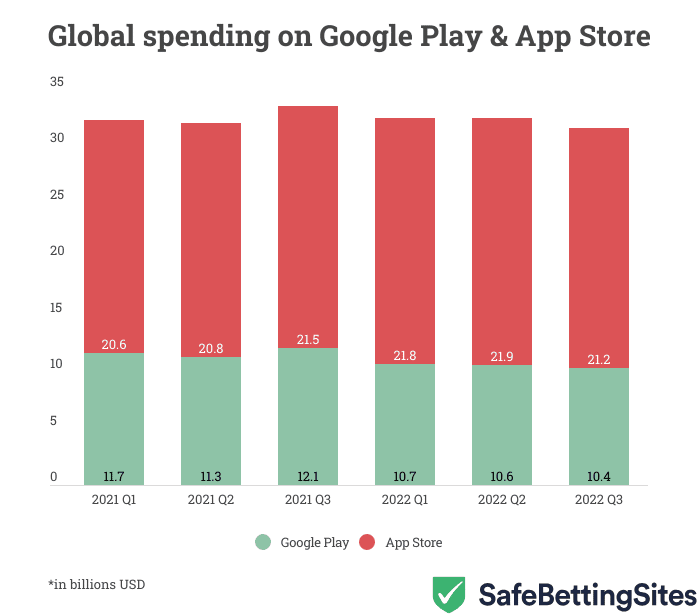 According to the data available on Statista, customers spent a total of $31.6 billion on mobile apps/games during Q3 2022. 
Compared to Q3 2021, the combined spending decreased by 6%. In Q2 2022, the total spend was $32.5 billion. Hence, customer spending also reduced from the numbers in the previous quarter, albeit by 2.7%. In fact, from 2021 onwards, customer spending on apps/games was at its lowest during Q3 2022.
Apple's App Store contributed a significant chunk of total revenue with $21.2 in earnings. Customer-spend on the App Store made up 67% of the entire sum. Meanwhile, Google Play Store generated only 33% of the total spend with $10.4 billion in earnings.
The numbers from Q3 are significant because this is the first time in recent history that App Store numbers have gone down.
Customer spend on App Store down by 3.2% from Q2
As the graph shows, customer spending on Google Play has slowly but consistently gone down from Q3 2021 onwards. Meanwhile, the App Store spending slowly but consistently grew from Q1 2021 to Q2 2022. Thus, while customer-spend on Google Play suffered during the first two quarters of 2022, App Store had managed to navigate the post-pandemic effects.
However, that trend seemed to have broken in the last quarter as App Store numbers also took a tumble. In fact, App Store numbers took a bigger hit than Google Play numbers in the last quarter. Customers spent a total of $21.2 billion on apps/games in the App Store. Compared to the previous quarter, the App Store's customer spending was down by 3.2% ( or $0.7 billion). In comparison, Google Play-spend was down by 1.9% (or $0.2 billion) during the same period. 
On the year-on-year scale, the Q3-spend on the App Store was reduced by 1.4% (or $0.3 billion) in 2022. The drop was more significant on Google Play Store for this period. Customer spending decreased by 5.8% (or $0.7 billion) from Q3 in 2021 to Q3 in 2022.
Was this article helpful?