A recent YouGov survey of 2,132 UK adults revealed that 6% of UK households have stopped their paid television subscriptions – as Brits make desperate cutbacks on household spending.
In 2021 Sky recorded revenues of £13.4 billion from direct-to-consumer subscriptions, whilst BT recorded £9.9 billion. 
With 6% of UK households cancelling these subscriptions, a 6% fall in annual subscription revenue will cost the TV giants an eye watering £1.4bn in annual revenue – with Sky and BT set to lose £800 million and £593 million respectively.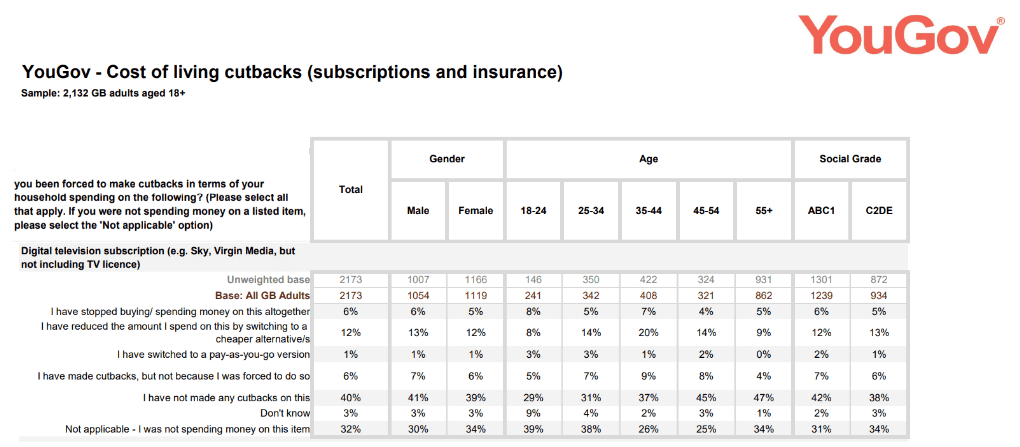 (Source: YouGov polling)
Making matters worse for UK households, both Sky and BT increased subscription costs earlier this year. Sky subscription prices shot up by 5% in March, whilst BT bumped up prices by over 9% in April. Prices that many households are now unwilling to pay, as inflation and energy bills become the prime concern.
According to the YouGov survey, A further 12% of Brits have switched to cheaper alternatives from the likes of Sky, Virgin & BT. 
Sky TV currently charges £26 for its cheapest subscription and £120 for its most expensive package, whilst BT TV subscriptions range between £22.50 and £80. Compare this to streaming sites like Netflix (£6.99/month) & Disney+ (£7.99/month), and UK households could save £100+ switching to streaming services. 
Television subscriptions are just one aspect of life Britons are having to cut back on, with YouGov revealing 1 in 4 Brits have had to cut back on key essentials (e.g. food, heating, housing)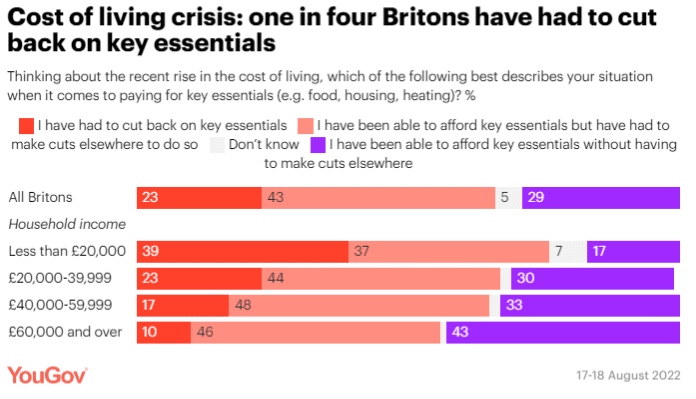 (Source: YouGov polling)
Data analyst at Safe Betting Sites, Max Barlow, commented on the YouGov poll, 
"It's clear the cost-of-living crisis in the UK is having a huge impact on households. Energy price hikes & rising inflation is meaning Brits are now missing out on luxuries like TV subscriptions, that were once affordable."
"Companies like Sky and BT need to brace themselves for a mass exodus, as households either search for cheaper alternatives or cancel TV subscriptions altogether."
Was this article helpful?