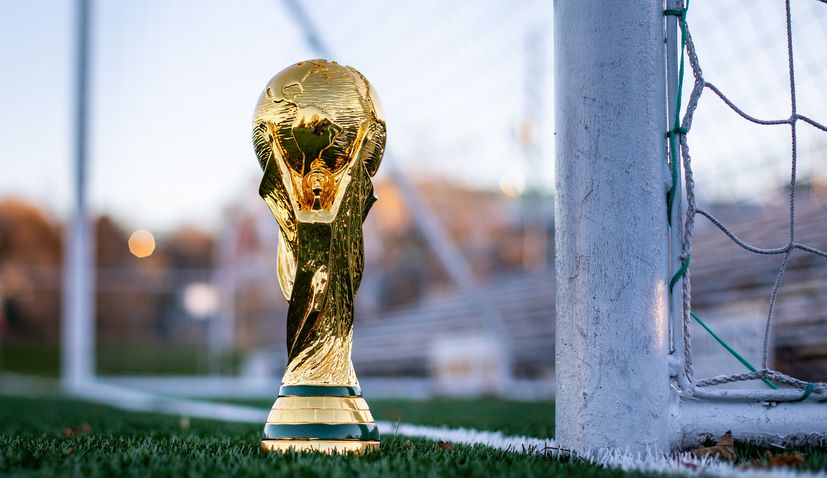 FIFA is synonymous with organizing world-class events and isn't afraid of splashing the cash to make them happen. This year's World Cup (WC) in Qatar is no exception. The world's football governing body has set aside $1.696B for the event. A deep dive into the budget shows some segments, for instance, prize money, will get significantly more funds than others.
Safe Betting Sites has been studying FIFA's budget for Qatar's 2022 WC. It concludes that prize money will take the largest share of the tournament's allocations. FIFA has set aside $440M or 26% of its WC budget towards that cause. According to Fogadas the figure represents a 10% increase in the kitty from its 2018 figures.
"Playing in the World Cup is every footballer's ultimate wish," says Safebettingsites' Edith Reads. She adds, "The legendary status that comes with playing in the event is enough to fire up the players to want to do well there. FIFA sweetens the deal with monetary incentives, especially for teams that progress beyond the group stages."
So how will FIFA share the $440M prize money?
In keeping with modern-day tournament events, FIFA awards every qualifying nation. The prize money guarantees each of the 32 participants at least  $9M. That means 16 teams that exit the group stage will share $144M of the prize kitty.
The tournament's second round will see another 8 teams drop out. These will take home $13M each, totaling $104M. Similarly, 4 teams will leave Qatar as quarterfinalists. They'll take with them $17M each and $68M collectively.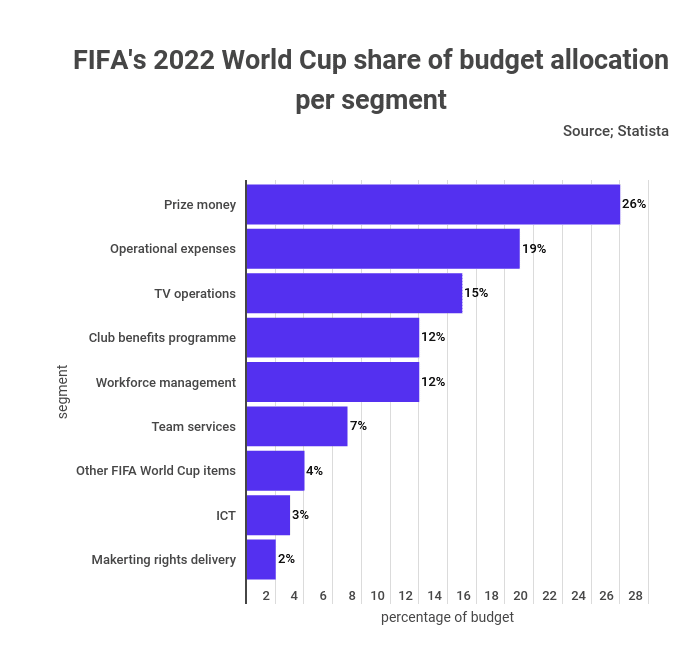 Two teams will proceed to the final, leaving another two to fight for the third place. The winner in that duel will win $27M while the fourth-placed team will get $25M. Finally, the tournament's winning team will pocket $42M, while the runners-up will find solace in a  $30M award.
But these aren't the only funds the national teams will receive. Besides those bonuses, they also get $1.5m each for their preparation costs. It's important to note that they will receive their prizes at the end of the competition.
FIFA's other allocations at WC 2022
Operational expenses will take the second largest chunk of FIFA's budget in Qatar 2022. These will account for $324M or 19% of the $1.696B outlay. This kitty will cater the welfare of participating teams, referee and legal services, and communication, among others.
FIFA projects over 5B people will watch this year's tournament. Therefore, it has set aside 15% of the funds for its television audience, which is $247M. FIFA aims to enable as many people as possible to access the WC. To that end, it has sold TV rights to various regional broadcasters.
The other segment to take a significant amount of FIFA's budget is Clubs Benefits Program (CBP). CBP recognized the contribution of football clubs in successfully staging the WC. As a result, football clubs can tap into $209M (12%) from the CBP vote head. 
The remaining funds go towards meeting a myriad of needs. Besides marketing, there are ICT costs, management of the WC workforce, and miscellaneous expenses.
26% of FIFA 2022 world cup's budget allocated for tournament prize money
Was this article helpful?