The Premier League is not only the richest football league in the world but also outshines other leagues in terms of popularity. According to the numbers presented by SafeBettingSites.com, Premier League clubs have the most combined followers on various social media platforms, totalling 820 million. 
La Liga in the second spot with 764 million followers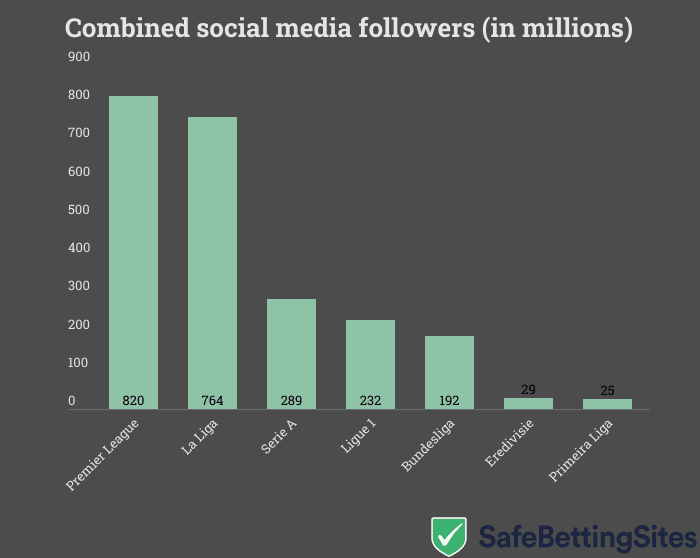 According to the data available on Football Benchmark, Premier League is the most popular league on social media. The combined following of Premier League clubs on social media platforms like Facebook, Instagram, Twitter, YouTube, TikTok and Weibo is 820 million. 
Spanish La Liga is not far behind the English top tier in the second spot. La Liga clubs' combined social media following is 764 million currently. However, the majority of the followers come from two clubs – Real Madrid and Barcelona.
Interestingly, the rest of the competition is far behind the top two leagues. The rest of the major European leagues, such as Serie A, Bundesliga and Ligue 1, pale in front of the top two when it comes to social media popularity.
The Italian Serie A boasts of several globally famous clubs like Juventus, AC Milan, Inter Milan etc. However, Italian clubs' combined social media following is only 289 million – which doesn't even amount to the half of Premier League and La Liga numbers.
Not far behind Serie A, Ligue 1 clubs have a combined 232 million followers on various social media platforms. The German Bundesliga is generally considered to be a more popular league than the French Ligue 1. However, Ligue 1 has won the popularity contest on social media. Regardless, it must be noted that Bundesliga consists of only 18 clubs as opposed to Ligue 1, which has 20. 
Of the five major European leagues, Bundesliga is the least popular on social media, with a combined following of just 192 million.
The vast difference in the popularity of the top five leagues and the rest of Europe is demonstrated by the last two spots on the list. Dutch Eredivisie and Portuguese Primeira Liga numbers seem relatively small against the top leagues.
Eredivisie has a combined 29 million followers, and Primeira Liga has 25 million. Like the German Bundesliga, these two leagues also have only 18 teams. 
Was this article helpful?