More people are playing video games than ever before. According to the numbers presented by SafeBettingSites.com, the overall video-gaming base is expected to cross 3 billion in 2022. Considering the current global population stands at 8 billion, almost 40% of the entire world has recently played a video game on consoles, PCs, or mobile devices. 
54% of gamers come from Asia-Pacific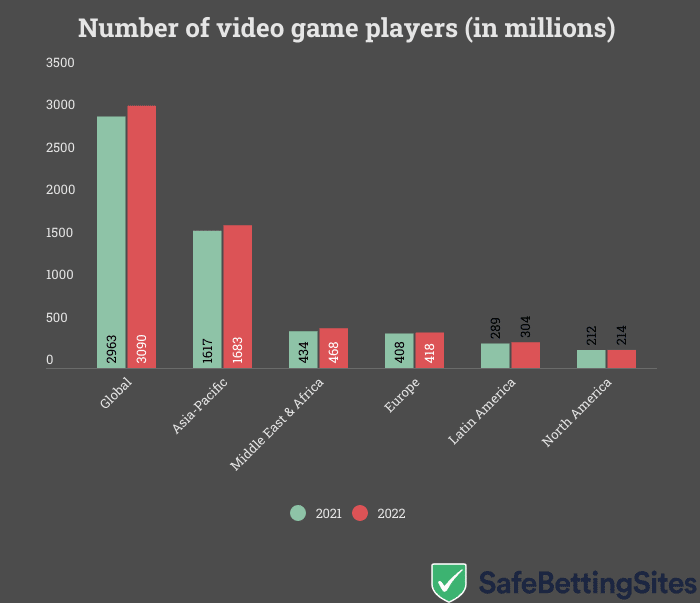 Until the last decade, playing video games was considered a niche hobby, especially in developed countries. However, the boom in mobile gaming in the previous decade has made video games accessible to a large proportion of the global population.
According to the Newzoo report on global gaming, the global size of video gamers will be 3.09 billion in 2022. The report defines a gamer as someone who has played a game on consoles, PC, or mobile devices during the past six months. The size of the global gaming community is set to grow by 4.3% from 2021. However, most of the growth has come from emerging markets in Latin America, the Middle East & Africa. 
The number of gamers in Asia-Pacific is set to grow from 1617 million in 2021 to 1683 million in 2022, representing a 4.1% increase. The rate of growth in Asia-Pacific is slightly lower than the global rate. Regardless, gamers in the region constitute 54% of the worldwide base.
Middle East & Africa is set to be the second-biggest gaming market in terms of numbers. The region is also responsible for the most significant yearly growth at 7.9%. There are expected to be 468 million gamers in this region in 2022.
European gamers have increased from 408 to 418 million in one year. This growth represents an annual increase of 2.4%. The change in Europe is considerably lower than the global average. The low growth rate is majorly down to the fact that Europe is already a developed market in the gaming industry.
On the other hand, Latin America is one of the emerging markets. The number of gamers on the continent is expected to increase from 289 to 304 million. This increase represents an annual growth of 5.1% – higher than the global average.
Financially, North America is a massive market for the industry, primarily because of the United States of America. However, when it comes to sheer numbers, the continent sits last in the comparison. The number of gamers in North America should increase from 212 to 214 million in 2022. The annual growth stands at just 1% – indicating that the majority of the population in the region is already exposed to video games.
Was this article helpful?