RPG games continue to dominate the mobile game industry. According to the numbers presented by SafeBettingSites.com, RPG was the most successful mobile game genre in 2021. Role-playing mobile games made $24 billion in revenue during the past year, significantly higher than other genres.
Strategy games second with $17.3B in revenues past year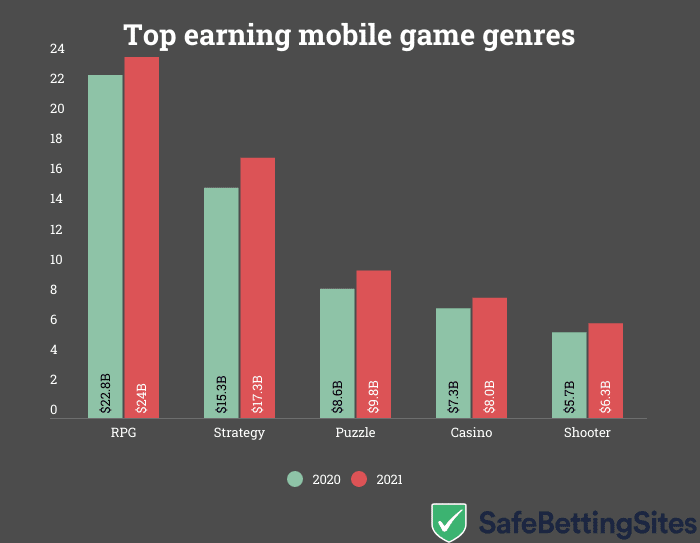 Role-Playing Games were the biggest hit among mobile gamers in 2021, as per a recent survey by Sensor Tower. The cumulative revenue of RPG games stood at $24B last year. The revenue earned by RPG games increased by 5% from 2020, when the revenue was $22.8B. The top game from the genre was Uma Musume. The RPG genre is particularly popular in Japan.
The second most popular genre in mobile games was Strategy. The games under this genre earned a total of $17.3B in 2021, an increase of 13% from 2020. It's noticeable that the annual growth in the Strategy genre was more significant than that of RPG. The most popular Strategy game in 2021 was Honor of Kings. The majority of the genre fan base comes from China.
Puzzle games were the third most popular genre of mobile games in 2021. Puzzle games generated $9.8B in revenues in 2021. As compared to 2020, the mobile game genre grew by 14%. In terms of Y-O-Y growth, puzzle games performed the best among the top five genres. The most popular puzzle mobile game in 2021 was the ever-so-popular Candy Crush Saga. More than half of the user base of this genre comes from the United States.
In the fourth spot, Casino games generated a total of $8.0B in revenues in 2021. The genre saw a 9% increase in revenues from 2020. The most popular game in the genre was Coin Master. Casino games are most popular in the United States.
The shooter genre is in the fifth spot with $6.3B in annual revenue and a 9% increase from 2020. PUBG Mobile was the most popular game in the genre. 
The top ten was completed with Simulation ($4.8B), Action ($4.2B), Sports ($3.1B), Lifestyle ($3.1B), and Geolocation AR. The action genre achieved the biggest Y-O-Y growth in the top ten at 58%. This significant jump was primarily down to the popularity of Genshin Impact in Japan.
Was this article helpful?