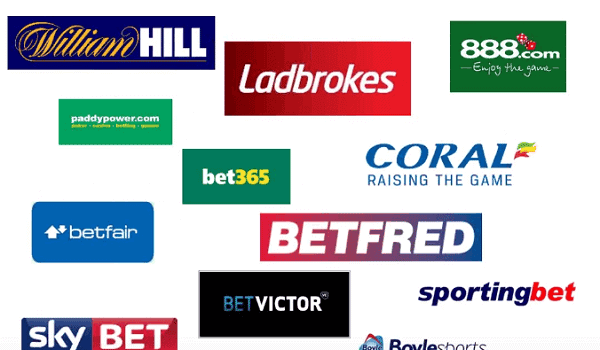 The global gambling industry has experienced a massive boom in recent years. Many countries have relaxed their anti-gambling laws, increasing legal gambling venues and online casinos. Inadvertently, that has led to the thriving of certain gambling firms.
Safebettingsites.com has been following the trends in the sector. In a new data presentation, the site has shown that the brand value of 10 biggest gambling companies stood at $23.28B in 2021. That increased nearly $850M from 2020's $22.43B valuations of the same firms, a 3.78 % increase in their value.
Commenting on the results, safebettingsites.com's Edith .M Reads said, " These results are nothing short of spectacular considering the difficult economic environment that gambling companies have been operating in."
She adds, "The COVID-19 pandemic affected the hospitality sector where most casinos  reside perhaps more than any other. But it also provided an opportunity for online gambling and iGaming to thrive. The gains these ten have made reflect the broad gains that the sector made. And are indicative of the gambling sector's resilience and adaptability in the face of adversity."
UK's bet 365 rules the roost
The highest-ranking company was bet365, with a brand value of $3.37B and an A rating. Moreover, the company was one of the fastest-growing in the industry. Its $1.78B growth was a 212% increase on its 2020 valuation of $1.59B. Consequently, it leapfrogged eight other firms to dislodge Wynn Resorts from the top spot. 
The UK-based gambling giant offers online casinos, poker, sports betting, and bingo, among others. 
Its strong focus on technology, innovation, and customer service sets it apart from its competitors. The growth in its valuation is a further testament of its global reach and appeal.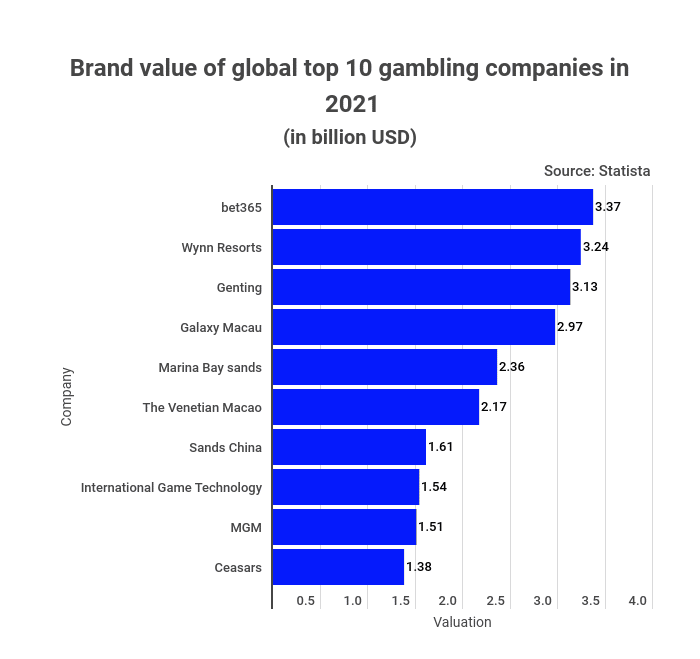 The COVID-19 impact
Wynn Resorts came in second place with a brand value of $3.24B and an AA- rating. It, however, shed 15% ($0.57B) from its 2020 valuation of $3.81M, dropping one rung lower on the leaderboard. One can only attribute the drop to the COVID-19 containment restrictions that saw a significant drop in gaming tables and slots revenues.
Rounding up the top three was Malaysia's Genting. The company's 2021 valuation was $3.13B. That's $0.35B shy of its 2020 figures of $3.48B. Despite that drop, Genting received an AA+ rating, an upgrade from the AA one it held. Read further about the Malaysian online gambling market here.
Technology's disruptive effects on gambling
While bet365 leads the way for online casinos, it isn't alone in its growth. The casino industry as a whole has been growing over the past few years owing to more states adopting pro-gambling laws. Again online platforms have continued to grow in popularity. 
While online gaming sites are growing at a faster rate than their brick and mortar types, the latter still dominates the market in revenue terms. The costs of new constructions and renovations constrain the growth of physical casinos. However, technology threatens to disrupt the sector leading to many of them investing in online platforms to remain competitive.
Brand value of 10 biggest gambling companies stands at $23.28B
Was this article helpful?