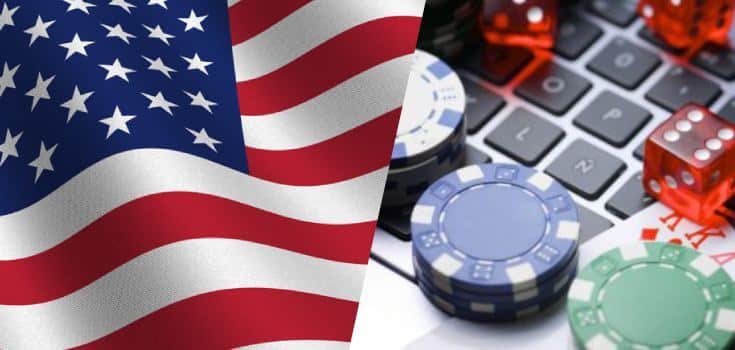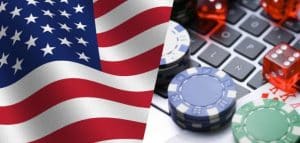 The U.S. gambling industry recorded massive gains in its 2021 revenues. According to a safebettingsites.com presentation, the sector made returns of $52.99B, setting a new gross gaming revenue (GGR)mark. These were 77% better than the $29.98B that the industry achieved in 2020.
The sector's 2020 figures were a 31% drop from 2019's GGR of $43.65B. That drop resulted from the COVID-19 pandemic's impact on global economies. Most U.S. casinos operate from physical premises. Consequently, the Coronavirus containment measures caused table games and slots to fall by 30-40%.
How has digitization impacted the U.S. gambling industry?
Increased digitization has coincided with the prevalence of online gambling. By 2019 that market had grown to $59B globally with projections of further growth. Here, two types of online gambling, Fantasy Sports and Sports betting, are the most popular types. In 2020, the former had an American market of roughly $8B.
Such data emboldens Safebettingsites.com's Edith Reads to attribute the U.S. gambling sector's recovery to an uptick in online gambling. She holds, "There's been a significant shift to sports betting and iGaming in response to the COVID-19 management protocols. Now punters can place their bets or play poker from the convenience of their locations which appeals to many."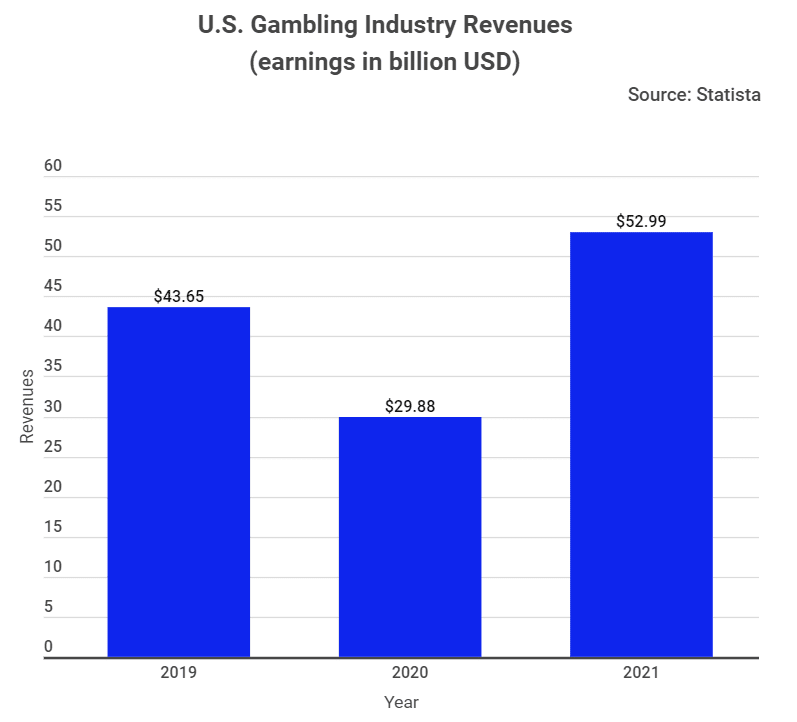 That's an assertion that Bill Miller, American Gaming Association President, and CEO, concurs with. He asserts, "Today's industry is effectively meeting customers how and where they want to engage—whether at a casino or through mobile gaming." 
Miller is optimistic that the industry will continue growing in 2022. He also holds that its recovery hinges on the resumption of travel and large events despite the record-setting year. That is only possible when the economy reopens.
Mapping the U.S. online betting scene
Sports betting takes the largest share of U.S. online betting. It contributed nearly a billion USD in revenue in 2019. That's no mean feat considering that it only got the federal legal nod in 2018.  
Following that legalization, every state has the discretion to legislate on it as it sees fit. That said, gambling attracts strong criticism and faces legal hurdles in most of America.
Nevada's $300M sports betting chest
Market data shows that Nevada leads in Sports betting revenue. The state earns over $300M through sports betting. It's instructive that Nevada is home to Las Vegas, the capital city of gambling. New Jersey follows in the second spot accounting for earnings of over $200M. 
Nevada also leads in casino gaming revenue, topping $10B YOY between 2011 and 2019. That figure dipped to below $9B in 2019, a first in a decade.
The Las Vegas casinos attract high spending visitors, evidenced by a 2019 survey in which 32% of the respondents indicated they'd budgeted over $600 for gambling. 
Meanwhile, Las Vegas-based company Las Vegas Sands was the premier casino firm globally in 2019 after recording revenues of over $13B.
Was this article helpful?