The much-awaited 5G technology is set to overtake the mobile market in the coming years. According to the numbers presented by SafeBettingSites.com, the 5G user base on mobile devices is expected to reach 4.39 Billion by 2027. This figure should amount to 49.1% of the entire mobile internet base.
5G will constitute 49.1% of the mobile internet base by 2027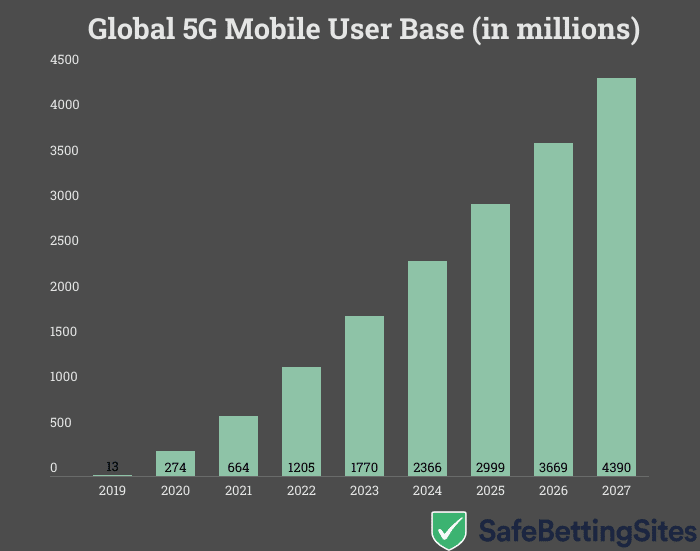 As per the latest estimates released by the Swedish company Ericsson, the 5G technology will take over the mobile internet in the next five years. Since making its debut in 2016, the 5G technology has attracted several conspiracy theories. However, it's set to become the primary mobile internet technology. The report states that a total of 1.2 billion people will be using 5G on their mobile devices in 2022. This figure represents an increase of 81.5% on 664 million users in 2021. In 2022, 5G users would constitute 14.5% of global mobile internet users.
The report states that the 5G technology will continue to gain popularity in the coming years. It is estimated that a total of 4.39 Billion users will be using the 5G to access mobile internet in 2027. The entire global mobile internet user base is expected to be 8.94 Billion in 2027. Thus, the 5G users would constitute 49.1% of the whole mobile internet base by 2027.
Asian nations to lead the 5G revolution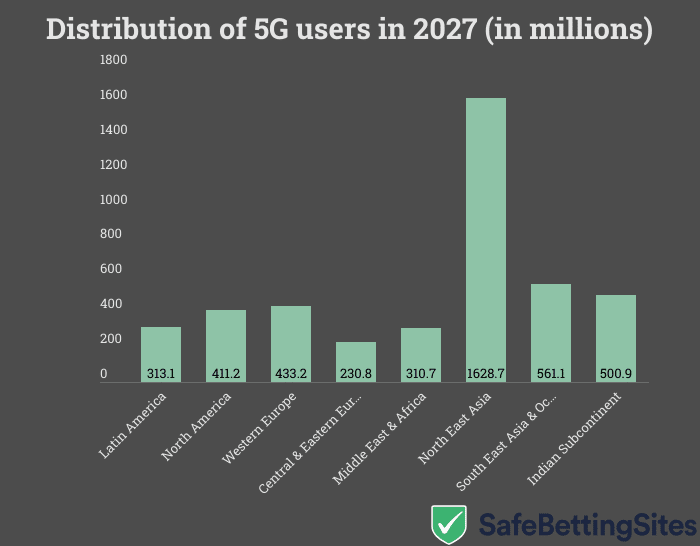 Asian nations are expected to drive the 5G revolution. Notably, North-East Asian countries are expected to be the most significant source of 5G users. The Economic Research Institute for Northeast Asia defines the region as Russia, Mongolia, Japan, Korea and China. The report states that a total of 1628.7 million 5G users will come from these countries in 2027. This figure would constitute approximately 37% of the entire mobile 5G user base. South-East Asia and Oceania regions would have 561.1 million 5G users, and the Indian subcontinent, consisting of India, Nepal and Bhutan, wouldn't be far behind with 500.9 million users.
In North America, 411 million mobile users will be on the 5G technology by 2027. When it comes to the Western Europe, the report claims that 433.2 million people will be on 5G.
Vyom Chaudhary, an editor at SafeBettingSites.com, commented: "The 5G era has already begun. Currently, the 5G technology is available in limited regions. However, as it becomes more accessible globally, it is set to become the primary mobile internet technology in the coming years."