Lost Ark, a free-to-play ARPG MMO, has taken the global online gaming market by storm. Following its debut in the Americas and Europe on February 11, Lost Ark has become the most popular game on Twitch. According to numbers presented by SafeBettingSites.com, Lost Ark averaged 0.45m viewers on average during the first week of its debut.
75.4m hours of Lost Ark watched in its debut week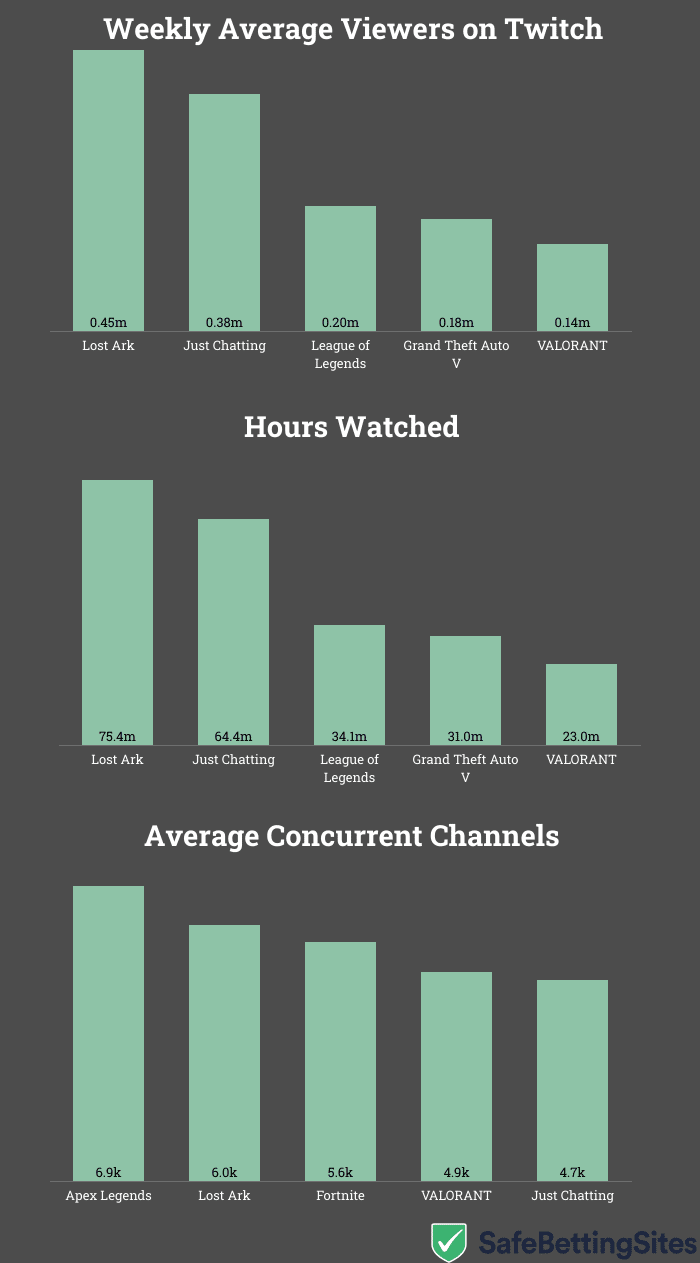 Lost Ark has made an impressive global debut. The fantasy MMOARPG was initially launched in South Korea on December 4, 2019. However, the gaming enthusiasts in the Americas and Europe had to wait until February 11 to get their hands on the game. The game is co-developed by South Korean studios Smilegate RPG and Tripod Studios. It was published in the Americas and Europe by Amazon Games.
Within a week of its release, Lost Ark has made its way to the top of Twitch charts. According to the numbers observed from TiwtchTracker.com, Lost Ark registered 0.45m average concurrent viewers within its first week. Just Chatting slipped down to the second spot with 0.38m viewers. League of Legends had only 0.20m concurrent viewers, a figure less than half of Lost Ark's numbers. Grand Theft Auto V and VALORANT completed the top five with 0.18m and 0.14m viewers, respectively.
Lost Ark was at the top in the 'hours watched' chart with 75.4m million hours clocked on Twitch. The rest of the games in the top five are similar to the previous. Just Chatting is placed second with 64.4m hours. League of Legends, Grand Theft Auto V, and VALORANT are next on the list.
There were 6000 Lost Ark channels on average during the first week of its launch in Europe and the Americas. This number put the game second on the Channels chart. Apex Legends occupy the top spot with 6,900 channels.
Fortnite is third with 5,600 channels, followed by VALORANT at fourth with 4900 channels. Just Chatting is fifth with 4700 channels.
Vyom Chaudhary, an editor at Safe Betting Sites Canada, commented: "It was a strong debut from Lost Ark to displace Just Chatting from the top spot. However, it is very unlikely that it will hold the top spot for long."
Was this article helpful?