The eSports industry has got off to a good start in 2022. In the latest analysis presented by SafeBettingSites.com, the eSports prize money in January witnessed a 10% increase from 2021.
Furthermore, PUBG Mobile was the game with the most prize money in past month.
7.7m won in Esports tournaments in January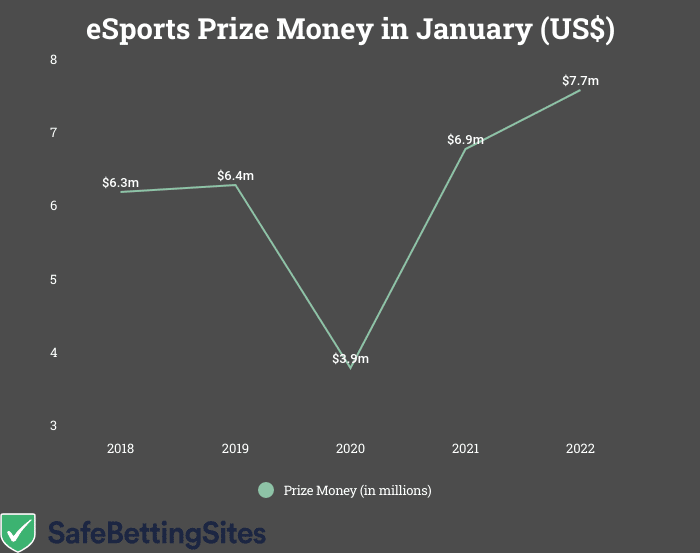 As per the data available on Esports Learnings, a total of $7.7m was won by eSports players during the first month of 2022. The amount of prize money increased by 12% from $6.9 during the same month in January. It appears that the recent Omicron wave didn't have much impact on the industry. These are early good signs for the rest of the year for the eSports industry.
The eSports industry was dealt a significant blow in 2020 due to the pandemic. In January 2020, the prize pool went down to $3.9m from $6.4m in 2019. However, the situation was much better in 2021, and it only improved last month.
A recent SafeBettingSites report showed that the total annual prize money increased by 60% in 2021, but it still fell short of the 2019 total. Thus, it would be interesting to see whether this bright start to 2022 would sustain for the rest of the year.
PUBG Mobile top game with $3.49m in prize money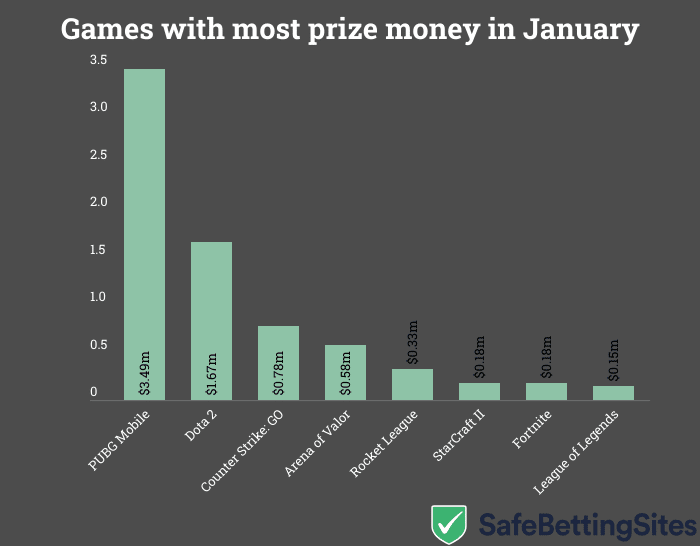 PLAYERUNKNOWN's BATTLEGROUNDS Mobile occupied the top spot with $3.49m in prize money. The entire pool came from only one tournament – the PMGC Grand Finals. Dota 2 came in the second spot with $1.76m in tournament winnings. The multiplayer online battle arena game had 14 tournaments last month.
Counter-Strike Global Offensive players won a total of $0.78m in January. The online first-person shooter game had the highest number of tournaments at 36.
Arena of Valor is the second MOBA game on the list. The game had only two tournaments during the past month with total prize money at $0.58m.
Rocket League comes fifth with $0.33m prize money over eight tournaments. StarCraft II had 17 tournaments in the sixth spot, but the total prize money was only $0.18m.
Fortnite accounted for a similar amount in prize money but over two tournaments. League of Legends is the eighth game with $0.15m. It was the last game to have a prize pool greater than $100,000 on the list. Like Fortnite, League of Legends also had only two tournaments in January.
Was this article helpful?