The video game industry is booming. The COVID-19 has only had a positive impact as a significant portion of the population has stayed indoors. According to the figures presented by SafeBettingSites.com, video games accounted for a significant 33% of product-related searches on Google in the United States.
Clothing stays at top with 38% of searches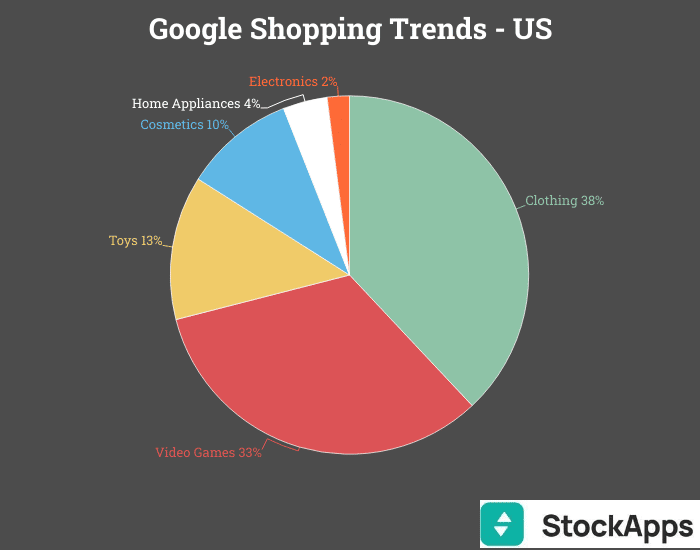 According to numbers from the latest 2022 Google Trends, the clothing product category inspired the most Google searches in the US. As per the latest numbers, 38% of Google searches in the US were focused on this category.
Surprisingly, video games occupied the second spot, ahead of popular categories such as home appliances and electronics. As stated before, video games accounted for 33% of Google searches in the US. This means that one in every three Google searches was centred on video games in the country. The New Year period is the peak business period in the video game industry. Furthermore, the pandemic has led to a significant increase in video games.
However, this is optimistic news for the gaming industry despite these favourable conditions. According to numbers from Accenture, the video gaming industry was worth $300+ billion in 2021. It is expected to almost double by 2025. In the United States, the video gaming industry is valued at around $90 Billion. It is expected to grow by more than 11% in 2022.
No other sector accounted for the share of Google searches as significant as Clothing and Video Games. Toys contributed to 13% of product-related Google searches in the US in the distant third. Like Video Games, the holiday period is also a significant time in the toys industry.
Cosmetics-related searches accounted for 10% of all Google product searches in the fourth spot. The last two places were occupied by Home Appliances (4%) and Electronics (2%). One might expect these previous two categories to fetch more interest on Google. However, it appears that not many consumers in the US are purchasing products in these categories on the internet.
Vyom Chaudhary, an editor at Safe Betting Sites Australia, commented: "Google Trends are a good indicator of consumers' mood. Like other digital sectors, the video game industry witnessed a huge boost with the onset of the pandemic. As the nation battles against the latest wave , consumers are once again forced to stay home and video games are high on their minds".
Was this article helpful?