Non-Fungible Tokens, or NFTs, dominated the Cryptocurrency universe in 2021. The NFT-craze seems to have slowed down in recent days, but the concept of digital art still has a lot of backers. According to the figures presented by SafeBettingSites.com, 2.8% of American internet users currently own an NFT token, and 3.9% plan to own one in the future.
NFTs most popular in East Asian countries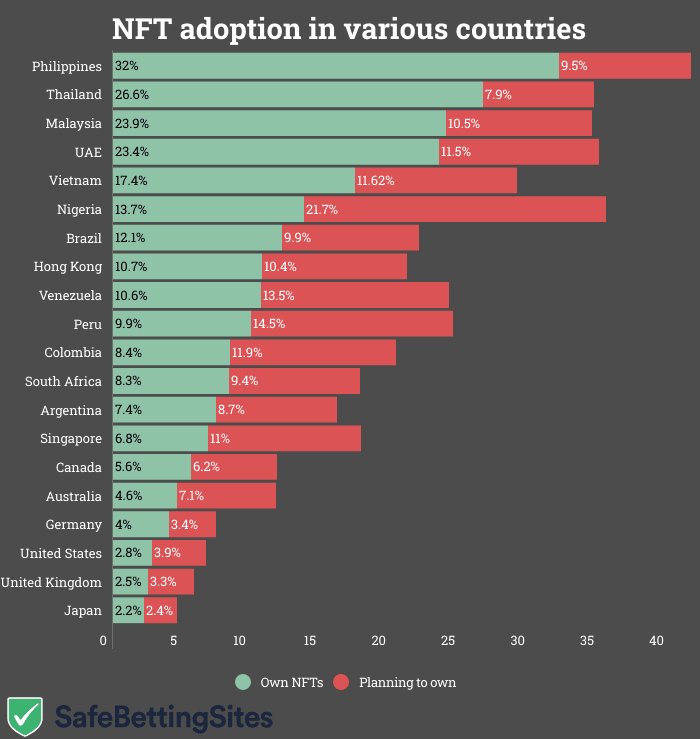 It's still anybody's guess about the future of NFTs. However, the East Asian countries of the Philippines, Thailand, Malaysia, etc., seem to have already bought into the hype. According to the recent survey from Finder.com, 32% of internet users in the Philippines already possess an NFT token, and a further 9.5% plan to buy it in the future. In Malaysia, 26.6% have NFT tokens, and 7.9% plan to purchase in the future. The online survey involved more than 28,000 respondents in 20 different countries.
NFTs also seem to be attracting investors from South American nations. Countries like Brazil, Venezuela, Peru, Colombia, and Argentina show greater acceptance than the developed countries on the list.
The acceptance rate is much lower in developed nations such as the US, the UK, Germany, Japan, etc. Less than 5% of internet users currently own an NFT token in these countries. Japan has the lowest share of NFT owners at only 2.2%.
In terms of future behavior, Nigeria has the most significant share of respondents planning to buy NFTs soon. Peru and Venezuela follow the African country.
The survey suggests that low interest towards NFTs in some countries can be attributed to a lack of awareness about these tokens.
90% in Japan don't understand NFTs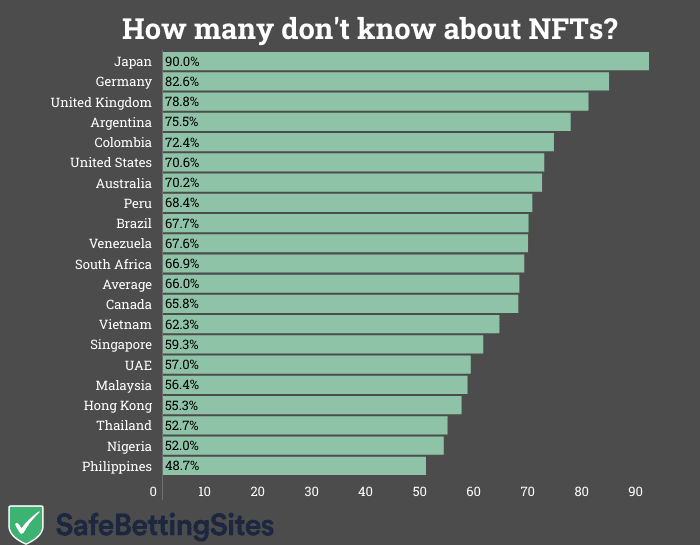 The survey also asked people about their understanding of NFT tokens. Surprisingly, a large percentage of internet users in developed countries are not aware about NFT tokens.
For example, 90% of survey takers from Japan admitted that they don't know what a NFT is. In Germany, 82.26% answered the same opinion. On the opposite spectrum, only 48.7% of people don't understand NFTs in the Philippines. The Island nation is the only one where this figure is less than 50%. Nigeria comes second when it comes to awareness about NFTs with 52% of survey respondents saying they don't know about them. These two countries are followed by Thailand (52.7%), Hong Kong (55.3%), Malaysia (56.4%), UAE (57%), Singapore (59.3%) and more.
It's interesting to note South American countries such as Argentina, Colombia and Peru have a high level of unawareness about NFTs, but also a considerable share of people interested in them.
Was this article helpful?