Esports is one of the fastest-growing industries in the sports/gaming sector. According to a recent report, the yearly revenue from the Esports industry is expected to cross a Billion dollars in 2021.
The United States is one of the significant markets for Esports and is hugely responsible for the recent growth in this industry. However, if figures presented by SafeBettingSites are to be believed, there is still considerable scope for the industry to grow in the country. According to this report, only 9% of US adults avid interest in Esports.
9% Of US Adults Are Avid Fans OF Esports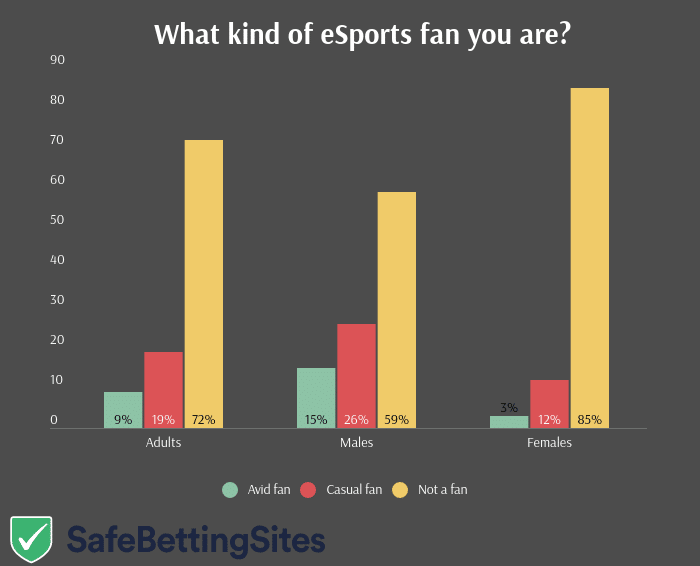 In a recent survey, Morning Consult asked US adults about their opinions on Esports. As per the results, 9% of adults claimed to be avid fans of Esports, and 19% identified as casual fans. The remaining 72% said that they were not Esports fans in any capacity. This figure is enormous when compared to mainstream sports in the US. For example, only 50% picked the same option about the NBA and 33% about the NFL.
On the other hand, the same percentage of voters, 72%, claimed that they were not fans of MLS. Hence, one can argue that the popularity of Esports in the US is comparable to the popularity of the MLS.
When we look at gender-specific numbers, it becomes apparent that male enthusiasts drive the interest in Esports. 15% of male adults claim to be avid fans of Esports, and 26% identify as casual fans. In comparison, only 3% of adult US females are avid Esports fans, and 12% are casual fans. 85% of US females have no interest in Esports at all.
18-34 age group lead the interest, but 35-44 not far behind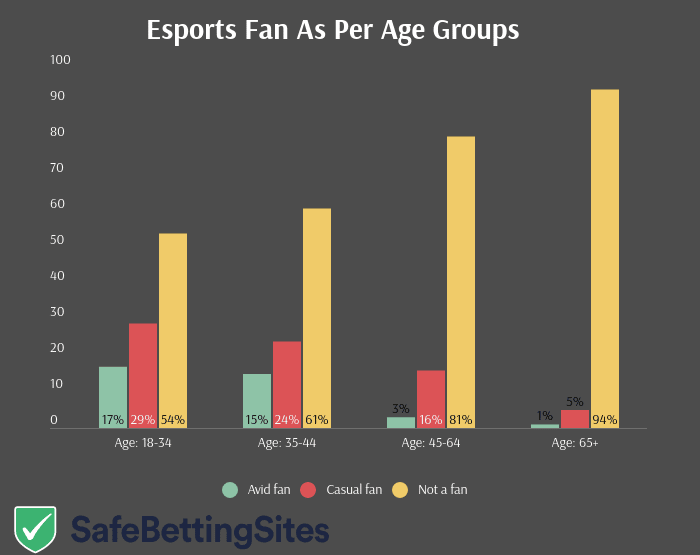 When we look at age-specific numbers, we get expected numbers. The 18-34 age group is the most interested in Esports, and both groups above 44 hold minimal interest in the same.
17% of the US population, aged between 18-34, claim to be avid fans of Esports. 29% identify as casual fans. One can argue that the most surprising aspect of this comparison is the figures registered by the 35-44 age group. One could expect a massive drop in numbers between these two groups. However, US enthusiasts aged 35-44 register almost similar numbers to those aged 18-34. In the 35-44 age group, 15% of respondents identified as avid fans and 24% as casual fans. 
The massive drop in numbers in groups beyond 44 years is a promising sign for the Esports industry. One can expect the interest rate to increase as the two most senior groups grow older and younger ones take their respective places.
Was this article helpful?