The football world was delivered a huge blow last year as COVID put a halt on live events. Expectedly, the disruptions caused by the global pandemic put a significant strain on the financial capabilities of clubs and leagues.
However, now that the fans are back in stadiums, the top European leagues have already started to recover. According to data presented by Safe Betting Sites below, the Premier League continues to dominate other leagues regarding revenue generation. And they also seemed to be leading the race when it came to recovery from the pandemic.
Premier League leading the recovery from COVID-19 in football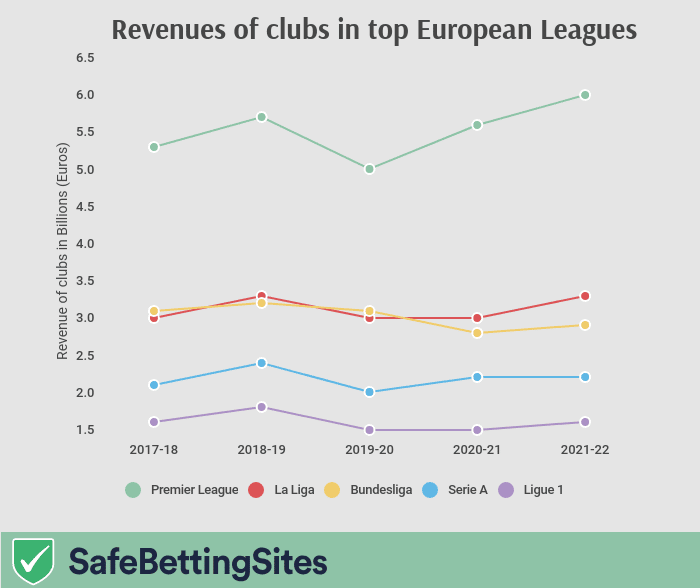 As per Deloitte's latest Annual Review of Football Finance 2021, clubs in top European clubs are on the mend. The numbers suggest that the cumulative revenue of Premier League clubs increased from 5.1 Billion Euros in 2019-20 to 5.7 Billion in 2020-21. It is further set to increase to 6.1 Billion during the 2021-22 season. In 2018-19, the season before COVID-19, this figure was 5.8 Billion.
The same trend is visible in all other major leagues, indicating that the worst might be over in the footballing industry. However, the Premier League is the only major European league whose 2021-22 projections are an improvement on the revenues generated during the 2018-19 season.
La Liga clubs, led by Real Madrid and Barcelona, had generated 3.4 Billion during 2018-19. However, this figure plummeted to 3.1 Billion in 2019-20 and stayed the same during 2020-21. For 2021-22, La Liga is projected to earn 3.4 Billion Euros, a number on par with the 2018-19 revenue.
Bundesliga, Serie A, and Ligue 1 lag behind
In the case of Bundesliga, Serie A, and Ligue 1, the situation is a bit direr. Clubs in all three leagues are expected to have increased revenues during the 2021-22 season, but these figures might not be enough to match those of the 2018-19 season.
Bundesliga clubs earned a total of 3.3 Billion Euros in 2018-19. This figure fell to 3.2 Billion in 2019-20 and further to 2.9 in 20-21. The clubs in the top German league are set to earn a total of 3 Billion Euros in 2021-22. It's a change in downward trend from the last two seasons but not enough to term it a total recovery.
Serie A used to be the second-largest revenue-generating European football league in the 90s'. As things stand, it finds itself in the fourth spot. The signs were looking positive for Italian clubs in 2018-19 as they posted total revenue of 2.5 Billion. However, this number suffered a dent of almost 20% as it fell to 2.1 Billion in 2019-20. It increased to 2.3 in 2020-21 and is expected to remain the same during 21-22.
Ligue 1 also follows the same pattern as its revenue fell from 1.9 Billion to 1.6 Billion from 2018-19 to 2019-20. In 2021-22, the Ligue 1 revenue is set to increase slightly to 1.7 Billion Euros.
Was this article helpful?