The highly anticipated mobile game League of Legends: Wild Rift recently debuted in China to a resounding success. It is a formidable challenger to Honor of Kings' dominant role in the country.
According to the research data analyzed and published by SafeBettingSites.com, Wild Rift is almost sure to cannibalize the player base of Honor of Kings. Since its release in China early in October 2020, Wild Rift has been topping Apple's local App Store download charts.
At its debut, it was the top game on the iOS downloads chart. And on the iOS game revenue chart, it was the second highest, behind Honor of Kings.
Over the past year, LoL: Wild Rift has enjoyed massive success on the global landscape. Its app revenue in that period surpassed $50 million. April 2021 was its peak month when consumer spending grossed $8.12 million.
After grossing $0.78 million in October 2020, its launch month, it has managed to consistently surpass the $2.5 million mark every month. Its lowest month was February 2021 when in-app spending hit $2.54 million. In-app purchases in September 2021 totaled $4.23 million.
Wild Rift developer Riot Games is owned by Tencent, just like TiMi Studios, the publisher behind Honor of Kings. In 2018, Tencent proposed the creation of a mobile game for LoL, an idea that Riot Games rejected.
This move sparked the creation of Honor of Kings, whose success motivated Riot Games to join the mobile game bandwagon. Alongside Wild Rift, the studio also launched Teamfight Tactics and Legends of Runeterra on mobile in 2020. It is also working on the launch of Valorant on mobile.
Honor of Kings Surpasses $10 Billion in Lifetime Spending, Becomes World's Biggest Mobile Title
Tencent encourages competition for hit products within the same segments so as to spur innovation. Its most successful products such as Tencent Video, WeChat and QQ Music are products of internal competition.
For Honor of Kings, the release of Wild Rift in China seems to be a moment of reckoning. On Wild Rift's launch day, TiMi Studios made special effort to retain Honor of Kings players. In addition to giving away free in-game currency, the studio also issued new cosmetics for some of the title's characters.
The game is, however, a worthwhile opponent, as it is currently the world's biggest mobile title. According to Sensor Tower, it recently surpassed $10 billion in total lifetime player spending across the two app stores.
Between January and August 2021, it accumulated upwards of $2 billion, becoming the top grossing mobile title worldwide. Comparatively, the second highest grossing title in the same period, Brawl Stars, generated $320 million. Mobile Legends: Bang Bang ranked third with $220 million while Wild Rift was fourth.
Honor of Kings Drives MOBA Monthly Revenue Up by 14% in 2021 to $300 Million
The mobile Multiplayer Online Battle Arena (MOBA) segment has been particularly successful in 2020 and 2021.
Based on a report by Sensor Tower, the average monthly revenue in the segment increased by 43% year-over-year (YoY) in 2020. So far in 2021, it has risen by an additional 14% reaching over $300 per month.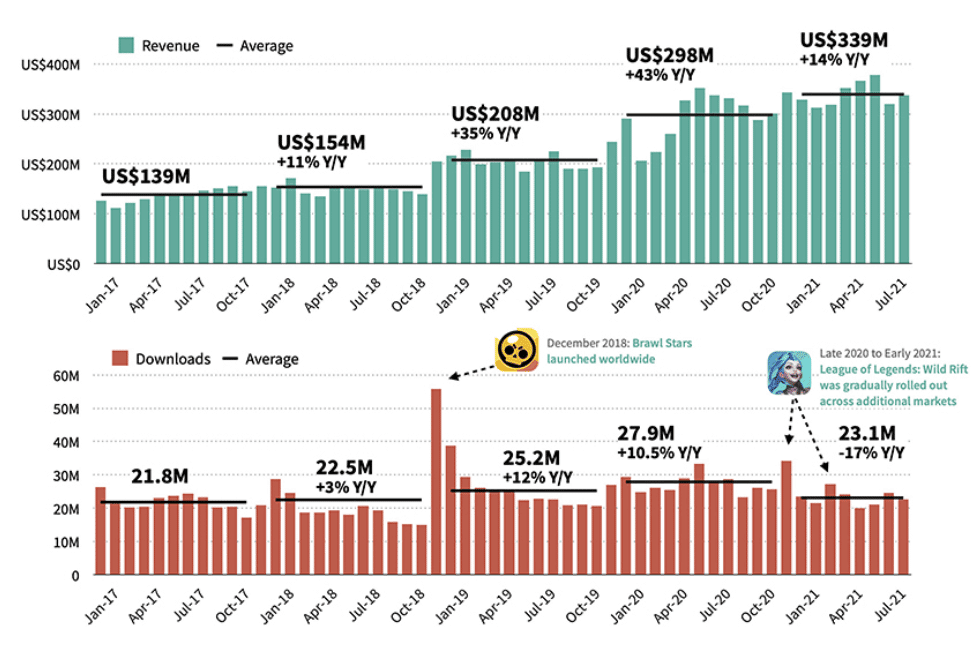 Besides Honor of Kings, another high-profile MOBA release on mobile that has had massive success is Pokemon Unite. The title was developed by The Pokemon Company in partnership with TiMi Studios.
On its day of launch, it was the most downloaded game from the Apple App Store in 59 countries. In the first two days following its launch, it had crossed to 15 million downloads mark. That made it the biggest launch in the history of MOBA. At the end of its first week, Pokemon Unite had accumulated around 30 million installs.
Comparatively, Brawl Stars took seven days to accumulate 15 million downloads. Wild Rift had yet to reach 10 million downloads at the end of September 2021. However, it is important to note that it has had a staggered rollout. It started in Asia in October 2020 then proceeded to the Americas in March 2021 on open beta.
Was this article helpful?