Even though traditional sports returned to television screens, eSports continued to enjoy popularity in Q3 2020. According to the research data analyzed and published by Safe Betting Sites, eSports saw an increase of 73% YoY in weekly streaming hours watched.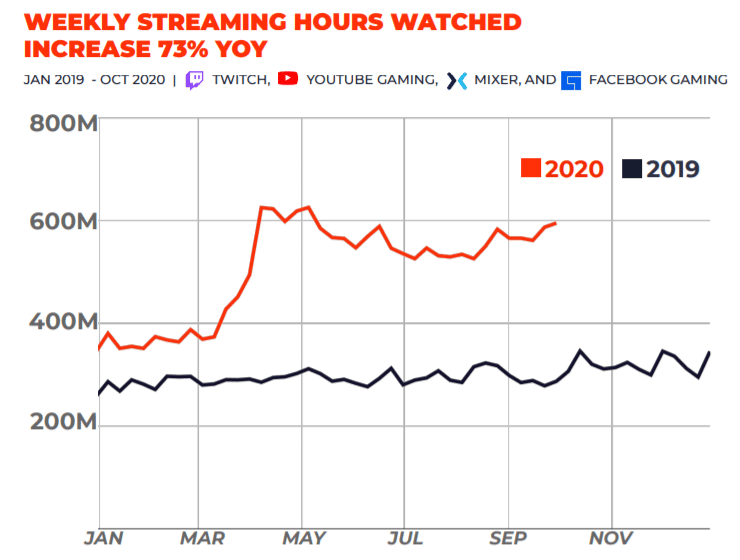 The average number of hours watched every week during the quarter surpassed 500 million. Comparatively, during the same quarter last year, the figure was 291 million hours.
League of Legends (LoL) was the most watched game during the three-month period, accumulating a total of 543.2 million hours. Fortnite took second place with 426.2 million hours while PUBG Mobile was third with 416.6 million hours.
Another mobile title, Garena Free Fire, was in the fourth spot with 393.6 million hours. Rounding up the top five was Grand Theft Auto V with 364.5 million hours.
It is noteworthy that 60% of the games in the top-five category were from the Battle Royale genre. Party games were also featured prominently, with Among Us in eighth position and Fall Guys in tenth.
The most watched eSports event during Q3 2020 was the LCK 2020 Summer Season, raking in 33.3 million hours in total. World League PUBG came in second with 33.2 million hours, while LEC Summer 2020 with 28.8 million.
Interestingly, LoL events accounted for 90.7 million hours out of the 141.1 million hours viewers spent watching the top 5 events. Not surprisingly, LoL publisher Riot Games was the top publisher in terms of hours watched, with 756.7 million hours.
Hours Watched Across Top Platforms Soar by 91.8% YoY
For the most popular game streaming platforms, total viewership hours reached 7.4 billion in Q3 2020. It marked a 91.8% YoY growth as viewers watched 3.89 billion hours in Q3 2019. However, there was a slight drop quarter-over-quarter (QoQ) as Q2 2020 saw a total of 7.71 billion hours watched.
Twitch was in the lead with 4.7 billion hours watched and a total of 205.6 million hours streamed. In the number of hours watched, it had a 63.6% market share while in hours streamed, its share was 91.1% according to Streamlabs.
Compared to the previous quarter, it had an increase of 14.5% in hours streamed market share. The growth was attributed to the shutdown of Mixer, which held a 14.2% market share in Q2 2020. Its YoY growth was 70%.
In comparison to Q2 2020, however, its quarterly hours watched dropped by almost 375 million in spite of having signed up popular streamers Ninja and Shroud. During Q2 2020, Twitch had taken the lead with 5.1 billion hours watched.
On the other hand, YouTube, which took second place, posted the highest growth of 156 million hours in hours watched. It went from 1.5 billion hours in Q2 2020 to nearly 1.7 billion hours in Q3 2020, an increase of 10.5% QoQ. Compared to Q3 2019, the growth rate was an impressive 132%.
YouTube Gaming had a 5.5% market share in hours streamed during Q3 2020, increasing by 1.2% QoQ to 12.5 million hours. Its share of total hours watched was 22.5%.
Facebook Gaming also reported robust growth, going from 970 million hours watched in Q2 2020 to 1.02 billion hours in Q3 2020. It was the first time in history that it crossed the 1 billion hours mark. Its growth rate was 7.2% QoQ and a massive 297% YoY. Its market share in this segment was 14.0%. In terms of hours watched during the period, it had a 3.4% market share, increasing by 1% since the previous quarter.
Valkyrae Claims Top Female Influencer Title with 6.1M Hours Watched
The most watched streamer overall during Q3 2020 was xQc who had a total of 41.5 million hours watched. He streamed over 100 unique game titles during the period and hit a peak of 124,000 viewers.
In September 2020, xQc achieved the remarkable feat of being the most watched streamer on Twitch according to Twitch Metrics. Usually, this is the preserve of channels such as Riot Games and ESL which have higher numbers than individuals.
Notably, all of the top 10 gaming influencers with one exception streamed on Twitch. The exception was NOBRU, who came in at position five with 20.1 million hours watched on YouTube Gaming.
The top female influencer was Valkyrae, who is signed exclusively to YouTube. She had a total of 6.1 million hours watched ahead of Saddummy, who had 5.3 million. Pokimane came in third with 4.3 million hours.
Pokimane is one of the most popular female influencers. According to Twitch Tracker, she had 6.13 million followers on Twitch as of October 30, 2020. On YouTube, she had 5.87 million subscribers as of the same date. Valkyrae on the other hand had 1.72 million YouTube subscribers.
Was this article helpful?